Paint Sprayers, Painting Stone & Exterior Paint Colors
Y'all, I can quite confidently say that my dining room walls (and ceiling) will be finished this weekend. I finished up every last bit of caulking on Thursday, and then started priming…with a brush. After about five minutes, I realized that would take me approximately four days just to get one coat done, so broke out my awesome Critter paint sprayer*. But, as I've cautioned you, that sprayer is NOT for painting walls. It's great for small projects, and it's what I used to paint my kitchen cabinets, with beautiful results. But it just doesn't cut it for walls. So I headed to Home Depot and picked up this sprayer — the Wagner Flexio 590*.
Oh, how I love this sprayer!! I chose this one because it comes with two nozzles (one for general spraying, and one for finer detail spraying, such as painting a piece of furniture). It made such quick work of priming and painting. And it's incredibly easy to use. I'm not much of one for reading instructions (my motto is, "When all else fails, then read the instructions"), but everything on this is pretty self-explanatory, so I was able to take it right out of the box, put it together, fill the paint cup, and start using it within about 10 minutes.
When I first pressed the trigger, I got a horrible orange peel look with the paint, and I've worked so hard to get my walls perfectly smooth, so that wasn't going to work. But after making some adjustments (you can adjust the spray pattern to make it horizontal or vertical, you can adjust the width of the spray, you can adjust the amount of air flow, and you can adjust the amount of paint flow), it was perfect.
I did all of the priming on Thursday, and that took about two hours just because I was still trying to get used to the sprayer. But then yesterday morning, I did the first coat of paint, and it took me about an hour and a half to do the entire 24′ x 14′ room. If I didn't have alllll of that moulding to paint around, I'm sure it would have taken much less time.
After the first coat dried thoroughly, I sanded all of the walls with 150-grit sandpaper (yes, I'm really serious about wanting smooth walls 🙂 ), and then sprayed my final coat. So I got both coats painted, and I also got my ceiling painted. Today (and probably tomorrow) I need to paint all of the moulding, baseboards, and crown. And I won't keep you in suspense until Monday…I went with white. White everything. White ceiling, white walls. But I decided to paint the walls in a flat sheen, and I'm going to go back and do all of the trim, moulding, and the fireplace in semi-gloss just to give those things some dimension. That's what I'll be doing today (and probably all weekend).
But now that I have my handy dandy sprayer that makes such quick and easy work of painting, I'm kind of rethinking my idea of painting the exterior of my house. I know it wouldn't be super quick or easy, but I think it would be doable. And I think a fresh coat of paint would make me so much happier with the exterior of my house until we can afford our big redo.
So I've been looking at, and dreaming about, exterior colors.
If I could choose any color for my house, it would probably be yellow.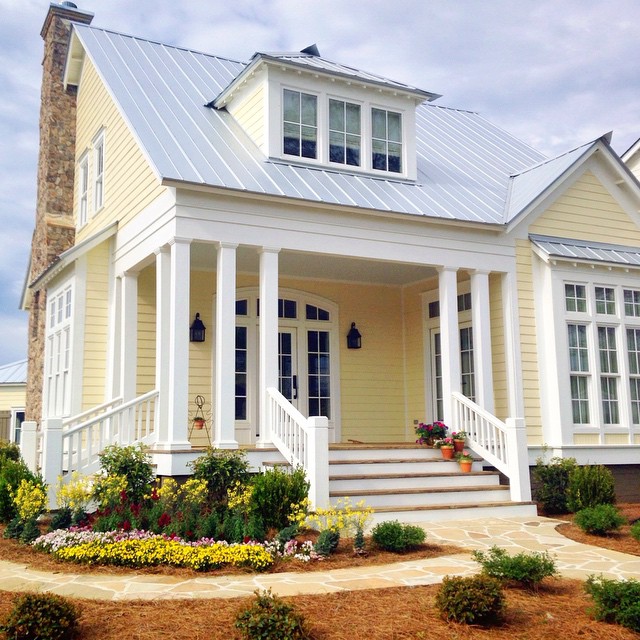 via The Lettered Cottage Facebook page
Yellow houses just seem so happy. And apparently I'm not the only one who thinks so. I've read throughout the years that yellow houses (like this pale yellow…not bright or harsh yellow) actually sell faster.
And if my house was all siding, or siding and brick, I wouldn't hesitate. But I don't have brick. I have stone. I don't have a newer picture from this angle without the big bushes in front, but you can see that the entire left side of the house, plus the left half of the front of the house, is Austin stone. Unfortunately, it had been painted before we bought the house, so that's not the natural stone color. But it IS real stone.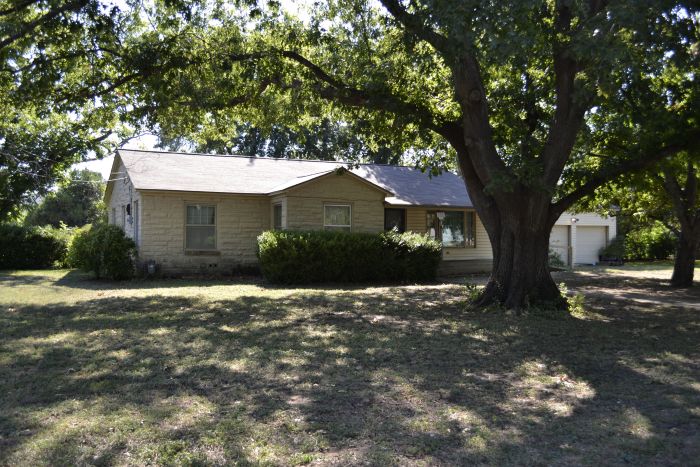 Painting brick just about any color has become pretty acceptable, but I don't really think I've seen any stone houses painted a non-neutral color. Actually, to be quite honest, I don't think I've ever seen a painted stone house. So perhaps I shouldn't let that enter into my decision making since I'm pretty much doing something that's not really accepted practice anyway. There's really not much difference between painting Austin stone a neutral color, and painting it yellow, right? Either way, it's not going to look natural. Maybe I should just go for it. 🙂
If I chicken out on the yellow, but still want color, green is always safe. There's no such thing (to my knowledge) as green Austin stone, so it will still look completely unnatural, but green is nature's neutral, so I think if I chose something like this, it would work.
But on the other hand, I'm putting so much green inside my house that I'd kind of like something different outside. Green is my favorite color, but even I can get too much of it.
Of course, the safe choice would be to go with a true neutral.
I've never seen Austin stone in that color either, but just being a neutral color would make it look more natural. My issue is that I love the way that that looks on that particular house, but I have a hard time getting excited about a neutral color like that on my house.
This is nice as well…
But same thing. I think it's a beautiful color combo on someone else's house, but I can't get excited about it on mine.
The problem is that this is one of those situations where I saw an idea (the yellow house) that really made me happy and excited, and now everything else pales in comparison. I imagine myself driving up to a pale yellow house with bright white trim, and just wanting to sit and look at it for a while with a big ole smile on my face. I can't imagine another color having that effect on me. BUT…then there's that darned Austin stone.
So I'm in a quandary. Since the stone is already painted, and that bell cannot be unrung (I'm absolutely NOT willing to sandblast that stone to get it back to it's original color), and since any solid-color Austin stone is going to look unnatural anyway, should that even affect my paint color decision? I'm tempted to try it. Since I've decided to paint it anyway, I can try the yellow in a section, and then paint over it if it doesn't work, right?
I've never painted a house exterior before. I'm excited about the possibility, but also really nervous about it, for some reason. 😀