Front Porch Ceiling Progress (Plus, Haint Blue vs. White Porch Ceilings)
I finally decided it was time to get my front porch ceiling installed, and to seal up those areas where my attic is open to the great outdoors.
When we bought the house, about half of the house was covered in vinyl siding, but the front porch ceiling had metal (aluminum?) siding over the original wood shiplap siding ceiling.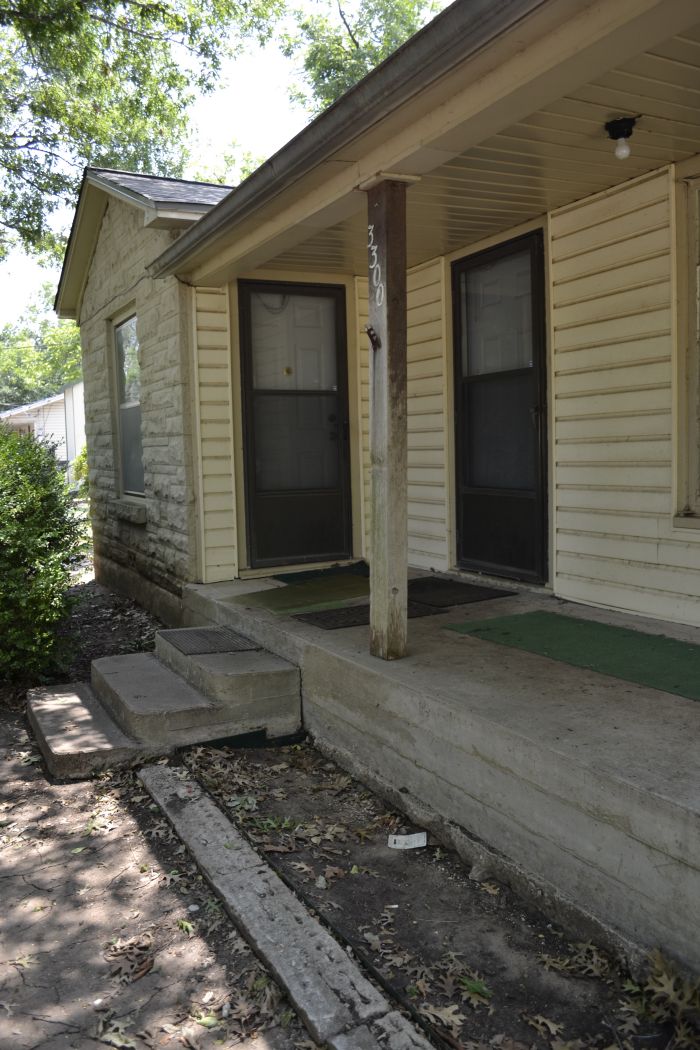 But that ceiling was removed last summer when we had the new siding installed.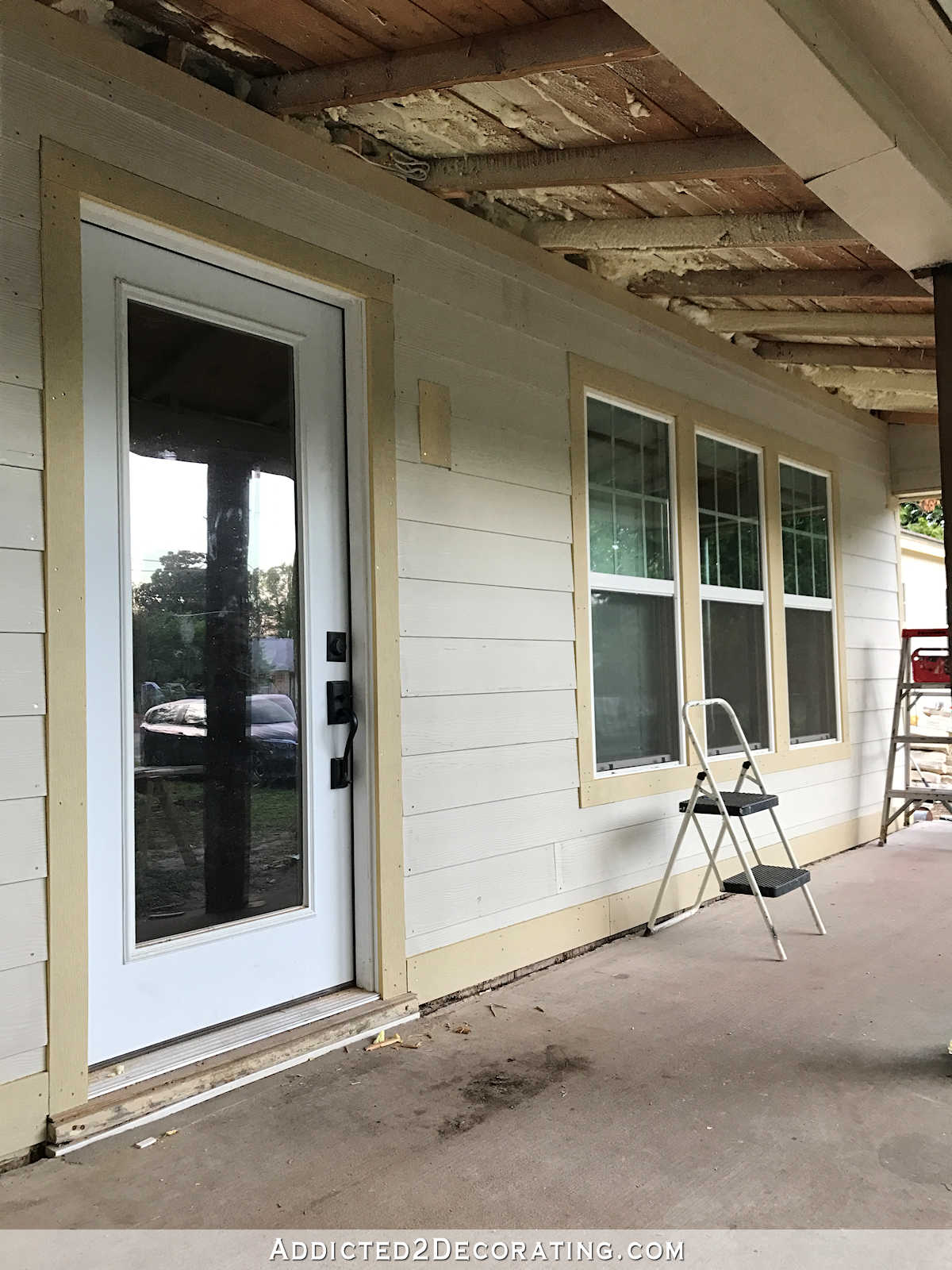 Ever since then, I've been looking at those not-so-pretty rafters with some wide open spaces between them that allowed for free access directly into the attic.
I knew I wanted to use tongue-and-groove boards for the ceiling, and I wanted them to go front-to-back, rather than side-to-side. So my brother helped me install some 2 x 4's between the rafters that I could use to nail the boards to. You can see them here…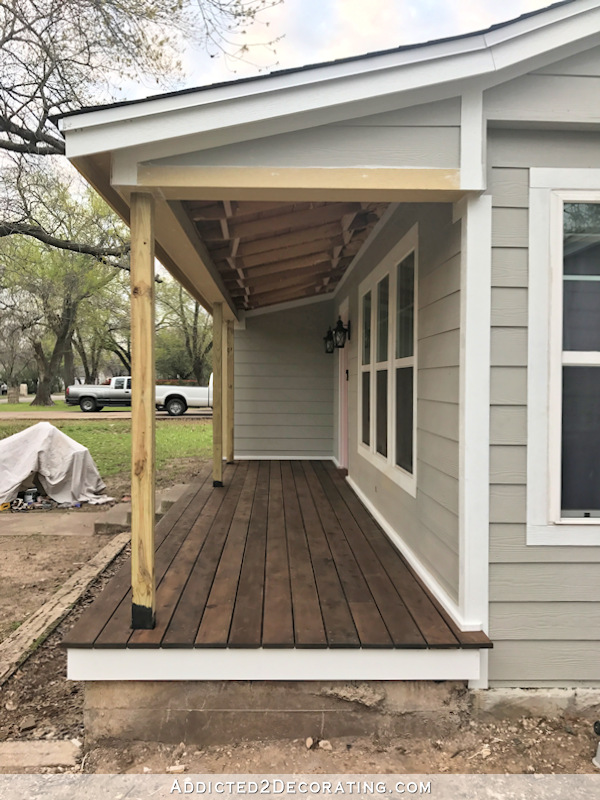 They weren't pretty or perfectly straight 😀 , but they didn't need to be. As long as they were securely nailed between the rafters, they would serve their purpose.
So yesterday, I got busy cutting the boards (I'm using these tongue-and-groove boards from Home Depot) and nailing them up using the longest 16-gauge nails that my nail gun would use, which I believe was 2.5 inches.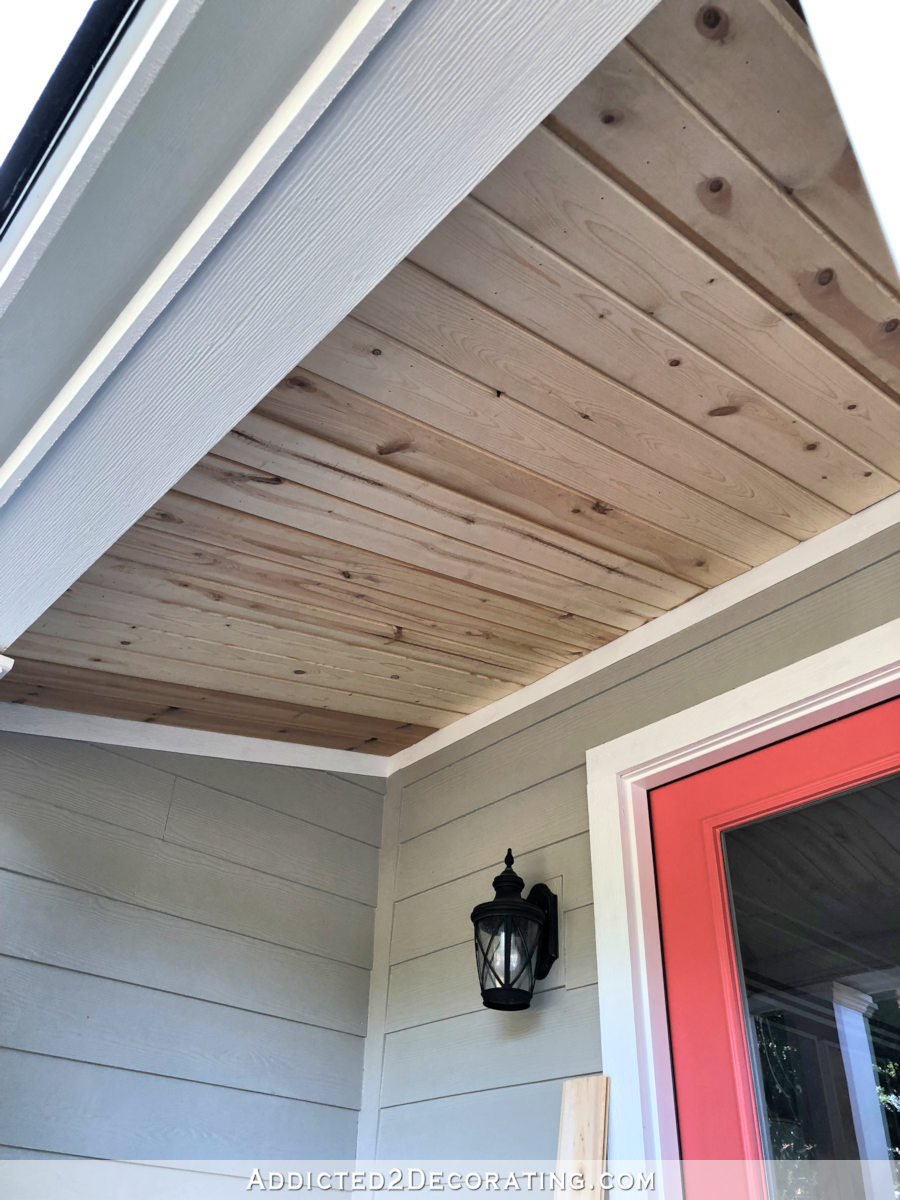 Before I started installing them, I wasn't quite sure how I wanted these boards finished. Stained? Painted? I hadn't decided for sure one way or another.
But after installing a few boards, I decided for sure that stain was out of the question. I think I have enough stained wood with the porch floor. But also, I'm not too crazy about the drastic differences in coloration of the wood, with the really light lights, and pretty dark darks. It makes it look like the boards are installed with random spacing in some areas, so accenting that with stain is the absolute last thing I want to do.
So paint it is! And I think that'll look great.
I got about 60% of the boards installed (shoving extra insulation in the open spaces above the exterior wall as I went) before calling it quits. I'm still not sure how I'll trim around the edges, but I'll figure it out when I get there. 🙂
I'm hoping to get the rest installed today, and I'd love to get it painted. But I'm not quite sure what color to use. White? Blue?
I do love haint blue ceilings. If you're not familiar with haint blue porch ceilings, you can read about the history here. It's more of a deep south tradition, and I'm not exactly in the deep south, but that's okay, right? 🙂
Blue porch ceilings come in all shades of blue and blue-green, but I'm partial to the lighter ones.
But of course, I don't think you can go wrong with a white porch ceiling, especially on a house with white trim like mine. It keeps things looking light, bright, and clean.
Right now, I'm leaning more towards the light blue or a light blue-green. That seems more "me" than having a white ceiling, don't you think? Of course, I do have white ceilings all throughout my house, with the exception of the hallway bathroom. So maybe white ceilings are "me"! I guess it'll depend on my mood when I go to buy paint. 🙂