Last Updated on March 9, 2016 by Kristi Linauer
I literally spent the whole day yesterday caulking the trim in my dining room. And I didn't finish. But the good news is that I should be able to finish the caulking this morning, and then start on painting this afternoon. I'm hoping I can finally finish these walls today…or get pretty darn close.
That means I have about four hours to make my final decision regarding how I want to paint my walls. I've tossed around a lot of ideas, but now it's time to actually make a decision and get it done.
What I do know is that my draperies will be black with a trim–either the black and white Greek key…
…or the green and white that I originally purchased a while back to use as trim…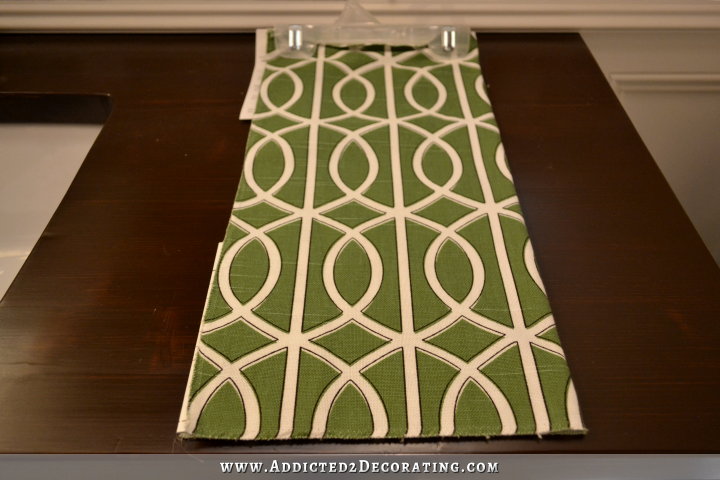 …on the leading edge of each panel. I'm actually leaning towards the green and white. And I'm definitely doing to use the acrylic drapery rods with brass rings and brackets.
via The Hunted Interior
My fireplace and overmantel will be white, as will the walls underneath the chair rail.
So with those decisions made, here are the options that I've considered for my walls (and ceiling!), which look like this right now.
Option 1: Everything white
I really like this option because it keeps the room light and bright. But there's just something about all-white rooms that don't quite seem "me." They just seem cold to me, and they also seem at odds with my intense love of color.
Option 2: White walls, green ceiling
I couldn't find a good example showing a green ceiling, but this is close enough. Like I said, I really do like the idea of all-white walls, and I think if I can have color on the ceiling, then that will remove that cold feeling that I get from all-white rooms…plus give me some of the color that I long for. I think this is a good compromise for me.
Option 3: White under chair rail, green above
via Sarah Richardson Design
This was the direction I was headed when I originally decided to do picture frame  moulding above the chair rail. And every time I think I've decided to go with one of the above options, I come back to this picture and second guess myself. Of course, we've all learned by now that I don't do gray. So I thought doing a pale green above the chair rail would achieve this same two-tone look while being more in keeping with my personality. The thing that I love the most about this option is that it gives some definition between the walls and the window and door casings…at least above the chair rail.
I'm really torn, and the countdown clock is on. I should be able to finish up caulking this morning, and then spend an hour priming some areas. Then I'll be ready to paint. If I can't make a firm decision by that time, I'm just going to write each idea down on a piece of paper, put them in a bowl, and let Matt pick one at random. 🙂
Addicted 2 Decorating is where I share my DIY and decorating journey as I remodel and decorate the 1948 fixer upper that my husband, Matt, and I bought in 2013. Matt has M.S. and is unable to do physical work, so I do the majority of the work on the house by myself. You can learn more about me here.
I hope you'll join me on my DIY and decorating journey! If you want to follow my projects and progress, you can subscribe below and have each new post delivered to your email inbox. That way you'll never miss a thing!