Repurposed Doors — Projects Using Vintage Wood Doors
Ever since I decided to replace my interior doors with new doors, I have spent quite a bit of time online searching for project ideas using repurposed doors.  I'll have four 24-inch doors, four 30-inch doors, one 32-inch door, and one 36-inch door, so there will be so many possibilities for things to build and make with all of those doors.
Since I'm rounding up ideas for myself, I thought I'd pass along some of my absolute favorite ideas to you just in case you have an extra door or two lying around the garage.  Even if you don't have any old doors on hand, you can always pick them up pretty cheap at places like ReStore.
After looking at ideas for a while, I realized that I seem to be drawn to the outdoor ideas the most.  And my absolute favorite idea, hands down, is this adorable little garden shed.  I would love to look out and see something like this in my back yard!
via Sheds, Shacks and Shanties
Of course, it doesn't necessarily have to be used as a garden shed.  I kind of have this idea of building a little shelter in my back yard with either a hammock inside, or possibly a little desk and chair that I can use to work on my computer outside when the weather is nice.
A close second favorite outdoor idea using repurposed doors was to create an arbor.
via Jordan Valley Home & Garden Club
Ever since we bought this house, I've had this idea of creating a "doorway" from the front part of the back yard into the back forty, kind of like a little pathway to a secret garden.  An arbor would be perfect for that, or I could use an old door to create an actual gate from the back yard to the back forty.  Something like this would be awesome…
via Rock Oak Deer
And of course, I dream of having a swing (or several), both in our front yard and our back yard.
via Emergent Structures
I don't think I'd be able to build a swing out of the old doors currently in our house, though, because I'm pretty sure you'd need solid core doors for something like that.  Our doors are hollow core, so they probably wouldn't offer enough structural support to hold a couple of people.
Of the indoor projects that I found using old doors, my very favorite one was using them as…well…doors.  Turning them into sliding doors really opens up the possibilities since you don't have to worry so much about finding the exact door size to fit into your door jamb.
via Cedar Hill Farmhouse
This sliding French door idea really has my mind spinning.  You know how I mentioned that I'd love to use French doors in the doorway that I'm going to create between the entryway and the music room?  And then again in the doorway between the music room and the sunroom (which will be the family room)?  Well, I don't have enough room for actual French doors that swing open, and I can't use French pocket doors because the one wall between the music room and the sunroom is an original exterior wall that's carrying a very heavy load.  I don't want to have to rebuild any of that load bearing exterior wall to make way for pocket doors.  (Not even sure if that would be possible.)  But sliding French doors would certainly be a possibility!  Of course, the challenge would be finding four matching French doors that are the right size.  Challenge accepted!  😀
Anyway…
This is an idea that I never in my life would have thought of, but I think it's so clever and beautiful — using old doors as a banister.
via Chic Design Investments
Too bad I don't have a two story house!  But I'm sure there's a way to use that same idea in a one-story house.  Not sure yet, but there has to be a way!
But of course, every home needs a sofa, so why not turn some solid core vintage doors into a comfy couch?
via Design Sponge
I saw several "doors turned into sofas" ideas, but that one was my favorite simply because of the thought that went into the design.  It leans back, rather than having a straight up and down back on it, so it actually looks comfortable.
I think the idea of using a vintage French door as the top of a dining table is so pretty.  I have a hard time figuring out how it would be useful without a solid piece of glass over the top, though.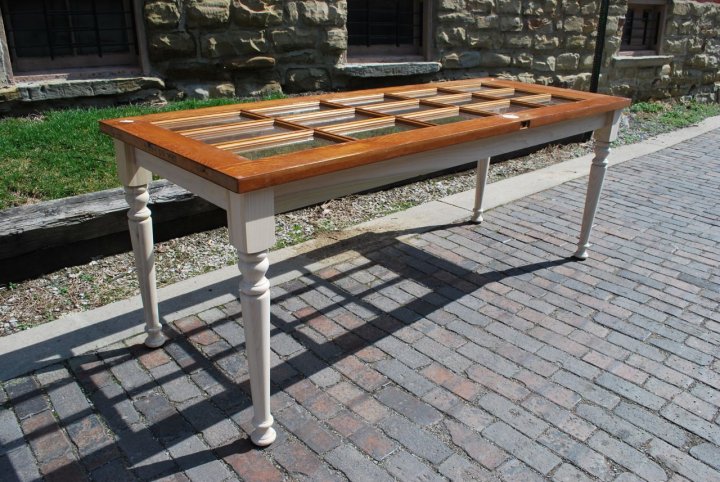 via Tomorrow's Antiques
And I thought the idea of turning an old door into a bed was so clever!  I've seen lots of doors turned into headboards, but this is the first whole bed I've seen.
via My Repurposed Life
Of course, that's for a toddler, and I have no use for a toddler bed.  But I do have a dog!  A big dog!  And he'd love his own comfy bed like that!
I also came across several shelves made out of old doors, but this one was my absolute favorite.  They just ripped a door right down the middle and used half on each side.  the crown moulding and furniture feet really make the whole design look polished.
via Joys Of Home
I know for sure (at least I think I do) that I'm going to use two of my 24-inch doors in my hallway for the bench/coat storage thing I'm going to build.  There are so many ideas for hall trees using old doors, and even though mine will be very different from this one, this was my favorite that I found.  I think it's the combination of the blue and the stained wood that makes this one my favorite.
via Refresh Restyle
And of course, you can find lots of idea for turning old doors into benches.  This one is my absolute favorite door-turned-bench, and I think it's because it looks like an antique church pew.
via LG Custom Woodworking
And then this one would have to be a close second as far as doors-into-benches go.  This one actually started out as a headboard made from an old door, which is why the back has such a grand appearance.  Then they turned the headboard into a bench.  I really like the sheer size of the back of this bench.
via Twig Decor
And then I found so many ideas for turning old doors into coffee tables.  On so many of them, the small door panels seemed to really get in the way of the table top actually being useful.  That's why I really liked this one.  They used a door with very large panels to create the top of the coffee table, so there's plenty of space to set a drink, a plate of food, or anything else without the stiles and rails being in the way.
via Unskinny Boppy
So that's how I spent a large portion of my Labor Day weekend — relaxing and dreaming of ways to use my ten old doors.  🙂
Do you have any other brilliant ideas for using old doors that I didn't find?
Addicted 2 Decorating is where I share my DIY and decorating journey as I remodel and decorate the 1948 fixer upper that my husband, Matt, and I bought in 2013. Matt has M.S. and is unable to do physical work, so I do the majority of the work on the house by myself. You can learn more about me here.