Random Updates: My Stupid DIY Mistake, Front Porch Results & Reader Hallway Suggestion
I have a post full of randomness for you today!  🙂
My Really Stupid DIY Mistake
First, let me share a kitchen update with you.  I've spent the last three days sanding, priming, and painting the kitchen peninsula doors and drawers, as well as the corbels for the kichen.  I finally got the last coat on everything last night, and all I had to do today was put the first coat of polyurethane on them, gold leaf the doors and four large drawer fronts, apply the second coat of poly, and those would be done!
So imagine how disheartened I was this morning to go out to the back patio (where I generally do my painting) and see this…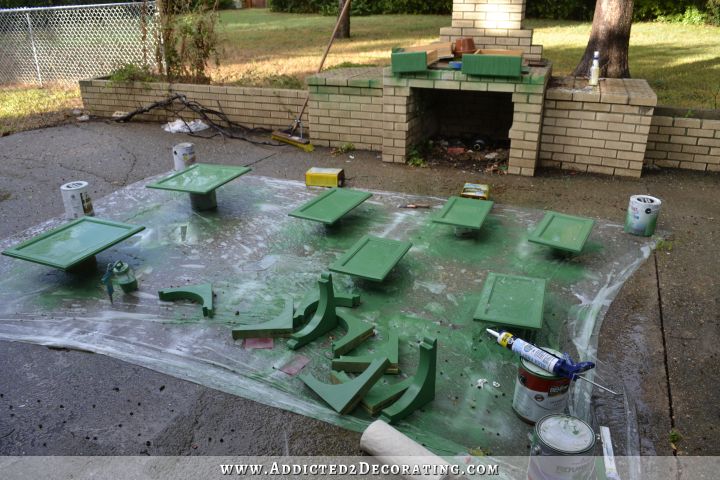 Can you tell what that is?  That's a rain-soaked patio with about a quarter inch of water standing in the recessed panels of all of the cabinet doors and drawer fronts.  Yes…the drawer fronts I remade.  Yes…the drawer fronts that I used MDF on as the backing.
Dumbest rookie mistake ever.  Actually, I don't even know if that qualifies as a rookie DIY mistake.  It's just a complete lapse of common sense — if you're going to leave a project out overnight, check the weather forecast!!!  I always check the weather forecast.  First thing in the morning, I always ask Matt what the weather is going to be like that day, and if any rain is forecast.  It's just part of our morning routine.  EVERY.SINGLE.DAY.
Except for yesterday.
I could kick myself.  I could honestly just punch myself right in the face.  In fact, I could pull the whole Jim Carrey in Liar Liar bit right now, I'm so upset with myself.
But there's no point in dwelling on it.  The paint is ruined, wood grain has swelled, and everything will need to be dried out, sanded, and repainted.  Guess what I'll be doing this weekend.  🙂
Anyway, let's move on to happier topics…
The Front Porch Design Winner
After over 925 comments yesterday, the clear front porch design winner was…
…the double gable design!  And I couldn't be more thrilled, because that was my favorite one.  Matt preferred the hip roof with the single smaller gable.  A few of you suggested that since Matt is so easy going and lets me have my way with this house, that I might consider letting him have his way on this decision.  Honestly, if it was really that important to him, I would let him have his way without a fight.  But while he has his preference, when it comes down to it, it's just not something he's really passionate about.  He really doesn't care all that much.  Lucky me!  🙂
So let me tell you why I preferred this one:
The balance of siding and stone in this design is brilliant, and really solves one of the biggest issues I've had with the front of our house.
The idea of having a narrow porch extend in front of my office window, on the part of the house that juts out five feet, has really never set well with me.  So I like that this design doesn't include that narrow porch in front of my office window.
I LOVE, LOVE, LOVE, that this design only utilizes two full columns, and doesn't use a full column on the other side of the door/steps.  The reason is because that large window, while it's centered on the living room wall, it doesn't look centered when you look at the front of the house.  Any design that uses a full column on both sides of the door will emphasize how off-centered that window is.  I've considered making the window smaller and more centered from the front of the house, but then it's off-centered in the living room.  This design seems to take care of that issue.
The front porch seems more open and welcoming in this design.  The porch in the other design seemed more closed off.
I really like the height and layers that this design adds to the front of the house.  It just looks more interesting and appealing to me.  The other one was just a lot of shingles showing.  A whole lot of shingles.  I prefer to see pretty siding rather than shingles.
This design looks more to me like it could have been original to the house.  The other one looks more like a remodel to me.
So yay!  I won!  Now I just have to get estimates and see how much this will cost (anyone care to make a guess?) and see how long it'll take me to save up for it.  But I'm so incredibly excited!
Hallway Suggestion
On the hallway post a couple of days ago, one commenter (thank, Sharon!) had a brilliant idea.  She suggested that I move the wall with the doors to the bedroom and Matt's game room forward into the hall a bit more. The result would be a larger master bedroom.
So for you visual learners (like me!) here's how everything looks now (almost…still no wall between the entryway and music room)…
What I had proposed is that I would remove the wall that encloses the master bedroom closet since we'll have a new closet when we rebuild the master bathroom.  That would create a little bump out where I could put a fireplace and a seating area.
But what Sharon suggested is that I just move the wall with the doors out further into the hallway and even with the back wall of the closet, so it would look more like this…
I love that idea!  Our hallway is certainly large enough that it would work.  Of course, if I go this route, I can kiss my (relatively) quick and easy hallway makeover goodbye.  But it just might be worth it.  I'm going to give it more thought, and I'll probably need to climb into the attic (ugh!) to scope out where the load bearing walls are.  I know exactly which walls are bearing on the other side (the kitchen/living room side) of the house but I get a little confused on the bedroom side.  That will probably be a big factor in whether or not I decide to bite off a bigger hallway project like this.  But I do think it's brilliant!
Well, I'm off to see what I can do to dry out my soaked kitchen cabinet doors, drawer fronts, and corbels.  I'm praying for minimal damage and a quick and easy repair job.
Addicted 2 Decorating is where I share my DIY and decorating journey as I remodel and decorate the 1948 fixer upper that my husband, Matt, and I bought in 2013. Matt has M.S. and is unable to do physical work, so I do the majority of the work on the house by myself. You can learn more about me here.