How To Infuriate A DIY Blogger In Four Simple Steps
I write periodically about copyright, using people's photos properly, giving proper credit, etc.  I  always catch some flack for it, and I'm sure some of you are sick of it by now.  But I'm about to show you why I continue.
If you'll remember, several weeks ago, I created a chrysanthemum mirror made out of plastic spoons.  It is my most popular DIY project to date, being pinned to Pinterest over 41 thousand times from my site.
When I do DIY projects, I create one large photo like the one above, with a title and my URL at the bottom.  And I provide a convenient "Pin It" button at the bottom of the main picture.  And then on the other photos showing the step-by-step process of creating the project, I include a watermark with my URL on each one, like this…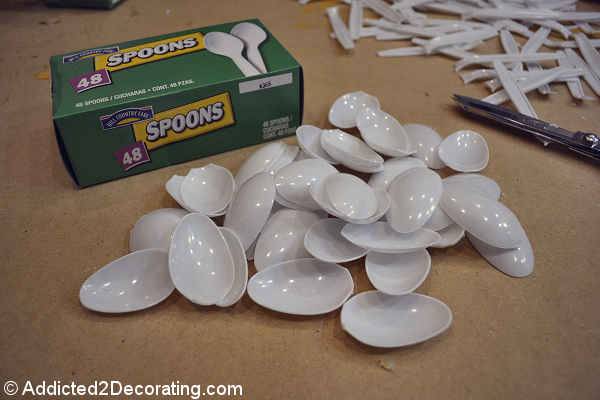 It seems like that would be enough, right?
Well, evidently it's not.
About four days ago, someone helped themselves to my photos, cropped off all of my watermarks, created this collage, and shared it online.
No credit or link to my site anywhere, and no indication that it's from Addicted 2 Decorating since all of the watermarks have been conveniently cropped off.
And now this photo collage is spreading like wildfire…being shared on Tumblr, Pinterest, Facebook, etc….all without credit to my site.
As of right now, this photo has been pinned and re-pinned to Pinterest over THIRTY-TWO THOUSAND TIMES. 
And that's just Pinterest.  That doesn't even count the number of times it's been blogged and reblogged on Tumblr, posted and shared on Facebook, and pinned and repinned to this (z)szyska site (which seems to be a Pinterest-type site in Poland).
And just like that, in a matter of minutes (or however long it took this person to create this collage), I've completely lost control of my own photos.  Because let me tell you…trying to stop the spread of something like this is like trying to plug a fire hydrant with your finger.  And dealing with websites in other countries who (obviously) don't recognize U.S. laws like our Digital Millennium Copyright Act is an act of futility.
Obviously I'm not the only DIY blogger who has had this happen.  Allison at House of Hepworths had pretty much the exact same thing happen.  It's infurating…and frustrating…and disappointing.
And I still can't understand why some people think this is okay.  It's theft.  Plain and simple.
Addicted 2 Decorating is where I share my DIY and decorating journey as I remodel and decorate the 1948 fixer upper that my husband, Matt, and I bought in 2013. Matt has M.S. and is unable to do physical work, so I do the majority of the work on the house by myself. You can learn more about me here.