Sprucing Up The Exterior — It All Starts With A New Mailbox
After almost two-and-a-half years of completely neglecting the exterior of my house, I finally did my first exterior project this weekend. I have a new mailbox post and mailbox! Remember the old one? It had a hand-painted floral design on it, and it just wasn't quite my style.
Now that mailbox and post have been completely replaced with something that is much more my style.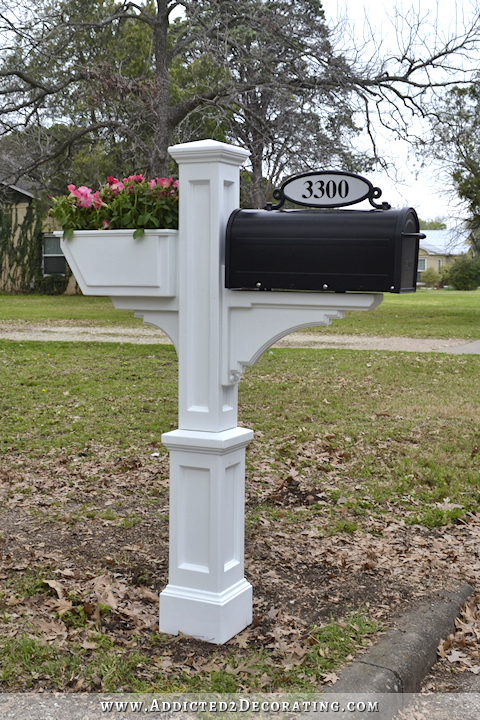 Isn't that pretty? Is it strange for me to be so excited about a mailbox post and mailbox? 😀
I had considered building something like this from scratch, but then I decided that that was silly when it would take much longer, probably cost much more, and would then require more upkeep since it would be built out of wood. So in the end, I decided to go with this Mayne White Polymer Mailbox Post from Lowe's. It was really pretty simple to install. I first had to dig a hole two feet deep, and then set a 6-foot-long 4 x 4 two feet into the ground with concrete.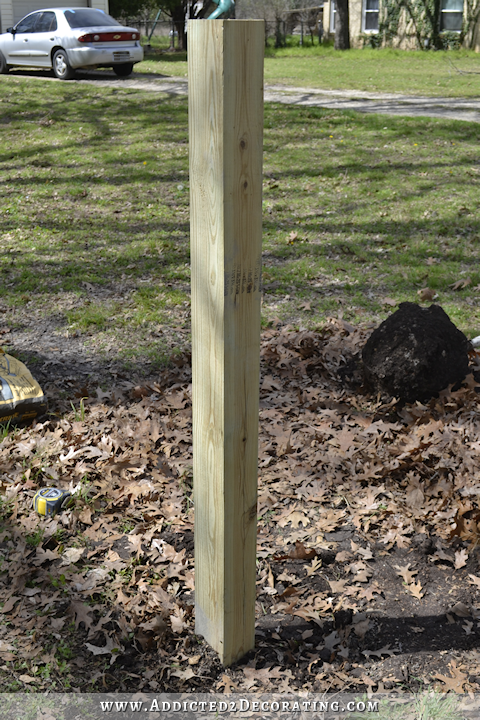 And then the two pieces that form the main post just slid right over the 4 x 4. The first piece went on quite easily.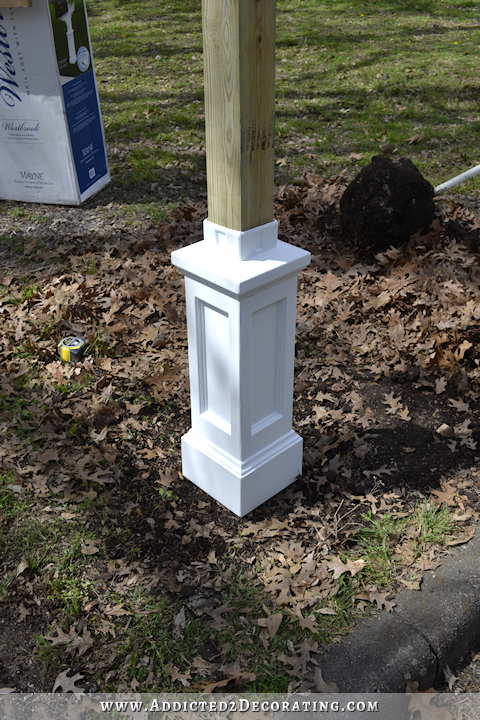 The second piece didn't go on quite so easily. It was a very tight fit, so it took quite a bit of work to get it to slide all the way down, but I finally managed.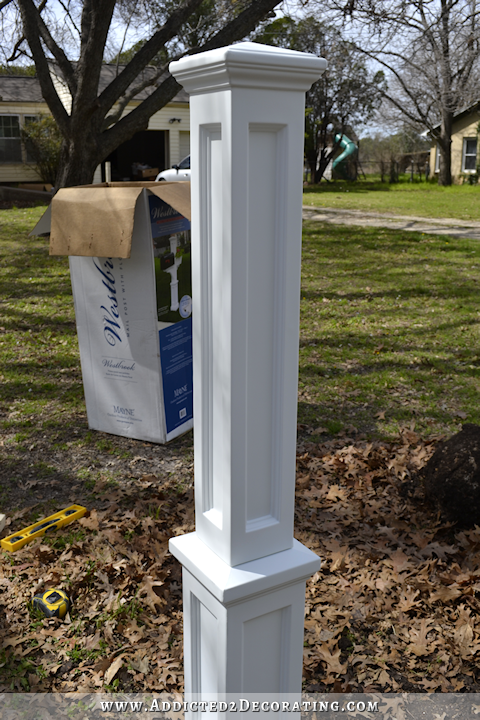 Before I bought this mailbox post, I read almost all of the reviews, and one thing that several people mentioned was that the mailbox arm wasn't quite as strong as it should be. So I decided to give mine some added strength by cutting down a 2 x 4 to fit the entire length of the mailbox arm, and to fit the width of the opening on the back of the mailbox arm (which was exactly 2 inches wide) and securing it with a large "L" bracket.
The mailbox arm already had a horizontal rectangle cut out of the back, and a piece of wood in the arm for the mailbox bracket to screw onto. But the wood didn't go the entire length of the arm, and it didn't add any real support to the mailbox arm. So I removed that piece of wood, and used my Dremel Multi-Max to cut a vertical rectangle to accommodate the "L" bracket that I used.
Then I just slid the mailbox arm right over the brace and secured it with the lag bolts and screws provided with the mailbox post.
That one extra step gave that mailbox arm a great deal more strength. Some of the reviews also mentioned the planter box not being quite secure enough, and I can attest to the fact that when it's installed according to the directions, it doesn't feel like it's very secure. So I added two 3-inch screws drilled through the inside of the planter box, through the polymer post cover, and into the 4 x 4 post. I put the screws about two inches apart, and as close to the top of the planter box as possible. Adding those two screws made the planter box very secure.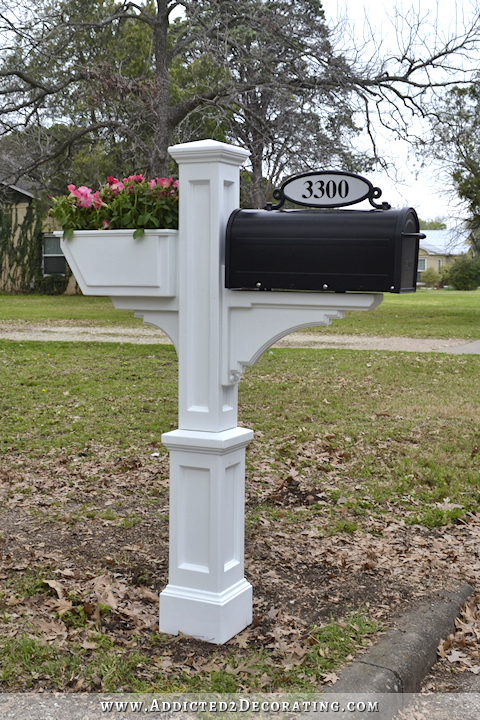 And finally, I added this mailbox, this house number plaque, and some pretty pink flowers to finish it off.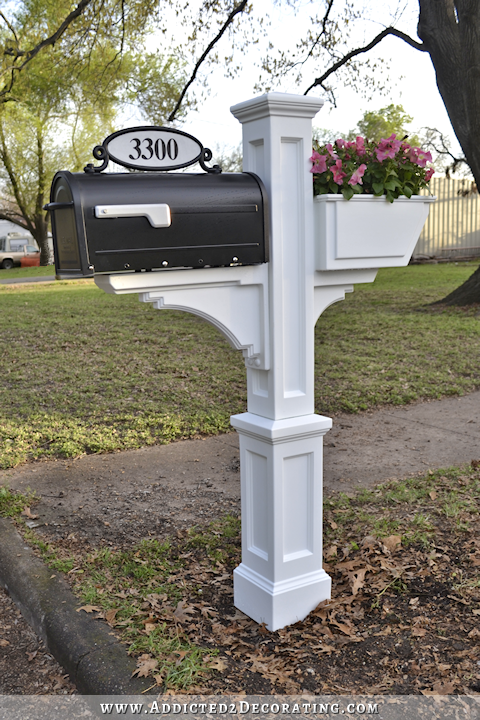 It's a small start, but I'm so excited to finally have something accomplished in my front yard! And I'm hoping it's just the motivation I need to really get the ball rolling on these outdoor projects.
Now I know some of you are thinking, "What about the dining room? What about the music room?" Well, here's the deal. 🙂
For the past two years, I pretty much completely missed spring and summer. Our first year here, I was cooped up inside working on my kitchen remodel all through spring and summer. Our second year in this house, once again I almost completely missed spring and summer because I was either cooped up at the house working on the bathroom remodel, or I was at the condo getting it ready to sell.
Yes, I have a thousand projects that I could be and probably should be working on inside my house, but this will be the first spring and summer that I don't have a major remodel underway that I'm feeling pressed to get finished. Sure, it would be nice to have a finished entryway right away, or a finished music room this month, or a finished dining room in the next few weeks. But I'll be damned if I'm going to miss out on another spring and summer because I feel obligated to be inside my house finishing projects in there. This year, I plan to take full advantage of the beautiful spring and early summer weather when we have it, and I'm going to spend as much time as possible outside working on projects. When the weather isn't nice (we're expecting rain this entire next week, and part of next week), then of course, I'll work on projects inside. But I'm not on any timeline with the interior of  my house. I can work in there 12 months of the year, and it'll all get finished eventually.
But this is my year to get outside again. I've missed it. I love our late winter, spring, and early summer weather here in central Texas, and I don't plan on missing it for a third year in a row. So if things go as planned, you can expect quite a few more outdoor projects this year. 🙂 The inside stuff will get done eventually. I promise!
Addicted 2 Decorating is where I share my DIY and decorating journey as I remodel and decorate the 1948 fixer upper that my husband, Matt, and I bought in 2013. Matt has M.S. and is unable to do physical work, so I do the majority of the work on the house by myself. You can learn more about me here.