Last Updated on March 9, 2016 by Kristi Linauer
I am so excited about painting the exterior of my house yellow, and I've been on the hunt for the perfect yellow. I don't want it too saturated, too bright, or too gold. And I read an article (which I forgot to bookmark and can't find now) that said that yellow houses tend to be a crowd favorite and sell faster than other houses as long as it's the right yellow. The article warned against yellows with green undertones.
So after looking at probably 200 yellow houses on Houzz.com, Pinterest and Google, I finally found what I think is the perfect yellow…
And fortunately that builder gave the name of the yellow that was used on that house. It's Sherwin Williams Banana Cream. When I found the sample in my Sherwin Williams fan deck, I was pretty shocked. Not only did it look way more saturated than I thought it would, but it also has very noticeable red underetones. But I decided to give it a shot anyway. I bought a sample of Banana Cream, along with four other yellows that looked pretty close to it in intensity, but with slightly different undertones.
I put them all up on my house, along with Extra White so that I can see what each yellow will look like next to white trim. (FYI, Extra White is the white color right out of the can.) Here are my yellow samples shown on the Austin stone exterior of my house…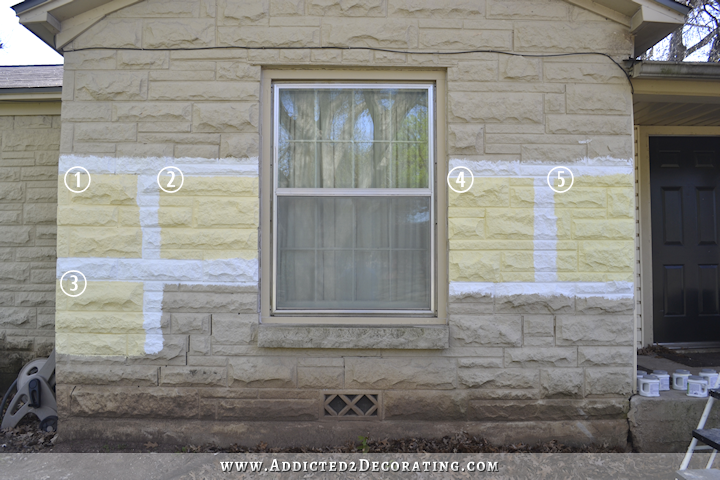 Can you tell a difference? Ha! I was very shocked at how similar they all look! These colors are all Sherwin Williams, and the names are:
1. Banana Cream
2. Friendly Yellow
3. They Call It Mellow
4. Lantern Light
5. Glad Yellow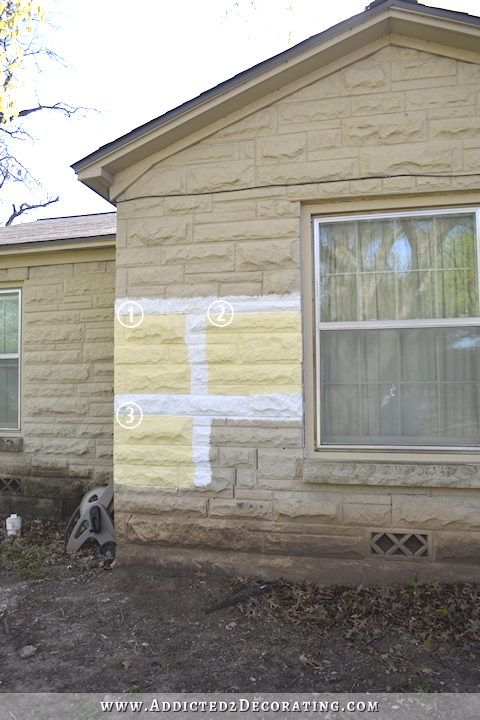 They do have ever-so-subtle differences. The Banana Cream (1) definitely has more red undertones. Friendly Yellow (2) is a slightly brighter yellow.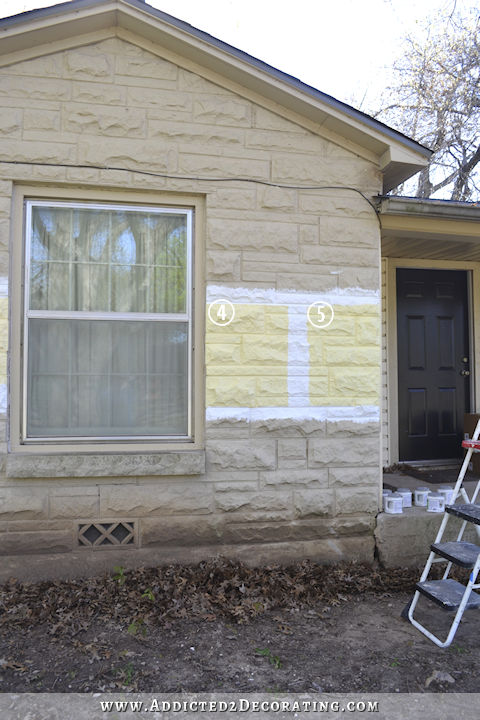 Lantern Light (4) also has red undertones and is just a touch more saturated in color than Banana Cream (1). And Glad Yellow (5) is a brighter (the word "clearer" comes to mind) yellow, and I think it might possibly have very slight green undertones to it. The difference is very subtle, but I think that it's enough of a difference that it would be really noticeable when it's on the entire exterior of my house…and not in a good way.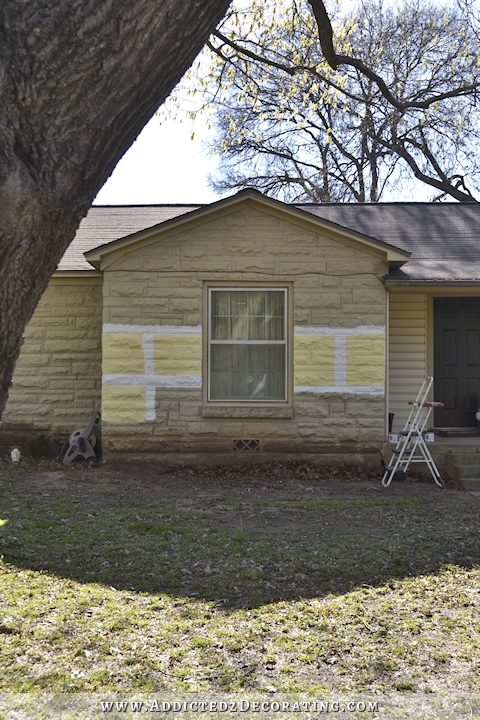 So in the end, I think I'm going to stick with Banana Cream on the top far left. I didn't think I'd like the red undertones at all, but I think it's those red undertones that actually keep the yellow from being too bright and garish. Of all of the samples, even though they're so similar, the Banana Cream has the softest and creamiest appearance of them all.
I'm so excited about having a yellow house! 🙂
I really have no idea when I'll actually be able to do the painting. Our forecast is showing thunderstorms all next week, so obviously I can't do it then. But I do want to it as soon as the forecast shows a stretch of a few days with beautiful weather. Here in central Texas, we have to take advantage of any spring-like weather we get, because it doesn't last long around here. And I'd rather not be outside in 90- and 100-degree weather painting my house. 🙂 So I'll continue working inside, and keeping an eye on the forecast. As soon as things look clear for a few days, I'll be heading outside with a power washer and paint sprayer and getting down to business on the exterior of my house.
Addicted 2 Decorating is where I share my DIY and decorating journey as I remodel and decorate the 1948 fixer upper that my husband, Matt, and I bought in 2013. Matt has M.S. and is unable to do physical work, so I do the majority of the work on the house by myself. You can learn more about me here.
I hope you'll join me on my DIY and decorating journey! If you want to follow my projects and progress, you can subscribe below and have each new post delivered to your email inbox. That way you'll never miss a thing!