Last Updated on November 7, 2012 by Kristi Linauer
Good morning, all! Yesterday I tried to finish up a project that I started…well…about three months ago. I still didn't get finished, but I'm almost there!
Remember my fabric-lined kitchen drawers?

I just love them! It always makes me smile when I open up my drawers and see that bright, cheerful fabric. So why fabric? I used fabric because I can never find any shelf/drawer liner that I like. I know that there are places that sell some great options online now, but still, none of them are ever bright enough and fun enough for my taste. So when I saw this cheerful striped canvas in JoAnn Fabrics, I knew I wanted to use that for my drawers.
Obviously, using fabric instead of drawer liner requires a bit more work. It's also a little more permanent (although I've encountered more than one shelf liner in my life that was as bad, if not worse, than trying to remove stubborn wallpaper, and ended up just putting new shelf liner right over the old liner).
So here's how I did it…
First, I used painters tape to tape off the sides of the drawer right at the bottom.

Next I cut a garbage bad into strips and taped those to cover the sides of the drawer.

I cut a piece of my fabric a couple of inches wider and longer than the drawer bottom.

Then I used spray adhesive on the drawer bottom.  I always, ALWAYS use the kind that says "web" instead of "mist".  The mist adhesive sprays are incredibly messy.  They cloud up, float through the air, and get on everything!  I've never had that problem with the web adhesives.

After waiting the suggested amount of time, I placed the fabric on the bottom, smoothed out the wrinkes, and then used the dull side of a knife to press the fabric into the corners.

With everything pressed into place, I let it sit about 30 minutes.

After giving the adhesive time to set up, I used my X-ACTO knife to cut away the excess fabric.  Then I removed the tape and the plastic.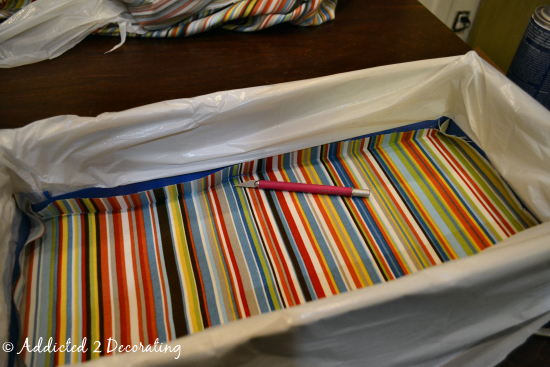 Now because these are for my kitchen, and I really wanted the fabric to be protected and the edges to be sealed, I put two coats of water-based clear sealer over the fabric.  I used some of the Rustoleum Polyurethane in a matte finish that the good folks at Rustoleum sent to me.  Naturally this makes it more permanent, but I'm okay with that.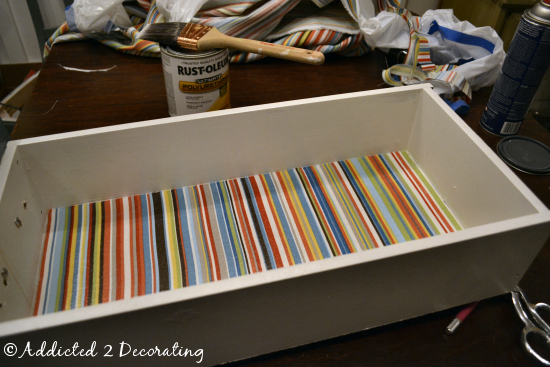 And after it was dry, the drawer was done!

If you're opposed to using a spray adhesive, there are other ways you can do this.  On the drawer I lined, I actually used wallpaper paste (Mod Podge would work too) and brushed it into the bottom of the drawer.  In the end, it worked well, but I found it a bit harder to work with than the spray adhesive.
Wallpaper paste doesn't "grip" the fabric immediately, so using a knife to push the fabric into the corners while trying to keep the fabric from slipping around was a bit of a challenge.  The good thing is that with wallpaper paste (or Mod Podge), there's no need to line the sides with plastic since there's no overspray.  I personally prefer the immediate adhesion that I get with spray adhesive, so I don't mind the extra step with the plastic, but like I said, both ways work out in the end, and each have their "pros" and "cons".
Also, if you prefer something a little less permanent, you could use Mod Podge for adhering the fabric to the bottom, as well as for sealing the fabric.  Since Mod Podge is water-based, you could (somewhat) easily remove the fabric in the future if you decide you'd like a change.
My main suggestion is to find a fabric that has some body to it. Thinner fabric would be an absolute pain to work with. The fabric that I used was canvas, and it worked great.
So go and make those drawers pretty on the inside! 😀
Addicted 2 Decorating is where I share my DIY and decorating journey as I remodel and decorate the 1948 fixer upper that my husband, Matt, and I bought in 2013. Matt has M.S. and is unable to do physical work, so I do the majority of the work on the house by myself. You can learn more about me here.
I hope you'll join me on my DIY and decorating journey! If you want to follow my projects and progress, you can subscribe below and have each new post delivered to your email inbox. That way you'll never miss a thing!