Well, September hit, and the weather changed here in central Texas. It has been rainy for over a week, with some sun here and there, but not enough to dry out the concrete on the front porch enough for me to finish up the stone facade.
So Matt suggested that it's a good time for me to turn my attention to the studio. Ugh. I know it needs to be done, but I was having so much fun playing outside and getting things done on the exterior of the house.
But he's right. I need to get serious about finishing the studio (and the half bathroom, the back entrance, and the big storage closet). There are just a few big things to do — electrical, insulation, drywall and flooring — before I can get on to the cabinet building, the trimming, and the decorating (i.e., all of the stuff that's going to turn this big, cavernous room into a pretty and functional studio).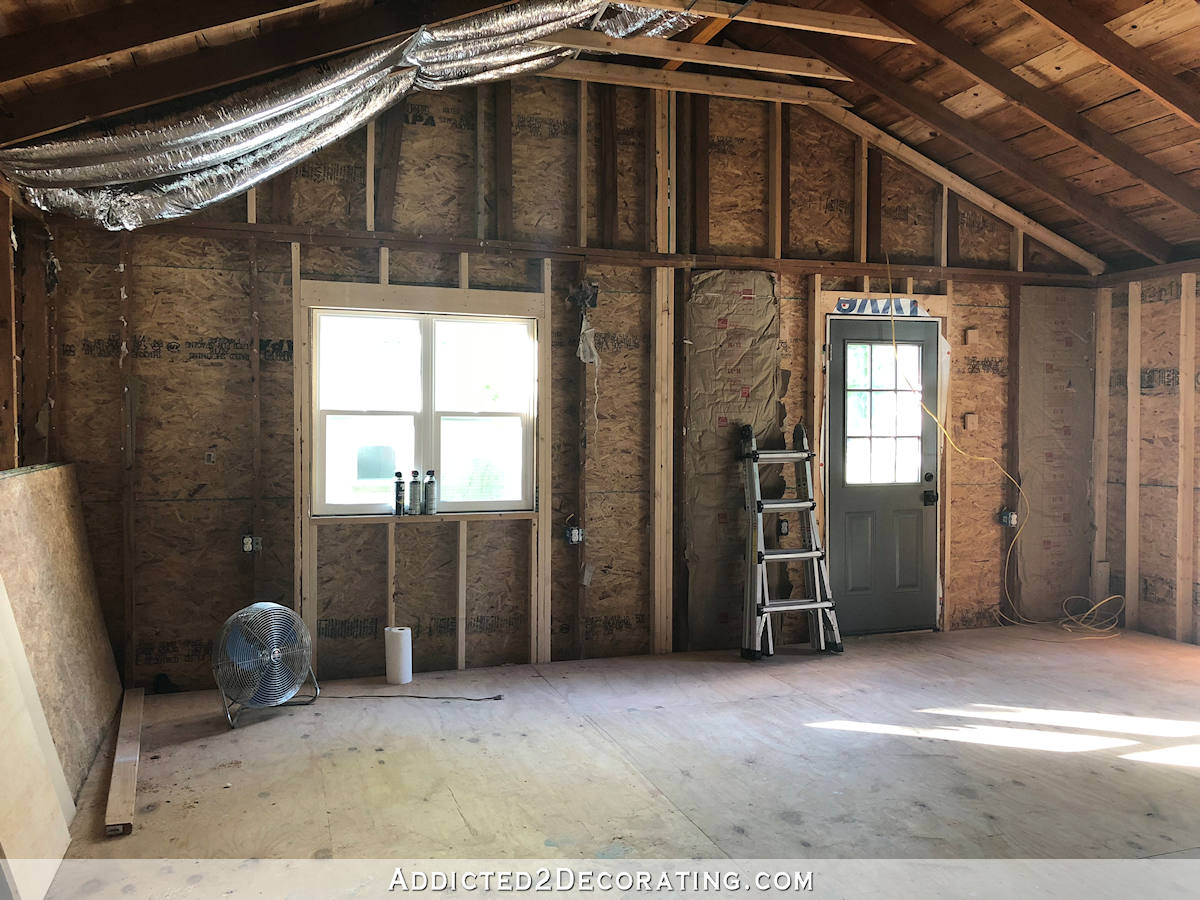 The good news is that two of those things — the insulation and drywall — will be hired out. So that leaves two things on my plate. The first one I can handle. The second one is a bit more challenging.
Y'all, I have been wrestling with flooring options for my studio for months now. I've written about it, I've wrestled with it, I've contemplated all of the options. I've stood in the flooring aisles of Lowe's and Home Depot for far too long considering the pros and cons of each option.
And still, an obvious answer evades me.
Red oak to match the rest of the house would be beautiful, but I just can't imagine that it's a practical option for a studio. Ceramic and porcelain tile options are abundant, but I can't imagine putting those in such a big room in a house that's constantly moving and shifting with the weather and the seasons. I just imagine a floor covered in cracked tiles.
LVT flooring is definitely an option, but I just haven't found any color/pattern/option that really makes me excited about it.
Which leads me to Vinyl Composition Tile.
Yes, that's right. VCT. The stuff that's used in commercial buildings, schools, hospitals, etc. It's very inexpensive, but very durable (obviously, since it's used in high traffic commercial and institutional buildings).
That makes it great for use in areas of a home where durability and water resistance are important. It seems like I generally see it installed in a checkerboard pattern like this one…
And while I do like a checkerboard pattern, there are so many other designs that can be made with these simple square tiles. I really love the look of this unique design…
And this looks like similar colors in a multi-size square and rectangle pattern…
While these colors aren't my taste, I do like the basketweave pattern of this VCT kitchen floor…
There are so many different ways you can install the tile using the whole 12″ x 12″ square tiles to create different patterns.
Of course, my absolute favorite design is this one…
And naturally, my favorite one would require a whole lot of time, patience, and lots of tile cutting. But y'all know that I'm not opposed to lengthy and tedious projects if I think the result will be worth the effort.
So at the moment, VCT is the way I'm leaning for the whole studio area. But before I make that final decision, I'd love to know if any of you have any experience with this type of flooring — installing it, cutting it, living with it, maintaining it.
Is the installation as easy as I think it should be? (It's just glue-down, so that seems simple enough.) Is it easy to cut, and do you get a nice, clean edge if you use a vinyl tile cutter? And would the edges really be clean enough to cut all of the tiles for an entire floor to do a design like the one just above?
And what about maintenance? This is probably my biggest concern. I know it can be cleaned and buffed to a high gloss shine, but y'all know that I generally don't like shine. I'd like it to have a duller finish, but then does that mean it's more prone looking dirty and showing traffic patterns? The ones in the photos above look like a nice matte finish, but is that just because they're new?
I'm sure hoping that some of you have experience with this and can pass it along to me! My studio is a big room, and I'm so nervous about making the wrong flooring decision and ending up with something that's high maintenance and/or needs to be refinished every couple of years. I need durable, long-lasting, and low maintenance.