Three out of the four things that I hired the contractor to take care of have been finished. All of the electrical has been finished to the point it needs to be before drywall goes up. The HVAC ductwork has all been rerouted. And the spray foam insulation went in yesterday.
I've only ever had spray foam in an attic, so it was very interesting watching how they had to do the walls and vaulted ceiling. The spray foam initially puffs up and sticks out past the studs and rafters, so then they have to go back and shave off all of the excess so that the drywall will fit right up against the studs and rafters.
It's an incredibly messy process!!
I was amazed that they got it finished and cleaned up as quickly as they did. They arrived at 7:30 and began taping up doors and windows, and then started spraying around 8:30 or so. They had everything sprayed, shaved, and cleaned up by around 1:30 or 2:00.
There's one area inside the studio vaulted ceiling that they didn't do because the new carport roof extends over that area, so they sprayed that area between the carport roof (i.e., the new roof) and the studio roof (i.e., the old roof). So while it looks like part of the room isn't insulated, it really is.
And they didn't insulate any of the interior walls, either. They drywall guys will be using RockWool Soundproofing insulation between the interior walls before they install the drywall.
And speaking of dyrwall, that's starting today! They're here right now getting everything ready to start the drywall.
It's getting exciting! And we're getting so close to the fun parts!
But even in its current state, it's a far cry from what I started out with. It started out looking like this…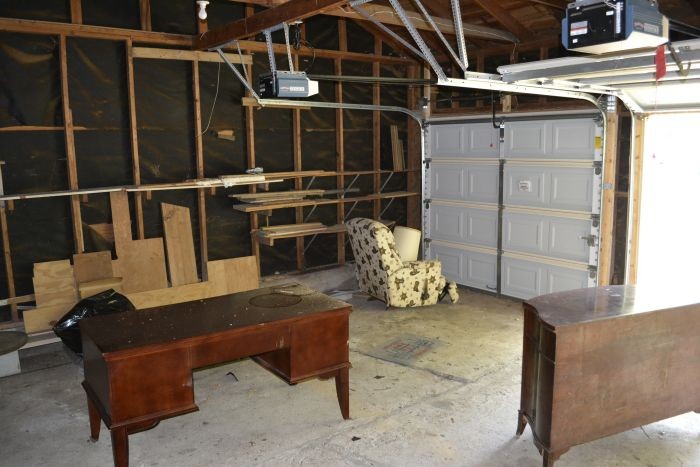 And now it looks like this…
Those two pictures are of the same corner of the room. Where there once was a garage door, there is now a window. And where there was once just a solid wall, there is now a side door. And of course, the current floor of the studio is about 16 inches higher than the original garage floor was.
I love finally seeing this progress!
---
---