After my studio flooring setback last week, I was determined to make a new flooring decision by the end of the weekend. The last thing I want is for this project to get held up even more by my indecision.
There are so many ceramic and porcelain tiles that would be beautiful in there, but I just can't get past the coldness of tile. And by that, I mean that it's both visually cold (to me) and literally cold to the touch (even here in Texas). It's fine in a bathroom or laundry room, but in a 20′ x 20′ studio where I'll be spending quite a bit of my time each day, I just can't get past it.
So I went with unfinished red oak hardwood flooring, which is currently stacked in the studio where it will have to acclimate for a few days before I can install it.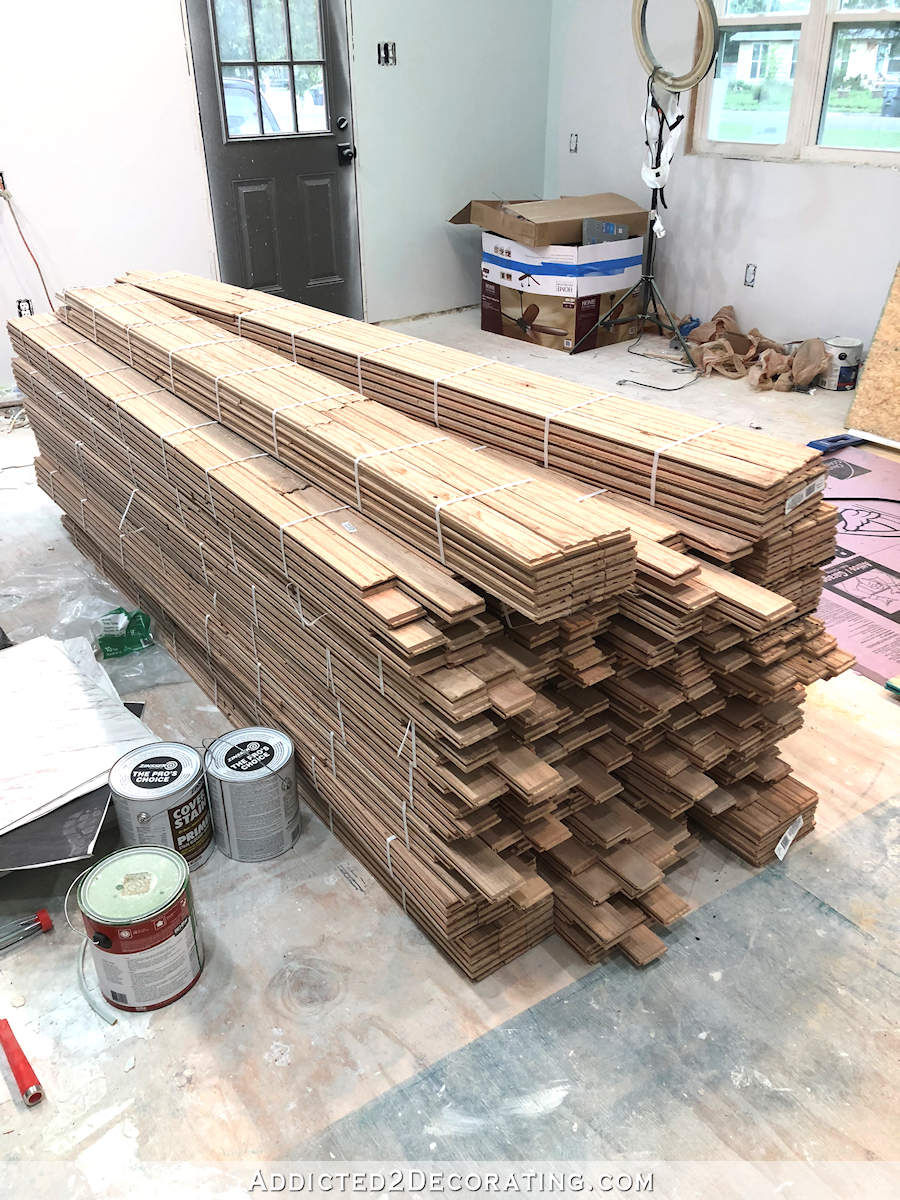 And I unloaded every bit of that flooring by myself. 😀
It's the same red oak hardwood flooring that is original to our 1948 house, and it's the same flooring that I installed in the kitchen, breakfast room and pantry.
But now I have to return this stack of tongue-and-groove OSB subfloor.
That's not a job I can do myself, so I'll have to call in reinforcements to help with that.
But I'm just glad to have this decision made. I can't move forward with things like door casings and cabinets until the flooring is down.
I had originally decided against hardwood flooring because it's more easily damaged than ceramic or porcelain tile, and if it's damaged, it's not as easily replaceable as vinyl tile. And seeing that this is a studio, and I won't be able to baby these floors like I do the hardwood floors in the rest of the house (yes, that's a joke 😀 ), I was concerned that they may get damaged and need repair too often.
But I've just decided to embrace it for what it is. It's a studio. I'm sure I'll drop paint and other products on the floor, and it'll probably get a few scratches here and there. But I'll just chalk it up to the creative process and try to be okay with it.
This might also be my opportunity to do a painted wood floor, especially in the back entry, where I'd still love to have a black and white floor. Something similar to this might be nice…
Anyway, while buying this flooring yesterday, I learned something new about making large purchases at Home Depot. While the guy who was helping me got the forklift for my flooring, he sent me over to the desk in the flooring department to pay.
I told the lady that my debit card has a point of sale limit of $1500, which is something that the bank does to protect me from someone stealing my card and immediately draining my account. I generally don't think anything of it since I don't regularly spend $1500 at a time. But every once in a while, it sneaks up on me, like when I need to purchase a new laptop, and I forget to contact the bank first to let them know, and my card gets denied and panic sets in before I realize the reason.
So I was going to suggest that we might need to ring it up in two transactions so that I could pay with two separate accounts. But before I could make that suggestion, I heard her say, "Okay, well, let me just throw it into the bedroom and see if that can help you out any."
I sat there completely confused. Throw it into the bedroom? What the heck is she talking about? Is she going to double check my room dimensions to make sure I'm not purchasing too much? But why would she assume I'm putting the flooring in a bedroom?
I was so confused as I sat there watching her input data into her computer, but I thought, "Well, she seems to be pretty confident in this plan, so I'll just let this play out and see where it takes us."
After she got all of the data input for my order, she explained to me that when you make large purchases, you should always ask if the person will put it into the bid room….
BID room! 😀
Aaahhh, that makes much more sense. Well, kind of. I've been a very loyal Home Depot customer, and have spent countless thousands of dollars there over the last decade. Why am I just now hearing about this bid room?
After a couple of minutes of waiting, a bid appeared on her screen for my order. Long story short, I saved about $300. And that did, in fact, get me just barely under my point of sale limit, even with sales tax.
So I just wanted to pass that along. I have no idea if you need a pro account for that (but that's easy enough to set up, and it's doesn't require opening a credit card), but I do know that it's something you have to actually request on large orders. But before you can request it, you have to actually know about it. I sure wish I had known about the bid room several years ago!
Addicted 2 Decorating is where I share my DIY and decorating journey as I remodel and decorate the 1948 fixer upper that my husband, Matt, and I bought in 2013. Matt has M.S. and is unable to do physical work, so I do the majority of the work on the house by myself. You can learn more about me here.
I hope you'll join me on my DIY and decorating journey! If you want to follow my projects and progress, you can subscribe below and have each new post delivered to your email inbox. That way you'll never miss a thing!