Last Updated on January 14, 2019 by Kristi Linauer
I remembered to get pictures of the new vaulted studio ceiling yesterday, and I have to say, this is the biggest transformation so far. But first, let's remember what it looked like originally…
Now I'm sure many of you looked at that picture and thought, "I can't tell what's going on there!" Yep. Exactly. And let me assure you that standing in the room and looking at it in person wouldn't have helped much. It was a big jumbled mess of seemingly random boards everywhere.
And the main beam that spanned the width of the room (the one with the blue junction boxes attached to it) was actually below the 8-foot ceiling line….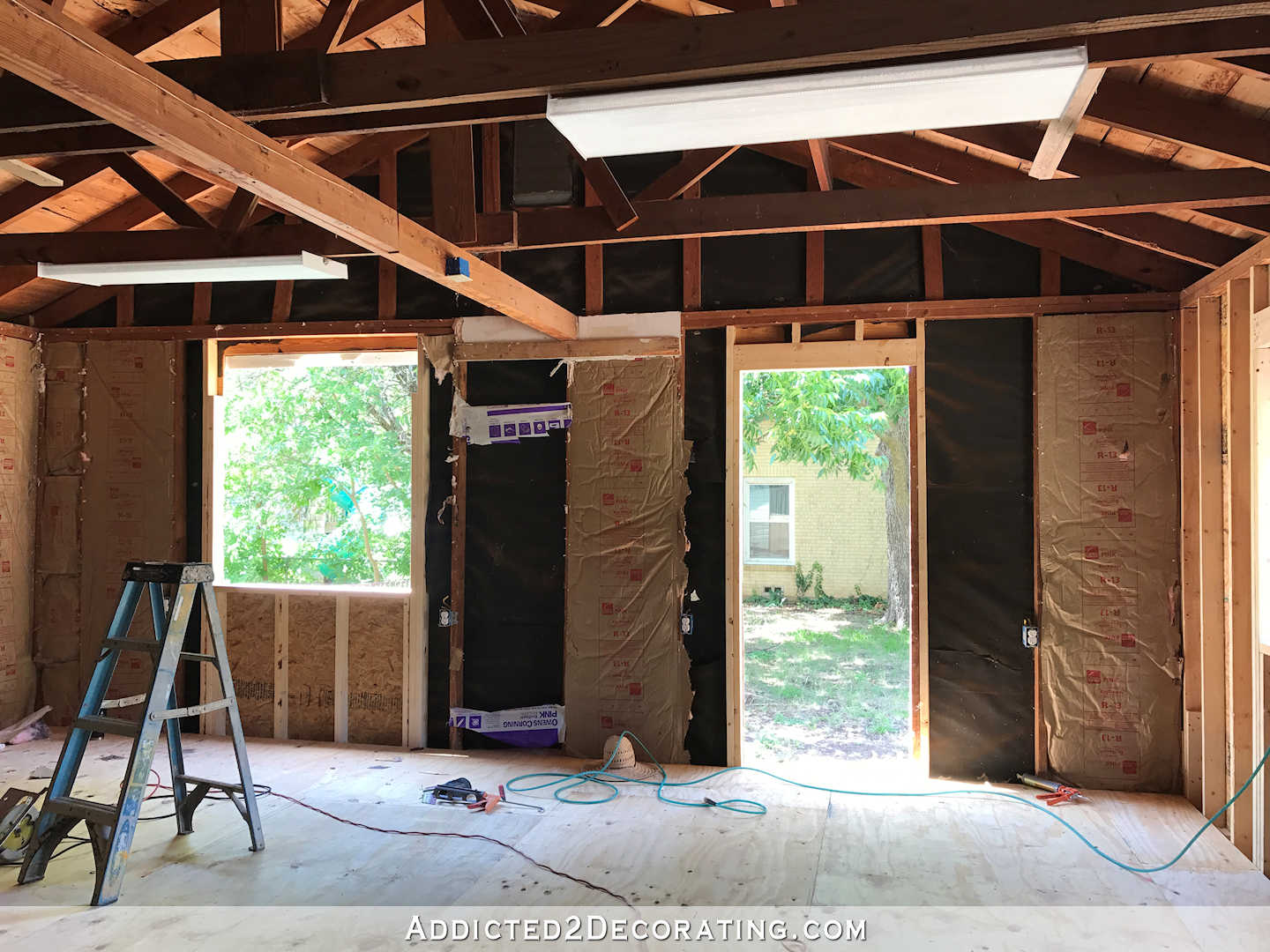 So if I had kept the roof structure just like it was, the ceiling in the studio would be only 7.5 feet high. A ceiling that low in a huge 19.5′ x 22′ room would have looked a bit cave-like.
In addition to the jumbled mess on the inside, several of you noticed that the ridge line had a very noticeable sag to it.
I was told by several different people (inspector, roofers, contractors, etc) that while it looked bad, it wasn't structurally unsound. They said that sag was probably three decades (if not more) in the making and was due to the fact that whoever built the garage used a 1″ x 4″ board as the ridge board.
But it did look horrible, and I wanted it fixed. I talked extensively about it with the project manager and framers, and they assured me that they'd do everything they could to straighten it as much as possible, but it might not be perfect since again, that sag was several decades in the making and trying to straighten it to perfection in an hour could potentially cause actual damage to the roof.
Well, they did an amazing job, and I couldn't be more pleased. First, here's what the inside looks like now…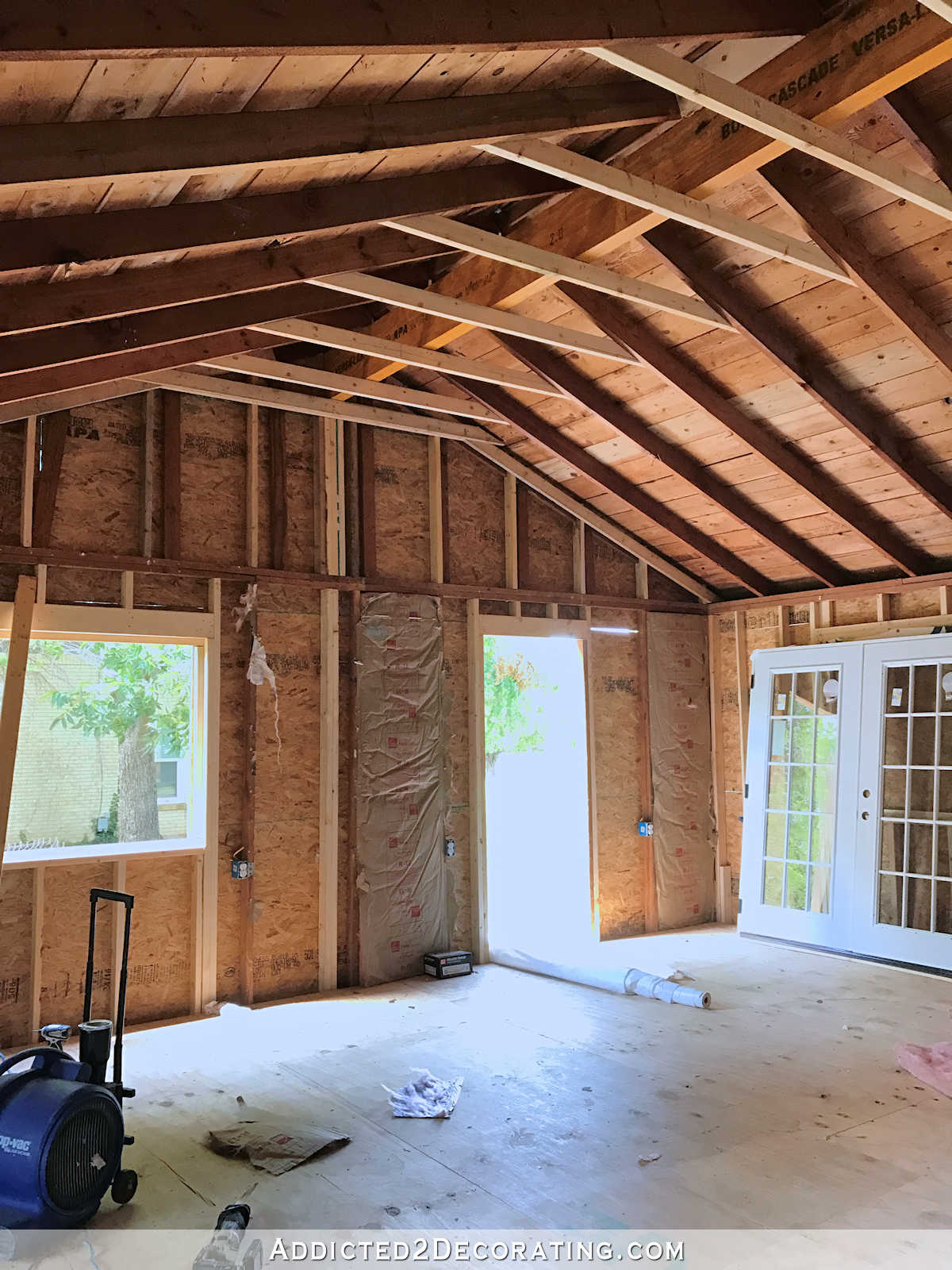 Now instead of an insufficient and sagging 1″ x 4″ piece of lumber supporting the ridge inside, I now have a massive 3.5″ x 16″ (or was it 18″?) LVL beam supporting the ridge with new tie beams just under the LVL beam.
And what did that do the outside? Well, it's not perfect, but they were able to straighten it out much more than I had expected, so I was ecstatic.
I don't expect perfection from a 70-year-old house, and I'm just so pleased that the obvious sag is gone and that it no longer looks like it's on the verge of collapsing in the middle. 😀
In other news, I've made a flooring decision. After reading all of your comments about tile, most of which were warning me about how hard tile is on the feet and legs, I've decided to just carry the red oak hardwood flooring throughout the studio, and then use tile only in the half bath and the mudroom at the back.
And on the portico vs. awning topic, y'all have convinced me that the portico makes much more sense. I really wanted to go with the awnings option, and I had hoped that more of you would have positive experiences with awnings to share with me. Sadly, that wasn't the case. And while I'm admittedly and unashamedly a form over function kind of person, there are times when practicality has to reign. All of the talk of having to remove awnings during bad weather, clean them often, replace them when they fade and tear, etc., scared me off.
So a portico it will be, and I'll be using this one as my main inspiration…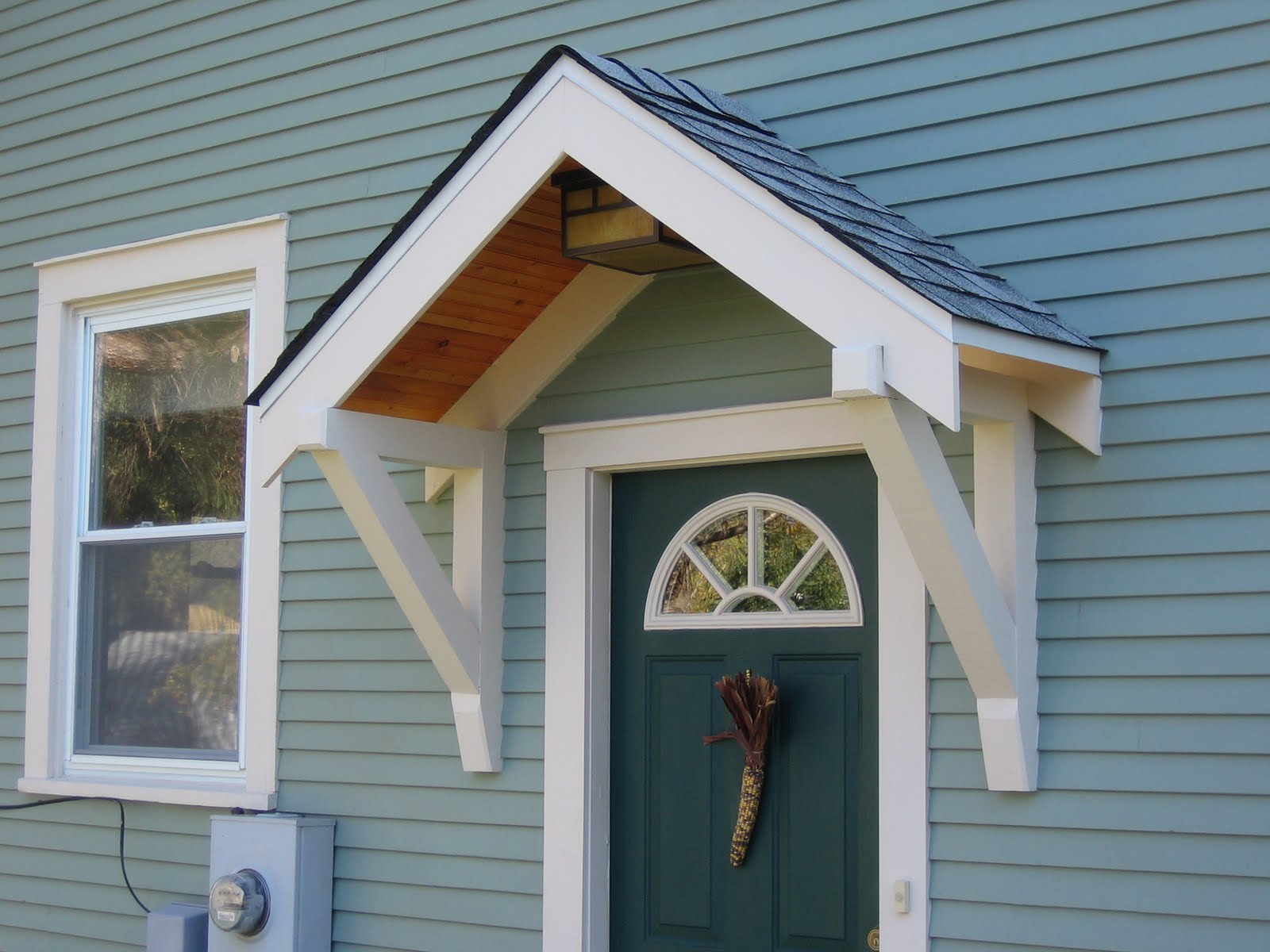 via Bungalow Restoration
But I want my supports to have less of a craftsman look and more of a traditional look to them, so I went in search of traditional supports and came across these…
I found those at Architectural Depot, and they come in many different sizes and species of wood. And they have probably the biggest selection of wood corbels and brackets that I've found.
So things are moving right along! These guys will be done with their part of this project pretty soon, and then it'll be handed over to me to finish out. The progress will definitely slow down at that point since I'll be doing a lot of the finishing myself, so it'll be interesting to see how that goes. It should be fun!
Addicted 2 Decorating is where I share my DIY and decorating journey as I remodel and decorate the 1948 fixer upper that my husband, Matt, and I bought in 2013. Matt has M.S. and is unable to do physical work, so I do the majority of the work on the house by myself. You can learn more about me here.
I hope you'll join me on my DIY and decorating journey! If you want to follow my projects and progress, you can subscribe below and have each new post delivered to your email inbox. That way you'll never miss a thing!