Y'all, I'm so excited about the progress that my brother and I made on the studio flooring yesterday! We got all of the flooring installed that could be nailed down with the flooring nailer. That left about four or five rows that will have to be nailed down with a regular nail gun, but after working for 8.5 hours, with me standing and bent over almost that whole time, there was no way I could get on the floor to nail those last rows down. If I had gotten down there, there's no way I could have gotten back up. 😀
So those last few rows will have to be done today or tomorrow.
But let's focus on what we did get done — about 350 glorious square feet of hardwood flooring installed.
We worked from noon to 8:30, but about an hour of that was wasted on a tool malfunction. My flooring nailer must have blown a gasket of some sort, because all of a sudden, air started leaking out of the head cap (i.e., the part that you strike with the mallet to shoot the nail), and I couldn't get it to stop. I took it apart to see if I could find the problem, but I couldn't figure it out.
So I ended up having to purchase another one to finish the job. I could only find one locally at Harbor Freight that used the same size of nails that I had already purchased, and it was much cheaper than the one that Lowe's had in stock. This is the one I purchased, and it's a great flooring nailer. If you're about to tackle a nail-down hardwood flooring installation, I highly recommend it. It's inexpensive, lightweight, and didn't jam a single time while I was using it.
So the hour delay was frustrating, but we still managed to get it all installed, and finished around 8:30. It was exhausting work, but it's so rewarding to see how much we accomplished!
I've still got a heck of a lot of work ahead of me in order to get the floor completely finished. I need to instal those last few rows, and then rent the big sander and get the floor wood filled and sanded. But can we just take a minute and remember where this room (garage) started? It's hard to believe that it's the same space! Here's what it looked like when it was a garage, with the concrete floor, garage doors, and black tar paper walls.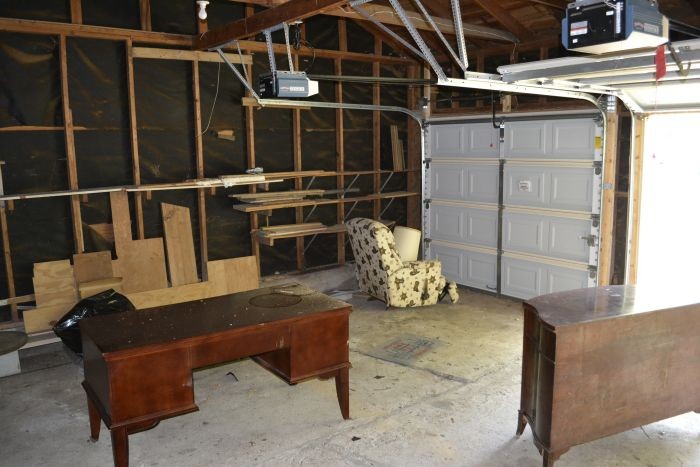 After the floor was raised and the ceiling was reframed, it looked so much different, but it still didn't look like a room where I'd want to spend any amount of time.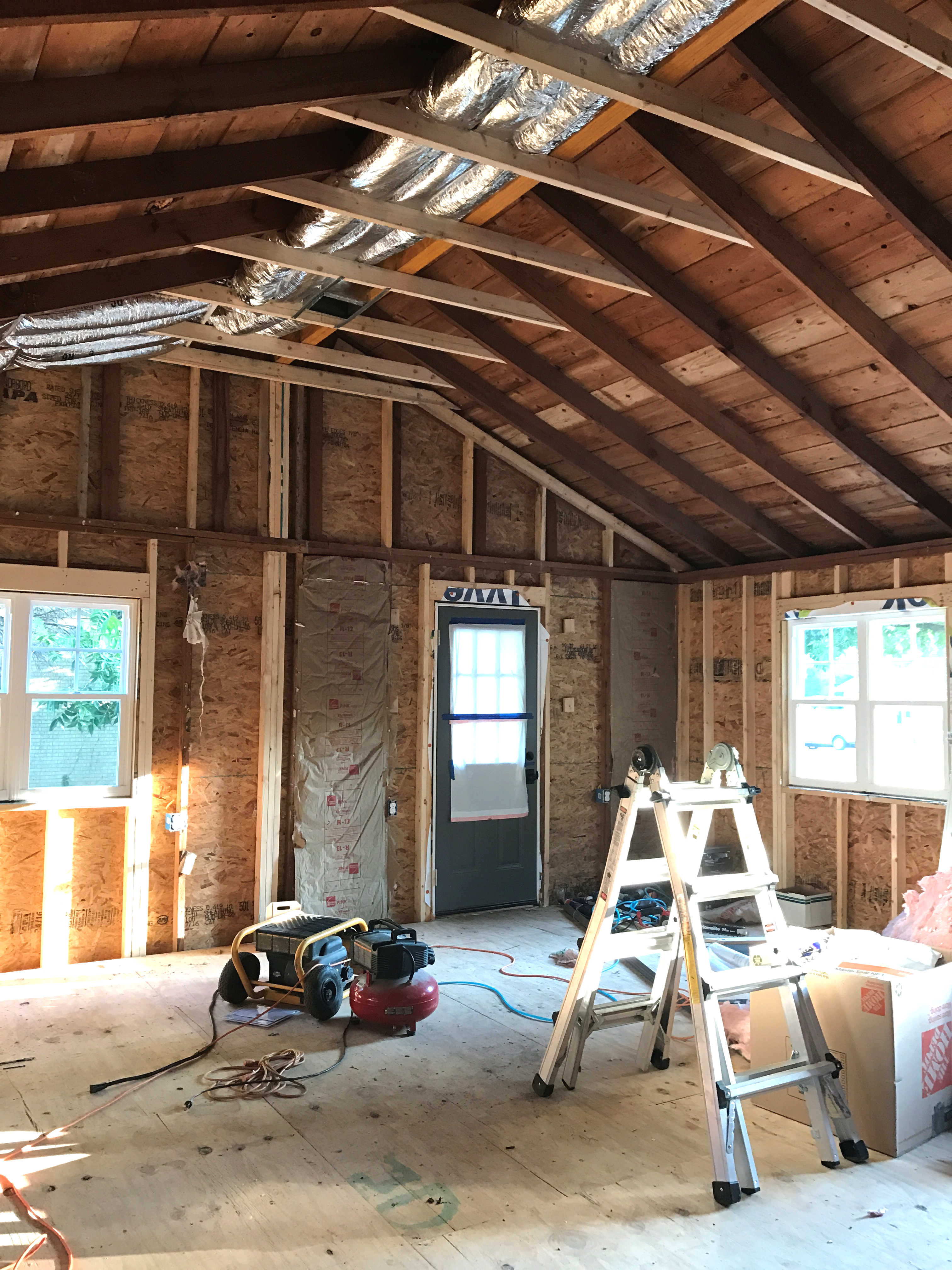 But now, it's starting to look like an actual room!
All three of those pictures were taken from the breakfast room door, so it's all the same view of the room. Isn't that an amazing difference? I'm so excited about how this room is shaping up, and I haven't even gotten to the really good stuff yet. 😀 There's still so much more to come!
Addicted 2 Decorating is where I share my DIY and decorating journey as I remodel and decorate the 1948 fixer upper that my husband, Matt, and I bought in 2013. Matt has M.S. and is unable to do physical work, so I do the majority of the work on the house by myself. You can learn more about me here.