Last Updated on June 5, 2021 by Kristi Linauer
The good news is that the carport addition has been scheduled! They're supposed to begin work in two days (on the 18th), weather permitting.
I'm so exciting about getting this done now. It was totally out of the blue, and had my neighbors not had their covered patio built now, I probably never would have even thought to do the carport now. But they did, so we are, and things will work out so much better in the back portion of the studio (i.e., the mudroom and half bath) as a result.
So what's the bad news? The cost. Ours is going to cost quite a bit more than the price that this builder gave the neighbors for the basic structure. I was disappointed, but I also completely understand why there's such a difference in price.
First, ours is a carport and not a covered patio. That means that the concrete has to be poured in such a way to support the weight of vehicles, and not just the weight of humans walking around and sitting in outdoor chairs.
Our neighbors' covered patio also didn't require any change to the existing structure of the back of the house. We're not so lucky. We have about 22 feet by 8 feet of flat roof that will be completely removed…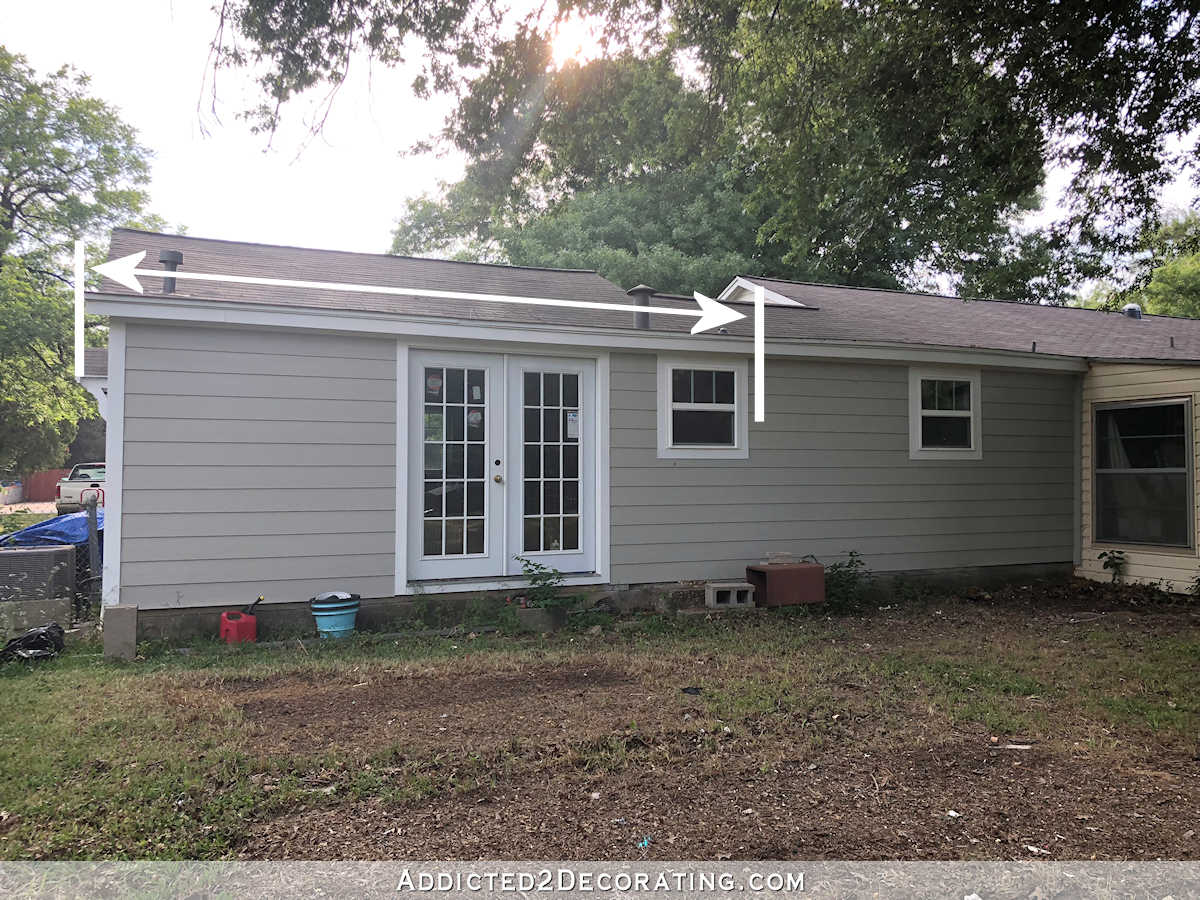 After the whole flat roof structure over the mudroom and half bath are removed, the walls will be reframed so that they're actually a full eight feet high (as opposed to the current 7-foot height), and then the carport roof will be tied into the original roof over the actual studio. So naturally, all of that additional demolition and reframing adds quite a bit to the cost.
Also adding to the cost is the inclusion of a wheelchair ramp for Matt, but oh my goodness, that will be worth every single penny! I can't even express to you how nice that will be to have an actual, usable, safe wheelchair ramp. From the back door, it will run along the side of the house and go towards the sunroom, then it will U-turn and come back and tie in to the carport.
I know many of you were shocked when I decided to remove the ramp from the front porch, and several of you urged me to keep it. But y'all, that thing was more dangerous than it was usable simply because it was so steep. An ADA-compliant ramp is supposed to have a vertical rise of no more than one inch for every 12 inches of ramp length. The front ramp had a vertical rise of about two inches per foot, and it dead-ended into grass, weeds, and gravel. There's no way Matt could have ever gotten up or down that ramp by himself, and if he tried, he probably would have lost his grip, rolled down the steep incline, and ended up on the ground. It was a scary ramp, not a helpful ramp.
But the new ramp will have a 1/2-inch vertical incline every foot of ramp length. That will be amazing!
And the final added cost has to do with the actual framing upgrades needed since ours will be a carport. My neighbor had additional support columns added to the design of his covered patio. He liked it like that for aesthetic reasons, but those additional supports also made the cost of the structure less because the builder was able to create the horizontal support beams (i.e, the beams that sit on top of the vertical columns, and on which the entire roof rests) out of regular lumber.
But since mine is a carport, I want as few columns as possible (I don't want to have to dodge columns as I'm pulling vehicles in and out), so horizontal support beams made out of regular lumber are out of the question seeing that these beams have to span 24 feet on the two long sides (i.e., the side where I'll be pulling vehicles in and out), and 20 feet on the gable end. For mine, the builder will have to use 3-ply LVL beams that are 5.25 inches thick, 16 inches high, and 24 feet long (or 20 feet long for the gable end). Those LVL beams can get quite expensive.
So with all of these additional costs, what's the final price? $14,860.
Yep, I can hear a whole lot of you gasping right now, and the funny thing is, those collective gasps probably have some wildly different thoughts behind them.
Some of you are thinking, "Wow! That's a lot of money!"
Do keep in mind that Matt and I bought this house (sitting on one acre of land in the city) for $80,000. And we specifically bought a cheap fixer upper, as opposed to a completely finished $250,000+ house, because we wanted to be able to customize it over time (paying cash as we go so that we don't end up paying triple the cost in interest to a mortgage company over the span of a 30-year mortgage) and make it our own.
And others of you are thinking, "Fourteen thousand dollars?! WHAT?! That would cost three (or four, or five) times that amount in my area!"
Yep. Texas is awesome like that. 🙂
So that $14,860 breaks down like this:
The concrete pad plus the ramp is $4,839. This includes the excavation/grading of the land, the forms, the concrete, steel rebar, perimeter beams, an interior beam, concrete bells poured under each column, and a broom finish for a 20 x 24 carport.
The carport framing is $4,760. This includes removing the existing flat roof, the brand new roof rafters, the tie in of the new roof with the original roof, the LVL beams, columns, the reframing of the back studio wall, and Hardi siding on both gable ends. This did include wrapping the columns with Hardi board, but I told him that I wanted to wrap the columns myself because I want them to match the front porch columns exactly. And finally…
The roof sheathing and roofing is $3,213. This includes the OSB sheathing, clips, felt paper, shingles. It also includes some pretty significant flashing that will have to be added where the new carport roof meets the flat roof that will remain over the pantry, which may result in them having to completely re-roof the pantry as well.
That's the breakdown of the project costs. Add to that the 16% for profit and overhead, and that brings us to our final number.
He gave me the option of just paying him for labor only, in which case I could save the 16%. But that would also mean that my time would be spend sourcing and purchasing materials, arranging for delivery to the house, etc. Ummm…when we're dealing with project materials that include 3-ply 24-foot and 20-foot LVL beams, no thanks. Paying someone else to manage all of that stuff, and to be sure that all of the materials arrive on site when needed, is well worth the additional cost to me.
So let's all pray for good weather, because I really want to see things get underway on the scheduled start date! He has scheduled four weeks for completion, but we'll need consistently good weather for that to happen.
Addicted 2 Decorating is where I share my DIY and decorating journey as I remodel and decorate the 1948 fixer upper that my husband, Matt, and I bought in 2013. Matt has M.S. and is unable to do physical work, so I do the majority of the work on the house by myself. You can learn more about me here.
I hope you'll join me on my DIY and decorating journey! If you want to follow my projects and progress, you can subscribe below and have each new post delivered to your email inbox. That way you'll never miss a thing!