Last Updated on December 24, 2015 by Kristi Linauer
Y'all, I'm very excited today.  Do you know why?  I'll tell you.  It's because at the end of today, I will have three of the four walls of my kitchen finished — the tiled wall, the refrigerator wall, and the wall of cabinets.  I'll only have the peninsula and the partial wall around it to go.  And the floor, of course.
I'll probably still need to go back and finish up some little stuff on each wall, like installing the glass shelves, touching up the paint on the ceiling, etc.  But after today, it'll be three walls down and one to go.  It's been a long road, but I finally see the finish line.
Yesterday was an emotionally exhausting and frustrating day.  It took me 3.5 hours just to tile the herringbone portion of this small end wall.  I had to match the tiles in the corner, cut around the ogee edge on the countertop, and then work around one set of outlets and two sets of lights switches.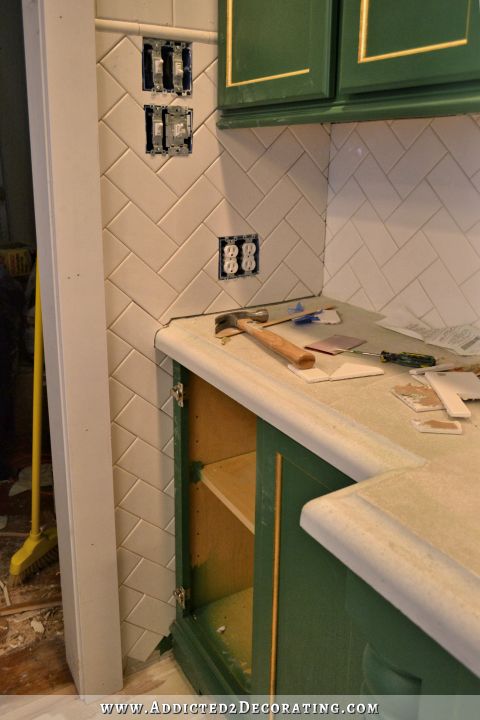 I'll be honest…about 2.5 hours in, I was on the verge of tears and wanting so desperately to call a pro to come do the areas around the light switches.  But I pressed on and got it finished.  🙂
Then I took about 15 minutes to finish up the other side where I had moved up the dividing line between the herringbone and the running bond.
So here's my official "still to do" list that I need to get done before I can call this kitchen remodel complete:
Wall of tile:
Install the rest of the tiles around the perimeter
Clean the grout lines and grout the wall
Caulk around the edges
Install trim at the top of the wall
Install baseboard
Clean film off of tiles
Refrigerator wall:
Grout tile around the doorway
Caulk around the tiles
Install the stove
Replace the trim on the cabinets that had to be removed to tile  🙁
Switch the door swing on the refrigerator
Touch up the ceiling paint along the crown moulding
Install and paint the trim around the door
Install trim at the top of the tiled wall
Install baseboards
Install undercabinet lighting
Wire vent hood with a plug (currently has no plug and has to be hardwired)
Clean overspray from inside of cabinets
Wall of cabinets:
Order shelf pins and install glass shelves
Clean overspray from inside of cabinets
Touch up ceiling paint along crown moulding
Install undercabinet lighting
Peninsula and surrounding partial walls:
Install tile on the wall
Grout the tile
Caulk around the edges of the tile
Install trim at the top of the wall
Install trim around the doorway/opening
Remake four large drawer fronts
Make and install the furniture feet on the cabinets
Install trim on the cabinets
Prime, paint and polyurethane the cabinets
Gold leaf the large drawers and cabinet doors
Install baseboard on left wall
Other:
Sand and Waterlox the floor
Phew!  Still quite a bit to do!  But do you see what I did there?  If I list things wall by wall instead of just generally, I can make my list longer and have more the cross off.  That's the correct way to make a "to do" list, my friends.  You'll feel so much more accomplished when you see things being scratched off of a super long list!  Sure, I could have consolidated all of the "install baseboard" items, or the "install trim at top of wall" items, but where's the fun in that?  I'd have to do three walls before I could cross of one single thing!  😀
Now let's revisit the artwork idea for my wall of tile.  I got so many great ideas and links from  y'all yesterday!!  I'll tell ya, when I ask for input, you guys come through.  There's no doubt about that.
There was one suggestion that really caught my attention.  (Thank you, Jenn!!)  She showed me this awesome (to me) gold leaf bird artwork from Wayfair.
I love the black frame (y'all know I love green and black together!), and I also like that it's gold, but it's not soooo much gold that it's garish and in your face.  It's more subtle.
That framed picture is $347.00, so I contacted the artist to see if he would make me a series of eight of them for my wall.  I know $2,776.o0 sounds like a lot of money, but for eight custom, framed pieces of original artwork, I figured it's worth it.  Right?
😀
I'm kidding!!!
Of course I'm just going to use this as inspiration and I'm going to make them myself.  And I don't know for sure, but I'd be willing to guarantee that I could make eight of them for far less than $347.00.
I'm still undecided if I want only four…
Or if I want eight…
And of course, it's hard to make a decision based on those horrible photoshopped pictures since the real deal would be much more subtle (gold birds/trees/whatever instead of that harsh, saturated black).  And also, all of them would be different.  I'm not going to hang four or eight of the same picture on that wall.  I just got lazy with my photoshopping.  🙂
The thing I like about the series of eight is that the whole series would read as one piece of artwork, and the two rows make the height correct.  (Middle point at 60 inches high, which is where you generally want your artwork.)  With only the one row of four, it looks too high.  So we'll see.  I'll make one and then see how it looks.  If it looks visually heavier than I'm anticipating, then I'll only do four.  If they're relatively light and airy looking like I'm anticipating, I'll do eight.  And if I don't like them there, I can always find another wall to hang them on.
And yes, I know I said I liked the metal tree specifically because it wasn't another rectangle, and here I've chosen not one, but a series of rectangles (squares to be exact), but a girl's allowed to change her mind, right?  😀
I think the series of squares makes a big difference rather than just having one big rectangle off centered on the wall.
Alright…busy day ahead.  The countdown is on.  I have twelve days remaining if I'm going to meet my goal of having this kitchen finished two weeks from this past Monday.  I'm determined!!!
Addicted 2 Decorating is where I share my DIY and decorating journey as I remodel and decorate the 1948 fixer upper that my husband, Matt, and I bought in 2013. Matt has M.S. and is unable to do physical work, so I do the majority of the work on the house by myself. You can learn more about me here.
I hope you'll join me on my DIY and decorating journey! If you want to follow my projects and progress, you can subscribe below and have each new post delivered to your email inbox. That way you'll never miss a thing!