Last Updated on December 24, 2015 by Kristi Linauer
I spent yesterday fixing my mistake on the big wall of tile.  I got the bottom two rows of running bond tiles removed, moved the dividing line up, and filled in below with herringbone.  Removing those tiles made a mess of my wall, so it required lots of repair and patience (which I had in short supply yesterday).  But it's done.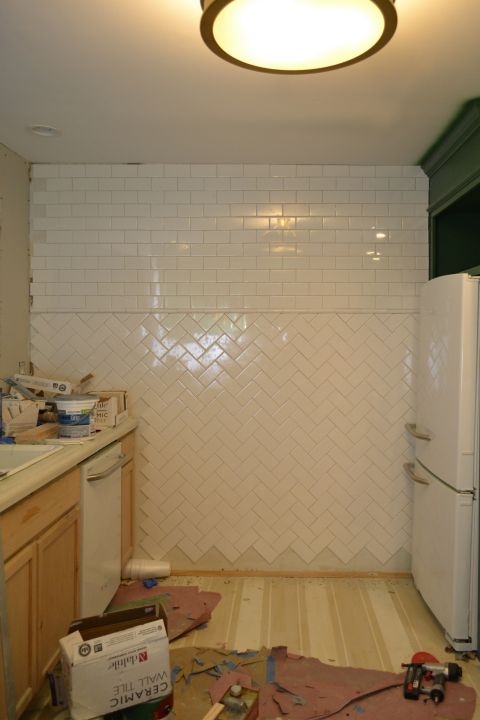 I love how this looks with the dividing line higher.  It's now around 60 inches.  With it lower, it didn't quite cut the wall in half, but it was a bit too close to the middle for my liking.  And really, you never want to cut a wall right in half with any kind of wainscoting.  It should always be very obviously higher or lower than the middle.
As I was working on this wall yesterday, I gave some thought to the kind of artwork I'd like to put on this wall.  Then last night I started searching online for some inspiration.  Have you ever searched for "kitchen artwork" online?  A search like that results in lots of cutesy stuff — images of forks and spoons, cute little food-related sayings, images of fruit, wine glasses, tea pots, etc.  Not quite what I had in mind for my kitchen.  All that cutesy stuff may have been fine for the condo, which was a lot more lighthearted in colors and decor, but this house is shaping up to be a bit more refined and…well…mature, I guess you could say.  So the cutesy stuff won't do.
So then I just started searching contemporary artists.  I came across two whose work I really loved.  (I probably could have found more, but I was limited on time.)
The first one is Kellie Morley.  She doesn't have anything currently available in the colors that I need for my kitchen, but she does have plenty that evoke the look and feeling that I like in abstract artwork.  My absolute favorite is this one called A Night On The Town.
Again, the colors are wrong for my kitchen, but I love the overall look of this painting.  And in the right colors and size (which obviously is NOT shown below), I think something like that could be very pretty in my kitchen.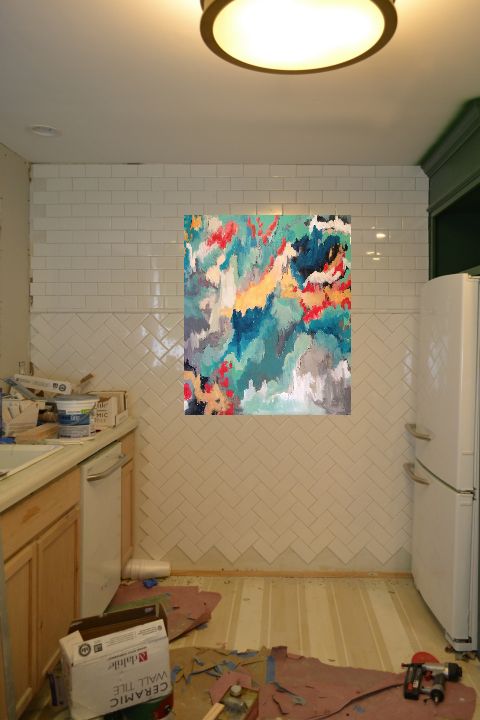 And now I'm wondering…are artists okay with their paintings being hung in a kitchen?  Or is it insulting like hanging a painting in a bathroom?  Hmmmm…
Anyway, the second one that I really love by Kellie is called Spring Blossom.  And again, the colors are wrong, but I love the style of the painting.
Kellie has more beautiful paintings available, which you can see here.
After looking at paintings, I then had a crazy idea.  You know how I'm kind of obsessed with trees and birds?  I mean, I had a huge tree with birds painted on the wall of my condo kitchen.
Obviously something like that is a little too playful for my current kitchen, plus I can't really paint on a wall of tile.  But I thought, what if  take that general idea, but upgrade it somehow?  I could make it more dimensional…and gold.  With maybe some silver thrown in.  So I searched for "gold tree wall art" and found this…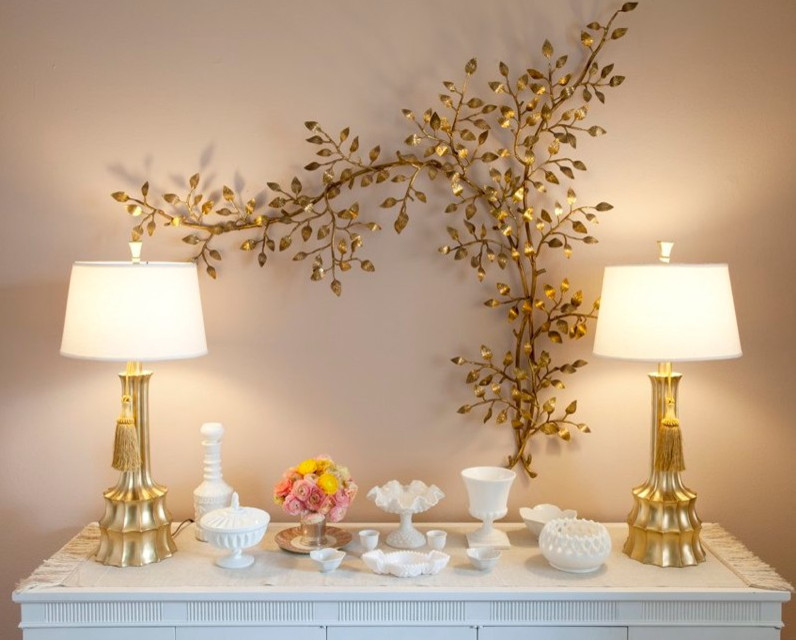 via Founterior
Oh my gosh, I love that!!!!  Now I know many of you will probably hate it.  It's vintage, and I assume it's from the 60's or 70's, and items from those decades often bring about strong dislike with many people who remember using them or seeing them back then.  But I personally love it.
Of course, where am I going to find something like that that's big enough to make an impact on my rather large, blank wall?
It doesn't necessarily have to be that big, and the shape is all wrong for my wall, but I would want it to be big enough to really make a statement.  So that means I'd either have to commission a metal artist to make one (and I can't even imagine how much that would cost!!!), or I'd have to make it myself, which would probably take me a year to complete.
But I love the idea.  Absolutely love it.  Probably the main thing I like about it is that it's not rectangular.  The free form design is a great juxtaposition to all of the rectangular shapes in the room, including all of the wall tiles.
My search for tree artwork also led me to artist Christine Krainock.  What I love most about her work is the dimensional quality that she creates by using a palette knife.  She has one or two available that would actually work in my kitchen as far as the colors go, but I haven't checked the sizes yet.  And then she has others wtih the look I love, but not quite the right colors.
My favorite one by Christine is this red tree painting…
And a close runner up is this tree landscape…
She also has this abstract painting that is completely unlike any of her nature paintings, and while the colors are completely wrong for my kitchen, I'm mesmerized by this painting.
So that's as far as my search for artwork took me last night.  And again, the option I'm loving the most is the gold and silver tree idea, just because I love the free form against all of the rectangles in the room, but I have no idea how I would go about it.  And since it's one of those things that would either cost quite a bit to commission, or take forever for me to make, it would be a gamble.  Could you imagine spending all of that time (or money) and then not liking the end result?
But this wall definitely needs something.  I don't want to look at a big blank wall of white tile.
If you have any brilliant ideas for me, I'd love to hear them!
And please…no shelves.  I will not, under any circumstances and for many reasons, be installing shelves on this wall.  🙂
And also, I really am curious about what artists think of their work being displayed in a kitchen.  Anyone know?  I'd ask my mom, but she's not your typical artist.  She has one of her own paintings (and it's one of her favorites) hanging in her bathroom right above the toilet, and then four more on another wall.  😀
Addicted 2 Decorating is where I share my DIY and decorating journey as I remodel and decorate the 1948 fixer upper that my husband, Matt, and I bought in 2013. Matt has M.S. and is unable to do physical work, so I do the majority of the work on the house by myself. You can learn more about me here.
I hope you'll join me on my DIY and decorating journey! If you want to follow my projects and progress, you can subscribe below and have each new post delivered to your email inbox. That way you'll never miss a thing!