Last Updated on May 6, 2017 by Kristi Linauer
I worked all yesterday afternoon and into the evening trying to get my kitchen put back together after five days of taping, draping, and spraying my cabinets. I was so hoping to get it all finished before I called it quits last night, but when 11:00pm rolled around and I still wasn't finished, I gave up and decided I just wouldn't post this morning.
Then this morning, I realized how silly that is. No, my kitchen isn't all put back together. Yes, I have the contents of my kitchen cabinets piled on the breakfast room table and floor. Yes, I have dirty dishes in my kitchen sink. Yes, I still have painters tape I need to take off of the walls in places. No, I didn't get the sconces reinstalled. And on, and on.
But even if I had gotten all of that stuff done, my kitchen still wouldn't be finished finished seeing that I still have trim to repair and paint, a ceiling to paint, and the most obvious…I'm missing five cabinet doors. (Sadly, as of this morning, my order is still "pending," meaning that they haven't even started on my doors yet.)
And I think we've long since moved past the point where y'all expect magazine-quality beauty shots from me, right? 😀 I live in the real world here, and this is real life remodeling. And y'all just want to see my teal cabinets, right? So here's how they look as of this morning, messy kitchen and all.
On the range/refrigerator wall, I'm still missing the door that will cover the opening on the range hood cover.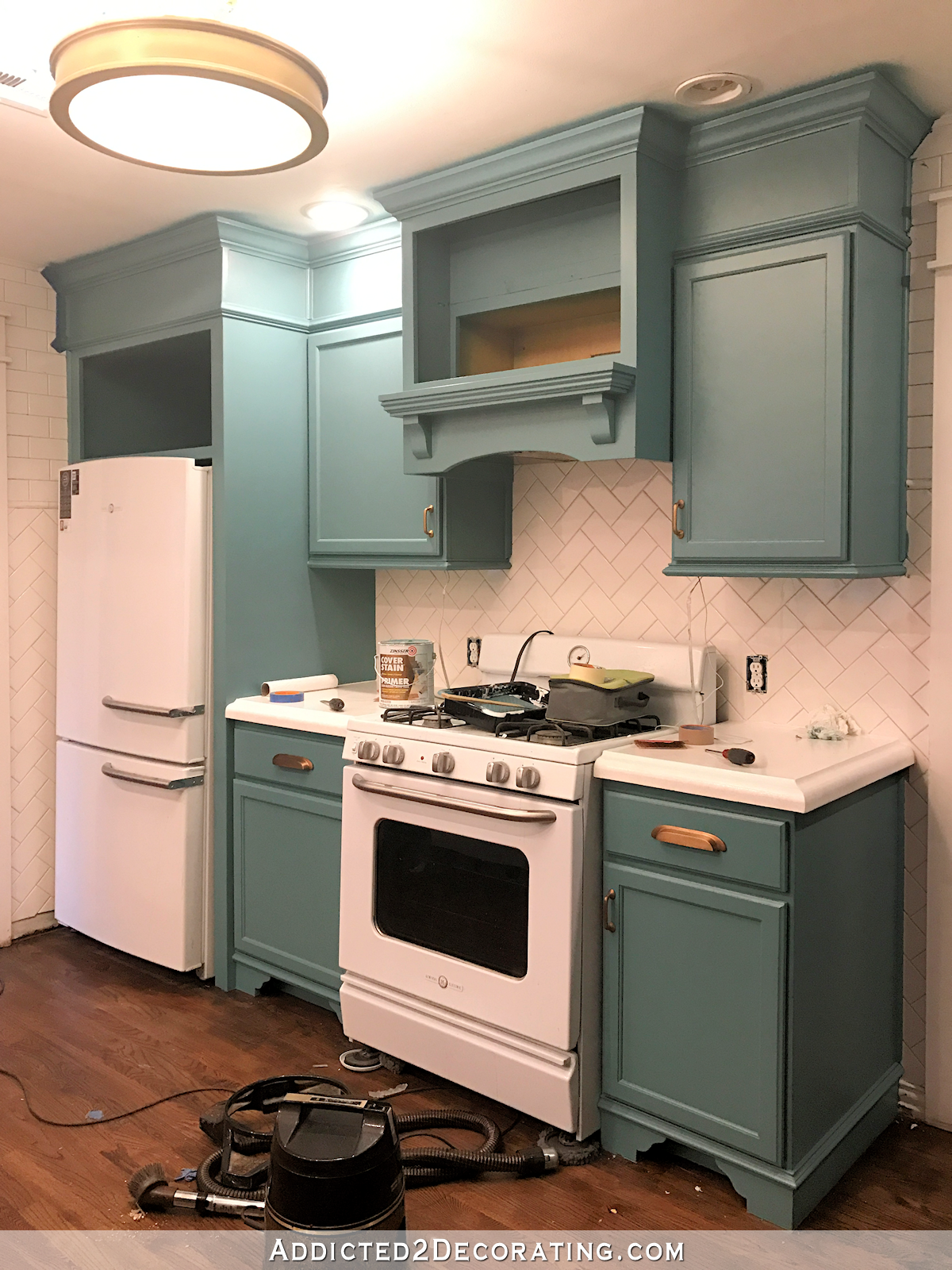 On the wall of cabinets, I'm still waiting for the four middle cabinet doors. I decided to go with four smaller doors rather than the two original large size doors that I had before.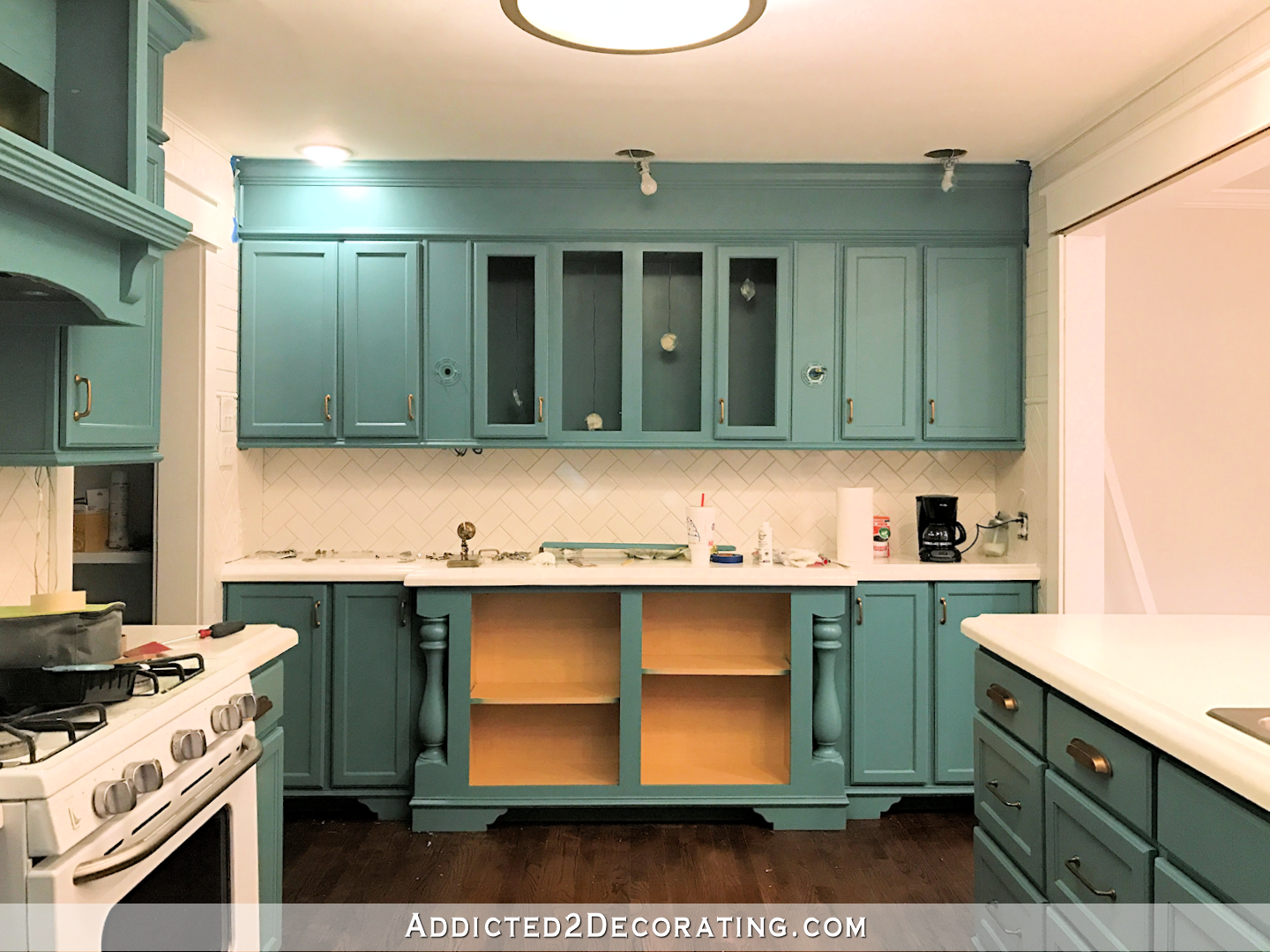 The kitchen side of the peninsula is pretty much finished. I do have a toekick strip to go underneath the dishwasher, painted to match the cabinets, but it seems to have gotten lost in the mess. I'm sure it'll turn up eventually as I get things put away and cleaned up.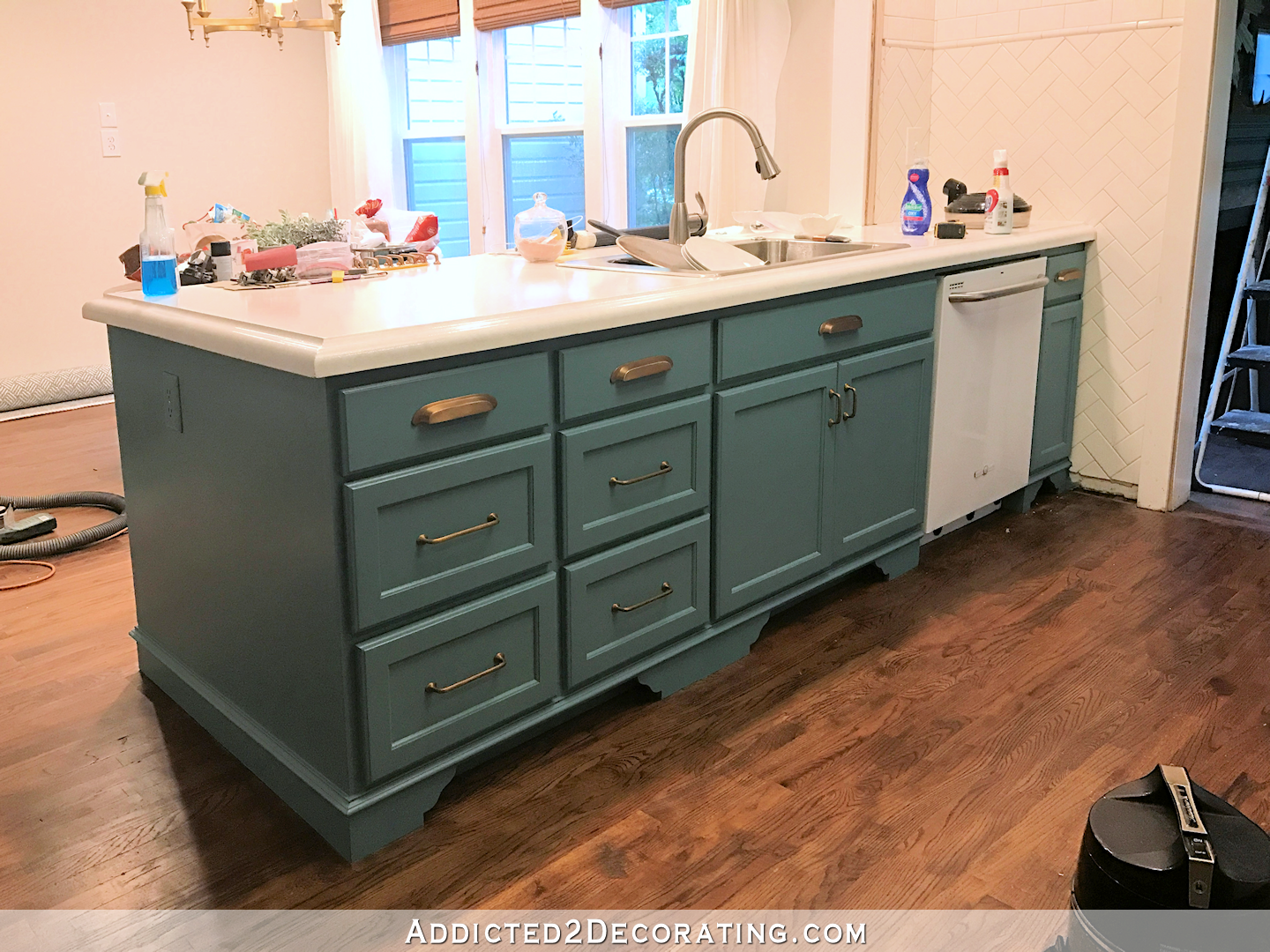 And finally, the back side of the peninsula just needs cabinet pulls.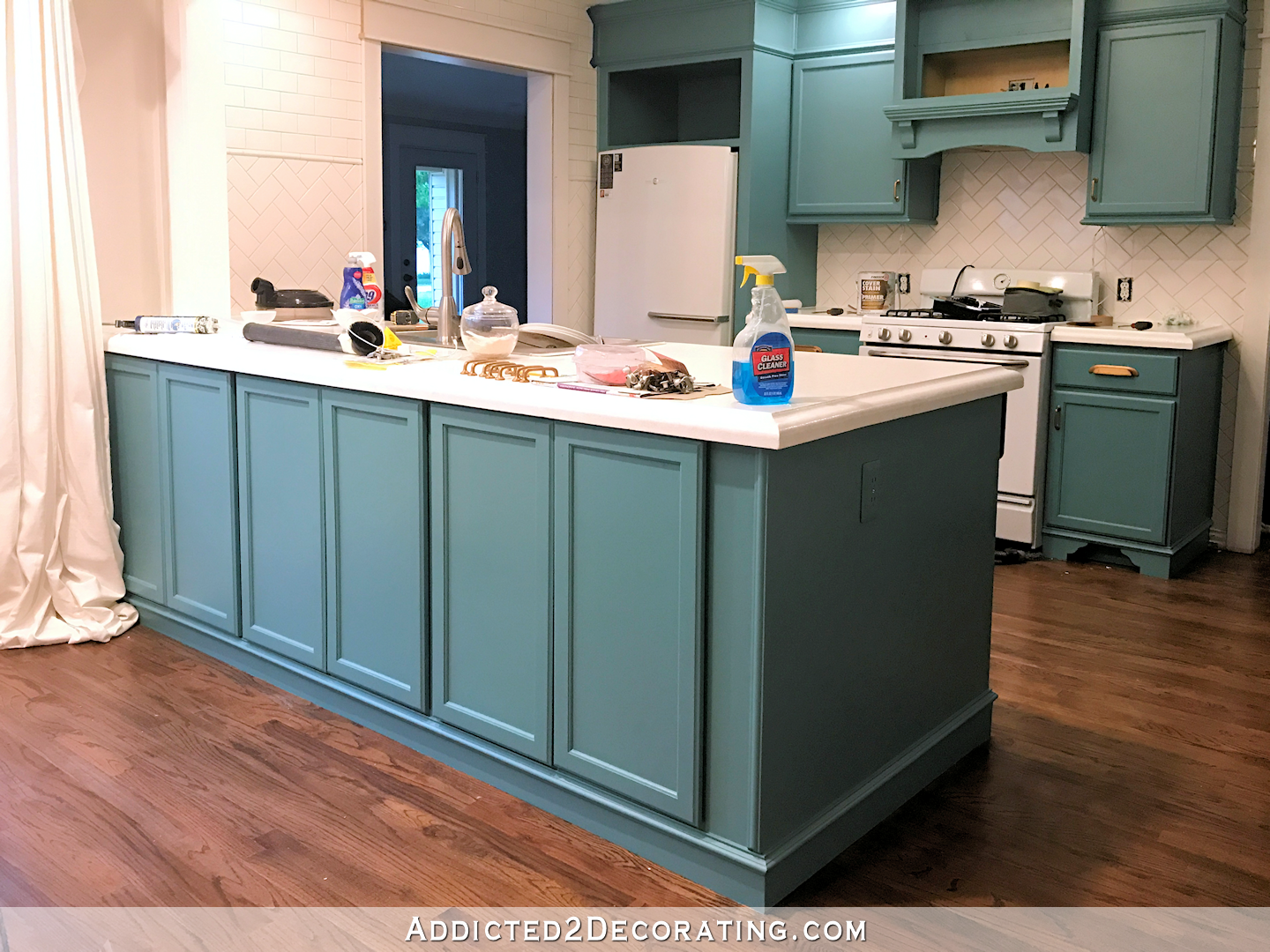 That breakfast room side of the peninsula is probably the most exciting part for me. It's so awesome seeing it finished after living with it completely unfinished for over two years.
This project was such a huge headache, but I'm so glad I took the time to do it. The fact is that this color is so much more me than the green cabinets ever were. I loved the green, but it felt like I was trying to be someone else, or trying to decorate for someone else. Now when I walk into my kitchen, it feels like my home. And because this color speaks to me, I find it so much easier to decorate around. Now I just hope I'll get my other five doors this month, because really want to get this finished!
Addicted 2 Decorating is where I share my DIY and decorating journey as I remodel and decorate the 1948 fixer upper that my husband, Matt, and I bought in 2013. Matt has M.S. and is unable to do physical work, so I do the majority of the work on the house by myself. You can learn more about me here.
I hope you'll join me on my DIY and decorating journey! If you want to follow my projects and progress, you can subscribe below and have each new post delivered to your email inbox. That way you'll never miss a thing!