I've been trying to finalize some decisions for the studio so that everything is ordered and ready to go so I can get started as soon as the drywall is finished. One of the big decisions is lighting.
Just as a refresher, let me remind you where things will go in the studio. For reference, I stood in the doorway between the studio and the breakfast room to take this photo…
The wall on the right in the photo above is where the floral wallpaper that I designed will go, along with a very wide built-in desk with cabinets on either end. It will look something like this…
And then the door is where the cute little portico is on the side of the studio (that still needs steps)…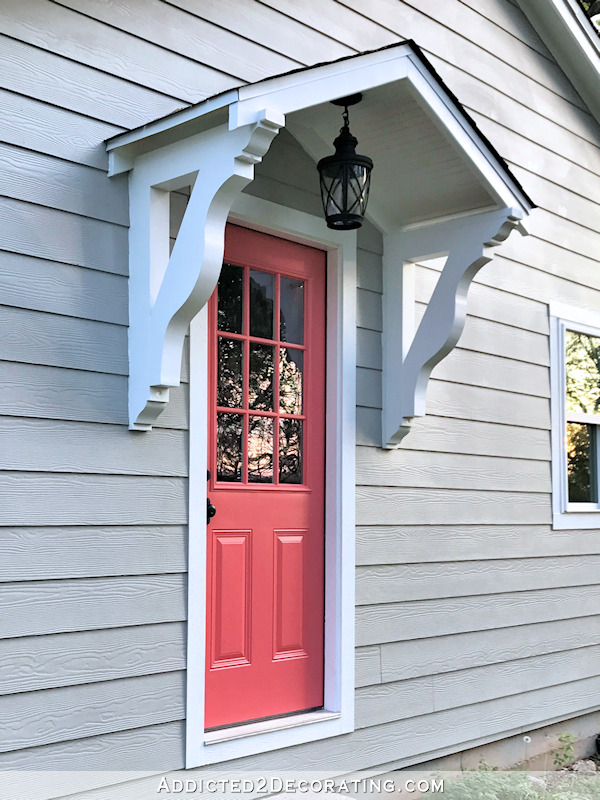 And the interior wall to the left of the door in the photo with Cooper is where my office area will go. That wall will look something like this…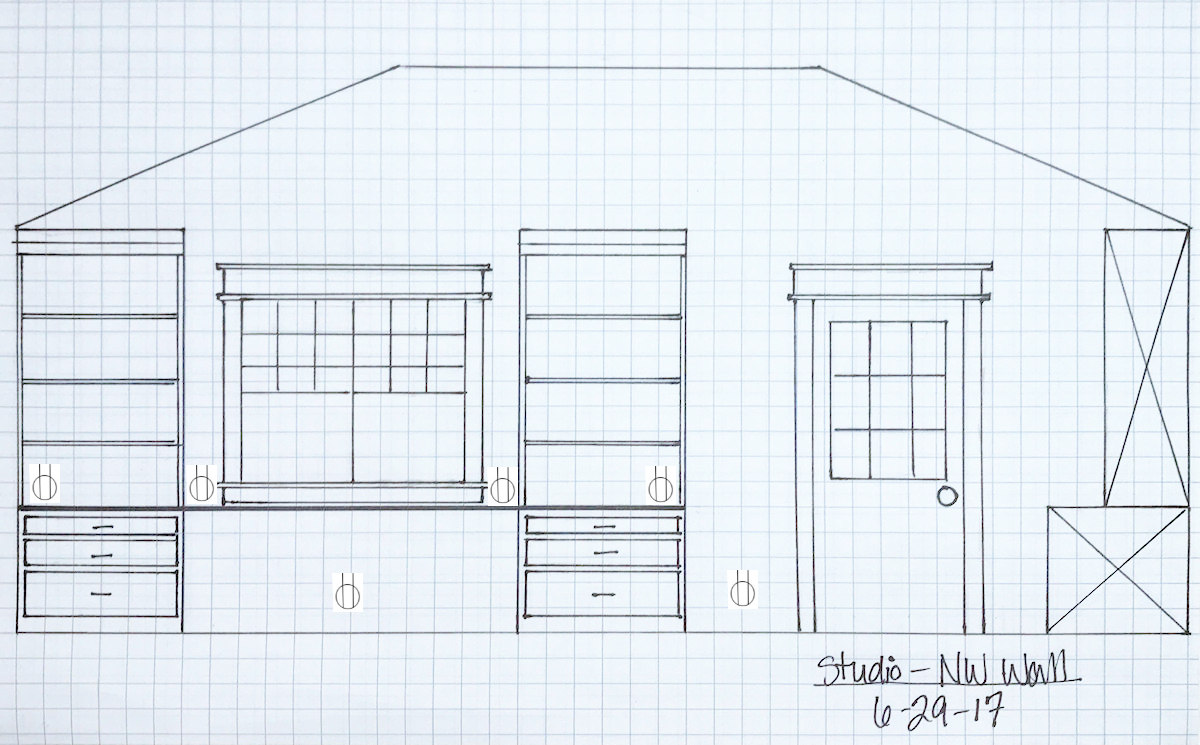 What that drawing of the office area doesn't show is that I will have a separate desk sitting in front of the built-in, so when sitting at the desk, my back will be to the wall. And I'll have a pendant light above the desk.
And then, as you can see from the drawing, I need two pendant lights for the front wall (i.e., the wallpapered wall), along with a sconce in the middle of that wall.
For some reason, I thought this would be a quick and easy decision. So on Friday, I hopped online and started searching, thinking that it would take me about an hour or two to find what I need, make a few purchases, and have my items on their way to me. But three days later, I still have no idea what I want. And part of the reason is that I may be changing my mind on the ceiling color.
As I stood in that room and looked at the huge expanse of drywalled ceiling on Friday after they drywall guys left, I started to think that a massive white ceiling and white walls might be too cold for me. I mean, y'all know my experiences with white in the past. I paint walls white, think I love them, and then as time passes, I decide I can't live with white. The only exception has been my pantry. For some reason, white just works for me in there, but it's probably because wall to backsplash/cabinet ratio is pretty low.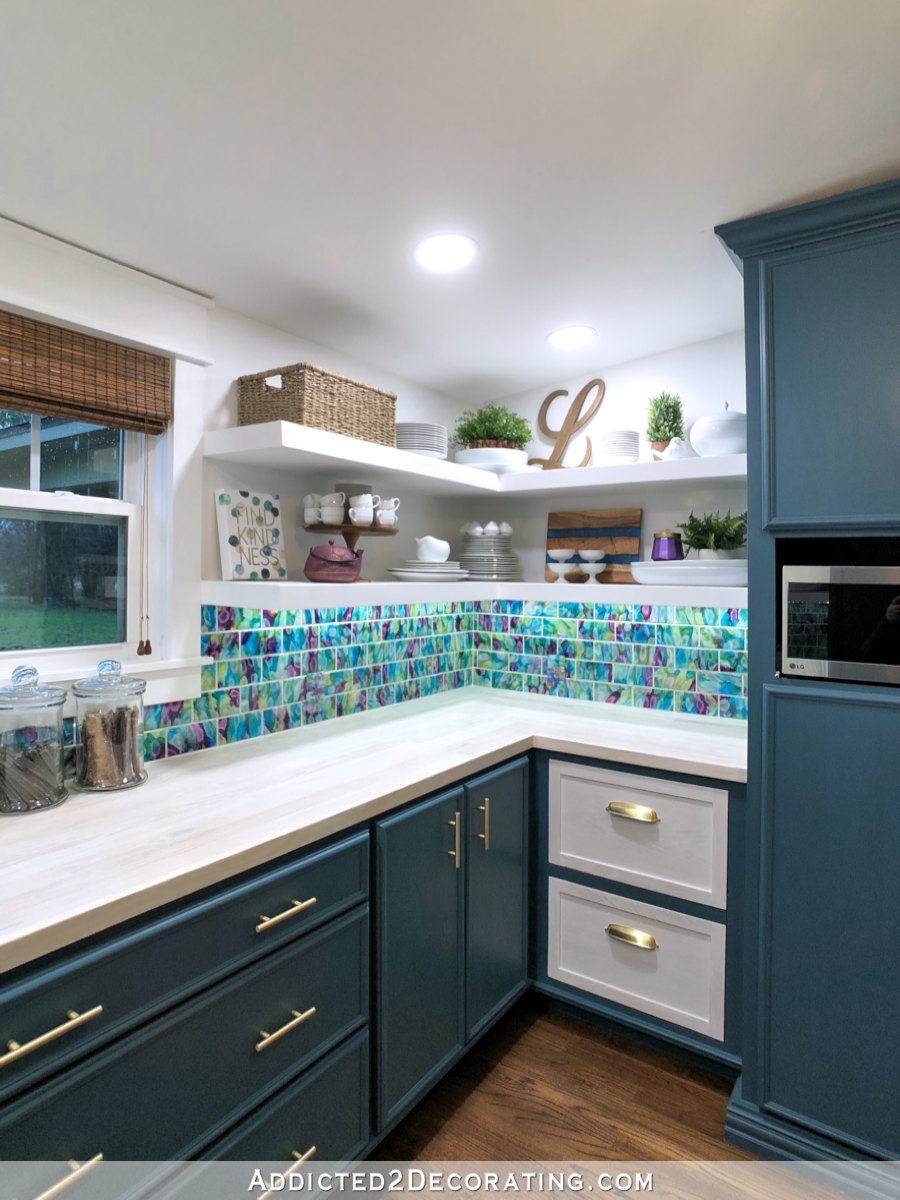 And I really do think that white walls will work in the studio as well, especially with all of the color I have planned for the front wall (i.e., the floral wallpaper), the cabinets, the back entry, and the half bathroom.
But I am considering a different color for the ceiling. I'm leaning towards the exterior door color for the cabinets (Benjamin Moore Bird of Paradise)…
And I just love how my front porch looks with the Bird of Paradise door and the super light blue ceiling…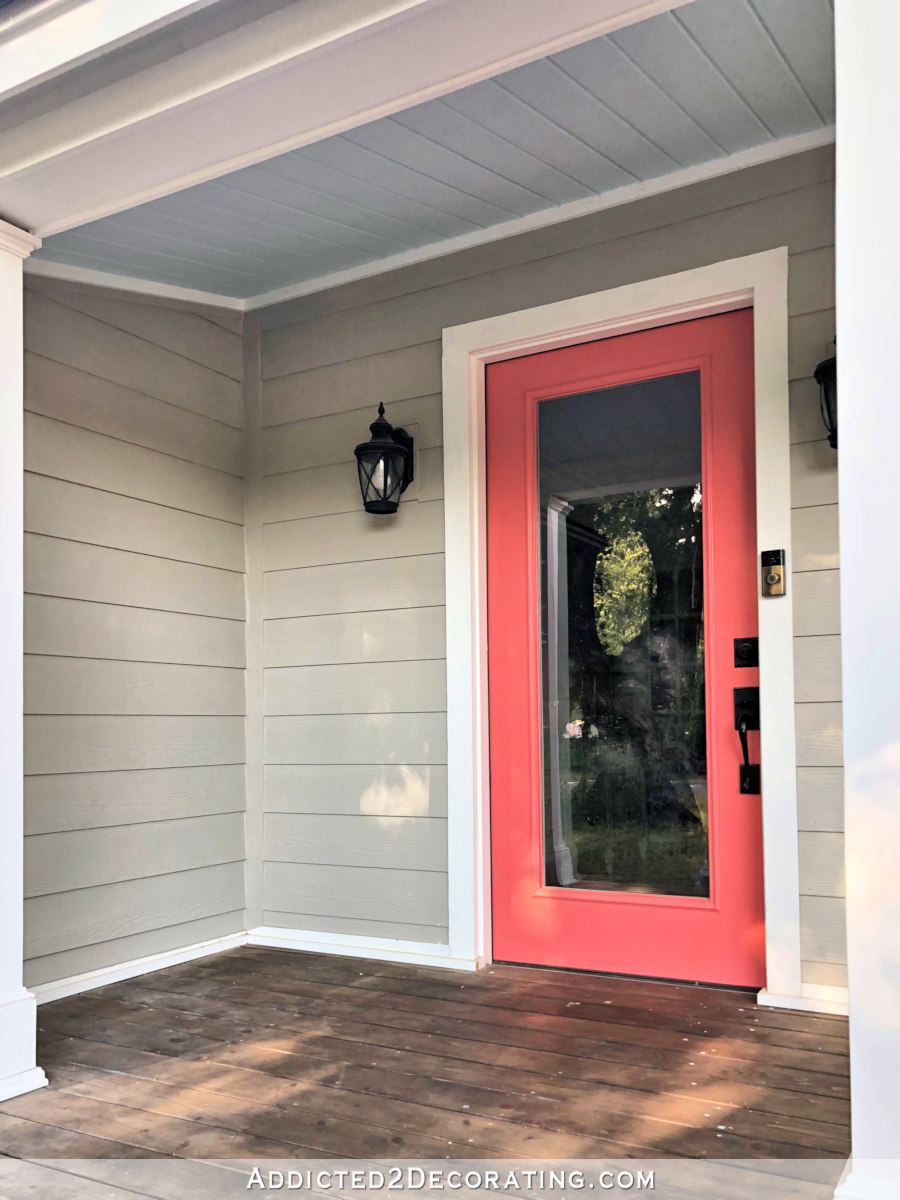 So I'm considering a light blue for the studio ceiling as well. I think it would look so pretty and bright, without looking cold and sterile like a massive white ceiling might look. I wouldn't be able to use the exact blue that I have on the front porch, though. The wallpaper doesn't have any blue in it, but it does have teal. So I'd need a blue-green color that's as light as the blue on the front porch ceiling.
So going with that idea, I thought that black pendant lights would look good since the black accents look nice on my front porch. But I'm just not so sure about it. I found several that I like, and then tried to test them out a couple of them on the drawing I did of the front wall.
The first ones I tried were these matte black pendant lights from Wayfair.
It's hard to get an exact idea of what they would look like, but here's a general idea.
And keep in mind that the graph paper in that image above appears darker and gloomier than the actual room will be with bright white walls, white trim around the windows, and actual sunshine coming through those windows. 🙂
I do really like those lights, but I think I had envisioned something a little more modern. So I tried these with a rounder bowl design and gold accents…
I love that light. In fact, it might be my favorite. But I just don't think it works here.
So I tried one more black pendant with the gold interior only.
That one would be better if the inside was more gold or brass, but it looks awfully copper to me. I don't do copper.
So I switched gears completely and tried this brushed brass pendant light.
I do really like that one, but I'm not 100% sold on it. I think that's actually the exact same light as the first black one. There's just something about that chain that lends a very traditional feel to the light, where I would prefer a much more streamlined and slightly modern look.
So all that to say that I have no idea where I'm actually going to land on this lighting decision. It would be so much easier if I only had two pendant lights to buy. But I have three pendant lights and one sconce. While I don't think they all need to match, I do want them to coordinate. And finding two pendant light designs and one sconce design that all coordinate AND that I like AND that are in the right color, the right finish, and the right price has been way harder that I thought.
I might end up going with a very simple white drum shade pendant light…
It seems a little boring to me, but when I get it in a room filled with coral cabinets and bold floral wallpaper, perhaps something a bit plain and simple is just what it will need.
So my search continues, but I'd love to know if you think I was on the right track with the black, or if the brass looks better to your eye. Or do you think I should opt for a simple white drum shade?
Please note: This post contains affiliate links.
Addicted 2 Decorating is where I share my DIY and decorating journey as I remodel and decorate the 1948 fixer upper that my husband, Matt, and I bought in 2013. Matt has M.S. and is unable to do physical work, so I do the majority of the work on the house by myself. You can learn more about me here.
I hope you'll join me on my DIY and decorating journey! If you want to follow my projects and progress, you can subscribe below and have each new post delivered to your email inbox. That way you'll never miss a thing!