A New Media Console For My Mom (Antique Buffet Before & After)
My mom now has a new media console in her living room — this antique buffet that I refinished for her this weekend, just in time for their Super Bowl party last night.
It started out looking like this…
And now it looks like this…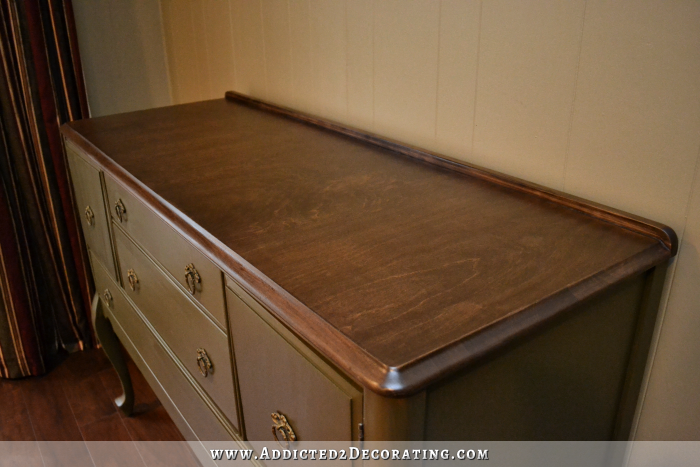 The paint color is called Frontier Shadow by Behr.  The stain color on the top is Dark Walnut by Rust-Oleum. 
(To answer the question I'm sure to get at least 10 times unless I address it 🙂 …no, I didn't use chalk paint, because I don't like chalk paint.  There are several reasons I don't like it and don't use it, which I won't address in this post.  But the most important thing is that the "no sanding required" aspect of chalk paint doesn't interest me because I simply would never paint an old piece of furniture like this without sanding first.  Sanding does a whole lot more than just give the piece some "tooth" to which paint can adhere.  It also removed dings and scratches.  It removed the hairline cracks that appear in veneer after many years.  It smooths the cracks that appear in the wood joints.  It removes the mystery residue from spills, splashes, and splatters from years of use.  It smooths the rough areas from water damage, like water rings on the top.  And on, and on, and on.  Sanding, for me, is an absolutely necessary part of taking an old piece and making it look new again.)
Anyway, that's the short version of the story.
Here's the longer version…
Eleven years ago, when my dad died after 45 years of marriage to my mom, my mom insisted that she would never marry again.  Two years later, we welcomed Jon, my step-father, into our family.  🙂
Jon immediately fit right into our crazy family like a perfectly-fitting puzzle piece, but just like most of us, Jon came with baggage.  And Jon's baggage was in the form of this monstrous 60-inch t.v.  😀
The good thing about Jon is that he was fully on board with my mom and I redecorating the house — something that my dad simply could never get on board with because of how much he hated change.
So my mom and I set about making some much needed changes and updates to the house with new furniture, paint, draperies, lighting, crown moulding, hardwood floors, etc.
The only deal was that the t.v. had to stay, so we had to decide how to deal with it.  We finally decided that it would possibly look less monstrous if we had a wall unit built around it.  And the wall unit did help to minimize the impact of the t.v. a bit.
But it was still huge.
So secretly, I prayed that the thing would die so that they could get a new flat screen t.v.  😀
Well, that thing simply would NOT die.  Something would go out on it, and Jon would have it fixed.  Something else would happen, and Jon would have it fixed.
The thing even caught on fire, with flames coming out of the back of it!  I thought to myself, "Surely this is it!  Surely its life is over!"  But Jon had it fixed, and it kept ticking on, like some kind of indestructible Energizer bunny.
But finally….FINALLY…one day about two months ago, I got the news.  The monstrous t.v. was finally, officially dead.  Nothing would revive it.
I'll admit, I pumped my fists in the air in victory, and even did a little dance at my kitchen table upon hearing the news.  Finally they could get rid of not only the massive t.v., but also the huge cabinet around it, and get something that didn't take up quite so much space on that wall.
My brother kindly offered up his 42-inch plasma t.v., as well as a t.v. stand that he had sitting in storage.
The t.v. was a good size (although after looking at that 60-inch monstrosity for so many years, this t.v. looked tiny!), but as you can see, the stand wasn't quite what this room was needing.  🙂  Not only was the style and size all wrong, but it was so low to the floor that they had to move it all the way over to the right side of the wall.  With it centered, the t.v. couldn't be seen from the kitchen if anyone was sitting on the sofa.
So I told my mom that she should be on the lookout for an antique buffet or credenza that could be repurposed into a media console.
Well, it just so happened that my bonus sister (aka, my step-sister) Cathi had a buffet that she wasn't using, but it was in need of a makeover.  It had dings and scratches all over…
…and the top has some extensive damage to the finish.
But overall, it was just what my mom needed.
My sister Cathy and brother-in-law Bill transported it from Cathi's house in Dallas to my house, and put it in my garage.  The plan was that I would refinish it as soon as I could get my garage cleaned out a bit to use as a work room.
But then, at the beginning of last week, my mom called to see what I thought about them using the buffet in its current condition for their Super Bowl party.
I was like, "What?!  You can't use it like that!  I need to paint it for you!"
She said that wasn't necessary, but I insisted that it needed a makeover before their party.  So we both finally had time on Friday to meet at Home Depot and pick out a paint color, and then on Saturday we moved it over to my mom's house and I got started.
I sanded the top down completely because I wanted to stain  and polyurethane it.
Unfortunately, the Minwax water-based polyurethane that I used left streaks on the beautiful wood top.  I left it for now, because it needed to be dry enough to set the tv on top by 4:00pm on Sunday evening.  (I put the last coat on at 8:00am Sunday, and it was completely dry in about two hour.)
But lesson learned.  I should have used Rust-Oleum water-based polyurethane rather than Minwax.
At 3:40pm yesterday, the drawers were still drying in the garage, so it was a sprint to the finish line.
We finally got it moved inside, got the hardware and doors installed, and got the t.v and cable box hooked up and ready to go at 4:40, 20 minutes before their guests were to arrive.  😀  (Which is why my pictures are a bit lacking.  I was in a hurry trying to get my filthy self out the door before they got there!  After crawling around on the garage floor all day, I wasn't exactly ready to see guests. 😀 )
But we made it just in time, and the t.v. looked 100 times better on the new media console/buffet than it did on the tiny little tv stand.
We still have some work to do.  I actually want to mount the t.v. on the wall above the buffet, and then my mom thought of removing the bottom long drawer, and using that space for the cable box, Wii, and other electronic items they have.  And I personally think that the doors could be removed, and pretty baskets used in those compartments (since the doors are warped and don't open and close easily).  But for a last minute, two-day makeover, I think it ended up looking pretty good.
And of course, the cords will be taken care of.  Fortunately, they were only having close friends over who would understand the last minute rush and wouldn't judge them on their exposed cords.  😉
Addicted 2 Decorating is where I share my DIY and decorating journey as I remodel and decorate the 1948 fixer upper that my husband, Matt, and I bought in 2013. Matt has M.S. and is unable to do physical work, so I do the majority of the work on the house by myself. You can learn more about me here.