A Peek At The Entryway Grasscloth Accent Progress (Plus, How To Hang Grasscloth Very Easily)
Yesterday, I finally got started on my grasscloth entryway accent wall using the Phillip Jeffries Juicy Jute grasscloth wallpaper in Tantalizing Teal. (I bought mine here.)
I considered several options for the entryway wall. One idea was to do a chair rail and wainscoting on the bottom, and then grasscloth on top. My issue with that option is that the only room in my house that has a chair rail and wainscoting on the bottom is the music room, which is right next to the entryway. It felt to me like that would make the entryway wall an extension of the music room, and almost like they would need the same wall treatment on top. Having them the same on bottom but different on top felt a bit disjointed to me.
So I decided to do one large framed accent panel. I really love the looks of these accent panels…
But instead of several separate framed panels, I wanted just one large panel that would serve as a backdrop for an entryway table, maybe a couple of chairs, a large piece of artwork, etc.
I like this option because it feels the most intentional to me. The wall around the large panel of grasscloth will be painted the same color as the rest of the living room, so it will still feel like a part of the bigger room, while the accent panel sets it apart from the rest of the room just a bit.  (FYI, I decided to go with Benjamin Moore Classic Gray — the same color that's in the breakfast room — so the blue isn't staying.)
I've only hung grasscloth once before, and let me tell you, it was a nightmare. Grasscloth wallpaper doesn't come pre-pasted, so you have to use a wallpaper paste to hang it. Last time, I used whatever wallpaper paste they sell at Home Depot, and it didn't work at all. Not at all. I may as well have been trying to hang that grasscloth with plain yogurt. I ended up actually using spray adhesive to get that wallpaper to stick, and that potent smell (and probably the toxic chemicals that make it smell like that) lingered for days. It was awful.
So this time, I was determined to do better. I skipped that cheap, worthless wallpaper paste from Home Depot, and I got this amazing stuff from Sherwin Williams — Roman Pro-555 Extreme Tack. And it is extremely sticky!
I just poured it into a paint tray and rolled it onto the back of the wallpaper using a paint roller. I placed the wallpaper strip onto a scrap piece of plywood to roll it.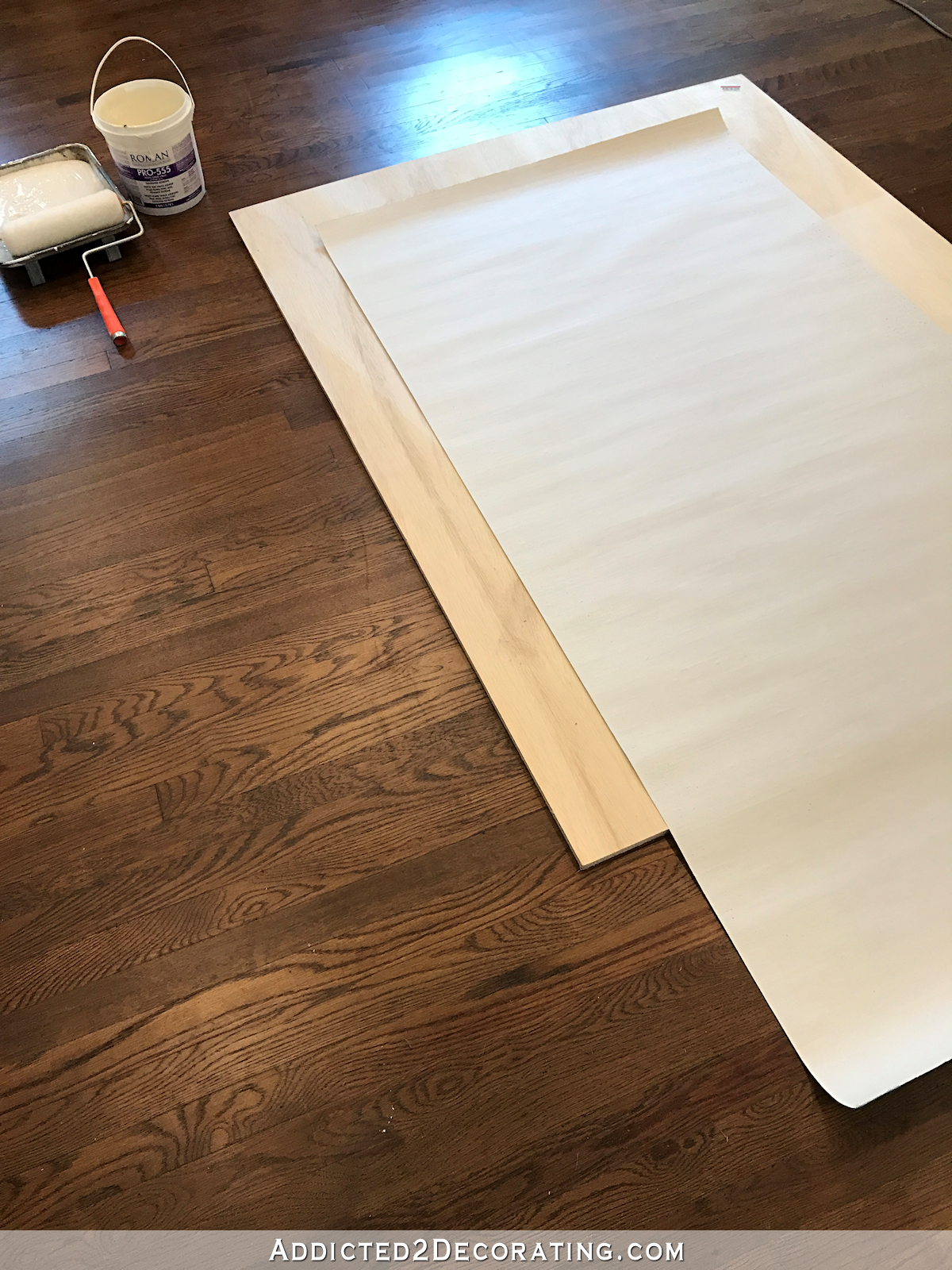 After watching several videos from pro grasscloth hangers on YouTube, I did what they did. I rolled it on, booked the wallpaper (i.e., folded the ends over onto itself to let the wallpaper paste get really tacky), and then hung it.
It worked, but that wallpaper paste is so tacky right out of the container that I realized the whole booking and waiting process wasn't necessary. So on the third piece, I put the paste on the wallpaper, left it lying flat for about two minutes, and then hung it. That piece went up much easier and smoother.
So as of right now, I have three 36-inch-wide pieces of grasscloth on my large entryway panel, which currently looks like this…
Again, remember that there will be trim around the edges to finish off the panel, and the walls are going to be painted Classic Gray. I didn't paint first because I didn't want to hang wallpaper on fresh, uncured paint.
I was able to get four 6-foot wallpaper strips off of a single roll, and I wanted one strip centered in the middle of the wall, rather than a seam right in the middle.
But I was planning on using all four pieces, which means on the last piece, I'd have to cut it in half lengthwise and hang half on either side. That would look kinda sorta like this awful Photoshop mock up I did…
But I stopped last night after three pieces because I started thinking that three might be enough, and second-guessing my decision to make it wider. Unfortunately, even if I leave the fourth piece off, it's not enough to use anywhere else, like the back of the bookshelves in the music room. And as of now, I have no plans to spend another $250 just so I can use about 1/5 of that roll to do the bookcases. So I want to make a decision based solely on what I think will look better on this wall, and not based on what I could potentially do with leftover grasscloth.
I wish I knew what artwork I was going to use on this wall. That would make the decision easier so that I'd know how much room I'd need for it, and how large the panel needs to be to accommodate it. I have six of those white frames from Target (and could get more, of course) that I've considered using to do some sort of gallery wall, but I actually bought those for the music room. I've envisioned one really large, colorful piece of artwork for the entryway for a very long time now, so that's probably what I'll stick with.
I'm hoping I can get this wall done today! And you know what? I'm going to go ahead and add that fourth piece. It's been the plan all along, so no second-guessing.
Addicted 2 Decorating is where I share my DIY and decorating journey as I remodel and decorate the 1948 fixer upper that my husband, Matt, and I bought in 2013. Matt has M.S. and is unable to do physical work, so I do the majority of the work on the house by myself. You can learn more about me here.