My Finished Dining Room Walls
I was beginning to think I'd never see this day, but my dining room walls are finished! I finished them up late Monday night, and then spent all day yesterday cleaning and putting away tools. After this room being so torn up and messy for so long, it felt so good to finally get it all clean! I'm still working on the adjoining rooms, which are still covered in dust and filled with tools, so hopefully I can get that done today.
But let me show you how it turned out! A few of these pictures are from yesterday evening just as the sun was going down, and the rest are from early this morning. So I still don't have any mid-day pictures when the room is as its brightest (and prettiest, in my opinion). And thank you kindly for overlooking my messy kitchen. 🙂 It has been very neglected lately. Just keepin' it real, folks.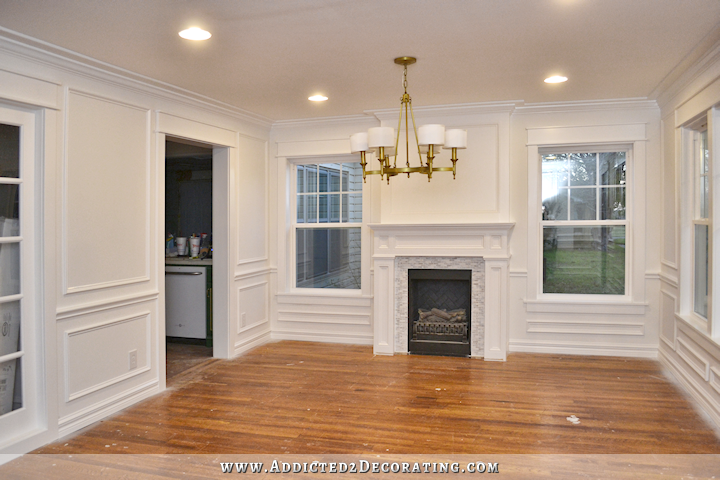 As I mentioned in previous posts, I painted the walls in a flat finish, and then went back and painted all of the trim and fireplace in a semi-gloss sheen. The contrast is subtle, but so pretty in person.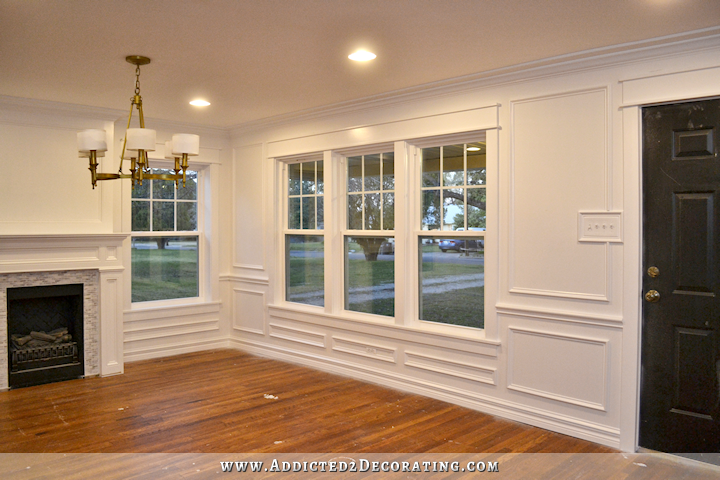 And I'm just as shocked as some of you are that I went with all white — Behr Polar Bear on the walls, and Behr Ultra Pure White ceiling paint on the ceiling. It's a bit out of my comfort zone, but I think that I'm really going to love it when I get all of my colorful furniture and fabrics in here.
Up until the very last minute, I was still undecided on the ceiling color. I ended up going with white for two reasons. First, I loved how bright the room was. And second, some of you expressed two main concerns about a green ceiling that really stood out to me.
Some of you warned that a green ceiling might cast a green tint onto the white walls. I certainly didn't want that.
And then some of you said that since I already have a stained wood ceiling in my bathroom, and a painted wood ceiling in my music room, that my house might turn into some sort of "here are all the things you can do with a ceiling" showhouse. 😀 That wasn't really something I wanted, either. So I stuck with the white, bright, fresh, and clean look.
I still have four things that need to be done before the "shell" of the room is finished.
I still have to repaint my front door. It's quite a mess right now, but it just needs a little sanding and a fresh coat of black paint.
My floor needs some attention, as does the floor in the music room and hallway. I need to do some spot sanding to remove some paint and scratches, and then I'll add one or two fresh coats of Waterlox, and it'll be good as new. Or good as a 68-year-old hardwood floor. 🙂
My fireplace needs a bit of repair at the bottom where I removed the hearth.
I need to find trim kits for my recessed lights. I have purchased two different types, and neither of them fit my lights. I have no idea why the 6-inch trim kits from Home Depot aren't fitting my 6-inch recessed lights that I bought at Home Depot, but they're not.
I'm almost ready to start putting the fun stuff in the room!
Addicted 2 Decorating is where I share my DIY and decorating journey as I remodel and decorate the 1948 fixer upper that my husband, Matt, and I bought in 2013. Matt has M.S. and is unable to do physical work, so I do the majority of the work on the house by myself. You can learn more about me here.