Last Updated on October 6, 2017 by Kristi Linauer
I hadn't planned on posting today since I didn't get my entryway grasscloth wall finished yesterday. It's not a big project at all, but I was kind of lazy yesterday and just couldn't find the motivation to get it done.
But this morning, I was updating my 2017 Master List of Home Goals post (I've tried to keep that up to date, so if you're curious about how I'm doing on this year's goals, check it out!), and I came across the picture of my kitchen at the beginning of this year. Do you remember my kitchen at the beginning of this year? It looked like this…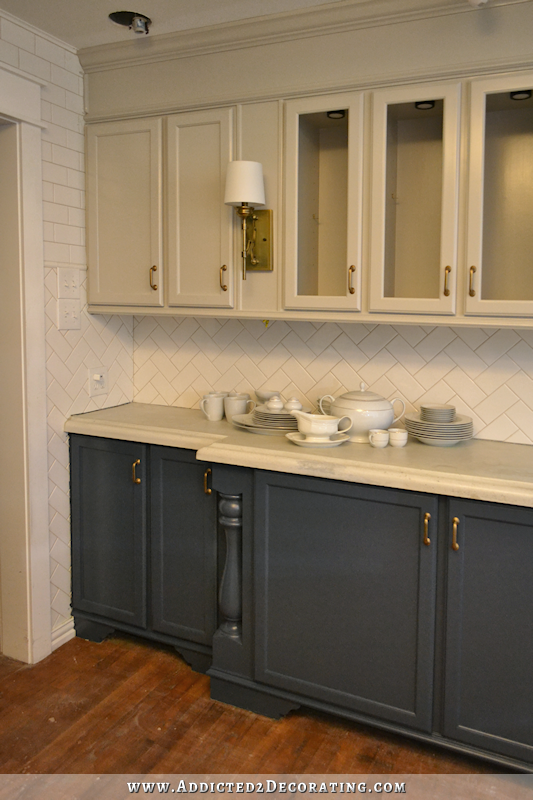 And my immediate thought when I came across that picture was, "Thank goodness I didn't force myself to stick with those colors! How drab!"
When I chose those colors for my kitchen, I didn't think they'd be drab at all. In my mind, dark blue and light gray (that looks like a really light khaki to me) was a classic combo that would look terrific in my kitchen and give me an easy color to decorate around in the adjoining rooms. I mean, as far as jumping off points go, it doesn't get much easier than dark blue! But it just didn't work out in reality like it did in my mind. Even if I had held off until I got my countertops refinished a brighter white, and got my bone-colored grout all Grout Renewed so that it was bright white, I still don't think the blue and gray would have done it for me.
And of course, there's absolutely nothing wrong with navy blue and gray. Again, it's classic. It's beautiful. But it's just not me. And I had to actually see it in person in order to realize it.
It was a pain to change it, especially since I had already repainted an entire wall of cabinets and had spent $120 on paint. I certainly could have forced myself to just live with it, and convinced myself that wasting that time and wasting that $120 would be irresponsible.
But boy, and I glad I gave myself permission to change my mind! Because now, I have a kitchen that puts a smile on my face every single time I enter the room. I have a kitchen that suits me, and finally feels like more than just a decorated room, but actually feels like my home.
Obviously, teal isn't for everyone. And lots of people would compare those two kitchens and find the blue and gray combo more appealing. But the point is that decorating and designing our homes is a journey, and it's a very personal journey for each of us. There's no "one size fits all" option out there. And with so many options, we're not always going to get it right the first time.
And when you don't get it right the first time (or the second, or the third), it's okay to change your mind and keep on trying until you get it right. Yes, you'll probably catch some flak for it, just as I have over the last couple of years. But don't let that stop you! Don't let others' opinions stop you from trying out different things until you get exactly what you want. Be bold. Be brave. Take a chance.
Let your actual limitations be the only limitations that factor into your decision (e.g., financial resources). Other people's opinions, as well as your own self-imposed guilt for changing your mind, are not actual limitations that should even be taken into consideration. And that self-imposed guilt is very often much stronger than the fear of what others will say. So just try it out once — let the guilt go. Give yourself permission to change your mind. Give yourself permission to count that $120 you spent on the project that didn't turn out as you had hoped not as "waste" but as "learning experience."
I can't even tell you how happy it makes me when I get comments from people who say things like, "Kristi, I love your projects, but what I love about your blog the most is that I feel like you've shown me that it's okay to change my mind, and it's okay to redo a project, even if that project turned out fine, but it just wasn't quite what I had in mind."
Yes, I give you permission to change your mind. I give you permission to experiment with different ideas and try out new things until you land on that one idea/color/pattern/etc. that makes you smile. I give you permission to count that money you spent on that failed project not as "waste" but as "a learning experience."
Now grant yourself that permission, and get busy turning your house into the home you've been dreaming about. 🙂
Addicted 2 Decorating is where I share my DIY and decorating journey as I remodel and decorate the 1948 fixer upper that my husband, Matt, and I bought in 2013. Matt has M.S. and is unable to do physical work, so I do the majority of the work on the house by myself. You can learn more about me here.
I hope you'll join me on my DIY and decorating journey! If you want to follow my projects and progress, you can subscribe below and have each new post delivered to your email inbox. That way you'll never miss a thing!