Last Updated on October 8, 2017 by Kristi Linauer
I get asked about my floors on a pretty regular basis, and for obvious reasons. In just about every picture of my dining room progress, you can see paint spills on the floor and overspray by the baseboards.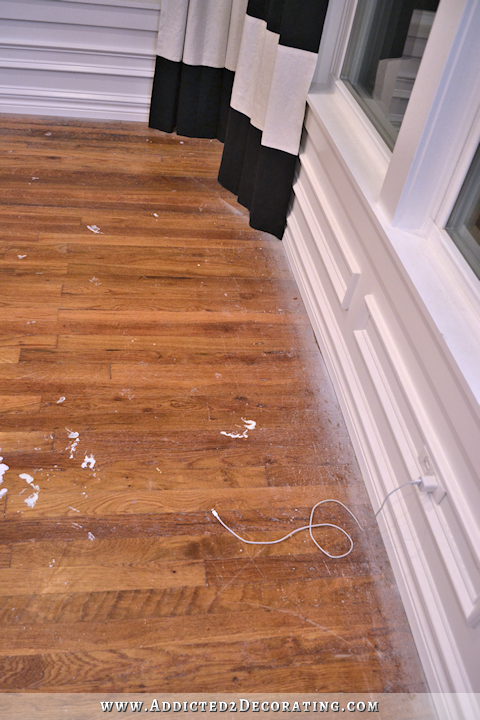 Obviously, I just haven't been really careful with my floors. The reason is because from the beginning, my plan was to do a quick refinishing of the floor in each room as I finished the remodeling phase (e.g., new drywall on the ceiling and walls, and any building projects) of each room, and before the decorating started. And that's why I was sure to choose a product for my floors that could be pretty easily touched up and/or recoated any time my floors needed it.
The reason I planned it that way? To eliminate any potential anxiety about messing up my floors. I just knew from the outset that tearing each room down to the studs and ceiling joists…
…while trying to keep the floors in perfect condition would be virtually impossible. Also, I knew that along the way I'd be opening up walls and expanding openings, like I did in the wall between the dining room and kitchen. That used to be a solid wall. Remember?
That means I'd have some pretty major flooring repairs to do in most of the rooms…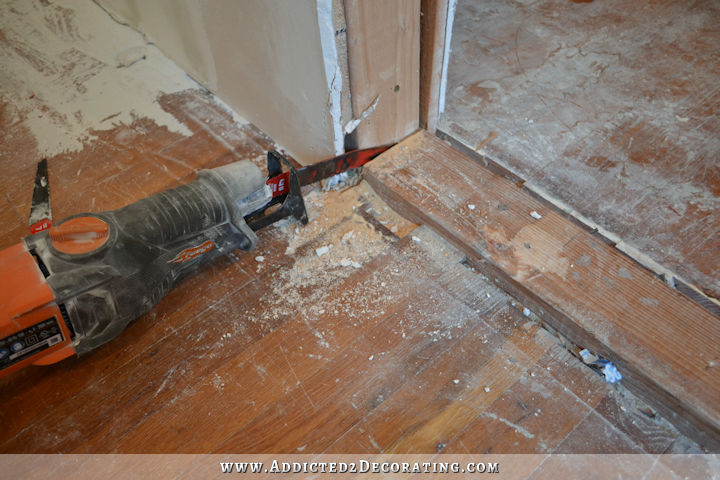 …and I'd end up with areas like this with patched hardwood floor boards that needed to be sanded and sealed to blend in with the rest of the floor.
And then there were other things that I didn't count on, like this area that was underneath the window unit air conditioner. The A/C leaked water all over my floor for a few days before I realized it, and it damaged the floor.
Anyway, since I knew from the moment that we bought this house that there would be some pretty major remodeling and building going on, and that these floors would need some attention as I finished up each room, I made sure that I selected a finish that could be easily repaired. Polyurethane was out of the question since that requires some pretty major refinishing if something happens to the floors. So after doing lots of research on various options, I finally decided on Waterlox, which is a proprietary blend of tung oil mixed with various hardeners. It's very easy to retouch spots that get messed up on the floors. If your floor gets scratched, you can just repair that scratch, and it'll blend right into the rest of the floor.
The obvious question I get asked is, "So why didn't you just wait to refinish your floors? Why go to the trouble before you moved in to the house if you were going to have to redo them?"
Well, let me take you back two-and-a-half years, and I think that answer might be obvious. 🙂 Two words: green carpet.
We've been in this house two-and-a-half years, and not only is there absolutely no way that I would have been able to look at that carpet every day until I was able to remodel/redecorate each room, but also having carpet in a house with someone in a wheelchair is just not practical.
And underneath all of that carpet was lots of carpet glue, tack strips, and warped floor boards. It was just so much easier to get all of that old carpet and carpet pad cleared out, and do all of the major refinishing with the big drum sander before we even moved into the house.
It was SUCH a big, messy, dusty job, and I'm so glad I didn't have to actually live in the house during that project. There was dust in every crack, crevice, nook, and cranny imaginable after sanding with that machine. But it did a great job, made quick work of removing all of the carpet glue and old finish, and flattened out all of the cupped floor boards beautifully.
What I've got now is not only much less labor intensive, but it also creates virtually no mess. I just need to do some quick and easy spot sanding with my hand held sander that's hooked up to my shop vac…
And once that's done, I'll add probably two more coats of Waterlox and my floor will look good a new. Or, you know, good as newly refinished 68-year-old hardwood flooring. 🙂
UPDATE:
My mini floor refinishing project is done! Click here for more info…
Addicted 2 Decorating is where I share my DIY and decorating journey as I remodel and decorate the 1948 fixer upper that my husband, Matt, and I bought in 2013. Matt has M.S. and is unable to do physical work, so I do the majority of the work on the house by myself. You can learn more about me here.
I hope you'll join me on my DIY and decorating journey! If you want to follow my projects and progress, you can subscribe below and have each new post delivered to your email inbox. That way you'll never miss a thing!