Living Room Update — New Furniture & The Progress So Far
Several of you noticed in yesterday's post that you could see a peek of some of my new living room furniture pieces, so today I'll show you the progress so far.
First up, here's my little green loveseat…
I have to say, I love this thing. The color is so pretty (I think that picture above is pretty accurate), and it works beautifully with all of my various teals. It's definitely on that blue green spectrum, obviously way closer to the green side than the others, but it still works.
I got the loveseat from Wayfair (click here for the details) and the color on their listing is pretty accurate. It can comfortably seat two people, and it's actually very comfortable. The seat cushions are firm, but not too firm. And since I'm short, I can actually take a nap on it.
I really love the fabric. It's a thick woven fabric, but it's not scratchy at all. Just before it was delivered, I put Soft Claws on Peeve (these claw covers that I purchase on Amazon that allow my cat and me to live in peaceful cohabitation), but I only put them on her four main claws on each front foot. I didn't think she could do much damage with her "thumb" claws, so I left those uncovered.
Well, I was wrong. She immediately claimed the loveseat as her new spot as soon as it was unwrapped, and the very first night, she not only used it as her new bed, but as her new scratching post as well. The next morning, I woke up to find that there were pulled threads all over one of the arms and two really long pulled threads on the seat cushion. I almost cried. But because the fabric is a tight woven fabric, I was able to repair it (pushing the loose threads into the fabric using a large upholstery needle), and it looks perfect. No one would ever be able to tell that she had used it as her scratching post. And yes, I immediately put two more Soft Claws on her. 🙂 Lesson learned. Those little thumb claws can do some pretty major damage!
Anyway, I was so thankful that it had that type of fabric on it. Some fabrics can't be repaired that easily, or if you try to repair it, you can still see where the snag was. But this fabric hid it perfectly.
I will say that I was very disappointed to find that it's an Ashley brand loveseat. Had I known that (it's nowhere on the Wayfair listing), there's no way I would have purchased it. I made up my mind years ago that I hate Ashley, and vowed that I would never purchase another piece of furniture made by that company. But to be quite honest, I'm actually very glad that the listing didn't mention it, and that I didn't know, because I would have missed out on a beautiful little loveseat with great fabric in an awesome color that I love.
And next up, this is my new coffee table. I wanted something that was light and airy, and I wanted glass so that it didn't cover up too much of my beautiful rug. This one worked out perfectly.
I purchased it on Amazon (you can find it here) and was thrilled with the price. I was a bit nervous about ordering something with a big piece of glass that had to be shipped, but it was packaged very well. It took about 10 minutes to unpackage it and put it together, with no extra tools needed. (The only tool you need is provided in the box.) It's 36″ in diameter, and at first I thought it was going to be too small for the space, but once I got all of the furniture in the room, the size was perfect.
And the final piece of new furniture is my recliner.
My photo doesn't do it justice. This recliner is really beautiful, and the fabric is so soft. And the color is interesting. It's right there in that in between spot where it could be used with beige and taupe, or it could be used with warm grays.
I purchased the recliner on Amazon (you can find it here) and I highly recommend it for a living room where you might sit and chat with a visitor for a while. The seat is firm, but the reclining function is nice and comfy, so I could very easily and comfortably sit and chat with someone for a couple of hours in this chair. But if you're looking for one of those cushy, squishy, super cozy recliners where you can curl up with a book and then fall asleep for a long afternoon nap, this isn't the right chair for that. I mean, that should be obvious by looking at it, but I did want to make that clear. 🙂
One thing that I find worth mentioning is that the back of the recliner has a large flap of fabric that covers the inside working mechanisms of the recliner, and is held down along the bottom of the flat with Velcro. Because of that, I would never use this recliner in an area where the back of the recliner is going to be visible. But it's just fine if the back of the recliner is facing a wall or a corner like I have mine.
So those are the new pieces. The other two chairs you see in the room are the blue velvet chairs that I purchased at a local consignment store for the music room. They still need to be reupholstered, because the blue that's on them now is obviously a blue that won't work with all of my blue-green colors. Right now they're just placeholders because I wanted to see what the room looks like with the new furniture plus two chairs, but I'm thinking I might end up swapping these chairs and the ones I had originally planned on using in here. These are a bit smaller and I think they might fit the space better, while the slightly bigger chairs will have more room in the music room.
But I'm still thinking about it. The main point is that the blue chairs still need work, and even if I do use them in the living room, they will be reupholstered in a different color. 🙂
The loveseat is kind of a chameleon. At times, it looks more bluish. You can see it here with my teal cabinets in the background.
Over in the right corner, you can see my new teal drapery fabric and the Indian sari trim that I purchased to use as an accent on the leading edge of the drapery panels. That peachy orange color brings out the orange in the area rug. I don't know why the fabric looks so dark in the picture, though. It's nowhere near that dark in person.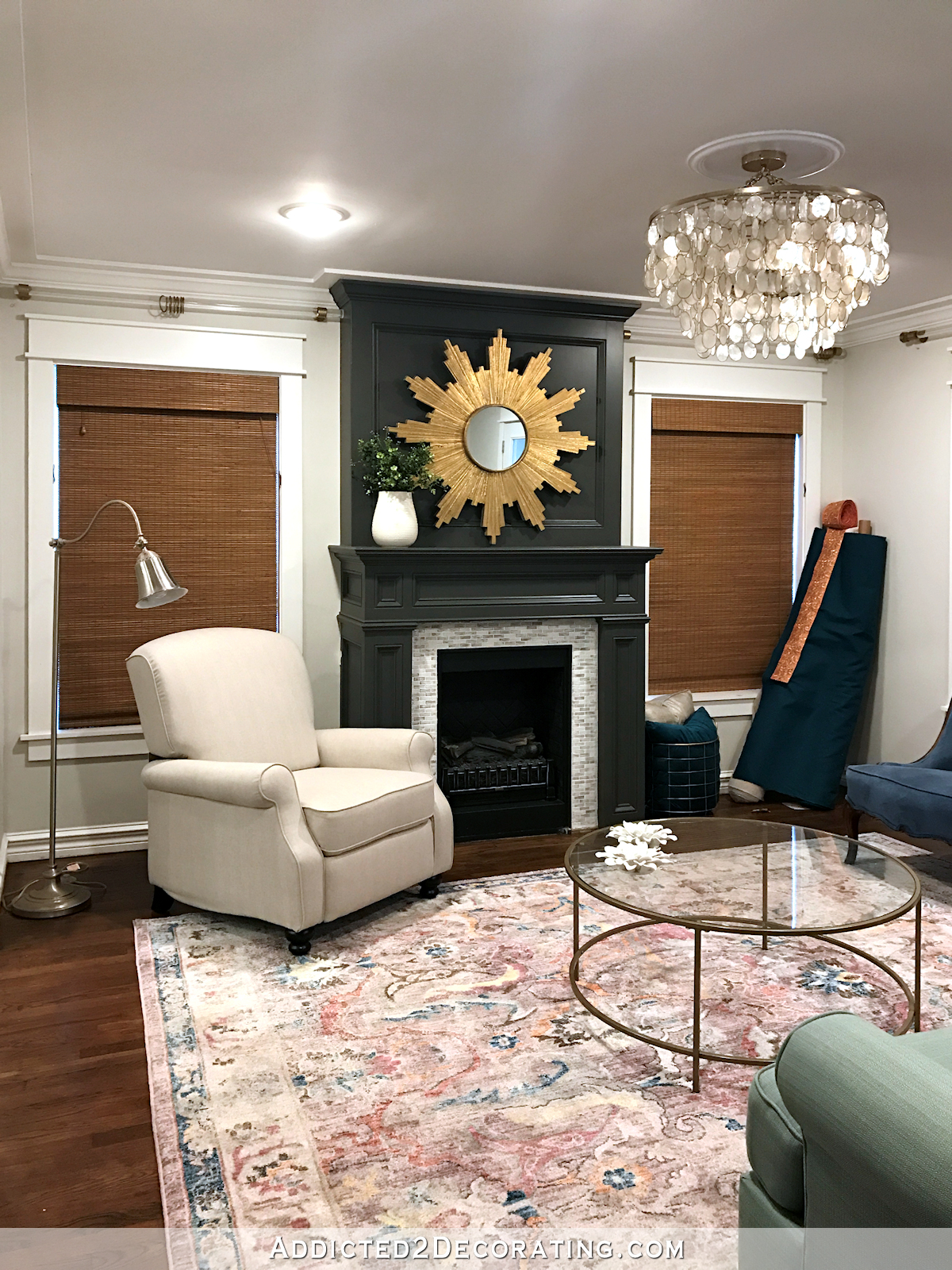 I still haven't painted my front door because I have no idea what color to paint it. I think I'll wait until the draperies are made and installed. Right now, I think the door might be better just painted white to match all of my trim. With all of the other colorful items in the room, there's really no need for my door to draw attention.
Here's the view into the living room from the kitchen. I left space between those chairs because I want to find a table to put between them for tea glasses, a book, a lamp, etc.
Here's a great example of the chameleon effect of the loveseat. That loveseat is definitely green. There's no mistaking that it's green when you're in the living room. But any time I look at it from my kitchen with the teal cabinets, it looks like a really light version of my cabinet color. But it's a medium seafoam green color, and not teal at all.
Another example of its chameleon-like powers is that it seems to work well with various other shades of green, like the more lime-ish green that I used in my entryway artwork. I was afraid that they might clash terribly, but they don't at all. (At least, I think they work. 🙂 )
And it also works well with all of the more leafy greens in the bird artwork.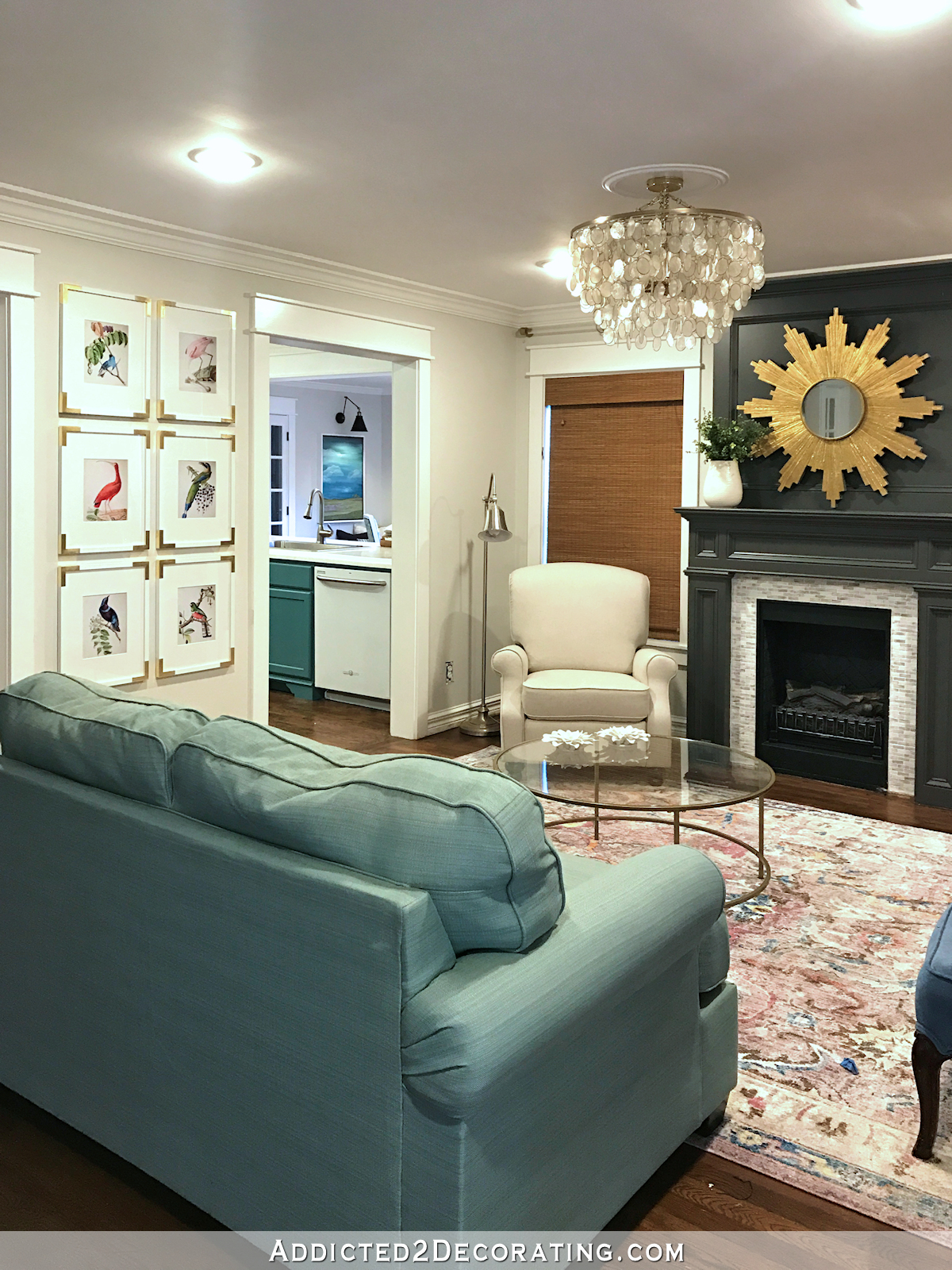 I'm telling you, I love this little loveseat. 😀
And I also love how my living room and entryway are coming together. I find that it's colorful without being over the top. I realize that's a matter of personal opinion, and for those who like neutral rooms, what I have here might already seem over the top. But I thrive on color, and I always find that I want and crave more and more color in my rooms. But finding that line between "just right" and "way too much" is often challenging for me. I'm going to keep on adding color until my toes get right up to that line. 🙂
Addicted 2 Decorating is where I share my DIY and decorating journey as I remodel and decorate the 1948 fixer upper that my husband, Matt, and I bought in 2013. Matt has M.S. and is unable to do physical work, so I do the majority of the work on the house by myself. You can learn more about me here.