Last Updated on December 24, 2015 by Kristi Linauer
6-1-2015 update:  After I wrote this post on May 21st about being completely burned out, I decided to take some time away from the blog. Matt and I are fine. We're a bit soggy from all of the rain, but we're very fortunate that our area hasn't had the flooding and property destruction that other areas of the state are dealing with. And Matt's health is fine. Neither of those things were the reason for my absense. I just simply needed a break. 🙂
I was planning to be back on the blog today, but Matt has strongly encouraged me to take one more week, so I'm going to listen to him. The good news…I'm no longer in my funk. I spent all of last week working on various projects, and I had fun doing so.
I'll be back to my normal schedule starting Monday, June 8th, and I'll show you what I've been up to during my two-week blogging break!
---
I've been dealing with a serious case of burnout lately.  I have absolutely no motivation to actually get any work done on my house or the condo, and I have no idea how to get over this hump.  All I want to do is spend my days looking at Pinterest and Houzz, gathering all kinds of great inspiration, in between episodes of Gilmore Girls on Netflix.  No joke.
Before Matt's dad came to visit in the middle of April, I was on a roll.  I was motivated every day to get up and get started on the house.  My goal was to get the bathroom completely finished before he got here, and while I worked hard to accomplish that goal, I didn't quite make it.  That was okay.  At least I was working, and I was motivated, and I was getting things done.  Things like the tile above the tub and the linen storage area had to be left unfinished while he was here, and those things are still unfinished.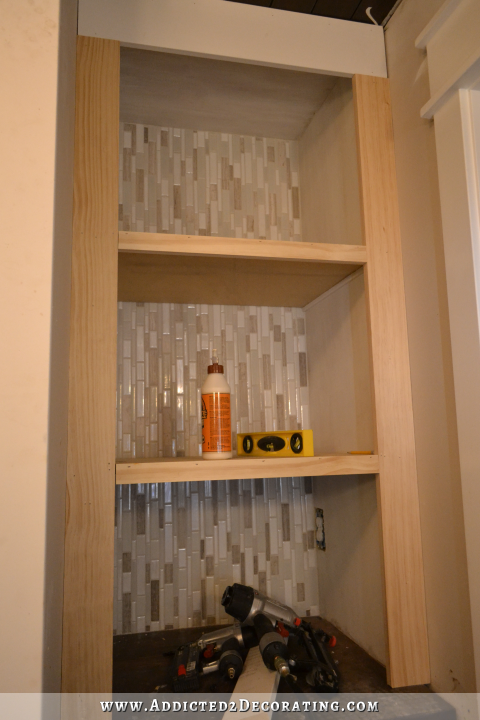 But most of all, I was having fun, and I was waking up every morning excited about getting started on the bathroom and seeing how much I could accomplish that day.
Then Oto got here, and I had to completely switch gears.  The bathroom was put on the back burner, and we focused on drywalling the ceilings.  Ever since he left, I've had such a hard time getting back into the swing of things.  Whether I'm trying to get things done at the condo or at the house, I've just been completely unmotivated.
I thought perhaps taking a break from my "need to do" list, and doing something fun and creative instead, would get me re-energized.  That's why I turned my attention to my dining table at the beginning of last week.  But rather than taking a couple of days, working on a fun project (yes, I find stripping and refinishing furniture to be relaxing and fun…I'm strange that way 😀 ), and ending up with a table that I love, I instead ended up with a project that didn't turn out.  Now that needs to be redone, so it's officially crossed over the line from fun to work, and any slightest hint of wind that was left in my sails has now disappeared.  Completely.
Then I thought making my shower curtain might get me back on track.  It was a nice break from the mundane things that need to be done in the bathroom and at the condo, but quite honestly, sewing projects are my least favorite.  So that was kind of like having a serious craving for a Snickers candy bar, and trying to satisfy that craving by eating broccoli.  It wasn't satisfying at all.
Plus, after I posted about my shower curtain on Tuesday, every time I'd walk by the bathroom door, I'd stop and look at that shower curtain.  Should it be on the left?  On the right?  After switching it back and forth so many times that I lost count, I finally got a pair of scissors and cut the thing in two.  Now I have two panels — one for the right and one for the left side of the tub.  And now those panels need more work to finish off the raw edges I created by cutting it in two.  So that project that I had crossed off of my "to do" list is now back on my "to do" list.  I'm going backwards here.
I really don't know how to get over this hump.  I'm not feeling tired and exhausted.  It's not a physical thing.  It's a mental thing.  I miss feeling motivated each morning when I get out of bed, and I miss that feeling of excitement about getting things accomplished, whether it's at the house or the condo.
Ugh.  Burnout stinks.  I know it happens to almost all of us at one time or another, so if you have any great ideas about how to get over this hump, I'd love to hear it!  I look at my unfinished house, as well as my condo that needs to be on the market ASAP, and I feel so incredibly overwhelmed.  That's really not like me.  I mean, it's not like I've never felt overwhelmed, but I'm generally not overwhelmed to the point of feeling completely paralyzed.  It generally motivates me to get things done, and to see things being crossed off of my list.  But that's not how I feel right now.  At all.  Right now, I just want to sit around all day with my laptop and my good friends Lorelai and Rory Gilmore, while I poke around on Houzz and Pinterest and waste my days away planning and dreaming about what my house will someday look like.
I've got to get over this hump…and off of my butt.  My house and condo need me!
Seriously, how do you deal with burnout?
Addicted 2 Decorating is where I share my DIY and decorating journey as I remodel and decorate the 1948 fixer upper that my husband, Matt, and I bought in 2013. Matt has M.S. and is unable to do physical work, so I do the majority of the work on the house by myself. You can learn more about me here.
I hope you'll join me on my DIY and decorating journey! If you want to follow my projects and progress, you can subscribe below and have each new post delivered to your email inbox. That way you'll never miss a thing!