My finished shower curtain adds just the right amount of color to that tub side of my bathroom, and I'm so glad that I added the bands of color at the bottom to really tie everything together.  I actually think this would make a beautiful drapery panel (with the addition of lining, of course).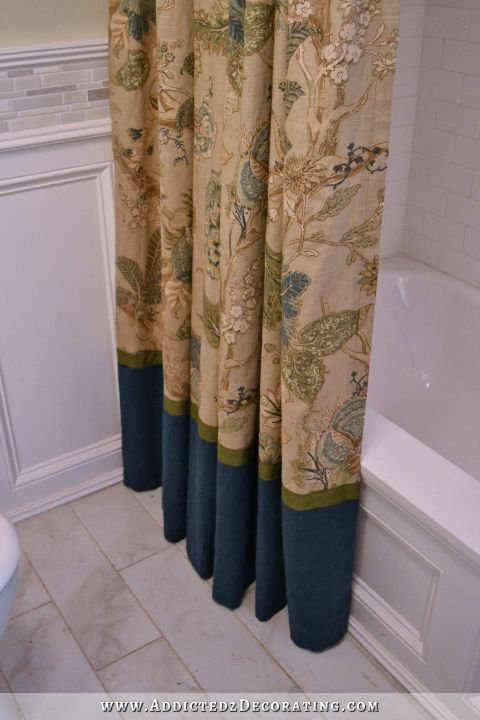 After hanging it, I realized that my cornice at the top isn't tall enough to hide the curtain rod and grommets, and that was its whole purpose.  So I'll need to come up with a way to extend the height of the cornice so that the rod and grommets don't show.  And I obviously still need to tile the ceiling above the tub.
I love how the shower curtain turned out, but I've been a bit concerned about how the tub area would look with a decorative shower curtain on a tub that's configured like this.
At the condo, the tub was on the far wall when entering the bathroom, so the view was straight on.  But here, the tub is on the side, and you get this side view of the shower curtain.  It looks fine in the photo above with the shower curtain liner tucked behind the decorative shower curtain, but most of the time I have the shower curtain liner inside the tub, and that looks very strange and messy to me.
So I think I'm going to keep it pulled open to the other side of the tub.  That seems very strange to me, because it just makes sense in my mind that it should be pulled open to the far corner (and don't ask me to explain why that makes sense 🙂 ), but I actually really like it like this.  And this will allow me to keep the liner in the tub at all times without it showing from the bathroom door.
With it pulled to this side, it seems to balance the vanity better, and I like how it peaks out from behind that wall.
And do you notice anything else that's different?
I swapped out the ceiling light and the shades on the sconces.  The original ceiling light just started to feel much too big and imposing in this small bathroom.  I wanted something smaller, white, bright, and most importantly, something made of glass and metal rather than fabric, so I went with this light from Home Depot.  I'll be using the other light in the hallway.  And the original shades on the sconces were boring and drab fabric shades, so I picked up these pretty glass shades at Lowe's.
Unless I'm missing something, I think I only have three big projects left in this room:  (1) installing the tile above the tub, (2) finishing the linen storage area, and (3) finishing all of the trim (crown, wainscoting, etc.)  Then it's just small finishing details, a bit of decorating, and it'll be done!
By the way, I didn't really do a detailed tutorial on this shower curtain because I already have two other shower curtain tutorials that basically include all of the same info.  So if you need DIY guidance, you can check out these two tutorials:
Pinch pleated shower curtain with contrasting band, hung on drapery rings and rod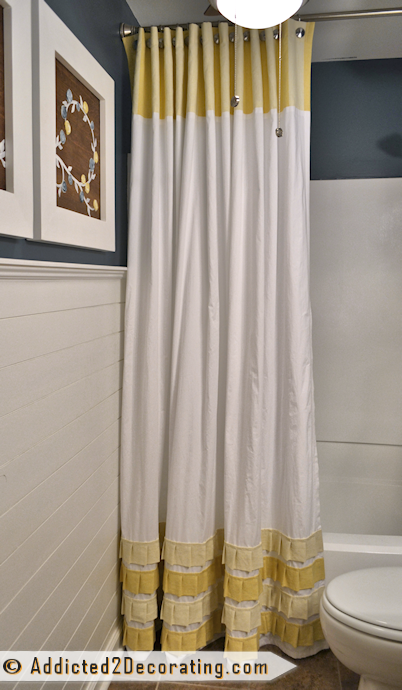 Shower curtain with pleated ruffle detail and grommet top
---
---