Well, hello there, friends! I'm back! 🙂 I had a head cold that kept me out of commission for most of last week, but I'm feeling better and ready to get back into the swing of things here at the house. I don't really have any progress to share on any projects since I took the whole week off, but I just couldn't stay away for another day. 🙂
Unfortunately, it doesn't look like the weather is going to cooperate long enough for me to make headway on the front porch any time soon (seriously, it's enough with the rain already!!), so I'll have to find other projects to keep me busy.
What I've been thinking about quite a bit lately is artwork. I love to create my own artwork, like the liquid acrylic pour paintings I did for the entryway…
…and the paintings I did for the breakfast room…
So I've been trying to come up with ideas for artwork for two other places. First, I need something light, bright, and colorful to go over the fireplace…
And then I want a huge and colorful piece of artwork to go on the main wall behind the chairs in the music room.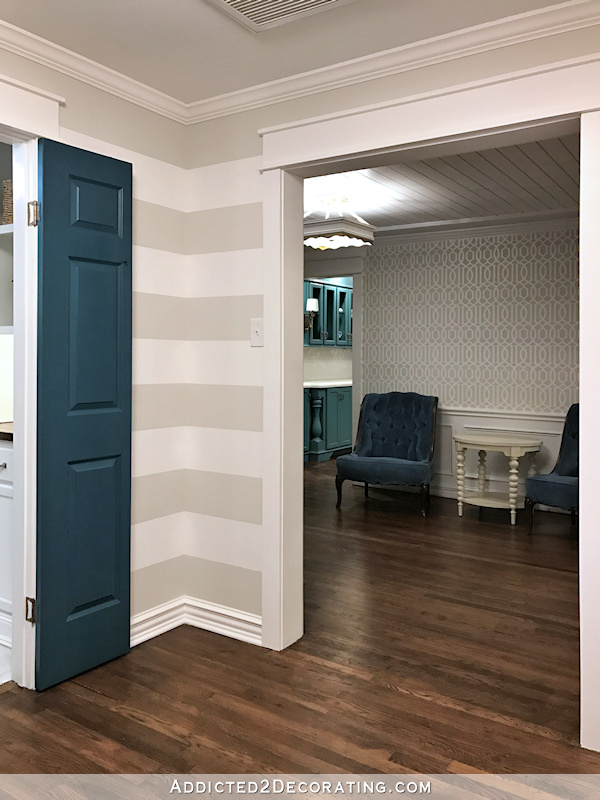 And for both of those places, I want something other than a painting. I'd like to do something with some texture and dimension to it, and there are two artists in particular who just might provide the inspiration I need for that space.
One is an artist named Phil Durst, and the other is an artist named Charles Patrick. I came across both of these on one of my favorite Instagram accounts — Blue Print Store in Dallas.
Phil Durst does all sorts of art generally with paper and paper products, and they often have a quilt-like appearance to them.
via Blue Print Store on Instagram
But this one created with Lacroix Sparkling Water cans is probably my favorite…
via Blue Print Store on Instagram
I just love all of that color.
Charles Patrick is also a paper artist, but his style is much different. Here's one of his pieces viewed from a distance…
via Blue Print Store on Instagram
Pretty, right? But you have to get up close where you can see the detail to fully appreciate it. His designs are created with paper punches (generally butterflies) and etomology pins.
via Charles Patrick Art on Instagram
Thousands and thousands of them. And he uses all kinds of paper, from magazines to foreign currency.
via Charles Patrick Art on Instagram
I'm so mesmerized by his work.
Of course, anything inspired by these men would take some serious dedication and patience. These aren't the types of thing you whip out in an afternoon while watching Netflix. These take weeks to create, which is why they cost thousands of dollars. So we'll have to see just how far this inspiration takes me. 🙂
But if you love color as much as I do, and love being introduced to the work of different artists, I highly suggest following Blue Print Store on Instagram. It is definitely in my top five favorites, if not THE favorite. If I skip a few days on Instagram, I always seek them out first to see what new eye candy they've posted.
Anyway, I'm so glad to be feeling better, and I'm excited to get back to some projects around here!
Addicted 2 Decorating is where I share my DIY and decorating journey as I remodel and decorate the 1948 fixer upper that my husband, Matt, and I bought in 2013. Matt has M.S. and is unable to do physical work, so I do the majority of the work on the house by myself. You can learn more about me here.
I hope you'll join me on my DIY and decorating journey! If you want to follow my projects and progress, you can subscribe below and have each new post delivered to your email inbox. That way you'll never miss a thing!