Last Updated on March 24, 2018 by Kristi Linauer
This front porch project is moving along slowly, but we've made a little more progress and learned some important lessons along the way. If you missed the first post in this project, you can click the link below to get caught up.
My brother returned yesterday afternoon so that we could finish installing the risers. We got kind of a late start, but we were able to get all of the risers (at least the ones attached to the concrete porch) in place just before the sun went down.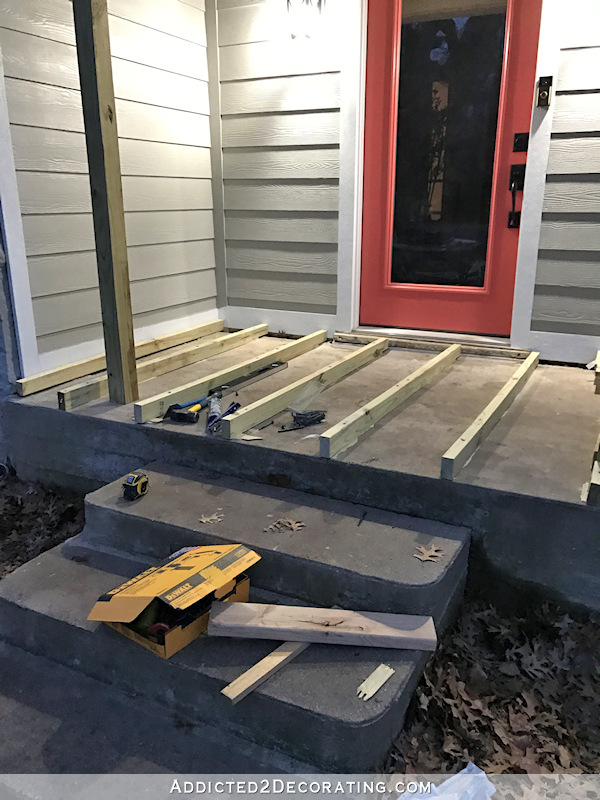 That very last riser against the side wall isn't attached yet. The concrete underneath it is super rough and uneven, so we cut it so that it would have concrete supporting it in the front and back, but it's actually going to have to be screwed or nailed to the side wall. I didn't feel like dragging out extra tools after dark, so I'll get it done this weekend.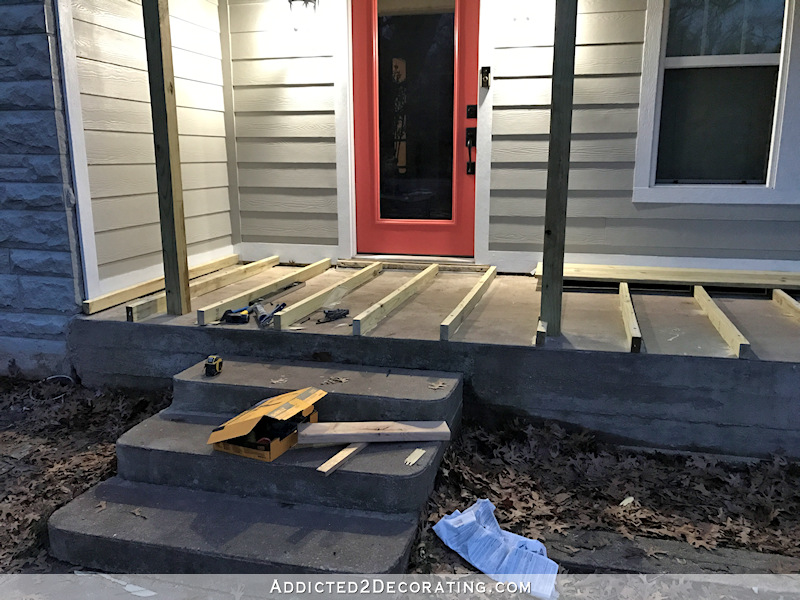 I learned a few things along the way that I want to pass along to those of you who might try this or a similar project.
First, when using Tapcon concrete screws, purchase a separate Tapcon drill bit. In fact, just purchase two or three at the beginning of your project so that you don't have to make an extra trip to the store when the first one starts going dull (and it will).
When we first started the project, I just used the drill bit provided in the package of Tapcon screws. It worked, but after getting two risers down yesterday, that one broke, so we had to go to Home Depot for another one. The Tapcon drill bits that are sold separately are far superior to the ones that come in the box of Tapcon screws. So if starting a project like this, just grab two or three separately-sold drill bits right from the beginning. They work so much better, and make drilling into concrete a bit easier.
And second, be sure you're using the right size screwdriver bit!! 😀 Remember how I said we had so much trouble getting the screws to go in even after pre-drilling the holes on that first work day? Well, that's because I was using the wrong size screwdriver bit!! I was trying to drive those screws in with a #2 Phillips bit, but if you actually read the directions on the Tapcon screws (and I'm really not good with reading directions 😀 ), it clearly says to use a #3 bit. It makes all the difference in the world! After getting some #3 bits, I had no problem driving those screws into the concrete.
After we had installed all of the risers, it was too dark to continue working, but I was anxious to see what the porch boards would look like. So we placed a few on the risers. These aren't screwed down, and when I actually install them, I'll stagger them. But here's a preview…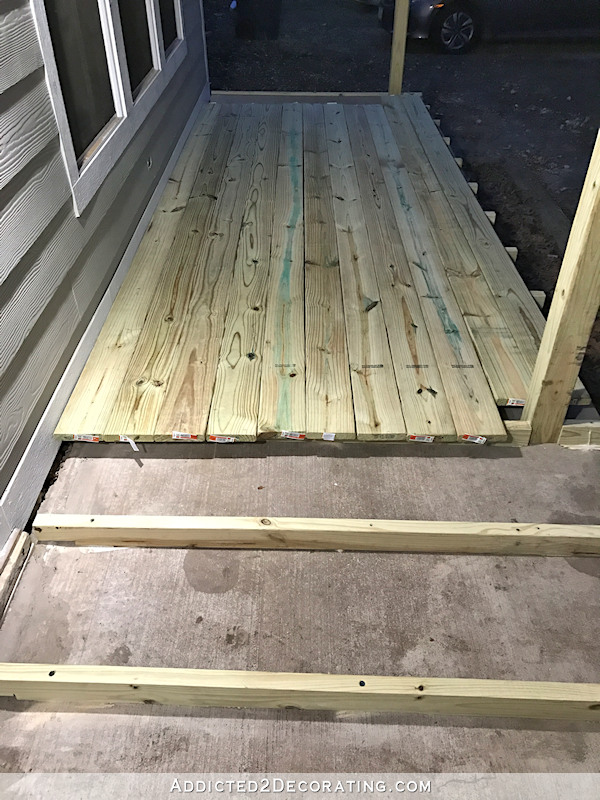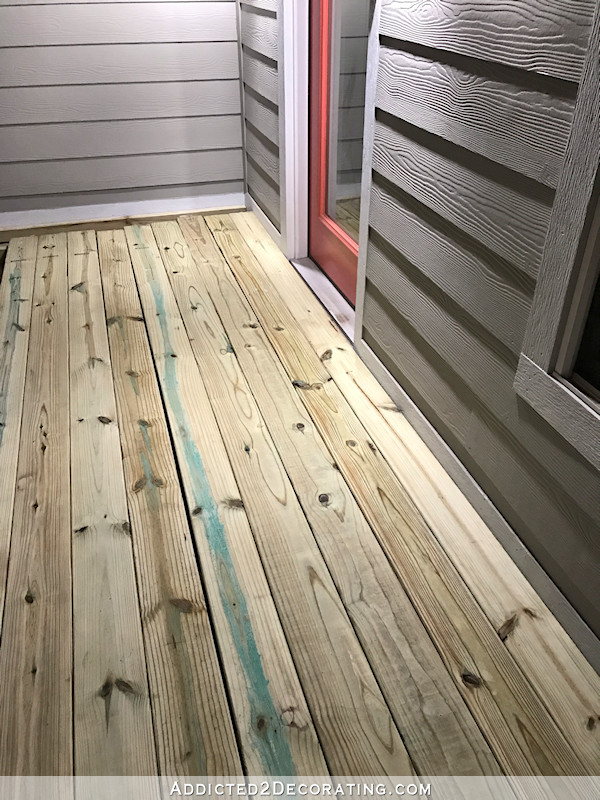 I'm so excited! It think it's going to look great!
Of course, I still have to install the spacers on the front and side of the porch so that I have something to attach the front fascia board (skirt board?) to so that it will hide the risers.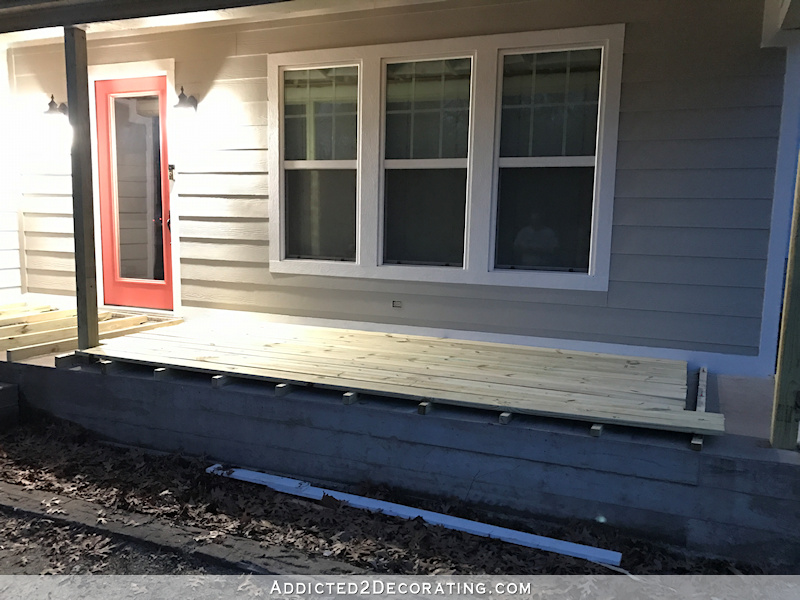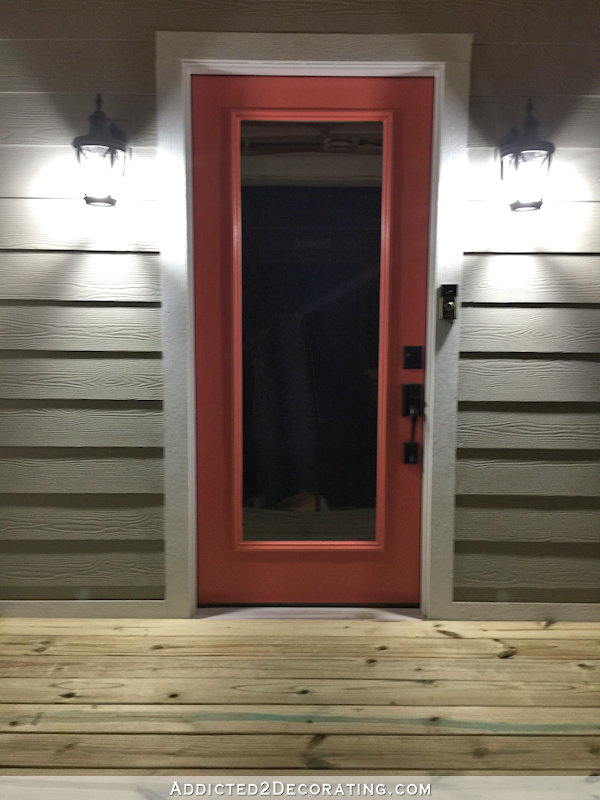 I got up early this morning and headed right out because I was anxious to see it in the daytime. I think this wood porch is going to add so much charm to the front of the house!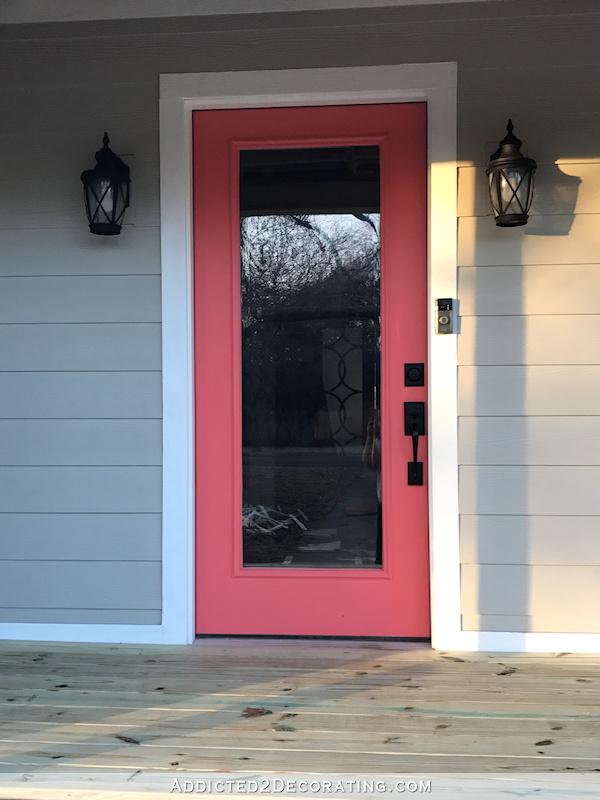 Unfortunately, you can't just install pressure treated porch boards and then stain them right away, unless they've been kiln dried after the treating process. But if you've ever purchased the in-stock pressure treated boards from Home Depot, you know how wet (and heavy!) they are in the store. Depending on the climate where you live, you might have to wait up to two months or so to let them dry out before staining. But I'm hoping here in Texas, the wait will be much shorter than that.
UPDATE:
The new wood porch floor is finished! Click the links below to see the rest of the posts in this project.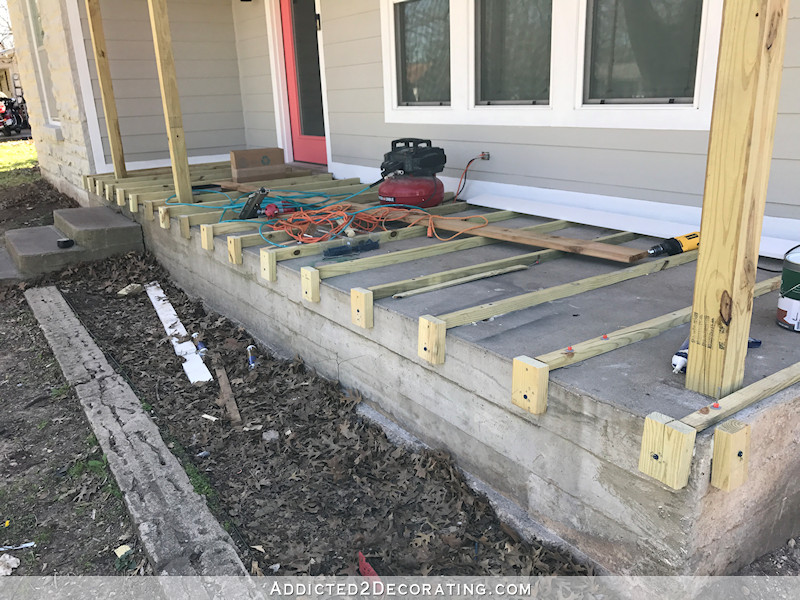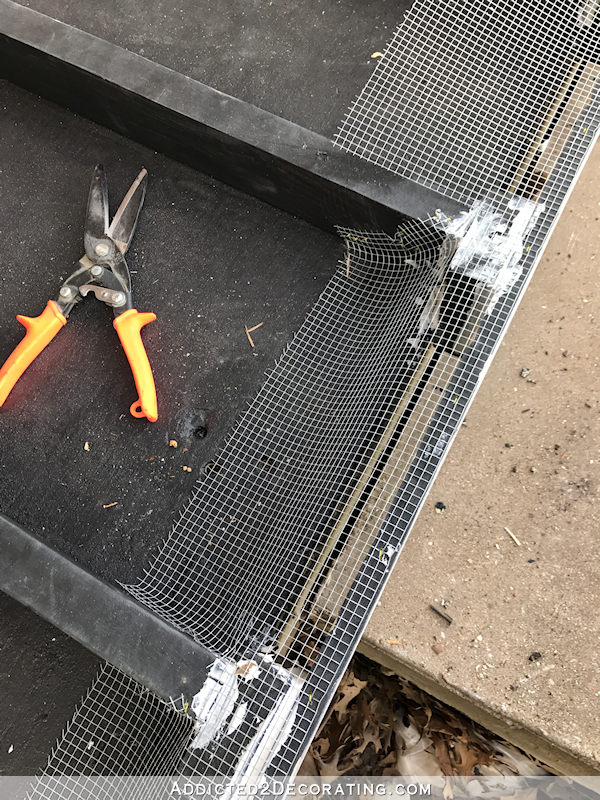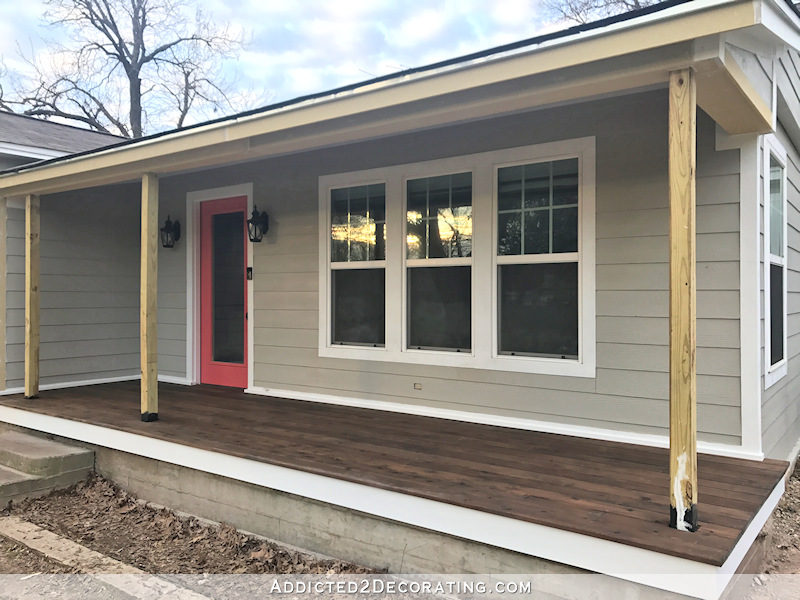 Addicted 2 Decorating is where I share my DIY and decorating journey as I remodel and decorate the 1948 fixer upper that my husband, Matt, and I bought in 2013. Matt has M.S. and is unable to do physical work, so I do the majority of the work on the house by myself. You can learn more about me here.
I hope you'll join me on my DIY and decorating journey! If you want to follow my projects and progress, you can subscribe below and have each new post delivered to your email inbox. That way you'll never miss a thing!