Last Updated on December 25, 2015 by Kristi Linauer
Last night I was sitting in bed with my laptop, browsing different blogs and Pinterest, and I started thinking about trends.  Have you noticed how the evolution of trends has changed over the last few years since blogs have become increasingly popular?  Trends used to be introduced to us each year by powerful brands and large stores.  Today, bloggers seem to lead the way, while stores and brands keep a close watchful eye on the trends and respond.
Because there are so many bloggers doing so many creative things, it's really hard to predict what things will catch on and truly become a trend.  But the ones that do catch on seem to spread fast and furiously, but also seem to die out much quicker.
Remember when you couldn't visit a blog without seeing a new variation of a sunburst mirror?  I definitely had to get in on this one when a new variation of the wood shim sunburst mirror popped into my mind…
And while I was incredibly proud of my design, this thing is still sitting by my bed…waiting for me to find a place to hang it.
And then, of course, there's the chevron craze.  Are you over this one?  Or do you still like it?
I still have an entire roll of green and white chevron fabric sitting in my office just waiting to be made into curtains.
I've never thought of myself as a trend follower, but I have to admit that I've had thoughts in my head like, "Should I still use this fabric, or did I wait too long?"  But the fact is that I love the fabric…trend or not.
I remember when I got so incredibly sick of seeing chalkboard paint being used on everything!  I even declared on my Facebook page that I was OVER chalkboard paint!  And then I used it.  Three times.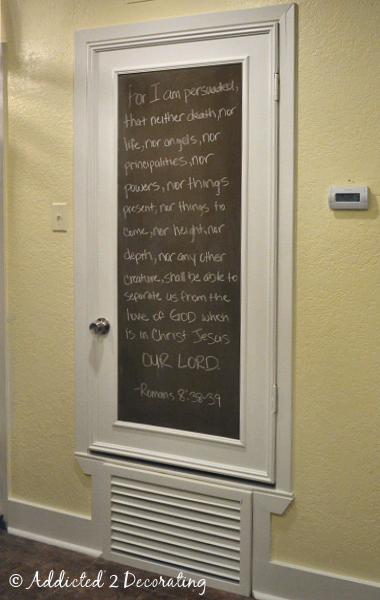 I try not to be influence by trends.  I tell myself often that I'm not influenced by them.  I try to keep an open mind about design, e.g., do I really like this, or do I want it because it's popular right now?  But the fact is, it's really difficult to be a blogger…and read blogs, look at Pinterest, read online magazines, etc….without being influenced by trends.
What other trends have we seen gain popularity fast and furiously?  Which ones have you actually incorporated into your home?  Which ones are you tired of seeing everywhere?  And are there ones that you still like even though they would probably be considered sooooo last year?
Addicted 2 Decorating is where I share my DIY and decorating journey as I remodel and decorate the 1948 fixer upper that my husband, Matt, and I bought in 2013. Matt has M.S. and is unable to do physical work, so I do the majority of the work on the house by myself. You can learn more about me here.
I hope you'll join me on my DIY and decorating journey! If you want to follow my projects and progress, you can subscribe below and have each new post delivered to your email inbox. That way you'll never miss a thing!