Last Updated on April 10, 2019 by
Now that I've kind of changed direction with my living room, I'm trying to figure out exactly what I want to do with the walls.  I've known from the beginning that I wanted some kind of wainscoting or wall trim molding design on the walls, and that hasn't changed.  But now that I'm not doing the teal walls, and I'm opting for a more neutral wall color with possibly only some slight contrast, I'm not quite sure exactly what kind of trim detail I want on the walls.  So I went in search of inspiration.
I could still go with the original idea of traditional wainscoting on the bottom and grasscloth on the top.  Y'all know I love grasscloth!  And instead of doing the teal grasscloth, as I had originally planned long ago, I could opt for a more neutral color.  The neutral grasscloth would give some beautiful texture to the walls, and a slight contrast with the wainscoting, without being a jarring contrast like the teal and white I currently have.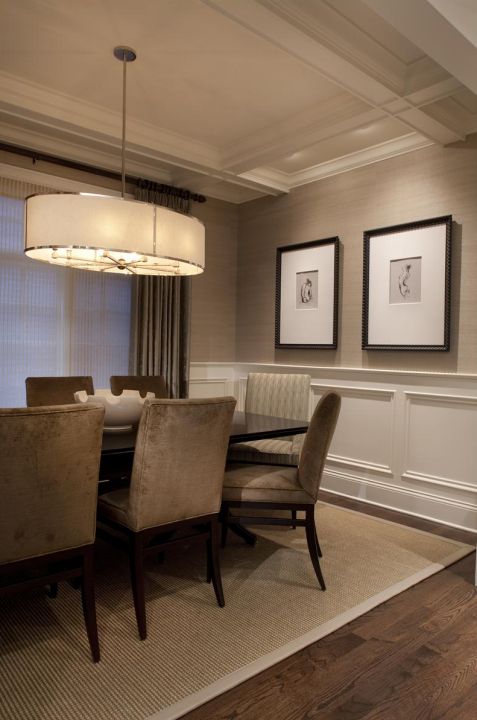 Dining room by Michael Abrams, via Home Portfolio
Or, of course, I could forgo the grasscloth idea altogether and just do wainscoting on the bottom with a light/neutral paint color on top. I love this particular wainscoting, and especially how they wrapped the chair rail about an inch before the window trim. Such beautiful details!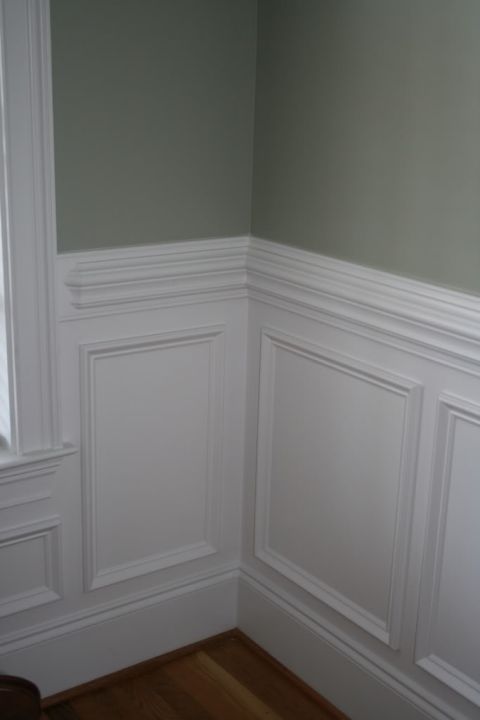 via Garden Web
Another idea, kind of building on the idea above, is to not only have the wall trim molding below the chair rail but above the chair rail also.  Of course, the ceiling in this picture is very tall, so they have two additional sections of picture frame molding above the chair rail. My ceiling is only eight feet tall, so I'd only do one section above the chair rail.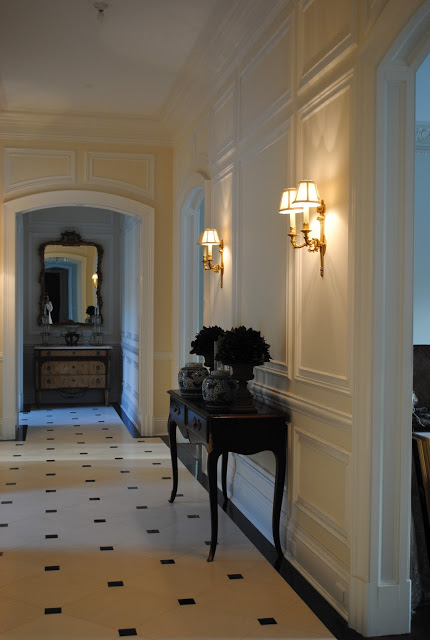 Here's another example that shows just one additional section of picture frame molding above the chair rail. This has such a classic and elegant look! I also think it might visually extend the height of the ceiling. Possibly.
And one more example of that in white. I think this might be my favorite, but I'm still not quite sure.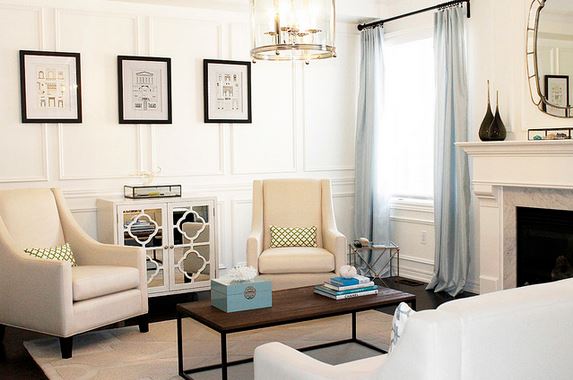 Contemporary Living Room by Toronto Interior Designers & Decorators AM Dolce Vita
And then another option is to use that idea, but add grasscloth inside the picture frame molding. I do like this white and gray, but I would opt for something with a little more neutral with less contrast — perhaps even a grasscloth that's very similar to the wall color so that the only difference is that the areas inside the picture frame molding have some beautiful texture.
Designed by Greg Natale
A simpler idea that still adds an elegant touch is to do tall rectangles of picture frame molding without a chair rail.
Eclectic Living Room by Toronto Interior Designers & Decorators Sara Bederman Interior Design
And building on that same idea, this one has two layers of molding on each rectangle.
Brownstone renovation by Melissa Miranda Interior Design
And finally, this has always been one of my favorite designs. Of course, this staircase is just a touch grander than my house. 😀
Staircase by Mount Pleasant General Contractors Phillip W Smith General Contractor, Inc.
But here's a dining room with a similar treatment.  If I did this one, I would do it all the way to the ceiling rather than using a chair rail high on the wall like they did in this dining room.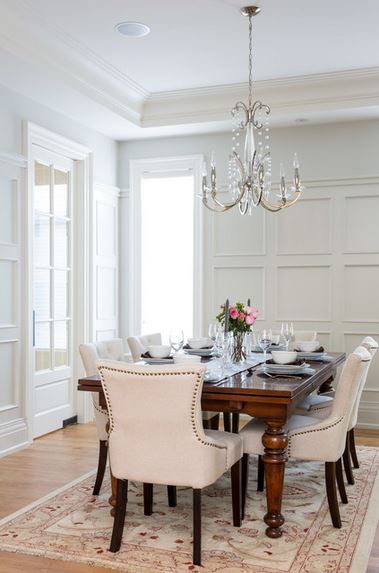 Traditional Dining Room by Mississauga Home Builders Prestige Homes
So those are a few ideas I'm tossing around in my head for my living room and entryway walls.  There are two main walls where the wall trim molding design would show — on the long entryway wall, and on the long wall that is between the living room and the kitchen, and that second wall is the first thing that people generally see when they walk through the front door, so I want it to look really nice.
Decisions, decisions! 🙂
Addicted 2 Decorating is where I share my DIY and decorating journey as I remodel and decorate the 1948 fixer upper that my husband, Matt, and I bought in 2013. Matt has M.S. and is unable to do physical work, so I do the majority of the work on the house by myself. You can learn more about me here.
I hope you'll join me on my DIY and decorating journey! If you want to follow my projects and progress, you can subscribe below and have each new post delivered to your email inbox. That way you'll never miss a thing!