Living Room Selections — Chairs and Ceiling Light
*This post contains affiliate links.
I finally made my selections for the living room chairs and ceiling light! That chair decision was way more difficult than I thought it would be. I had narrowed down the options to eighteen chairs (which you can see here if you missed them), and while the blue chair with the gold legs from Home Depot was my favorite, I just couldn't make myself press that "complete purchase" button on that blue chair or any of the other blue/teal chairs.
Since I have so much teal in my house already, I was afraid that adding more would not only be overkill, but I would also run the risk of selecting one that would clash with the existing teals once I see it in person. As a reminder, the chairs are replacing these temporary chairs in the living room…
And on the other side of that room is the area I call the entryway…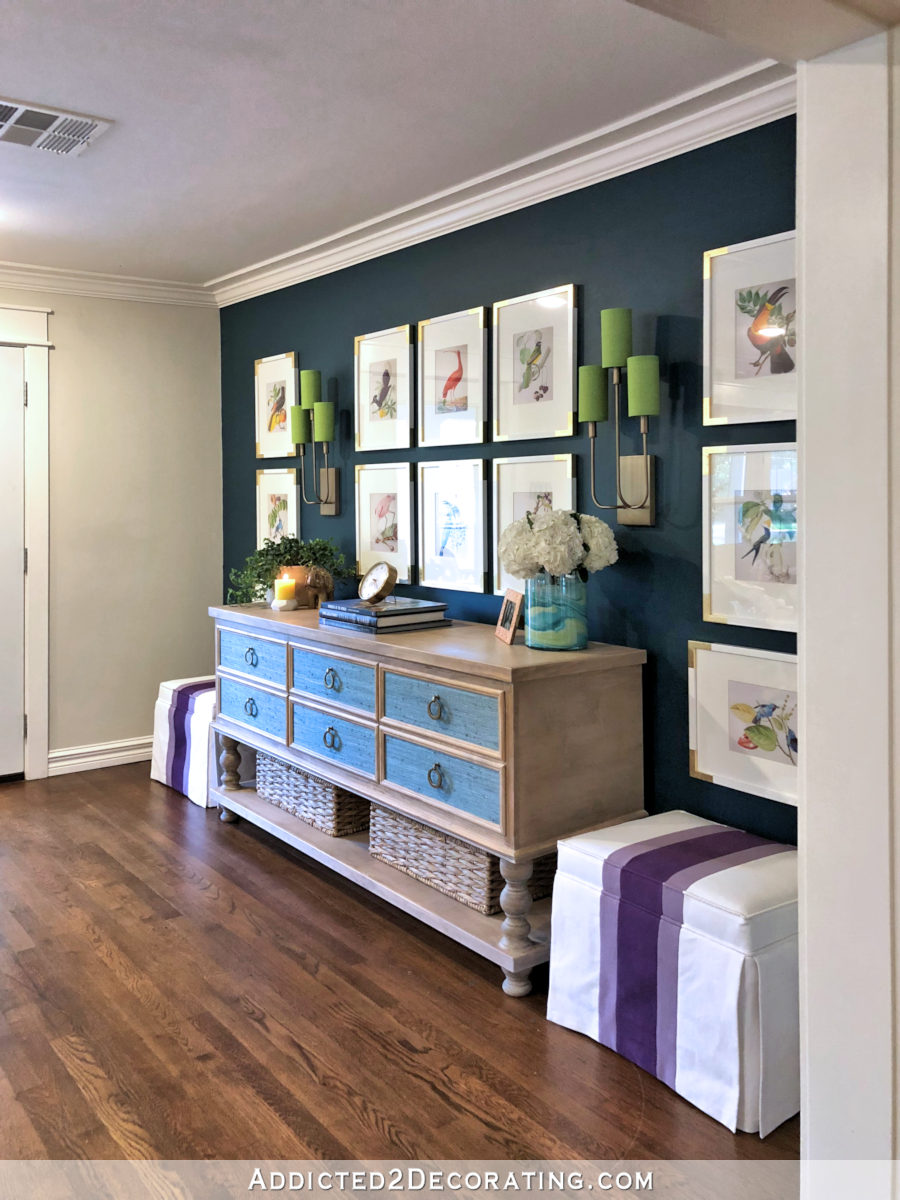 And then through the doorway in the living room is my kitchen…
So now that I've set the scene, let me show you which chairs I chose! I went with PURPLE! And I chose the deepest purple chairs I could find, which was this Corina Accent Chair…
I'm pretty particular about purples. And in my mind, since these chairs were going in a room with light pink curtains, I thought that the deepest, darkest purple would look the best with the light pink. A lighter purple with the pink might look too much like a child's room.
So after comparing all of the purple chairs I had included in my post a few days ago, along with a few others I found after that, this one ended up being the darkest and most gorgeous purple chair out there. And it also had the least amount of red in it, more like a deep eggplant color, which seems more grown up and sophisticated to me than purples that have more red in them. So I went with it!
It was also very important that the back side of the chair look nice since the backs will be clearly visible from the kitchen. So many chairs out there look nice from the front, but look really cheaply made from the back. It's especially true of chairs that are covered in patterned fabric, with seams right down the middle and mismatched patterns. But it can also be true of solid chairs, especially the inexpensive ones that require assembly and have a back panel that attaches with hook and loop tape. So when buying online, I always make sure that the listing shows a picture of the chair from the back.
Anyway, here's an idea of what they will look like. Of course, this isn't to scale. And I'm sure the color will look a bit difference once the chairs are actually in the room. But it's an idea.
And I finally made a decision on the ceiling light. I had written a post back in February where I shared some options for the new living room light. (The one in the picture above has been moved to the music room.)
Unfortunately, once I finally made my decision, the light I wanted was out of stock and won't be back on stock until October. I don't want to wait that long.
The one I wanted was this Bruce 5-Light Sputnik Sphere chandelier, so I went in search for a similar light. I found two that would work, but neither seemed quite as perfect as the one I missed out on. My main requirement was that it have white globes and not clear globes. I've learned that I almost never like lights where the light bulbs can be clearly seen.
So the first one I found is this five-light semi-flush mount from Overstock.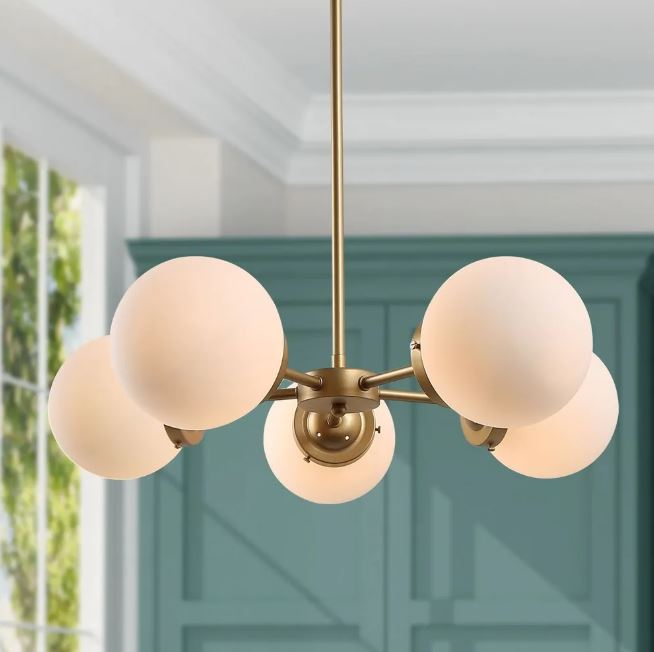 The color was right and the price was good, but I wasn't crazy about the clunky look of the areas where the globes attach.
I also found this similar five light chandelier, also from Overstock.
And yes, it can be shortened considerably so that it'll fit my low 8-foot ceiling. 🙂
This one was more expensive, and the color isn't what I had hoped, but I much prefer the connectors on this light. The design looks less clunky and more streamlined, which appealed to me. So I went with the second one. Color can always be changed. Y'all know I'm the type of person who won't hesitate to paint just about anything — even a brand new light — if need be. So we'll see if it needs it.
So that's two major decisions made, and once these items arrive, the room will be just about finished! I still need some accent pillows, maybe a throw or two. I'll probably need a table between the chairs, as well as some lamps. But I could potentially have a finished living room here in a couple of weeks.
In other news, I hope to have a guest bedroom update for you soon. I decided to do a painted design instead of wallpaper on the main wall, so that's going to take way longer than just installing a few pieces of wallpaper. But I'll explain my why's and how's soon.
Addicted 2 Decorating is where I share my DIY and decorating journey as I remodel and decorate the 1948 fixer upper that my husband, Matt, and I bought in 2013. Matt has M.S. and is unable to do physical work, so I do the majority of the work on the house by myself. You can learn more about me here.