Last Updated on October 6, 2017 by Kristi Linauer
I have about a 150 different wall treatment ideas saved up that I want to try out in my house. Unfortunately, I only have five (soon to be eight, and eventually twelve) more rooms where I can try out some fun ideas. Most of the ideas I've saved up are a kind of crazy, perhaps a bit busy, a little loud, and very colorful. And my challenge has been deciding how to make each room unique, how to inject color and pattern, while also keeping the rooms complementary with each other, at least in the "public" areas of the house.
So this weekend, I took some time to go through all of my saved ideas from the last three years, and pull out a few that would complement what I've already done in the breakfast room and kitchen, and will also go with what I have planned for the entryway. To help you visualize where all of the spaces are, here's another look at our current floor plan. Starting next month, the garage will be transformed into my studio, and the storage room at the back of the garage will become a mud room on one side and a half bath on the other side…
To refresh your memory, in the breakfast room my walls are painted Classic Gray by Benjamin Moore.
In the kitchen (which I'll finish today, photograph tomorrow, and blog about on Wednesday, barring any unforeseen circumstances), the walls from floor to ceiling are tiled with creamy white subway tiles…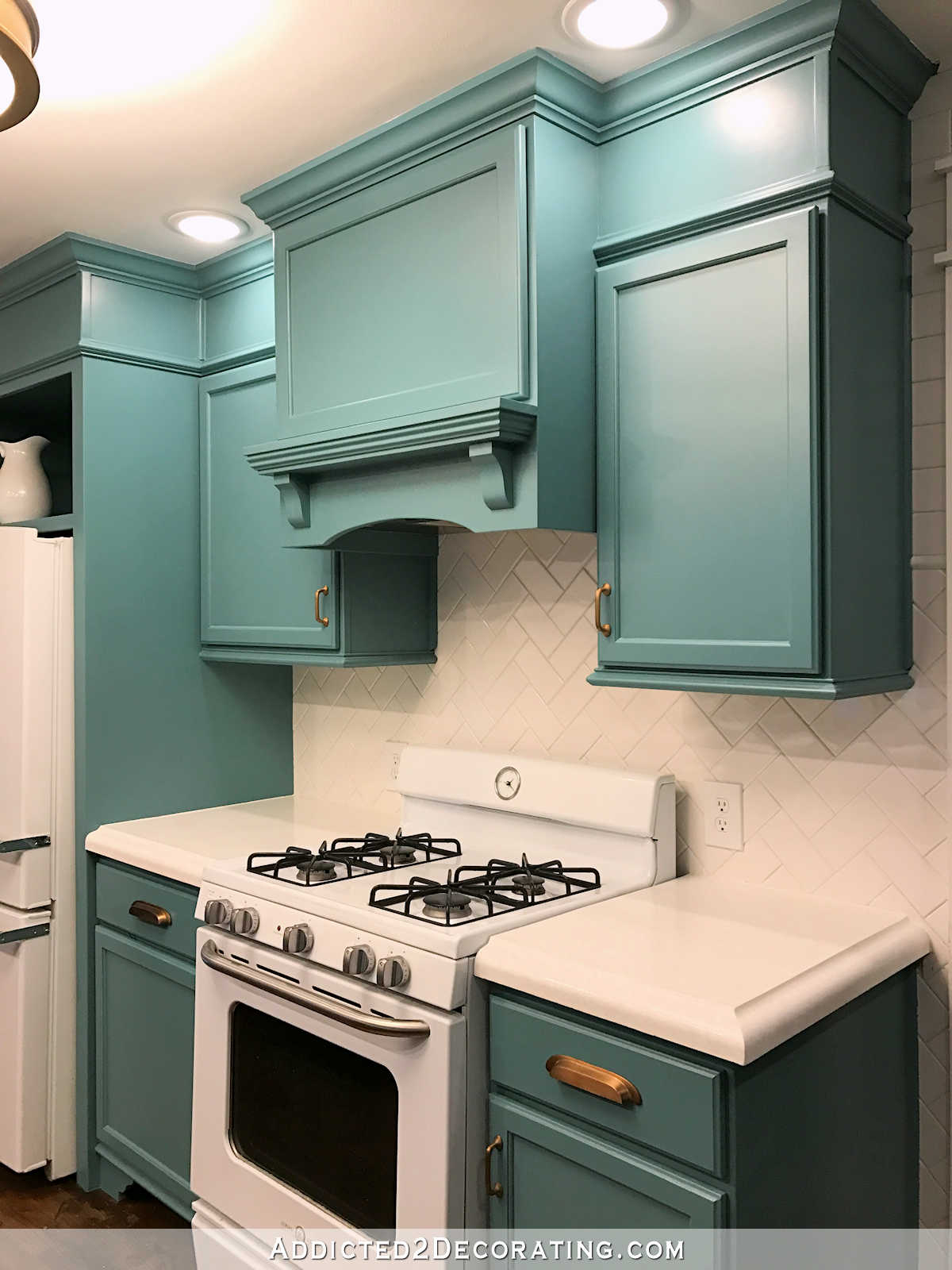 In the living room, on the one wall by the front door (what I call the entryway wall, even though technically, I don't have an entryway), I'll be using the Phillip Jeffries Juicy teal grasscloth that looks like this…
I'm not going to do the entire wall. I intend to do more of an accent panel, and I bought enough grasscloth to do one really large panel that's six feet high and twelve feet wide. The wall is 8 feet high and 14 feet wide, and to do all of it would have cost me an additional $250, so a large panel is just fine with me. 🙂
And unfortunately, I will have to repaint the living room, which is currently painted Benjamin Moore Silver Gray.
Now before any of you scoff at me for repainting this room…again…I'd like to just point out two things. 🙂 First, I chose this color for the living room walls back when I was still planning on painting my kitchen cabinets dark navy blue (Gentleman's Gray) on bottom and very light gray (Revere Pewter) on top. This Silver Gray color looked beautiful with those colors in the kitchen. But it clashes terribly with the teal color that I finally went with in the kitchen. If it had just a tiny bit of green in it, it would probably look fine. But it's way too icy blue to work with the teal.
But before I start getting comments about how I redo everything and can't make up my mind, let me also point out that this is June, and so far this year I haven't redone one single project that I've done this year. Anything that has been redone this year has been holdovers from last year, a.k.a., my awful, indecisive year. This year, I've had nothing but forward momentum with no do-overs. 🙂
But I know I'll still catch some flak for repainting this room again. That's fine. It must be done. I'll probably end up using a similarly light color, but just less icy blue and more blue-green to complement both the kitchen cabinets and the entryway grasscloth.
So that takes us to the music room, with its current black walls.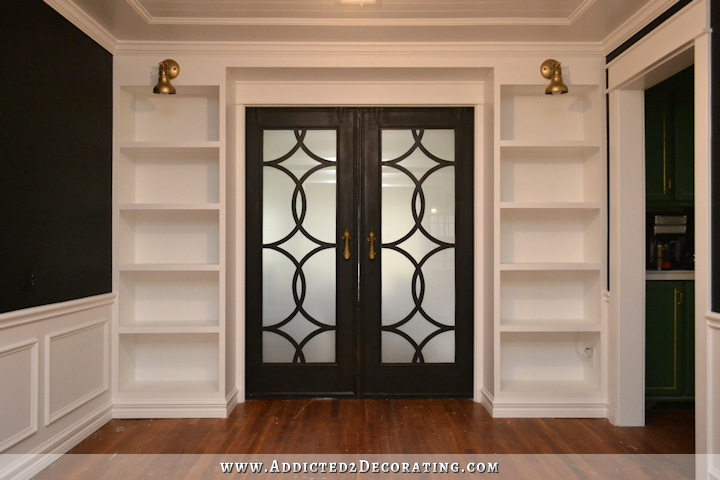 I've had about a thousand ideas for the music room — everything from colorful stripes to an ombre effect to the trees and birds pattern, and so much more. But none of those felt right for this room. It's right next to my teal kitchen, so a ton of color on the walls might feel too busy and crazy. And it's also right next to the entryway wall that will be covered in teal grasscloth, so I want something that will complement the grasscloth and add interest to the room without completely overpowering the grasscloth and stealing all of the focus. And then I also have to take those doors into consideration. Those doors are one of my favorite DIY projects of all time, and they're pretty attention-grabbing.
So after going through my folder of ideas, as well as some of my old blog posts, I came across this idea that I think will work beautifully with the kitchen and the teal grasscloth in the entryway.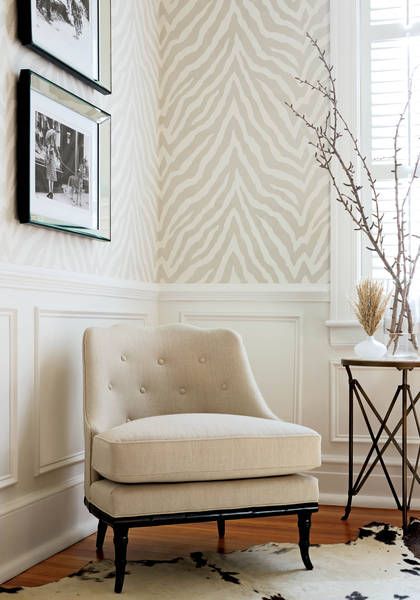 Since the first time I saw that in 2014, I have loved that combination of the wainscoting with the Thibault Etosha wallpaper. When I first posted about that wallpaper in December 2014, I planned to use it in my breakfast room. That didn't happen, obviously, but I love the idea of it in the music room, especially since that room is the only room remaining that has wainscoting.
So that brings us to the hallway, which is right off of the music room. For a very long time, I wanted to do (ready yourselves)…shiplap…in the hallway. But now that I'm three years into this house (and four years into Fixer Upper), I can barely get the word out of my mouth, much less put it on my walls. I'm so sick of hearing about shiplap, and even more tired of seeing it. And I'm also a little bitter, to be honest, that Home Depot has discontinued the entire section of primed MDF boards that I love and used all the time, and has replaced them with an entire section of shiplap — unfinished shiplap, white shiplap, stained shiplap, burned wood shiplap, narrow shiplap, wide shiplap. My gosh, ENOUGH with the shiplap!!!
*deep calming breaths* 😀
BUT…
I still love the texture that something like that brings to a wall. So I've been trying to come up with a way that I can get that same textured look without the farmhouse style that (generally white) shiplap is associated with, while also putting my own spin on it. And here's what I've come up with. Remember how I did the ceiling in my hallway bathroom?
Well, I love that dark stained wood and bright white trim combo, so I think I'm going use that same combo on my hallway walls. I haven't decided for sure if I want to do horizontal or vertical on the walls, but I'm leaning towards vertical so that I won't have any end-to-end joints in the wood, which is also how I planned the bathroom ceiling. I think eliminating any end-to-end joints in the wood strips gives the finished ceiling (or walls) a much cleaner and more modern look (i.e., not farmhouse), which I prefer. So picture dark vertical stained slats with bright white trim and white built-in cabinets on one wall.
And that leaves us with the studio walls. (I haven't given any thought at all to the mudroom or half bath walls yet.) In my studio, I'm leaning towards something like this…
via Better Homes and Gardens
I see that picture quite often on Pinterest, and every single time I stop and look and admire that wall color. It's such a soft, soothing lavender. It's colorful without being overwhelming or overpowering. I've read many times over the years in various "psychology of colors" articles that lavender fosters creativity, which is perfect for my studio. And of course, it'll be used in a room with loads of white cabinetry.
And on a random note, someone emailed me a link to this Asher Teal Chair with peacock fabric on the back from Pier 1 the other day, and I just love it. I've been trying to find a place for it, and I think my studio might be the perfect room for it (or a pair of them).
Teal, green, purple and PEACOCKS! (Or probably peahens.) It couldn't be more perfect for me!
So anyway, those are the ideas I'm leaning towards for my walls. I hope they'll all work together in my house as well as they do in my mind. 😀
Addicted 2 Decorating is where I share my DIY and decorating journey as I remodel and decorate the 1948 fixer upper that my husband, Matt, and I bought in 2013. Matt has M.S. and is unable to do physical work, so I do the majority of the work on the house by myself. You can learn more about me here.
I hope you'll join me on my DIY and decorating journey! If you want to follow my projects and progress, you can subscribe below and have each new post delivered to your email inbox. That way you'll never miss a thing!