Y'all, I love how my living room is shaping up now that I have the new pink curtains in there. If you missed that post, you can see it here…
It's amazing how much more "finished" a room feels once the window treatments are installed.
I still have two major projects — reupholstering two chairs and building a coffee table — and then I can do the small finishing touches and it'll be done! So I spent all day yesterday working on the coffee table.
My choice for my coffee table will probably surprise most of you, and disappoint some. I'm sure of this because after all of the comments about my living room being "elegant," and "calm," and "soft," I'm about to throw a wrench in the works both with the coffee table and with the reupholstered chairs.
If y'all know me but at all, you know that the fastest way to get me to want to make changes to a room in my house is to call it "elegant." I'm so not an elegant person, and I don't want an elegant house. Same with those other descriptions — calm, serene, soft. Nope. I want bold, colorful, eclectic.
The chairs will be reupholstered with bold and colorful floral fabric on the back, and a bright raspberry velvet on the front. I showed y'all the fabrics a while back. Here they are draped over the chairs a couple of months ago…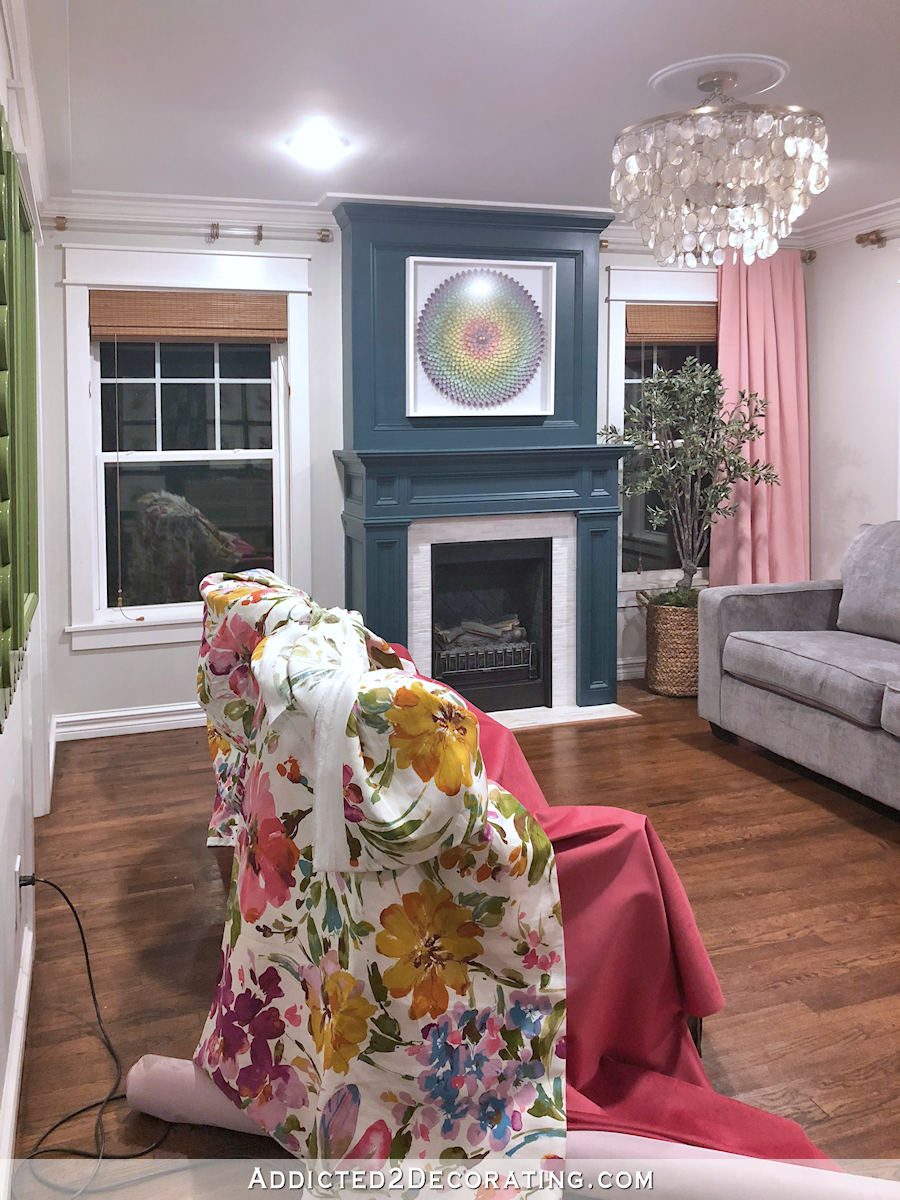 So when it came to the coffee table, I didn't want anything predictable, like a glass coffee table with gold metal frame, or something with turned legs, or an upholstered ottoman.
Instead, I opted for an unexpected material used in an unexpected way. And I spent hours and hours yesterday cutting and sanding about 580 pieces of this material. Can you tell what it is?
Yep. It's plywood. 😀
I know you have your doubts, but withhold judgement until it's finished. I used the lightest and least yellow or red plywood available, which was maple. And I plan to use a whitewash stain on it once all of these pieces are laminated together. I want the herringbone pattern to be light and bright. I also want it to be subtle but unmistakable. I'm still not certain about the design for the base, but I have a pretty good idea of what I want.
Anyway, there's probably no way I'll get this done this weekend. That's a LOT of gluing that needs to be done, and then it'll take at least 24 hours for it to dry completely before I can cut it down and route the edges. So it'll probably be the middle of next week before it's finished.
After cutting and sanding those 500+ pieces, I desperately needed time to play with some paint. I did four paintings, but I only ended up liking three of them. These two mini canvases turned out to be my favorites. I love these tiny gallery-wrapped canvases.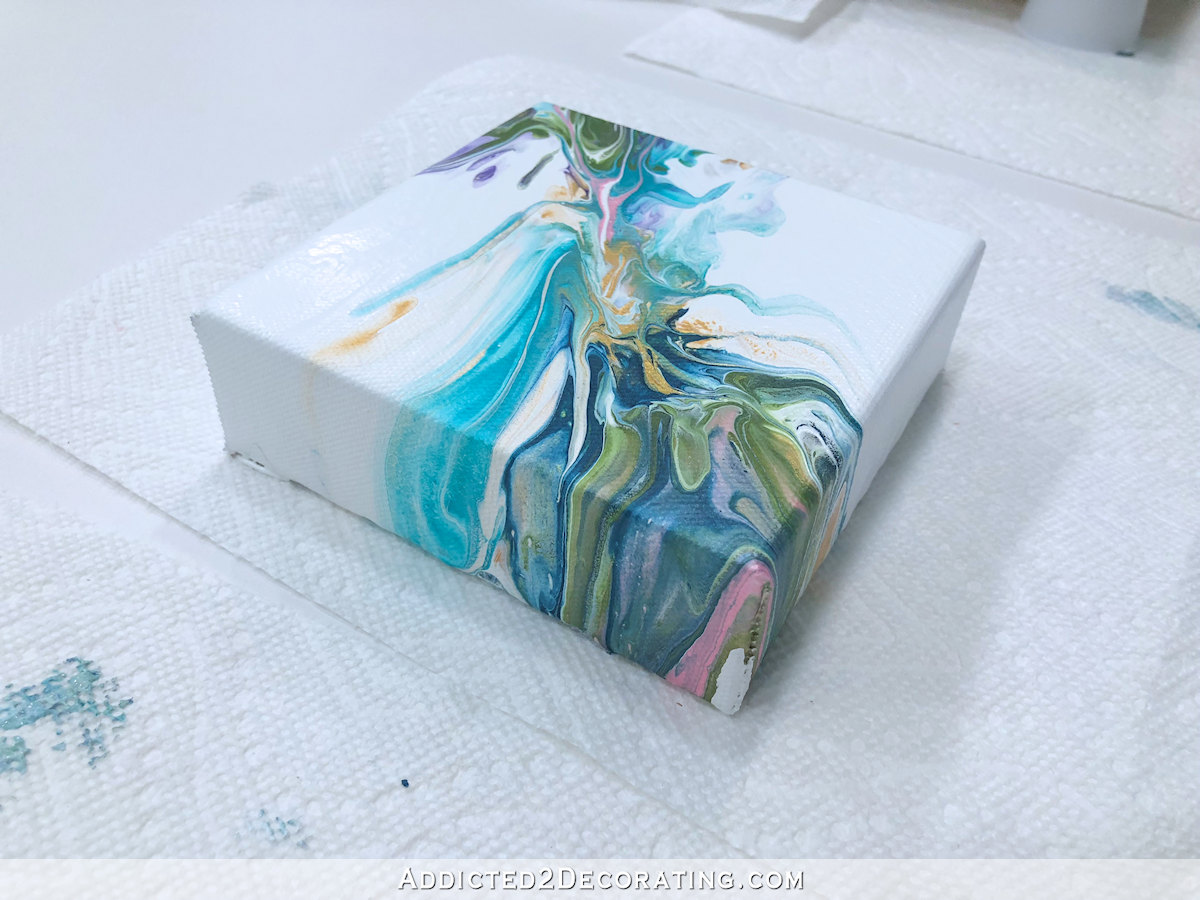 I think I'll put a coat of resin on these and then add them to my Etsy shop for next week's grand opening.
I also did this 20″ x 20″ canvas. It's still pretty wet, so I can't get great pictures of it just yet.
I did a video of that one, so if you're subscribed to my YouTube channel, I'll have that video up soon.
Addicted 2 Decorating is where I share my DIY and decorating journey as I remodel and decorate the 1948 fixer upper that my husband, Matt, and I bought in 2013. Matt has M.S. and is unable to do physical work, so I do the majority of the work on the house by myself. You can learn more about me here.
I hope you'll join me on my DIY and decorating journey! If you want to follow my projects and progress, you can subscribe below and have each new post delivered to your email inbox. That way you'll never miss a thing!