Last Updated on December 2, 2016 by Kristi Linauer
Y'all, I'm so excited about this that I'm practically giddy, and I didn't want to wait until tomorrow (when it'll hopefully be finished) to share with you. For the last two years, I've been living with a 2-inch step down from the hardwood floor in the kitchen to the old, ugly, asbestos tile-covered concrete floor in the breakfast room. And I've been waiting and dreaming of the day that I would have one continuous floor from one room to the next.
Well, that day is here, and I couldn't be more pleased or relieved that it worked out just as I had hoped.
I've been especially concerned about the transition from one room to the next, since there was a gap in the subfloor and a slight unevenness that I thought might make things difficult. But with my belt sander and lots of construction adhesive to fill the gap, I now have a smooth transition from the kitchen to the breakfast room.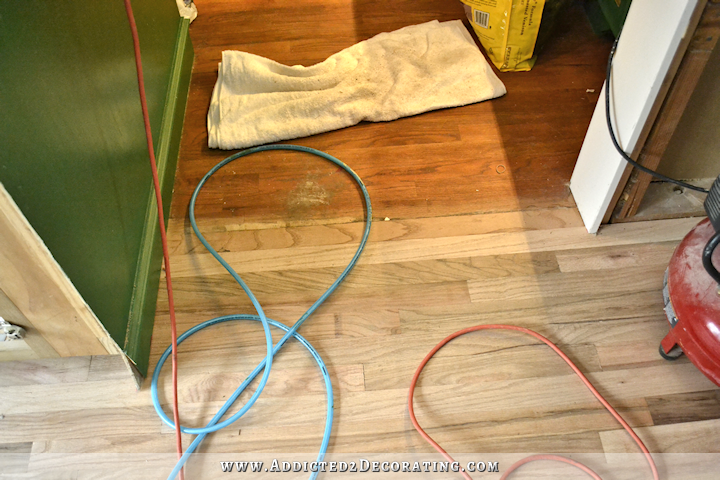 And you can see above that the entire side of the peninsula now looks like it's sitting on the floor, rather than half of it appearing to cantilever over a floor that's two inches below. I can't tell you how relieved I am that this transition worked out!
The second challenge was getting the first row of boards all the way to the front window wall installed since it was underneath the cabinets. I didn't bother to go all the way back, so there's still a gap of about 9 inches under there where there is no hardwood flooring. But once the trim is added to the bottom of the cabinets and it looks like an actual peninsula that's sitting on the floor, it won't be visible at all.
So those first three rows were a challenge. Not only did I have to be sure to get that first row as straight as possible since there were no previous rows of wood to line it up with, but I also had to nail the first three rows with my 16-gauge nail gun on my hands and knees since the flooring nailer wouldn't fit that closely to the cabinets.
And then the third challenge was figuring out how to run the flooring from the breakfast room to the pantry. I couldn't figure out how to make the flooring flow seamlessly since I would have to work backwards on part of it, and therefore would have no tongue to nail through. But after much searching, I finally discovered that there are splines made specifically for changing direction of hardwood flooring. So basically on that one board you see in the photo below, the tongue (where the nails go) is on the right side. I will insert a spline in the groove on the left side to create a tongue so that I can then work back towards the left side of the pantry.
If that totally confused you, I'll take pictures when I do that and share more details (hopefully tomorrow).
But so far, I'm loving how this floor is turning out!
I think it might be a lofty goal, but I'm really hoping to get the rest installed today.
Addicted 2 Decorating is where I share my DIY and decorating journey as I remodel and decorate the 1948 fixer upper that my husband, Matt, and I bought in 2013. Matt has M.S. and is unable to do physical work, so I do the majority of the work on the house by myself. You can learn more about me here.
I hope you'll join me on my DIY and decorating journey! If you want to follow my projects and progress, you can subscribe below and have each new post delivered to your email inbox. That way you'll never miss a thing!