Last Updated on October 8, 2017 by Kristi Linauer
This room is really starting to take shape! I knew once I got all of those old windows out of here, and got the new windows installed, it would drastically change the feel of the room.
My brother came over yesterday for a repeat wall building and window installation project, and this time we worked on the front wall of the breakfast room. That's the wall that looked like this the day we bought the house…
But lately has looked like this…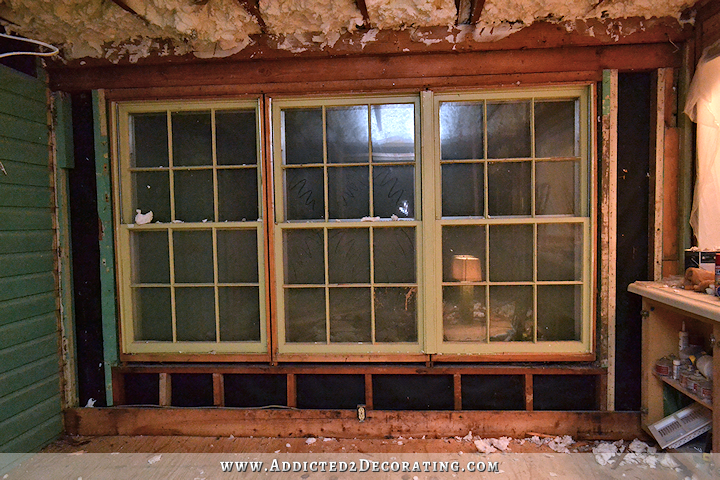 This is also the wall I wrote about in this post, wondering how the heck the wall was even standing…
Interestingly, the mystery deepened as we tore everything out.
Anyway, after bracing the ceiling joists, we started by taking out the old windows. Those things were literally held in by the trim. Once the trim was gone, the windows fell right out.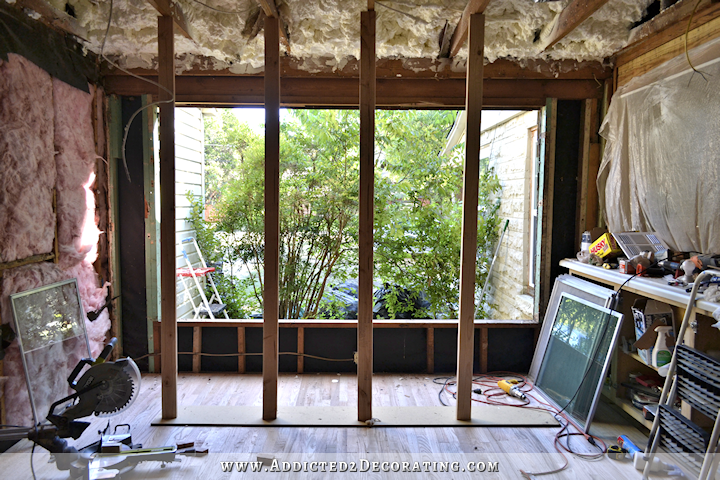 And then we removed the rest of the wall. Everything. Right down to the original garage siding on the left side.
We even took it down to the concrete foundation by removing the old 2 x 4 base plate.
And on the right side, we took it all the way to the stone on the side of the house. This room is obviously a bit different since it was once an open breezeway with a roof on it. Exterior stone wouldn't normally extend inside a wall like that. I considered cutting it off, but we had a very good reason (which escapes me now) for leaving it.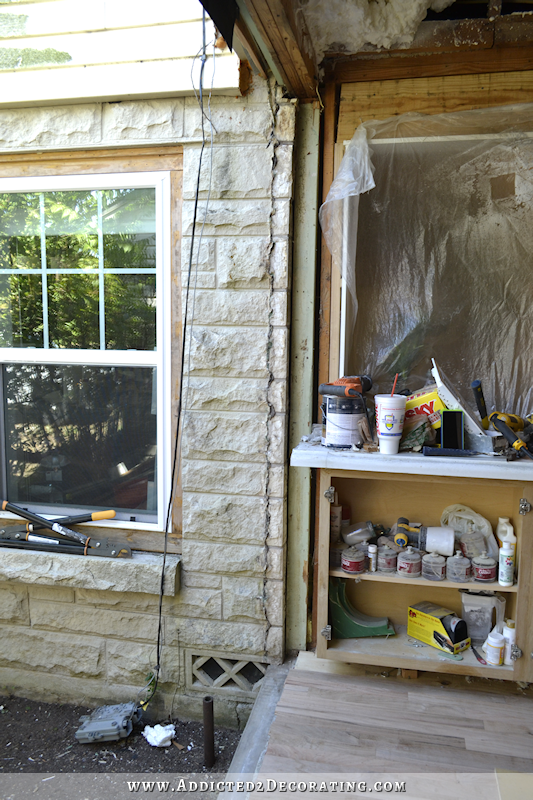 The only parts we left are the one 2 x 4 stud to the far right (the one painted seafoam green, which you can see above), and the original main beam that supports the trusses. Everything else, from that odd secondary beam, the useless studs and window framing, to the wall base plate, was taken out.
And then we rebuilt. I decided to frame this wall a little differently. Since it was an open breezeway with a roof, and that beam is suspended somehow (we never figured it out), and it's a triple 2 x 6 beam, AND it's been standing for almost 70 years, I really felt like the only real studs that actually needed to be in this wall were on the far left and far right of the wall.
But I was determined to get more in there, and I was also determined that I wanted double 2 x 4 studs between and on the outside of each window. Double 2 x 4 studs would not only provide extra support for that beam, but they would also provide the perfect spacing for my windows. So I added all of the 2 x 4 studs first, and then went back and added the horizontal framing for the windows. It's not standard, but with standard framing, the windows would have been spaced further apart (even if just 1.5 extra inches in between, it's not what I wanted), and there would have only been one actual stud running from base plate to header beam between the windows. That's also not what I wanted either.
So this wall went from being held up by magic and wishes, to being incredibly sound and held up by 13 actual studs in the span of 12 feet. I'd say it's secure now!
And then once we got the sheathing (OSB) and the house wrap on, we could finally install the windows. I think we finished around 9:30 last night, so it was a good 12-hour day, with about 45 minutes for lunch, to get the entire wall torn out, rebuilt, and windows installed. Here's how it looked last night…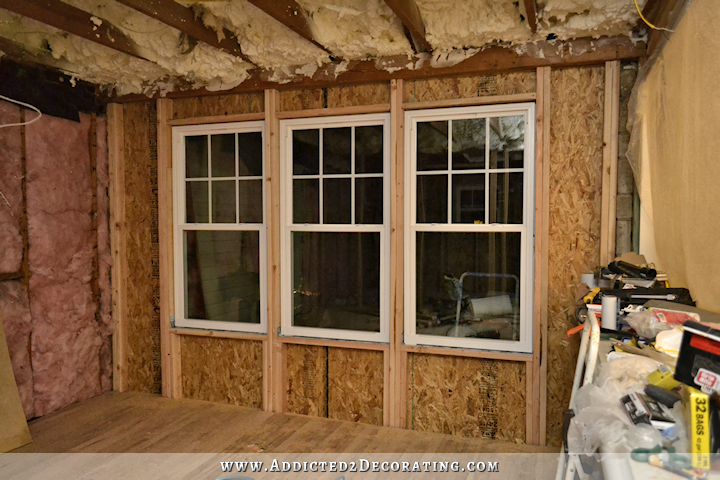 And here was the view this morning.
Of course, I'll have an actual view once I get all of that brush cut down, so for now I'll just enjoy the sunlight. It's amazing how much new windows really transform a room (even an unfinished room like this).
So to recap, I started with this…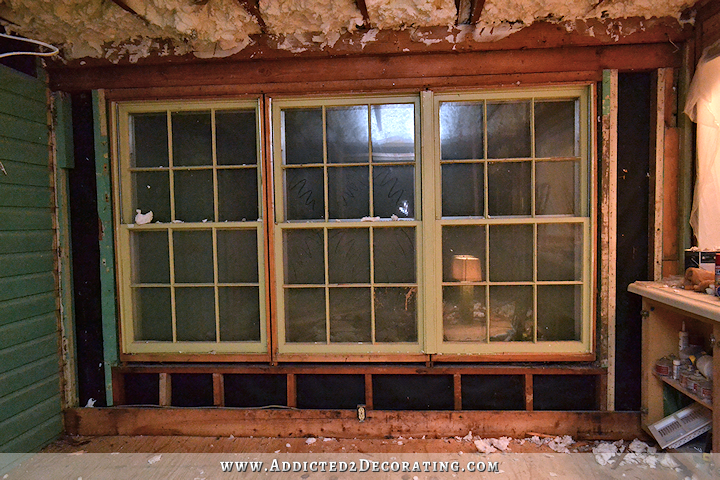 …and now I have this…
These windows are a bit narrower than the original windows. The original windows were 36 inches wide, and I went with 32-inch windows this time. But since these don't have those old storm windows with the blue tint glass, they seem to let in way more light, and the room looks so much lighter. I can't wait to get this wall drywalled so that I can trim out these windows!
Addicted 2 Decorating is where I share my DIY and decorating journey as I remodel and decorate the 1948 fixer upper that my husband, Matt, and I bought in 2013. Matt has M.S. and is unable to do physical work, so I do the majority of the work on the house by myself. You can learn more about me here.
I hope you'll join me on my DIY and decorating journey! If you want to follow my projects and progress, you can subscribe below and have each new post delivered to your email inbox. That way you'll never miss a thing!