Last Updated on March 14, 2019 by
I'm thinking about using a dining table with bench seats in my breakfast room and I'd like to hear your thoughts on it. Here's how I got the idea…
I've been hard at work trying to get through my list of things I wanted to accomplish before my end-of-year break. I'm definitely running behind schedule, but I spent the day yesterday working on trimming out the front windows in the breakfast room.
And of course, when I'm in a room working, I do quite a bit of daydreaming, planning, and imagining how a room will look when it's finished. The other day, I mentioned the idea of adding built-in storage flanking the pantry door.
I think the consensus was that more storage is always a good idea. But a few of you asked, "Do you really need it?" and, "Won't it limit your space for a dining table?" It's the dining table part that really got me questioning the storage idea. Of course, I had already thought of it as I had considered the built-in storage and had decided that it wasn't going to be a space issue, but then I started second guessing myself.
When room is "in progress" and you're standing in an empty room with a tape measure in hand, that's much different than actually being in a finished room with actual furniture. Sometimes finished rooms just don't function exactly the way we had imagined, even with our thoroughly measured and well planned ideas. And while my tape measure and math might say, "It's fine! Go for it!" the reality of losing 13 or 14 inches of floor space could be the difference between my fully extended dining table seating 10 people and only seating 8 people, or seating 10 people comfortably and seating 10 people cramped with people having to uncomfortably squeeze around the people seated on the ends in order to reach the other side of the table.
One commenter on that post floated the idea of built-in banquettes on either side of the pantry door. That idea got my head spinning, because y'all know I love built-in banquettes!! I started envisioning something like at the condo, where I had the built-in banquette with storage above.
Kitchen Table With Bench And Chairs At The Condo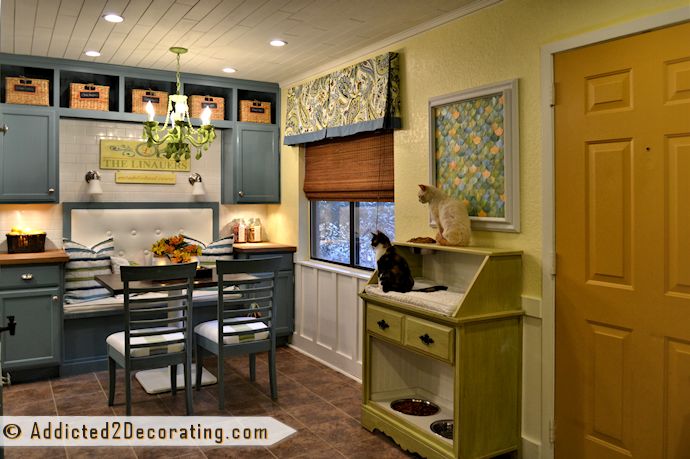 Now I know what you're thinking, because I thought it, too. If storage would take up needed space when the table is fully extended, then built-in seating will too.
But I kept mulling the idea over in my head, asking myself, "Kristi, what is it that you really need in this room?" Well, I need more dining table seating available for when the table is extended and we have more than four people at the table.
Then the idea struck me. I could do the banquettes on either side of the pantry door, but make them with movable seats that can be pulled up to the dining table when extra seating is needed. It would basically be two bench seats which could each seat two people. So on a regular day, it would just look like two built-in banquettes on either side of the pantry door. But when we need extra seating at the table, the seats could be pulled over, and they'd no longer take up valuable floor space on that pantry wall. I also wouldn't have to worry about storing away four extra dining chairs in the garage or a closet somewhere when they're not in use. Make sense?
So my only hesitation with this idea is that I can't decide just how practical bench seating is at a dining table. I see it in pictures of dining rooms all the time, although most of them are much longer and seat more than just two people, although I did find this dining room with six separate benches that each look like two-seaters.
So what are your thoughts on bench seating at a dining table?
If you showed up to someone's house for dinner, and along one side of the table they had bench seating, would you think to yourself, "Ugh. That can't be comfortable."
Would you make a mental note that you need to rush to the table when the host asks for people to be seated so that you can snag one of the chairs and not be stuck on the bench?
Or would you be completely okay with bench seating, especially if they're upholstered and soft to sit on?
I've been trying to remember when I've sat on bench seating for a meal, and I can only think of one situation — during meals at a picnic table outdoors. I don't recall ever being uncomfortable sitting at a picnic table, but comfort is also generally not at the forefront of a person's mind when sitting at a picnic table outdoors.
So I need your input, especially if you have your own experience with having dinners while sitting on bench seating, whether it's your own home or you were a guest in someone else's home. Would you recommend it? And keep in mind, I'm considering upholstered benches (i.e., comfy for the tush) that only seat two people, which will seemingly eliminate the need for anyone to step over the bench to be seated. Each person can just slip around the side, right?
Addicted 2 Decorating is where I share my DIY and decorating journey as I remodel and decorate the 1948 fixer upper that my husband, Matt, and I bought in 2013. Matt has M.S. and is unable to do physical work, so I do the majority of the work on the house by myself. You can learn more about me here.
I hope you'll join me on my DIY and decorating journey! If you want to follow my projects and progress, you can subscribe below and have each new post delivered to your email inbox. That way you'll never miss a thing!