My Mom's Kitchen — The Magic Of Making Old Grout Look New Again
Yesterday, I started working on my mom's kitchen. If you missed this announcement a while back, I'll be doing a relatively low-budget update on my mom's kitchen (low budget relative to the cost of a kitchen remodel, that is). This is what we're starting with…
The goal is to get the makeover finished by mid-April for my grandmother's 108th birthday party. I feel confident that we can get it done in time, although we seem to be gradually adding things to our "to do" list each day. 😀
So yesterday, I gathered up all of my tools and packed them into my car, then headed to Home Depot where we got everything we need to get started on this project. As is often the case on the first day of projects like this, the first day didn't really result in much actual progress on any of the big projects, like making the cabinet doors. But at least I got all of my tools over there, and we have all of the materials there and ready to go for today.
But one thing we did start working on was the grout on the tile floor. I don't really know now old this tile floor is, but it's been there at least two decades. And over time, the grout (which I think started out a bone color) has gotten gradually darker and darker. Honestly, I don't think the grout was ever sealed when the tile was installed.
So after a couple of decades, this is what the grout looked like…
The dark grout really makes the whole floor look dark because it highlights the dark colors in the grout.
So while we were at Home Depot, we picked up some Grout Renew in Antique White (you can also find it here on Amazon) and spent some time yesterday evening applying that to the dark grout. The difference is astonishing!
Here's how the grout looks now after two coats of the Grout Renew…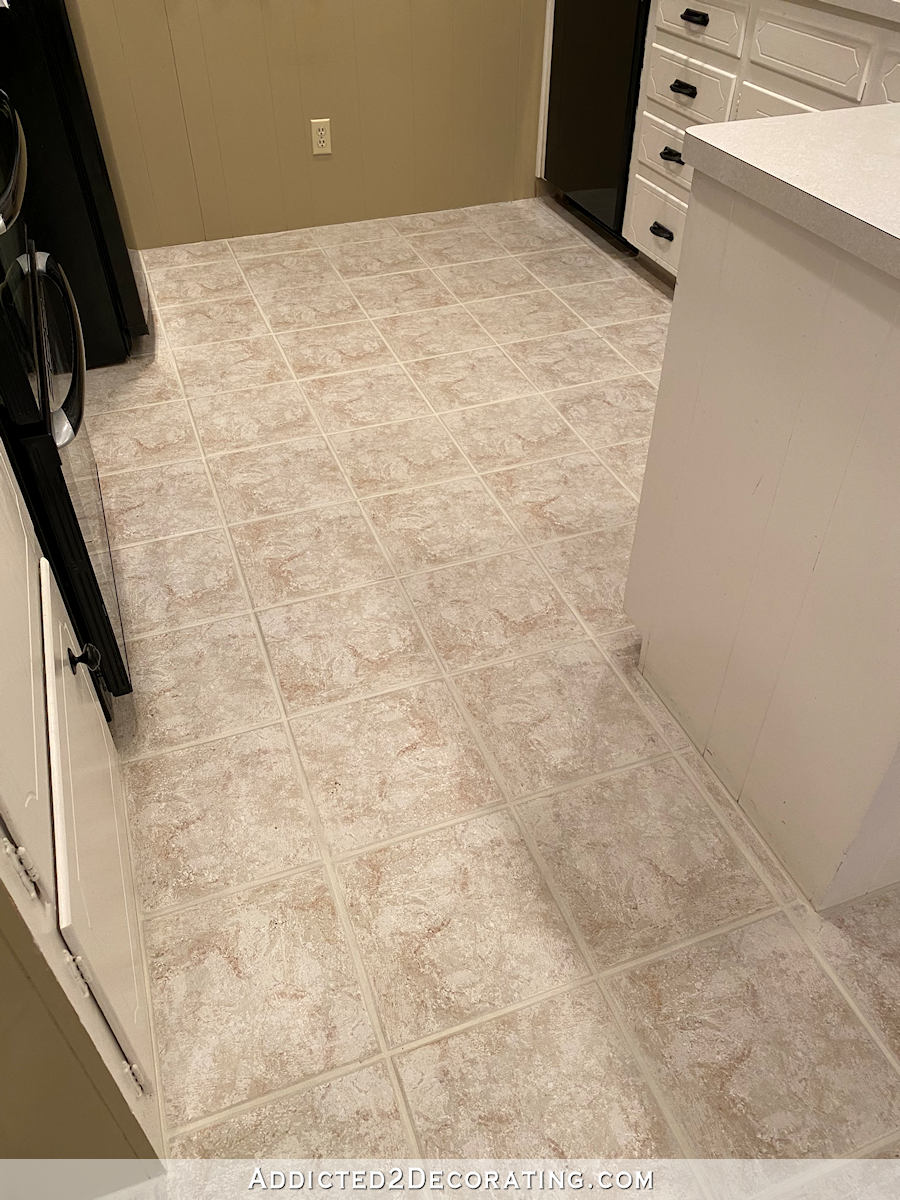 Isn't that amazing?! Here's a side-by-side of the before and after…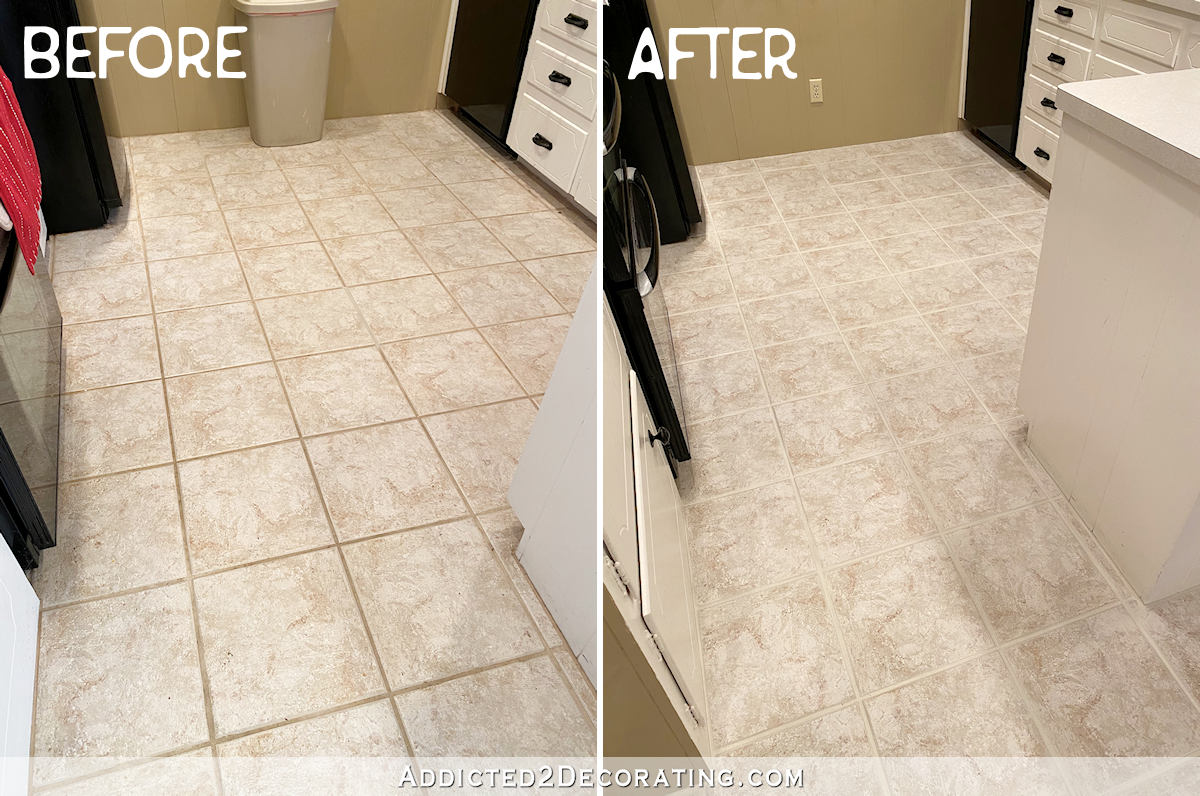 It's amazing to me the huge difference that grout color can make! The dark grout color really brings out the dark colors in the tile, but the light grout color brings out the light colors in the tile and makes the entire floor look lighter and brighter.
Here's a progress picture showing the part that has been lightened with the original grout color.
I just can't stop staring at that. I'm so amazed by the difference! It's like she got a whole new tile floor, and all we did is lighten the grout color.
We didn't get anywhere near finished on this. She has this same tile on the floors in the kitchen, breakfast room, hallway bathroom, hallway, and entryway. There's also a coordinating tile on the kitchen backsplash and tile surround in the hallway bathroom. And naturally, she wants the grout on all of those areas to match. That's going to be quite the project, especially since it's taking two coats to get the bright, even color in the "after" grout above. It's a very easy project (just apply with a toothbrush, and wipe off excess with a wet rag) except that it requires you being on your hands and knees on a hard floor, so it's something that my mom can work on while I'm working on making the new kitchen cabinet doors and drawers.
By the way, I've been painting grout, either with regular latex paint or with Grout Renew, since the condo days, and I've never had any trouble with it at all. When I installed the backsplash in our condo kitchen, I used grout that was labeled "bright white", but it dried a dull off-white color. So I painted it with regular latex paint in a satin finish. Because it was going onto sanded grout, the painted grout didn't have a sheen to it, but it made the grout look so bright and white and clean, with the added bonus that it was perfectly sealed and easy to clean.
In our current house, I don't have any grout that hasn't been painted either with latex paint or Grout Renew. The accent tile in the hallway bathroom has painted grout (along with some strategically painted tiles). Here's what it looked like right after the remodel…
And here's what it looks like now…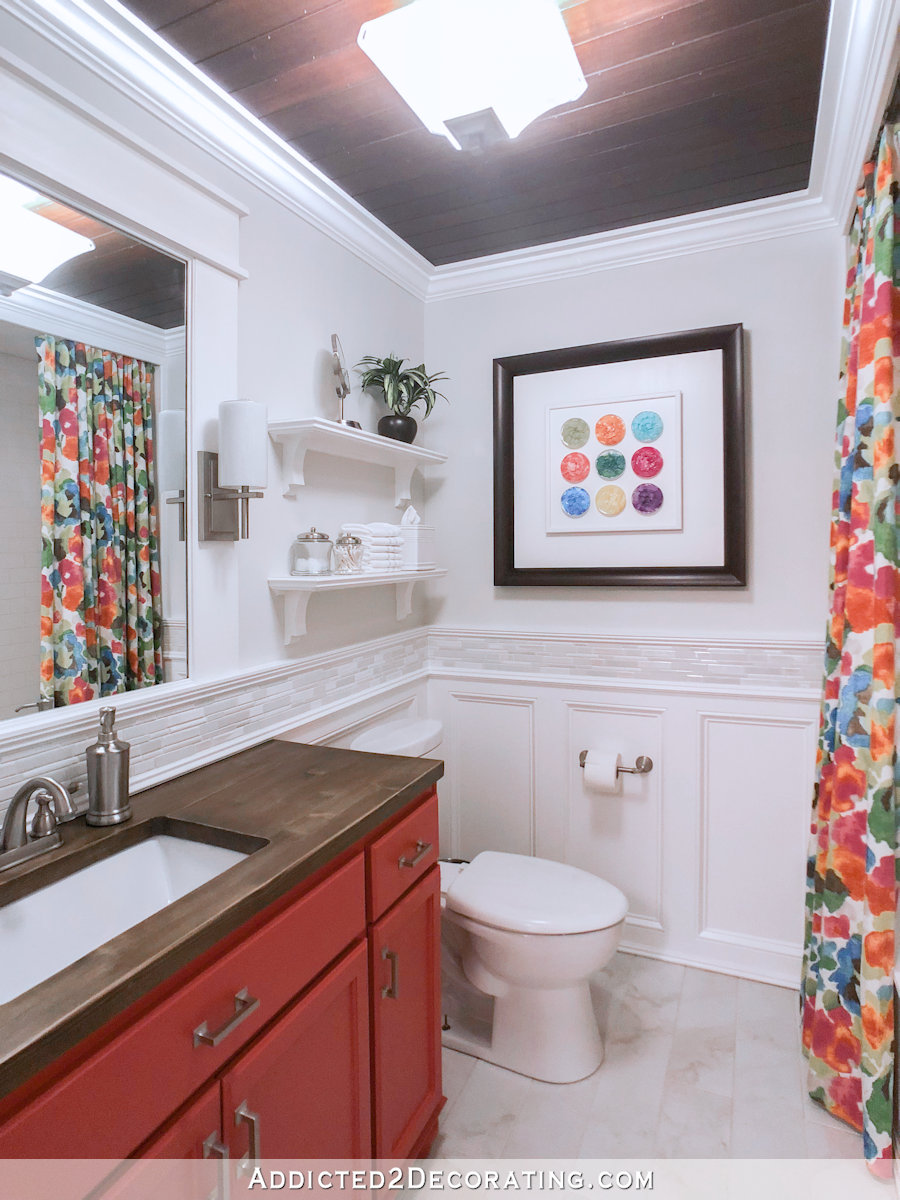 It's probably harder to tell the difference in the painted grout in that bathroom because I did use white grout originally, so the difference isn't as dramatic as the difference in my mom's grout. But the original grout in this bathroom dried to a dull off-white color. So paint to the rescue!
The tile on the bathroom floor, bathtub surround, and my kitchen walls have all been brightened and sealed with Grout Renew. The grout on the tile accent border in the studio bathroom has been painted with latex paint.
Painting grout either with latex paint or Grout Renew has just been my M.O. for pretty much every tile project I've done for over a decade now, and I've never had any problems with it. I will emphasize that I've never used latex paint on grout on a floor, bathtub surround, or shower. For those areas, I'd always recommend using Grout Renew.
Anyway, enough about grout. Let's talk cabinets! We finally decided on a cabinet and wall color! At least for now, this is the direction we're going…
We needed to find something that coordinates with her draperies, because changing draperies would set off a cascade of other changes that would result in her whole downstairs needing to be redecorated. That's not an option. 🙂 So after picking up a whole stack of green paint samples from Home Depot, we discovered that the stripe in her draperies is really not that green at all. I mean, it has a hint of green, but none of the Behr greens even came close to it, and I tried every single one that was even remotely close.
But I happened to find one color at Lowe's that will work. It's called Sweet Carolina, and I think it'll be perfect, especially after we lighten up the wall color quite a bit. The wall color we're leaning towards right now is Behr Aged Beige. You can see above how much lighter it is than her current wall color. It think it's going to be beautiful with the green cabinets!
So the fun is just beginning. Hopefully today, we can actually make some progress on the cabinet doors and drawer fronts. We're going with a very simple design (no fancy cabinet-making tricks or tools needed), so I hope to have some progress to share with you tomorrow.
Addicted 2 Decorating is where I share my DIY and decorating journey as I remodel and decorate the 1948 fixer upper that my husband, Matt, and I bought in 2013. Matt has M.S. and is unable to do physical work, so I do the majority of the work on the house by myself. You can learn more about me here.