Last Updated on February 11, 2017 by Kristi Linauer
I ended up not spending as much time at the condo this weekend as I had originally planned, but I did manage to get one of the bedside closets completely built, with the exception of the baseboards and trim at the top.  But the basic structure is finished, including the door.  Here's how it looks right now…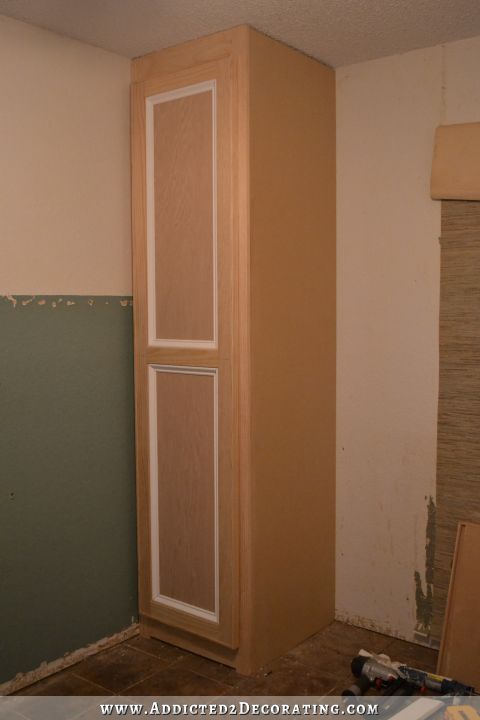 Not too shabby, right?  🙂
I did end up using MDF for the box of the cabinet, but this time I used 1/2-inch MDF for the two pieces that are attached to walls, and 3/4-inch MDF for the one free-standing side.  Last time I used 1/2-inch for the entire thing, and I just didn't feel good about the way it was built.
I also made these closets narrower than the other ones.  I heeded the advice of many of you and allowed for room for shelves or very narrow tables on either side of the bed.  The available space between the closets will allow for up to a a queen size bed with room to spare for shelves or very narrow tables, but at least it'll be something to set a drink, phone, glasses, book, etc., on at night.
There are probably 100 different ways to go about building a closet like this, so let me show you how I did mine.
Materials & Supplies:
1/2″ MDF*
3/4″ MDF*
2″ x 6″ lumber*
1″ x 3″ lumber*
1″ x 6″ lumber*
1/2″ plywood*
lattice strips*
base cap moulding*
quarter round
1″ x 3″ MDF board
1″ x 2″ MDF board
pine cove moulding
Wood glue (this is the best brand)
1.5″ screws
1.5″ 16-gauge nails (for nail gun)
2.5″ 16-gauge nails (for nail gun)
1″ 18-gauge nails (for nail gun)
2.5″ wood screws
latex caulk (this is my favorite)
cabinet door hinges (I used these)
magnetic cabinet door catch (like these)
adjustable closet rod(s) (I used these)
wood filler
150-grit sandpaper
primer
paint
paint brush (this is the only one I use!)
*Amounts and cut sizes will depend on the number and size of the closet(s) you're building. See instructions below for how each item is used to determine how much and what sizes you'll need.
Tools:
I started by tearing out the old closets…obviously.  This left my wallpaper is pretty sad shape.  The wallpaper had somehow attached itself to the MDF on the old closets, so as I pulled the MDF off the walls, it pulled the wallpaper off.
So to build the new closet, I started by attached a 1/2-inch piece of MDF to the wall.  This piece was literally a full sheet of MDF cut exactly in half (I had Home Depot cut these for me), so it was 24.5 inches wide.  I used my circular saw to cut the height down to 95 3/4 inches.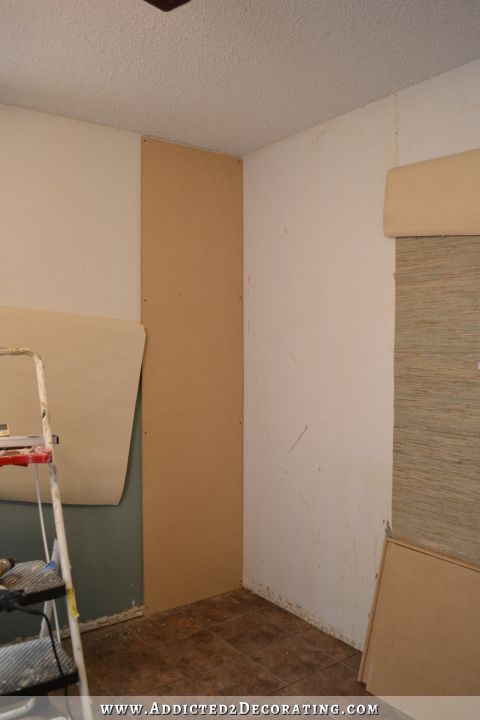 Next I screwed the back piece to the adjacent wall.  This was also a 1/2-inch piece of MDF, cut to the width that I wanted the inside of the closets.  In this case, the back piece was 23 inches wide.
And then I installed the third side of the cabinet.  This is the 3/4-inch piece of MDF, and I attached it using wood glue and 1.5-inch 16 gauge nails in my nail gun.  I used my framing square to be sure that this piece was sitting perfectly square to the back piece.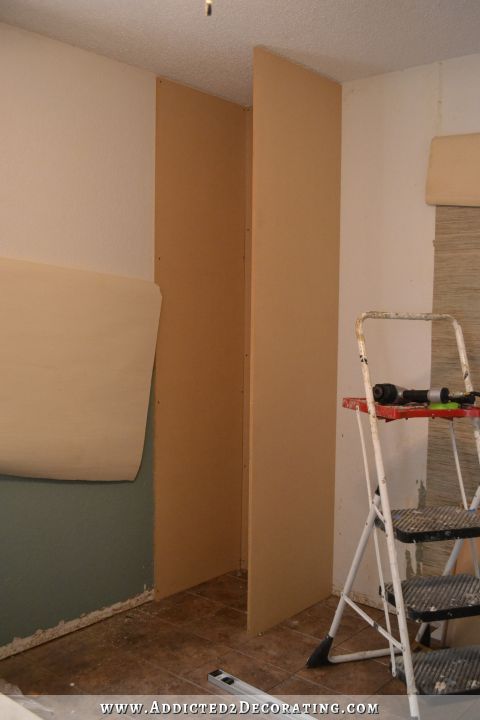 While I was still able to get a ladder inside, I went ahead and caulked the corners.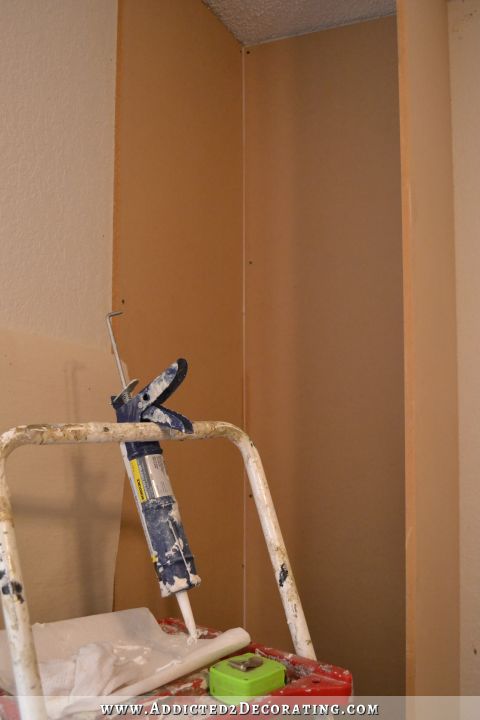 Next I framed out the "floor" of the cabinet.  I used 2″ x 6″ lumber for the outer box.  I measured, cut the pieces, and placed them in the bottom of the closet to be sure they were the right size.  Once I had the pieces cut correctly, I removed them and used 2.5-inch screws and wood glue to assemble the box.
I also added support in the middle using 2″ x 4″ lumber, and also attached those using wood glue and screws.  When I had the base built, I added wood glue on the outside of the three pieces that would butt up against the MDF pieces, and then put the base in place.  I also used 2.5-inch 16 gauge nails in my nail gun to attach the base to the MDF on the sides and back.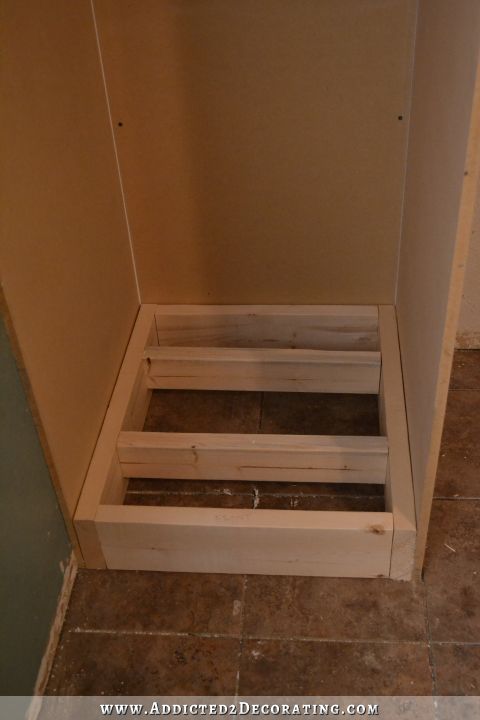 Next I cut a piece of 1/2-inch MDF to go in the bottom.  I glued and nailed it into place, and then caulked the edges.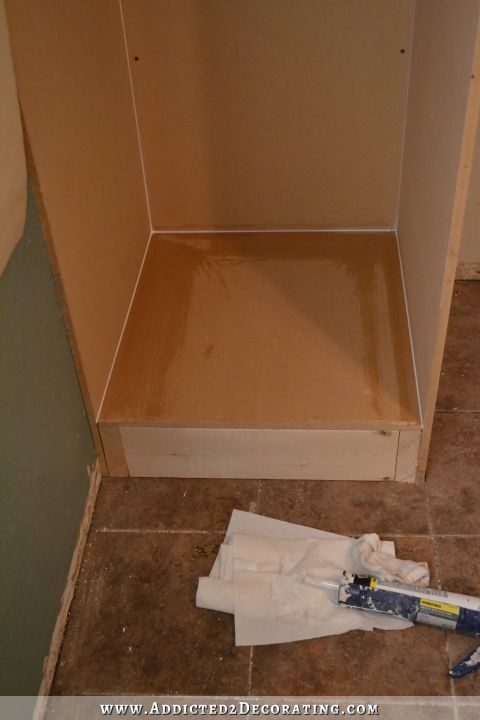 With the very basic structure finished, it was time to start adding the finishing pieces.  I started by adding the stiles (the vertical pieces) to the front.  For this, I used 1″ x 3″ lumber.
This is something I've learned about building, and that I did differently from the old closets I built in here.  It's generally fine to build things like this out of MDF, but when it comes to trimming it out, it's always better to use real solid wood boards instead of MDF boards.  The rails and stiles really do lend a great deal of strength and integrity to the structure, and MDF boards are just not as strong as real lumber.  So I suggest always using real wood boards to frame out a structure like this.
So the stiles (verticals) went on first, all the way from the top to the bottom.  Then I used a scrap piece of MDF board cut to the width of the closet interior, and used a liberal amount of glue and several nails to attach it to the ceiling just behind the stiles.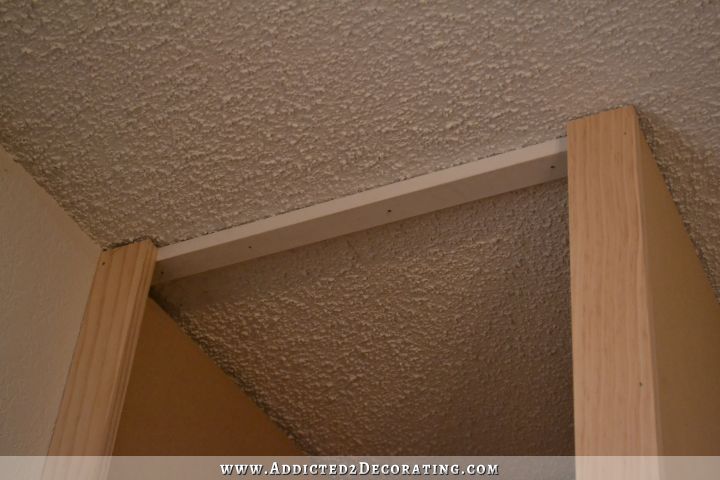 This gave me something to attach the top rail (the horizontal piece) to.  Another option would have been to use my Kreg Jig to build the entire frame separately, and then attach it, but I forgot to bring my Kreg Jig with me, and this worked out just fine.
So then I cut the rails out of 1″ x 6″ lumber, and attached one at the top, using wood glue and nails and attaching it to the board I nailed into the ceiling.  It's also glued to the stiles.
And then I attached the bottom one by gluing and nailing it to the 2 x 6 behind it.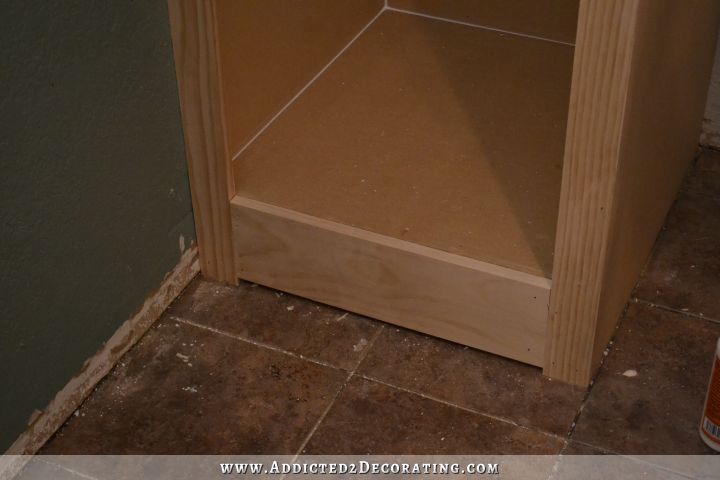 And with that, the basic cabinet was finished.
Next it was time to build a cabinet door.  For this, I started with a 1/2-inch piece of plywood, cut to 20 inches wide and 86.5 inches tall.
Using 1″ x 3″ lumber, I cut stiles for the sides, and attached them to the face of the plywood using wood glue and 1-inch 18-gauge nails with my nail gun.
Then I cut three rails out of the same 1″ x 3″ lumber, and attached them in the same way, with one at the top, one in the middle, and one at the bottom.
Since this method left unsightly plywood edges exposed, I needed to cover those up.  I did so by using pieces of thick lattice, mitered on the corners, and attached to all four sides of the door with wood glue and 1-inch 18 gauge nails.  This gave the edges a nice finished look.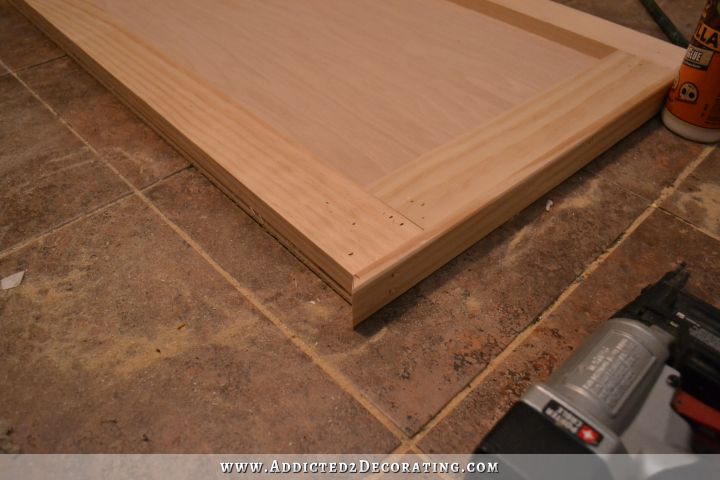 And then finally, I used the same base cap that I used on my recent fireplace upgrade…
…and I cut pieces to go inside the frames created by the stiles and rails.  I glued and nailed those into place.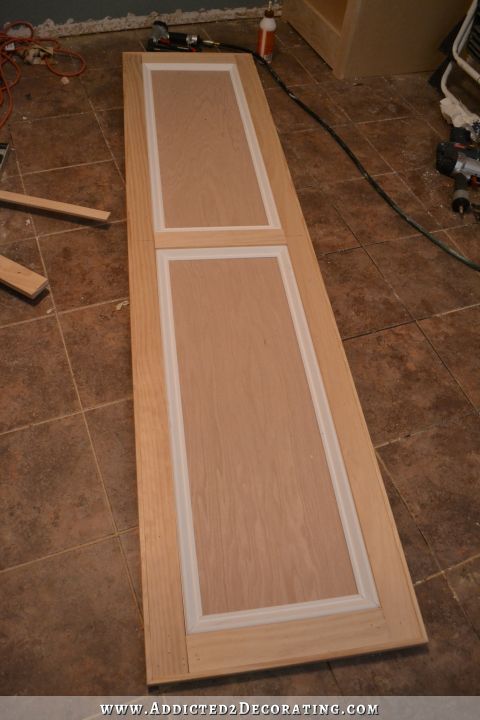 That finished up the basic door build, so I decided to go ahead and install the door.  I'll need to take it off to paint the cabinet, but I just wanted to be sure that it fit properly, and that everything worked like it should.  I used three cabinet door hinges to hang the door.
And since my hands were a bit full and busy as I was hanging the door, I didn't get a picture of how I installed this big door by myself.  But the way I did it was to use a scrap 1″ x 3″ piece of MDF, which is the same height as the baseboard I'll be using, and I placed it up against the cabinet. Then I took two scrap pieces of 1/2-inch MDF and stacked those on top.  That would allow spacing between the baseboard and the bottom of the cabinet door.  And then I placed the cabinet door on top of that stack.  This allowed me to easily center and level the door, and then freed up my hands (as I held the door in place with my head) to screw the hinges into place.
But everything works great, feels really solid and sturdy, and I think it'll look great when I get it all trimmed out, primed, and painted.  I still have quite a bit of wood filling, sanding, and caulking to do before I can get to the priming and painting, though.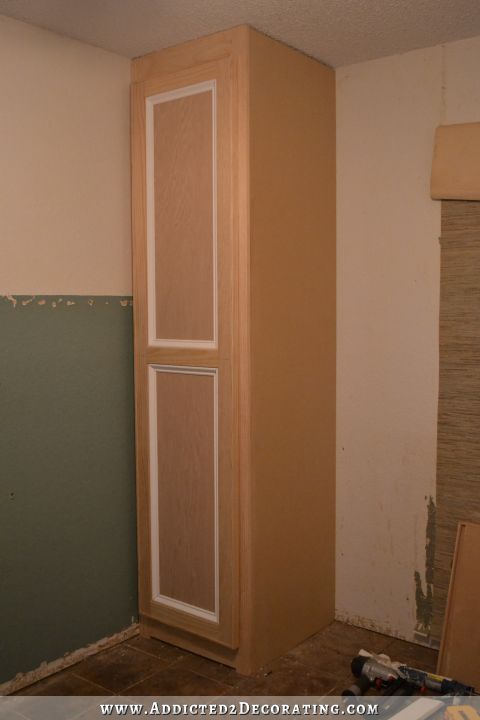 I would imagine this project will take me at least two more full days.  But hopefully the second closet will go much faster since I know what I'm doing now.  The first one took a while since I was trying to figure things out along the way.
And as far as the cost, one closet cost $168.  That's not too bad for almost 30 cubic feet of storage, right?  🙂
UPDATE: Click here to see Part 2 of this project…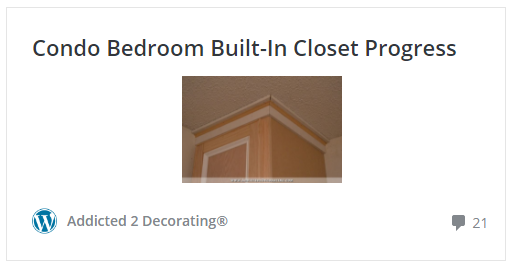 And to see the final post on this built-in closet project, click here…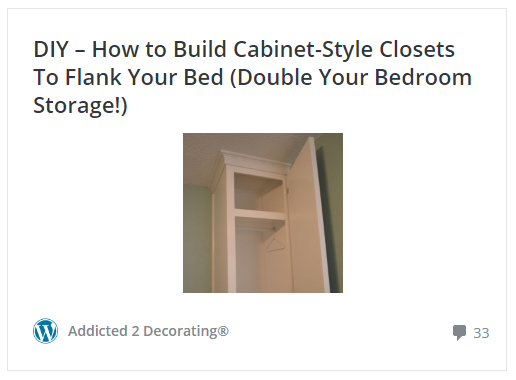 And don't miss this finished bedroom makeover! You can click here to see the whole before and after of this small condo, small budget bedroom makeover.
Addicted 2 Decorating is where I share my DIY and decorating journey as I remodel and decorate the 1948 fixer upper that my husband, Matt, and I bought in 2013. Matt has M.S. and is unable to do physical work, so I do the majority of the work on the house by myself. You can learn more about me here.
I hope you'll join me on my DIY and decorating journey! If you want to follow my projects and progress, you can subscribe below and have each new post delivered to your email inbox. That way you'll never miss a thing!