Considering A Chip Seal Driveway
Now that Matt and I have the wheelchair van, and we're getting out and about on a regular basis, I've been thinking a lot about our driveway situation (or lack of driveway situation). At one time, it appears that our house had a gravel driveway, but the gravel has been mostly gone for a very long time. Ever since we moved into this house, there have only ever been remnants of a gravel driveway that used to be.
Plus, the original driveway only went from the street to the front of the garage, which you can see here. This picture was taken when the garage was still a garage, and before I had done any updating to the exterior of the house.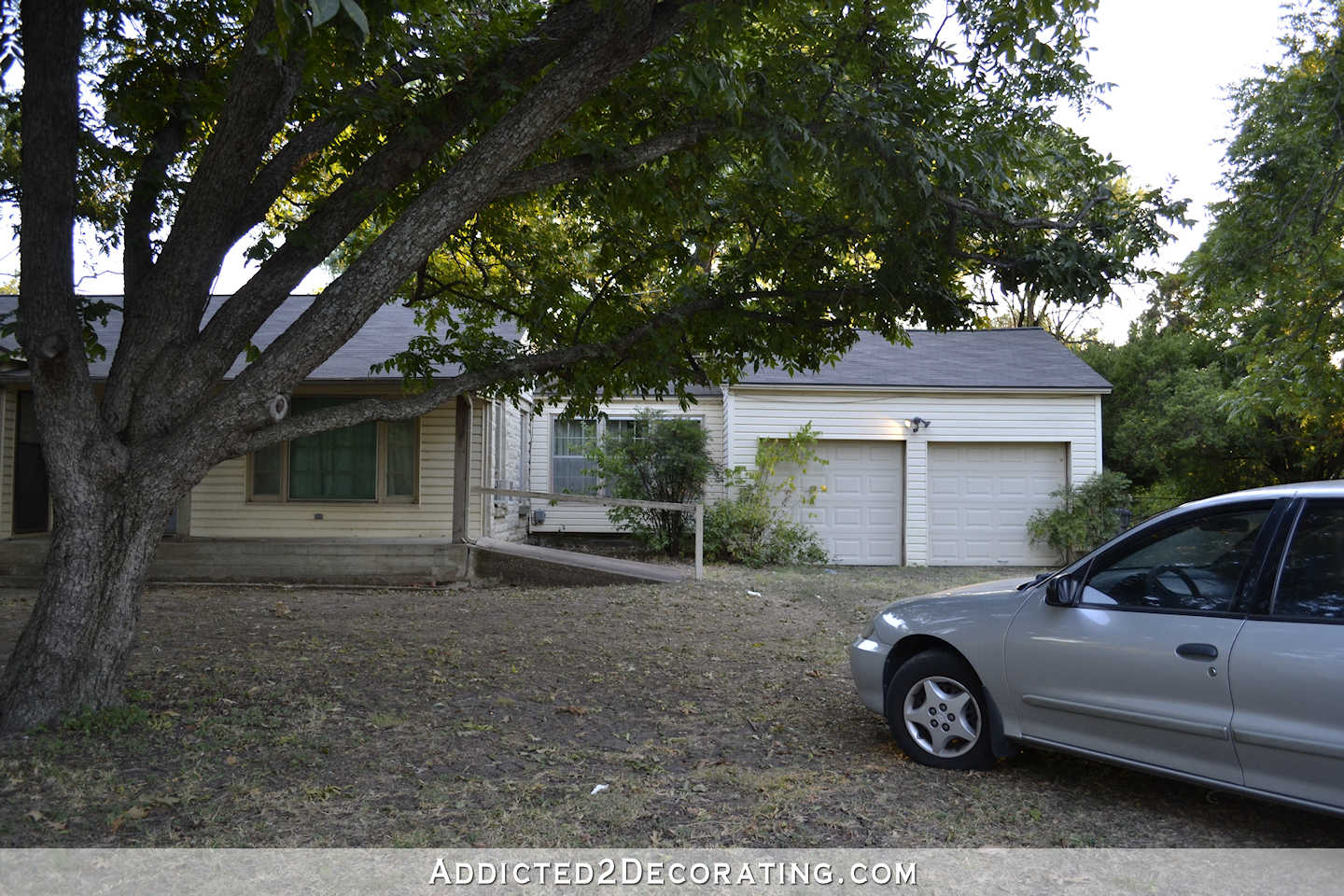 But the "driveway" was a straight shot from the street to those garage doors.
Then we turned the garage into my studio, which meant removing those garage doors and closing up that front wall, and then we added a carport on the back of the studio. So now, our "driveway" is at least twice as long as the original since it goes to the side of the house by the studio, and to the back where the carport now sits.
This is an old picture that was taken before the carport was added, and before the concrete pad under the door was poured, but you can see that the front garage doors have been replaced with windows. So it no longer makes sense to park in front of the studio, even though I still do.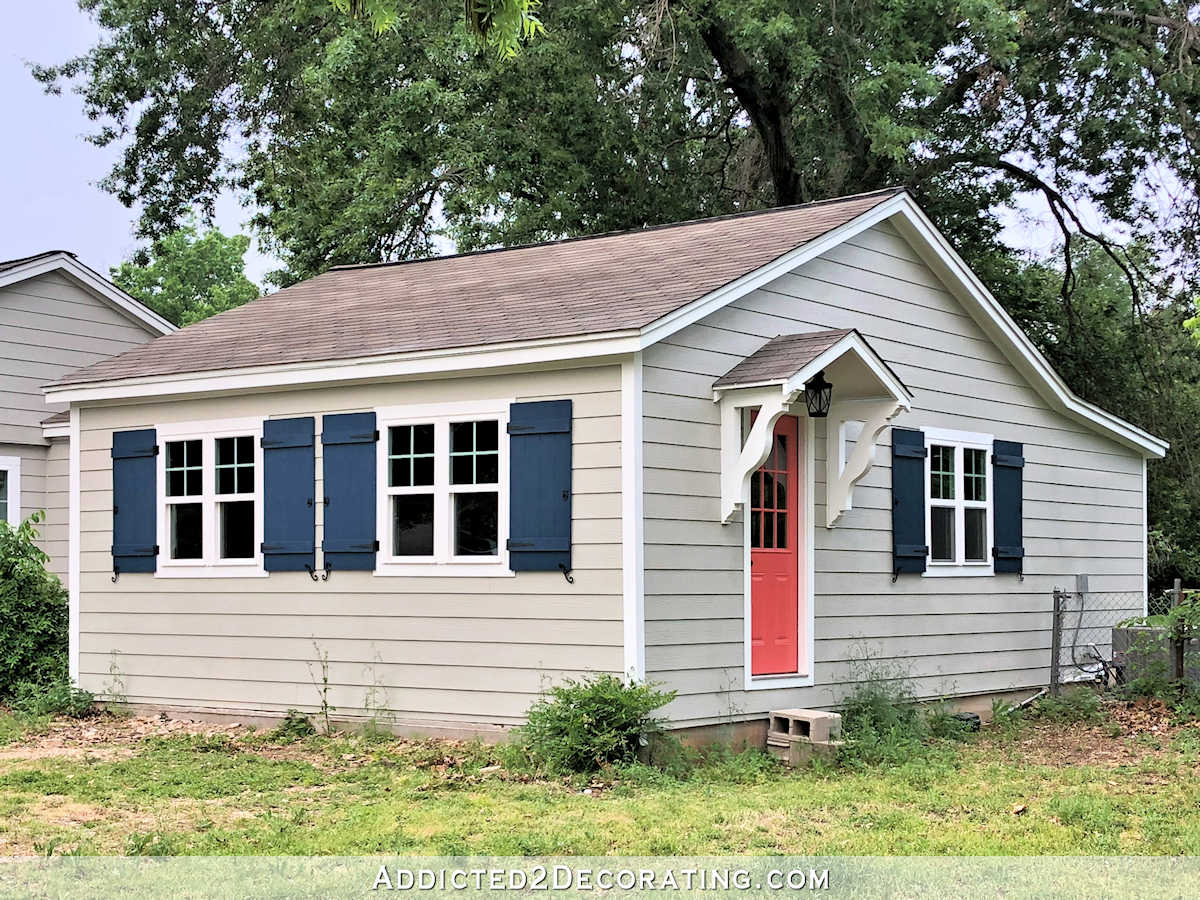 But when our driveway is finally poured, it will not go to the front of the studio and dead end into the front of the studio. Instead, it will curve and go to the side of the studio (I generally park right next to that side door and use that door as my main entrance and exit), and continue to the back to meet up with the carport, which again, is not shown in the picture above.
All that to say that our driveway will now be at least twice as long as it would have been had we kept the garage as a garage. And that's precisely why we haven't had a driveway poured yet. It's been 8.5 years, and we still don't have a driveway because I've only ever considered concrete, and that's going to cost a small fortune.
So I'm now starting to consider other options. Have you ever heard of chip seal? Do you have a chip seal driveway? If so, I'd love to hear your thoughts.
Chip seal is new to me, and it only came to my attention recently when I started seeing advertisements from a local chip seal company in Waco every time I'd log onto Facebook. From what I can understand, chip seal starts with a base of asphalt, and then gravel is embedded into the surface of the asphalt when it's still wet, giving the look of a gravel or exposed aggregate surface, but it's done at a fraction of the price of concrete.
I have to admit that it has a very charming look to it, but all of the pictures I've seen from this local company seem to be of country roads or driveways leading up to houses out in the country. And one of my main issues with the pictures I've seen is that none of these roads or driveways have clean edges.
In other words, when concrete is poured, they first build a form for the edges using wood and stakes in the ground to keep the forms in place. If you've ever seen concrete poured (which I'm sure all of you have) then you know this. Here's a picture from when we had our new front sidewalk poured. They built a form for the edges using 2 x 4 lumber, and then poured the concrete inside the form.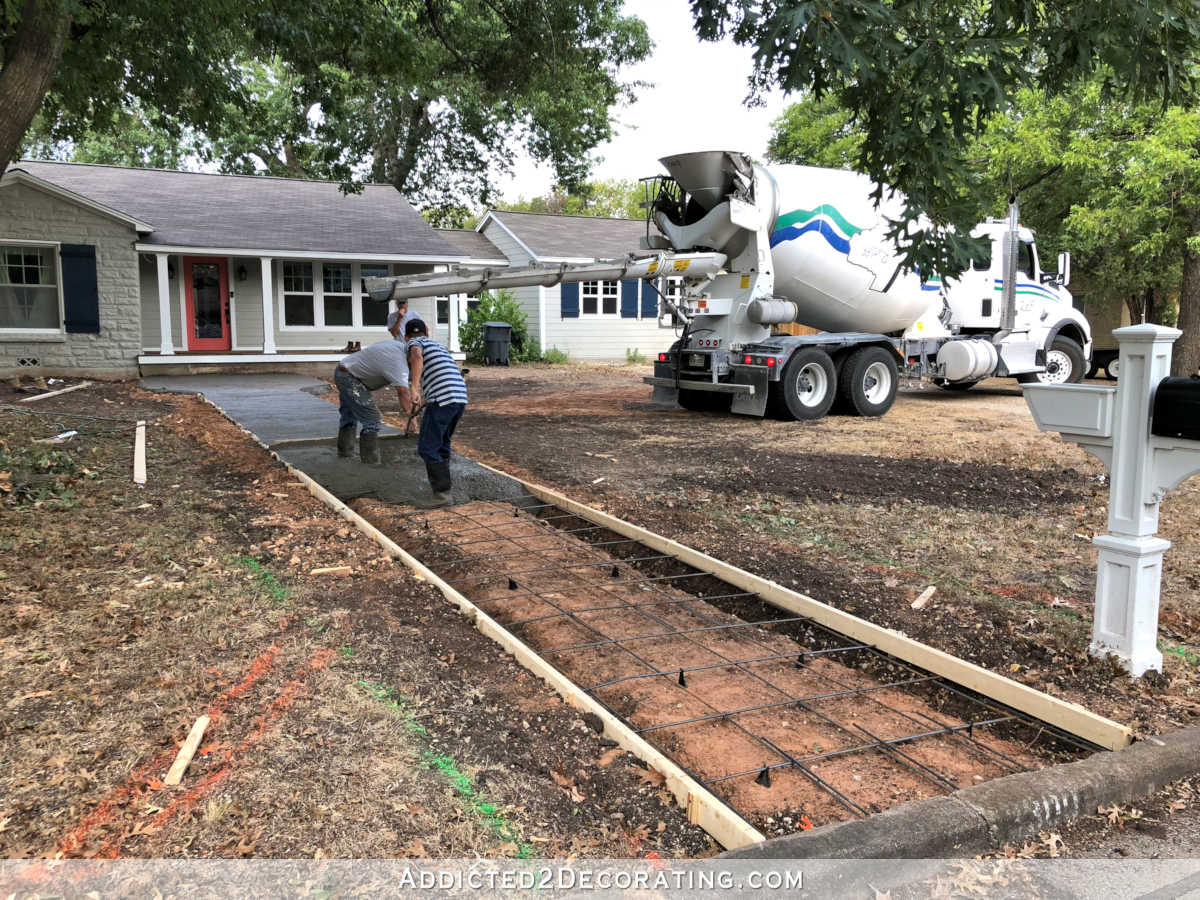 When the concrete is dry, the forms are removed, and the concrete has nice, clean, defined edges.
So that's what I'm used to, and that's what I like.
When I called the company to ask questions about the chip seal, this was one of the main questions I wanted to know. Can the chip seal be poured in such a way that it has defined edges like you get with concrete? The answer was, "Well, kind of."
And that's what makes me not jump in with both feet on this idea. I know it probably seems silly to some, but I like those defined edges almost as much as I love (and need) symmetry in my life. If his answer had been an emphatic, "Yes! We can give you those defined edges," then I wouldn't hesitate to choose chip seal over concrete, because I really do love the look of it.
Here are some examples. I like the way that this one has defined edges using cobblestone. So that may be an option for our driveway.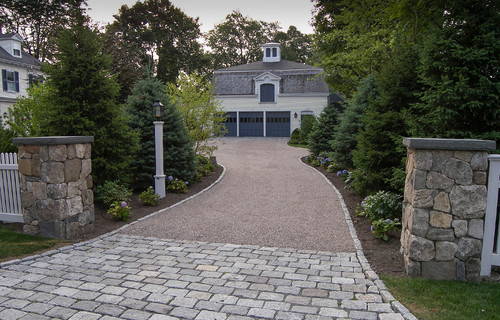 Here's a gray one, so I'm guessing you can choose from several colors of gravel.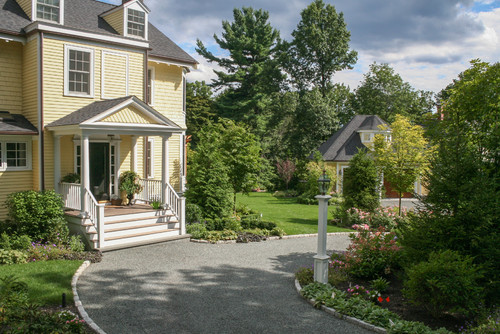 Here's another gray chip seal driveway with a stone edging.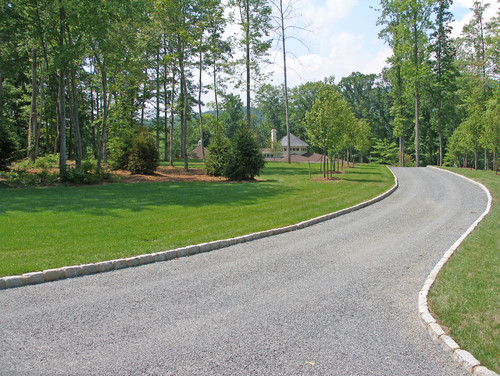 So I'm considering it. I do like the look of it overall. I think it's very charming and looks like something you'd see leading up to a very cute cottage. But since I have no experience with it, I'm wondering how well it holds up, and also wondering about those edges. Is a stone border the only way to get those defined edges? I'm just not sure. So if you have experience with chip seal, I'd love to hear your thoughts!
Addicted 2 Decorating is where I share my DIY and decorating journey as I remodel and decorate the 1948 fixer upper that my husband, Matt, and I bought in 2013. Matt has M.S. and is unable to do physical work, so I do the majority of the work on the house by myself. You can learn more about me here.