My mom came over yesterday to see the progress on my front porch, and whenever we get together, we inevitably start dreaming and planning and talking about future projects and ideas. She's very good at spending my money. 😀
One area we talked about is the area in front of the breakfast room windows (to the right of the front porch). In my own mind, I refer to this area as "the courtyard," even though it's not technically a courtyard. But it is surrounded on three sides, and I feel like it could be a really spectacular space — the jewel of my front yard.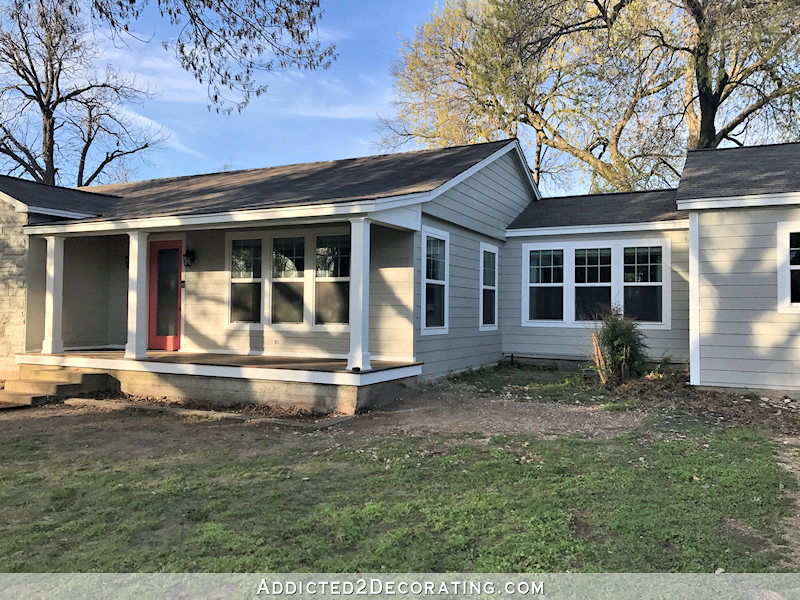 For months now, I've been planning on making that an area that really attracts the birds, squirrels, butterflies, etc. That area is just outside the breakfast room windows…
…and I love the idea of sitting at the table right there in front of those windows and watching the birds and squirrels busily going about their business, gathering food, bathing in some type of fountain, and just entertaining us in general.
One of the main projects I had planned for that area is a trellis above the breakfast room windows similar to this one…
…but I want to use the same brackets on the trellis that I used on my little portico over the side door of the studio.
And then in the middle of the "courtyard," I want some sort of fountain that the birds can play and bathe in. I envision some sort of shallow bowl sitting atop some large stacked stones with continually running water. And then all of it would be surrounded by beautiful, colorful plants. I can't find any pictures that capture my vision, so we'll just use the area with the big bowl fountain in this picture as a jumping off point. It's not exactly what I had envisioned, but it conveys the general, very broad idea.
So that's the direction I was heading in my mind. And then my mom, with one passing thought, pretty much brought my wheels to a screeching halt and got them headed in a different direction. She said, "It would be so pretty if your porch wrapped around into that area in front of your breakfast room windows."
Ummmm…MIND. BLOWN. I haven't been able to stop thinking about that since she said it yesterday morning.
At first, I envisioned a very small deck area just in that courtyard area, so that there would be steps down to ground level from the front porch, and then one or two steps up to a totally separate deck area in front of the windows.
But the more I thought about it the more I realized that in order for that area to be of any use to Matt, it would literally have to be one continuous porch from the current porch. There couldn't be any steps down and steps up, or any level changes at all. Just one continuous porch wrapped around to the breakfast room windows.
So I did a little mock up to see what that would look like. Ummmm…I pretty much LOVE it.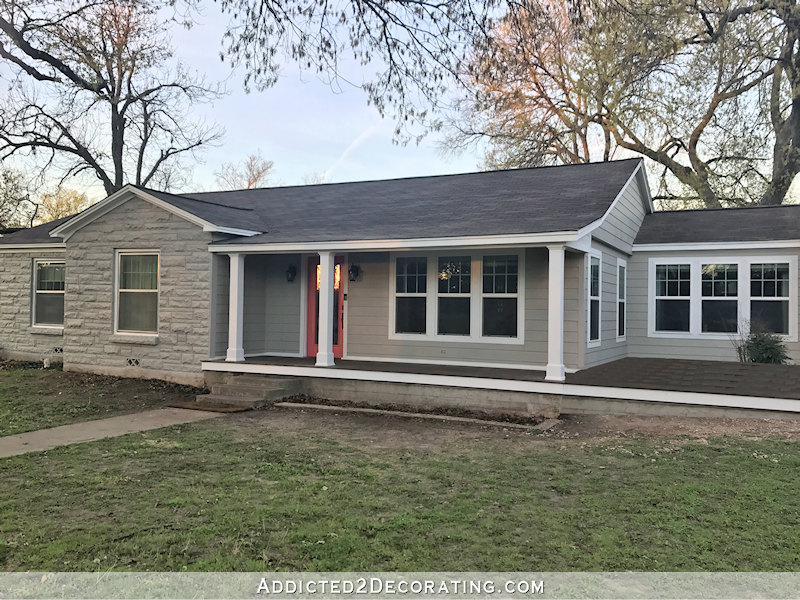 But I didn't have a picture of that area showing the whole area with the side wall of the studio, so I took a new picture and did a second mock up. I didn't do such a good job on this one, but at least it shows the third wall surrounding that area.
And if I do this, obviously I won't waste money pouring a concrete foundation for the extension. That's just the best copy-and-paste editing job I could do on short notice. But whatever skirting I add to the front porch would be extended all the way across so that it all looks cohesive.
I mean, this really had my wheels turning. That would give an additional 256-ish square feet of porch area. That area, brought out even with the front of the existing porch, would be about 20.5 feet deep and 12.5 feet wide.
It would undoubtedly be an expensive project. So the main question I have to answer is, "Is it worth it?" If it's an area that we would actually use, then I think it would be worth it. But in the long run, when all is said and done, and we have our new family room where the current sunroom is, and the doors at the back of the family room lead out to a big deck that looks out towards our very private back yard, will we ever even think about spending time on a front porch area in front of the breakfast room?
Right now, I honestly don't know the answer to these questions. And if I do this, it will at least have to wait until after I've finished my studio and the pantry. In my mind, I can justify spending that money before we do our big addition on the back since that addition is going to cost so much, and it hasn't even been started yet. But I can't justify spending that money before I finish the studio or the pantry — two areas that are well under way and are just sitting there waiting to be finished. And plus, I'm at a good stopping point with my front porch as soon as I get the ceiling finished.
All that to say that if I do this, it would be a future project and not something I'd jump into right now. But since I love to plan and dream, I thought I'd just throw this out there and see if y'all have any brilliant input. I know you do! 🙂
---
---