I didn't get any actual work done on my porch this weekend, but I did do a lot of dreaming and planning! I'm very anxious to get moving on that porch makeover, because I think it's going to do so much towards adding curb appeal to this house.
Until Friday, I hadn't really given much thought to the baluster design that I wanted. I just knew I wanted a balustrade to complete the look I envision in my head, and I just assumed it would be the standard railing like this…
I still might use that style. It's a classic, so you can't really go wrong with it, in my humble opinion.
But when I started googling balustrade designs on Friday, I came across an article on The Old House Guy all about porch railings — heights, styles, building codes, curb appeal, and more.
I'll admit that the first time I read that article, I was a bit put off by it. Here's the gist of it — current building codes (which require a porch railing to be 36-42 inches high) destroy curb appeal and make houses look ridiculous. To quote Old House Guy, "The height of your porch railing will determine if your house has curb appeal or is just a clown house. Porch railing height of 3 feet or more will destroy the look of your house and all your hard work." And he goes on from there, in a snarky and opinionated way, but with plenty of examples demonstrating his points.
Again, I initially rolled my eyes and moved on. But the article — his points, his examples — continued to nag at me. So I went back to look at that Fixer Upper house from this season that gave me hope that I could work with the front porch that I have rather than doing some big, costly front elevation remodel.
I was forced to admit that The Old House Guy was right. The "before" of that house was definitely outdated and needed some updating and creative touches, but look how big that front window looks. You can actually see the whole thing, and it looks so open. And anyone sitting in that front room would have complete, unobstructed view out of the window.
Then they added the porch railing, which looks to be 36 inches high (i.e., the height required by building code if your front porch requires a railing). And while I love the style of the railing and the character it adds, it kind of gives the feel of a prison cell. It visually cuts off way too much of the porch, and it covers a little more than the lower 1/4 of the (new, beautiful) window, which would completely block the view out of the windows for anyone sitting in that front room. From the street view, you can't even tell that there are cute little rocking chairs on that porch.
So I was feeling a bit defeated. The Old House Guy had some very valid points, and the last thing I want to do is make my front porch feel like a jail cell and/or block the view out of the windows when I'm sitting in the living room. I'd rather have no balustrade at all.
But then I began to wonder why in the world my railing would need to be 36″ high when I'm not even required to have a railing in the first place. My porch is 20 inches above the ground. That's a full 10 inches lower than the 30-inch height where the requirement for a 36″ railing kicks in according to code.
So I called the local building codes office, with all of my fingers crossed, and spoke with a building code inspector. And I got the answer I wanted! He verified that I'm not required to have a railing in the first place, and said that since I'm not required to have a railing, then anything I add would just be decorative, so it doesn't need to meet code requirements that would be necessary for a porch that's 30 inches or higher. (Which also means that the 36-inch-high railing on that Fixer Upper house was unnecessary.)
YAY!!
Although during the course of our conversation, he did tell me that my front porch steps are in violation of code. Four or more steps require a hand railing on the steps, and mine don't have a handrail. (Neither does the "after" of that Fixer Upper house, which has the same number of steps I do, so I wonder why there's no handrail.)
So I'm excited (again) about having a cute little decorative baluster on my front porch that doesn't block any views or make my front porch feel like a prison cell. I nailed together two 1 x 4 pieces of lumber, and nailed them up at various heights just to get an idea of how high mine needs to be.
According to The Old House Guy, the top of the railing shouldn't cover the window sills. But my windows are 19 inches from the porch, and when I get the floating wood porch floor installed, it'll be even less than that. I can't bring myself to do an 18-inch railing. That seems ridiculously low. So I started at 28 inches. It did cover just a very little bit of the window, but it still looked pretty open.
Then I decided to lower it just a tad to 25 inches. I liked it better.
And then, just out of curiosity, I raised it to 36 inches, which is the height that would be required by code if my porch were 30 inches or higher off of the ground.
Thank goodness I don't have to do that. I don't at all like how it cuts the bottom portion of my windows in half and would totally obstruct the view out of the windows for anyone sitting in the living room.
So after determining the height (around 25 inches), I had some fun doing some mock-ups. I started with the very traditional look with the simple balusters (although the ones in the mock-up are too thin and toothpick-looking, but you can still get the general idea).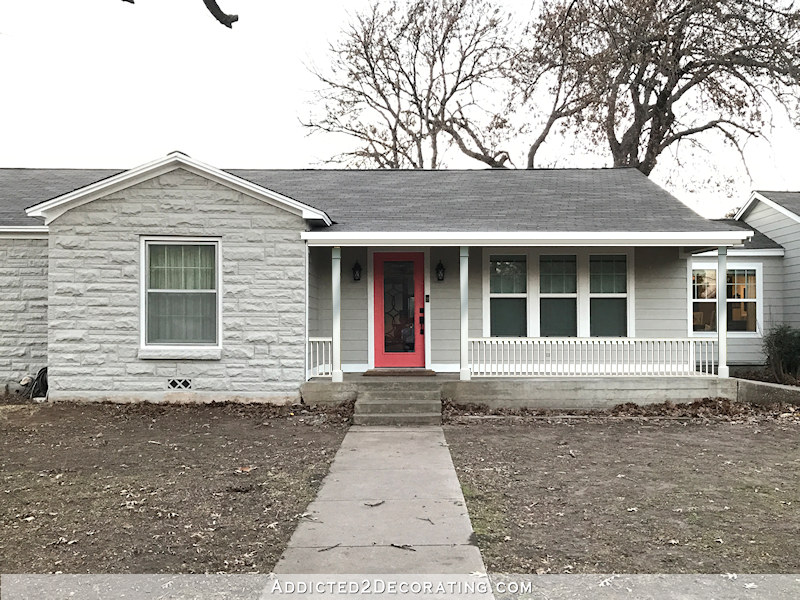 I really like this design. My house is a very simple ranch style house and I think the simple design of that balustrade fits the style. Anything fancier might be overkill, but of course, that didn't stop me from trying! 😀 I tried out this "X" design…
I do like that the "X" design gives it a fresh, modern touch, while still being a pretty simple design.
And finally, I tried this cathedral scroll design. It reminded me of my music room doors (which you can see through the front door).
That's a beautiful design, but I think it's overkill for my simple little house. So I think I'll do either the traditional design with the vertical balusters, or the "X" design. I'll have to mull over it a bit more, and probably change my mind at least 50 more times, before I make a final decision. 🙂
I will have to figure out what to do about that handrail on the steps, though. Naturally, I'll continue the same design onto the steps that I use on the porch railing, but the handrail will have to meet code. A 25-inch-high handrail isn't even any use to someone as short as I am. So I'm thinking I'll carry the same 25″ design onto the steps, but then add height with an extension, similar to this railing…
But that's a design issue for Future Kristi to tackle. 😀
Addicted 2 Decorating is where I share my DIY and decorating journey as I remodel and decorate the 1948 fixer upper that my husband, Matt, and I bought in 2013. Matt has M.S. and is unable to do physical work, so I do the majority of the work on the house by myself. You can learn more about me here.
I hope you'll join me on my DIY and decorating journey! If you want to follow my projects and progress, you can subscribe below and have each new post delivered to your email inbox. That way you'll never miss a thing!