My New Living Room Sofa Has Arrived!
Do y'all even remember that I ordered a new sofa for the living room? It's been a while! 😀 I ordered it on January 20, so it's been about 4.5 months. That's actually not too bad for a custom sofa. I ordered the James 2-seat sofa upholstered in Galaxy high performance velvet from Interior Define. (I'm just a normal customer. They didn't give it to me.) I upgraded to the 88-inch length with a bench seat and down alternative reversible seat cushion.
The color is slightly cooler than I had expected. It's so hard to choose something large from a small swatch. But I absolutely love it! Here are the two sofas next to each other. You can see the color difference. Our old sofa is darker and warmer in color. The new one is a little bit lighter and cooler. The new one is only three inches wider than the old one, and they're about the same depth.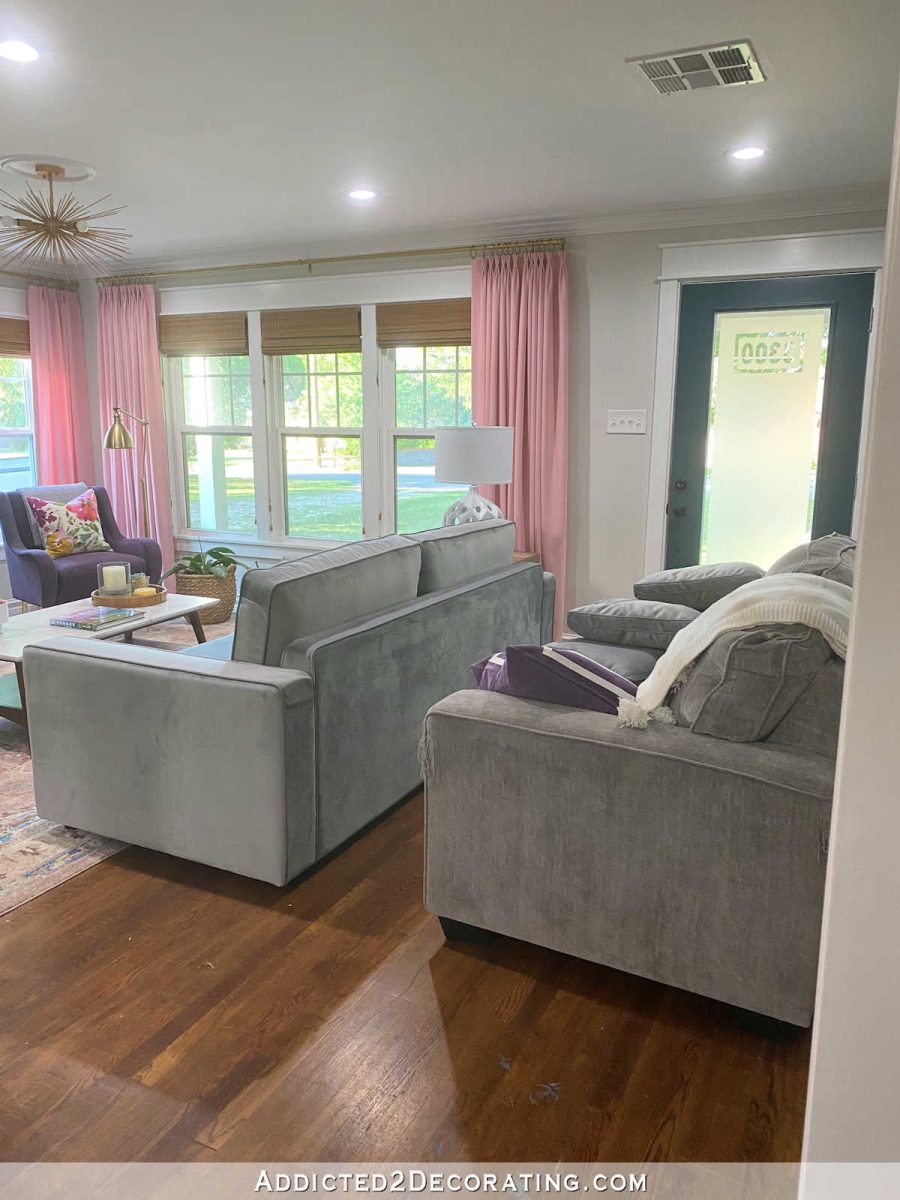 But the thing I love the most about the new one is that it has clean lines. Y'all know how much I love things to look neat and tailored. I don't like things to look slouchy and unstructured. So these back cushions on the old sofa have bothered me for quite some time now.
These structured back cushions are much more my style. Just look at how they stand up straight and look so nice. No slouch here!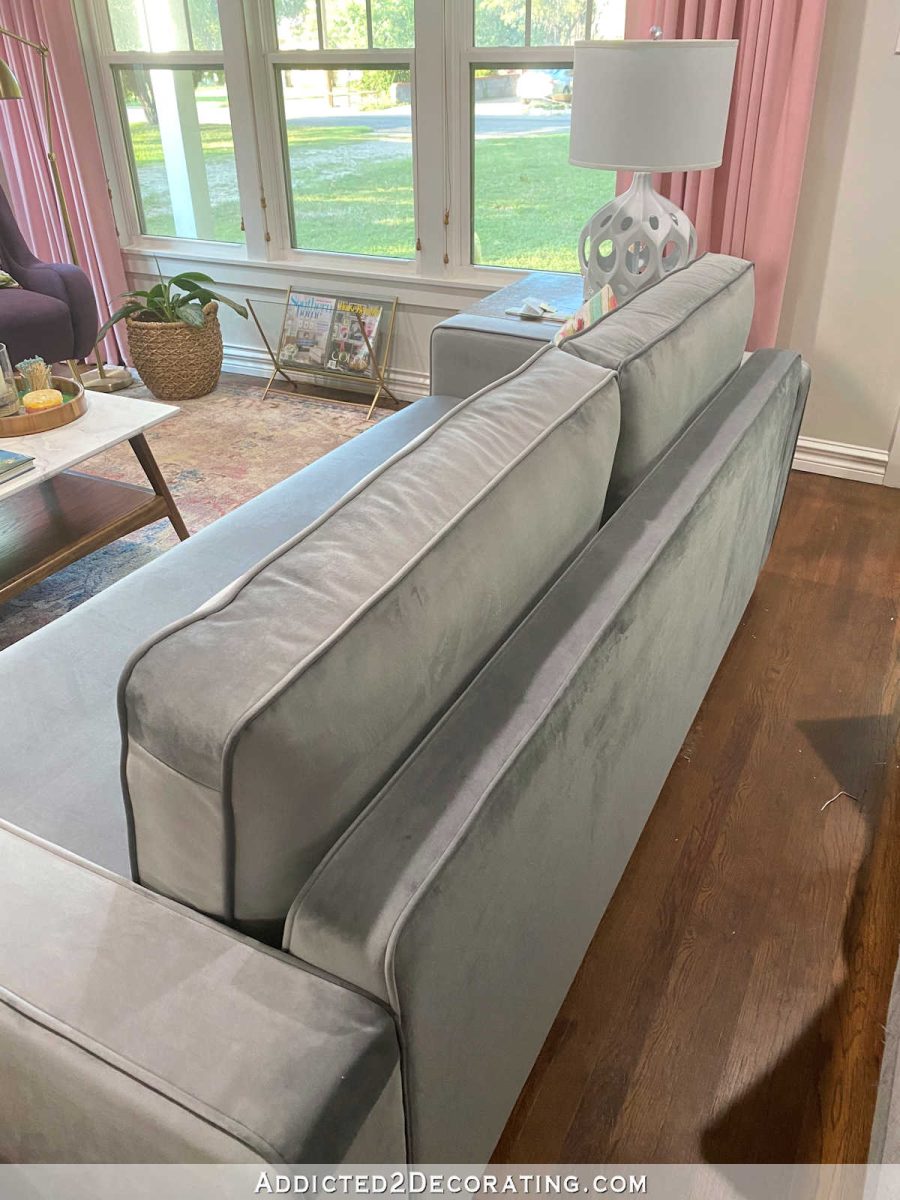 I love the look of the back of the sofa, which is good since it's the first part of the sofa to be seen when someone walks through our front door.
The upholstery job on this sofa is perfect. The old sofa (which was a fraction of the price) had a section that wasn't pulled taut as it was being stapled into place, and it had wrinkles. I was continually having to smooth out the wrinkles. This one has no areas like that. Everything is pulled taut, just as an upholstery job on a custom sofa should be.
Looking the other direction, you can see a HUGE difference in the colors. The old sofa is quite dark and almost has a muddy look to it. The new one definitely has blue undertones, and has a much brighter look to it.
It took me a few minutes to get used to the difference, but I actually love the brightness that the blue undertones give the room. And I love this cooler gray with the pink curtains and the purple chairs. What I'm not crazy about is the cool gray sofa with the grasscloth drawers on the console table.
I love the sofa with everything else, but those grasscloth drawer fronts are going to have to undergo a makeover. I'm not quite sure how I'm going to remedy the situation right now, but I'll figure something out. What I do know for sure is that those two colors can't live together in my living room. 😀
I'm also going to have to start from scratch with finding throw pillows. Nothing that I had on the previous sofa looks good on this one. I do like the look of the throw pillow in the picture below, but I think it's way too small. Even though this sofa has almost the same dimensions as the previous one, this one seems to require larger throw pillows. Look how tiny this pillow looks on the new sofa.
The sofa came with four matching pillows. They're so perfectly square and rigid, so I thought they could be used as back pillows, but I don't love this look. I like to be able to see the larger back pillows.
But obviously, I'm not going to use them as throw pillows, either. They're just so rigid, and they remind me of Chiclet gum minus the fun colors. While I love my sofa to have straight, clean lines, I don't like my throw pillows to be so rigid and stand at attention like that. I like my throw pillows to be fat, filled with down and feathers, and karate chopped to break up the straight lines.
So it looks like I won't have any need for the perfect square Chiclet pillows, and I need to find some larger colorful pillows for the new sofa. I swiped this one from one of the purple chairs just to get an idea of the size that I need. This is a pretty big pillow, but even it looks too small for this sofa. I do like the idea of something colorful and bright with a white background, though.
I'm so excited to finally have this sofa, and even more excited that I can get rid of the other one that Felicity (our cat) has torn up. She has already tried to scratch on this one, but it's just so difficult for her to get her claws into it (one reason I LOVE velvet furniture), so I'm hoping she'll lose interest very quickly. I do plan to get her something new to scratch on, and I'll put it on the entryway side of the side table next to the sofa. I think if I provide her a place to scratch right there — something that her trimmed and blunt-filed claws can still actually catch on — she won't have much interest in the sofa. So hopefully I can find something that can sit in that spot, and not look like an obvious cat scratching post.
Addicted 2 Decorating is where I share my DIY and decorating journey as I remodel and decorate the 1948 fixer upper that my husband, Matt, and I bought in 2013. Matt has M.S. and is unable to do physical work, so I do the majority of the work on the house by myself. You can learn more about me here.