I have to admit, I absolutely hate cultured marble. I have no problem with quartz, which is also a manmade material. But cultured marble? Not even in the least.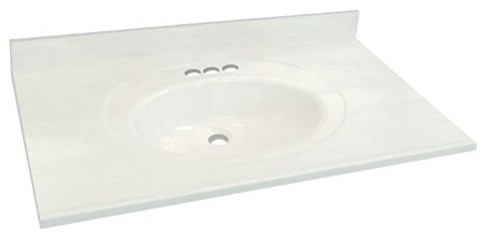 Yesterday I went to a home that hasn't been completed yet, but the house is absolutely incredible. It's massive (the couple's dream home), and they've been working on it for 2 1/2 years so far. They've overlooked no detail, and it will certainly be a fabulous home when it's completed. However, they chose to use cultured marble in the tub, sinks, and shower of the master bathroom. The countertops will be granite.
I just can't even imagine building my dream home, and including cultured marble. But I see it being used quite a bit. So is it just me? Do I have too much of a narrow view of this material? Am I just being a design snob?
I've just never seen cultured marble that even remotely resembles real marble. It just looks like plastic (probably because it IS plastic). So what's the draw? Do people really think it looks good? Do they buy it because it's cheap? Do they purchase it because they see the little samples (which look decent) and can't picture it on an entire shower wall?
So what about you? Cultured marble…do you love it or hate it?
---
---