Over the last couple of weeks, I've had to seriously examine one of my worst personality flaws. Y'all know that I'm a naturally messy and disorganized person. I know this about myself. I make jokes about it, and laugh at myself about it. I've been a messy and disorganized person all my life, and I've just come to accept that that's who I am.
I've tried to implement some organizational tools into my life, like my pull-out storage in my kitchen..
And my spice drawer has made things so much easier. No more rummaging around in a cabinet trying to find the spices I need.
But y'all, this current remodel has really forced me to come face-to-face with the fact that I need to get things under control.
They started the remodel in the front middle bedroom. The only things in that room that were usable to us were the treadmill and Matt's Theracycle. The rest of the room was piled with boxes and forgotten projects.
Since Matt and I had moved our bed out of the bedroom and into the breakfast room (where we'll be staying for the duration of the current remodel phase and until I can get the guest bedroom finished), I was able to move all of that stuff out of that bedroom. Most of it went into the master bedroom that we're not longer using, and some of it went into the already-full sunroom.
The sunroom is actually, at least in part, being used for important stuff. That's where I'm currently storing all of my paints and tools. It's where I have my big, awesome tool chest, and it's also where our washer and dryer currently reside.
But that's a HUGE room, and a washer, dryer, paints, and tools don't take up 400 square feet. And yet, I was having trouble finding room to put the stuff from the first bedroom that I cleared out.
Why? Because I can't seem to get rid of stuff!! I'm not a hoarder. I swear I'm not. Hoarders are people for whom getting rid of stuff causes mental and emotional distress. That doesn't describe me at all. I have zero problem with the idea of getting rid of stuff.
My problem stems from my tendency towards procrastination. When I'm no longer using something, like this credenza that I refinished a while back…
…instead of taking the time to list it on Craigslist or Facebook Marketplace immediately, I drag it into the sunroom (or one of the bedrooms) and think, "I don't have time to deal with this right now, so I'll do it later." But the problem is that I get so busy with other things that "later" never comes. And so things start piling up, and then I run out of room.
But again, I have zero emotional attachment to any of this stuff. If someone pulled a truck up to my house today and volunteered to clear out all of the stuff I'm no longer using, I'd be the exact opposite of those people you see on the hoarding shows. I'd be jumping up and down for joy at the thought of this stuff going away and not having to deal with it myself.
But that's probably not going to happen. So instead, I find myself with rooms full of furniture, projects, etc., that's not actually being used, but is just being stored.
Remember the yellow piano?
It's in the sunroom.
The cerused oak dining table?
It's in there, too.
And that just scratches the surface. There's a pile of lumber in there from past projects that I haven't found time to go through and sort into "keep" and "throw out" piles. There are a few smaller projects that I'm no longer using and have been stored away in there. There's my drywall lift that I'll probably never use again since I've decided to hire out drywall from now on. I could go on and on.
In the front middle bedroom (the first room they worked on) was the green credenza that used to be in the entryway…
I've got lamps, and boxes of books. I've got boxes and bags filled with fabric. I still have this upholstered ottoman…
Heck, I even still have this pet station that we used in the condo!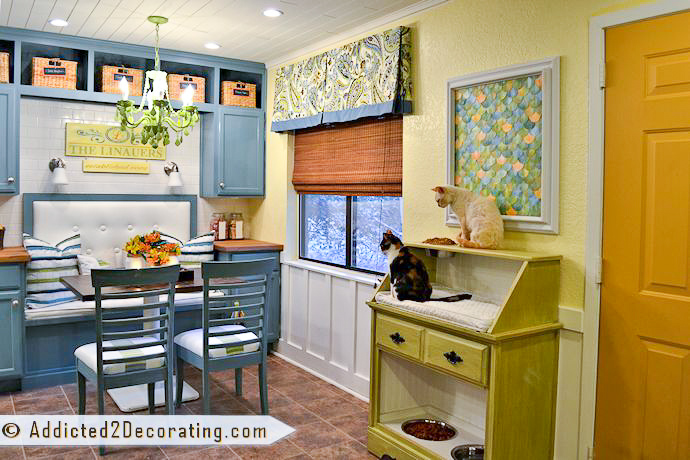 Why do I still have that? For the same reason I have all of the other stuff. Because I didn't want to deal with getting rid of it, so I put it in the front corner bedroom and said, "I'll deal with this later." And six years later, it's still sitting there because I can ALWAYS find more interesting things to do with my time than get organized.
I've been perfectly content going on like this. After all, I've been messy and disorganized for 46 years now. It's all I know. But yesterday, it really got to me.
Yesterday morning, I needed to get up early and clear out the second bedroom just in case they had time to start working in there. I got almost everything cleared out, but not all of it. And what I did clear out filled up the rest of the sunroom and the rest of the current master bedroom (i.e., the room that will eventually the master bathroom). Those rooms are now completely filled up.
I also have stuff in the music room, like my treadmill that wouldn't fit anywhere else. And a lot of that furniture that I mentioned before (the dining table, etc.) as well as a few other things are currently in the living room because I've taken pictures and want to get them listed somewhere so I can hopefully get rid of them. I didn't want them buried in the sunroom, so now my living room is filled with excess stuff.
The bottom line is that I've finally reached a point where I can't continue on ignoring this issue. It's time for me to grow up in this area of my life, take some responsibility for getting organized, and clear out the stuff I'm no longer using.
I listen to the Young House Love podcast, and Sherry often talks about living with minimal possessions (i.e., only having that which is useful and beneficial to them) and not having so much stuff cluttering up their house. Every time she talks about that, and talks about how freeing it is to not have so much stuff everywhere, I long for that myself. And yet getting there feels impossible to me.
But after the frustration of yesterday morning, and not having enough room in my house to get that second bedroom completely cleared out, I know that this area of my life needs some serious attention. So my main personal goal for 2020 is going to be getting organized, clearing out the junk, finding my version of living minimally, and making sure that everything that's left in my house is something that is useful and beneficial to us. Everything else needs to go.
Anyone know of a support/accountability group for people who need to clear out, unclutter, and get organized? 😀 If not, maybe I should start one. I feel certain that I'm not the only person who needs this.
By the end of next year, I want to be one of those people who has a place for everything and everything in its place. Not only will that mean getting rid of stuff that's cluttering up my house, but I'll also need to build lots of cabinets (in my studio, guest bedroom, and maybe other places) and implement some other storage and organizational ideas.
Do you think a 46-year-old messy and disorganized person is capable of transforming into an organized person? I'm not sure yet, but I definitely hope so!
By the way, my only other New Year's resolution is going to be to go an entire year without eating sugar. As in, no sugar at all. As in, no cheat days where I can have ice cream or cookies. For a full year. I'll definitely need a support group for that one! 😀
Addicted 2 Decorating is where I share my DIY and decorating journey as I remodel and decorate the 1948 fixer upper that my husband, Matt, and I bought in 2013. Matt has M.S. and is unable to do physical work, so I do the majority of the work on the house by myself. You can learn more about me here.
I hope you'll join me on my DIY and decorating journey! If you want to follow my projects and progress, you can subscribe below and have each new post delivered to your email inbox. That way you'll never miss a thing!