Last Updated on December 2, 2016 by Kristi Linauer
I have just a little bit to go on the fireplace before her big debut with the new color and the new chandelier. But for now, here's a peek at the new fireplace color with the Iceberg wall color.
I'll try to have all of that finished today so that I can show you how it turned out tomorrow.
In the meantime, I've been looking at woven Roman shades for my windows in the living room and the breakfast room. When I put the breaks on my whole "black, white, and bright colors" decorating plan (or lack of a plan), one thing I wasn't liking, besides the fact that I wasn't being true to myself and my love of blues and greens, was the lack of warmth in my rooms. All of the black and white felt harsh and cold, and the bright colors felt very in-your-face, but other than my wood floors, there was no warmth.
So on my decorating plan reboot, I decided I need my woven Roman shades back on my windows. They've always been some of my favorite things for adding a natural element to a room, but for some reason, I decided they didn't work with that other color palette. I think they'll work beautifully with the new one. But I'm not sure exactly what color would work best with the new palette. As a reminder, here are the pieces of the puzzle that I've shown you so far…
New living room drapery fabric with some color selections for paint, fabrics, and accents
Blue tufted chairs (minus the black walls)
Fabric selections for possible use in living room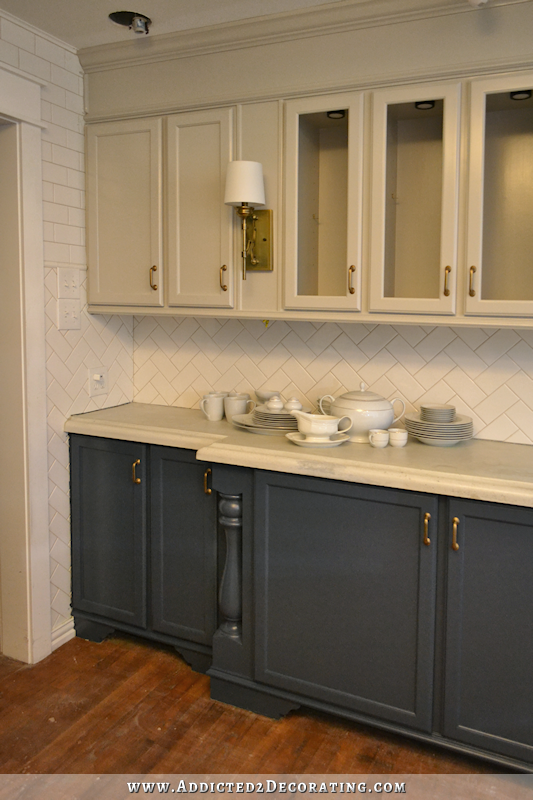 New kitchen cabinet colors. The countertop will be much whiter and brighter after it's refinished.
Grasscloth for the breakfast room walls
New fireplace color and wall color in living room
Some of those colors may be off since they were taken at all different times of the day, but they all work together. So now I need to decide what woven shade material would work with all of that.
I don't want anything that looks like a natural fiber that's been bleached or whitewashed. That would defeat the purpose of adding warmth to the room. But I could go with something natural and light like these.
Here's another room with light natural woven shades. I really like how they do their job without making the windows look dark and heavy.
And yet another room with light natural shades.
If I go that direction, it'll be a departure from what I've used in the past, which is a warm medium brown like this…
These actually look exactly like the color I used at the condo, which I absolutely loved.
Home Depot used to carry my favorite woven Roman shades in stock, but it looks like they've discontinued them. I loved them because they were woven so tightly that they actually offered privacy at night without having to be lined. But I think this time around, I'll definitely have them lined. Not only do I think that white lining looks better from the street view, but I just don't like how some of these woven shades look with light pouring through them.
Plus, it doesn't seem like this would offer much privacy (if any) at night.
Now I need to get some samples ordered. Which direction would you go with the new color palette I'm using? Light and natural, or a warm medium brown?