Last Updated on October 7, 2017 by Kristi Linauer
My first attempt at painting the fireplace gray was a big fail, but this time I think I got it right. Here's how it turned out…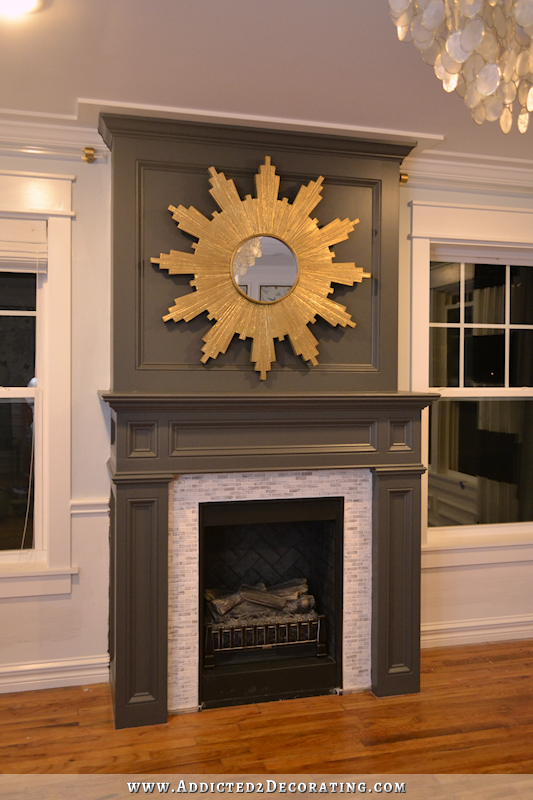 I really love how my gold sunburst looks against the dark gray color. I made that sunburst earlier this year. You can find that project here.
EDIT: Yes, I do realize that sunburst is too big for the fireplace. 🙂 I do want a sunburst up there because it's so pretty against the dark gray, but I'm going to keep an eye out for a smaller one with a lighter look to it that will actually fit inside the upper frame on the fireplace.
I painted the walls around the fireplace in Benjamin Moore Iceberg. A couple of people had warned that Iceberg looks really blue on their walls, but it doesn't at all on mine. It looks barely blue. It might even be too barely blue. I might try out the one that's just a bit darker called Smoke. I still have touchups to do on the wall below the chair rail. You might notice that I removed the frames (decorative trim) below the windows. Things just looked a bit busy, so I'm in the process of repairing the wall where I removed them. I'm going to remove the ones under the other windows as well.
So what color is the fireplace? Well, I headed to Benjamin Moore to look at the two most-suggested colors — Kendall Charcoal and Wrought Iron. I did a bit of searching and found both colors used in this one room on the blog Dear Lillie. The walls are Kendall Charcoal, and the door is Wrought Iron.
via Dear Lillie
I really liked the Kendall Charcoal, but it wasn't quite dark enough for me. The Wrought Iron was a bit too dark, and even looked black in some pictures. So I asked the guy if he could make the Kendall Charcoal darker, like 10-25% darker or so. At first he said he could, but then he realized there wasn't enough room in the can for that much colorant since I was only getting a quart.
But he looked at the formula and said, "I have an idea. This formula has quite a bit of white in it. Why don't I just omit all of the white?"
So that's what he did. My fireplace is basically Kendall Charcoal with all of the white removed from the formula to make it darker. A brilliant solution, right?
And here's my new chandelier…
Obviously I still have some painting to do on that green wall. 🙂 And the window will look different very soon with new fabric and natural woven shades. But the chandelier…ahhhhh. I've wanted a capiz shell chandelier for a very long time now. A real one. I made a faux capiz shell pendant light a while back, and it still hangs in our bedroom.
And while I do like how it turned out, and it was a fun project to make, there's really no substitute for the real thing. Real capiz shells have a pearlescent look to them that can't really be replicated in any of the DIY faux capiz shell versions that you'll find on Pinterest.
So now I have the real thing, and it's lovely and just what I wanted. This one is the Aurora 3-Light Capiz Shell Chandelier from Horchow*, and it comes in a silver and a gold finish.
I bought it during their 40% off sale with free shipping. I had originally had my eye on this Teardrops Capiz Chandelier from CB2*.
But three things kept me from hitting that "Checkout" button: (1) I didn't like the step down design where you can see all of the rings at the top, (2) the light only accommodates one light bulb, and (3) it's huge — 27.5″ diameter x 23.75″ high not including the cord. The height would have worked over a dining table, but wasn't really what I needed in my living room.
So when I found the Horchow light at 40% off, which made it just $9 more than the CB2 light, I jumped on that. It's 24″ in diameter, and only 16.5″ high not including the cord/chain. I adjusted it so that it was as close to the ceiling as possible. And I really like that it accommodates three bulbs.
If you're new around here, you might not realize that I actually built that fireplace from scratch…and it's electric. 🙂 You can find the original build project here.
Then I added some trim and changed out the mantel to change the style from craftsman to traditional.
And then I added the overmantel here.
This fireplace has been through quite a transformation in its short life. 🙂 But I'm pretty sure the current version is my favorite.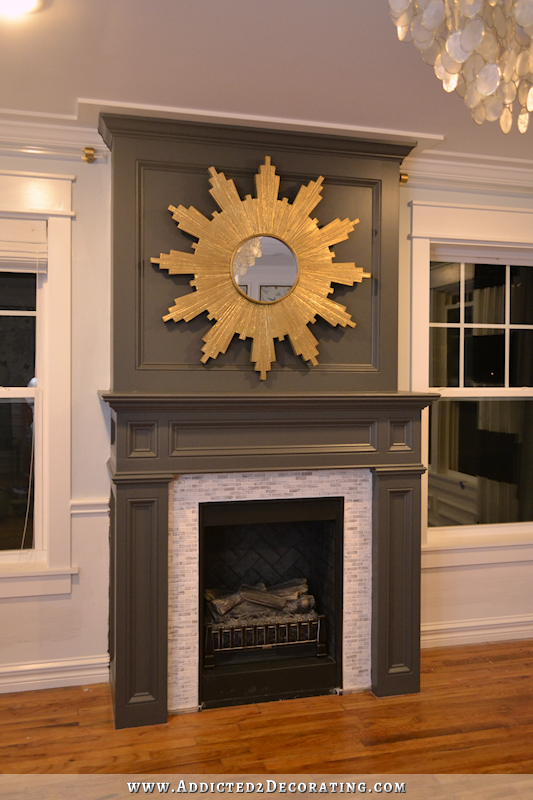 Things are moving right along. I have so many projects that I could tackle next. What I should do is finish my kitchen cabinets. What I want to do is start on my new draperies for the living room. 🙂 It'll all get done eventually, so I guess the order doesn't necessarily matter.
[show_shopthepost_widget id="2201100″]
Addicted 2 Decorating is where I share my DIY and decorating journey as I remodel and decorate the 1948 fixer upper that my husband, Matt, and I bought in 2013. Matt has M.S. and is unable to do physical work, so I do the majority of the work on the house by myself. You can learn more about me here.
I hope you'll join me on my DIY and decorating journey! If you want to follow my projects and progress, you can subscribe below and have each new post delivered to your email inbox. That way you'll never miss a thing!