Last Updated on October 8, 2017 by Kristi Linauer
I'm pretty sure every DIYer who buys an old fixer upper house and starts tearing into the walls, floors, and ceilings, has as least one (but probably a few) of those what the heck were they thinking?! moments. And by "they," of course I mean previous owners who made modifications to the house.
I've had several of those moments regarding the wiring in this house — open junctions in the attic, wads of wiring hooked together in very unsafe ways, etc. I also had one of those moments when I discovered that someone had just cut right through a ceiling joist in the hallway to install the large intake duct for the old furnace.
Yep, that's a ceiling joist that just butts right up against the furnace duct. Ceiling joist in the way? Just cut it! (No, actually, don't. Ever.)
But yesterday was the first time I've ever uncovered something that truly shocked me to the point of being very nervous and thinking to myself, "HOLY CRAP!! HOW IS THIS WALL/ROOM STILL STANDING?!"
Seriously. I'm not exaggerating in the least.
I'm still working on getting all of this old wood off of the walls and getting down to the studs in the breakfast room. (I've finished that in the pantry area.) And here's the wall in question.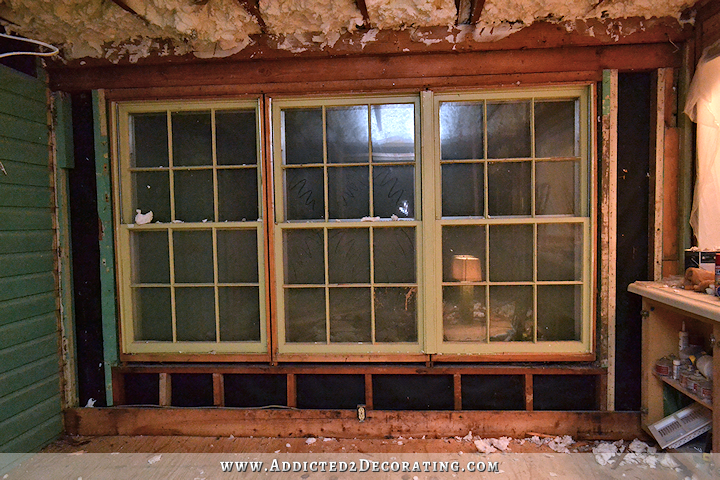 Now remember, this room used to be an open breezeway between the house (kitchen) and the garage. It did have the roof on it, but there was no wall of windows. It was completely open on the front and back. And since there was a roof, something had to hold that roof structure up, right? That means that this front wall is (and has always been) absolutely load-bearing. I mean, that's obvious since it's an exterior wall. But I mean it's REALLY load-bearing since the roof trusses rest directly on this wall. This wall is literally holding up the roof. So I expected there to be quite a bit of support in this wall, like perhaps I'd see the main load-bearing beam resting directly on top of some really strong side walls or something.
Well, let's take a look at what I found. First of all, here's the main load-bearing beam. I can't tell if it's made of two or three 2″ x 6″ pieces of lumber, but it's at least 2 boards thick, so that's good. And you can see that the trusses rest directly on top of that beam.
Just below that, there's a secondary beam made up of two 2″ x 6″ pieces of lumber.
Now the curious thing here is that the main beam overhangs the secondary beam by one board thickness.
That's why I'm wondering if (hoping and praying, actually) the main beam is made of three 2″ x 6″ pieces of lumber, while the secondary beam is only made up of two. If that's not the case, then I have absolutely no idea why they're staggered like that.
So while it's definitely not done by today's standards (having two beams instead of one really wide beam is very unusual), it's still clearly a lot of strong wood holding up those trusses.
But those beams are only as strong as the vertical support holding them up. I expected the top beam to be resting on top of side walls. That wasn't the case. In fact, both beams on the left side of the wall are just butted right up against the garage wall with some nails toenailed into the garage wall.
That still wouldn't be a reason to panic as long as there are plenty of supporting vertical studs holding up those beams. So let's take a look at what I found. First of all, on the left side of the wall, there are no studs making contact with the main beam at all. None. They're all contacting the secondary beam only. That's concerning to me.
There are a total of four vertical 2 x 4's on this side of the wall. The first one isn't even touching the beam. There's about a one-inch gap between the "stud" and the beam that's filled with lizard eggs.
The second 2 x 4 isn't even a whole board. It's about 16 inches long and nailed to the first board. So while it's touching the beam, it's certainly not structural. The third 2 x 4 is structural. It's making contact with the beam and the base plate. And the fourth 2 x 4 is actually pieced together to serve as a frame for the windows, so it doesn't count either.
So this entire side of the wall literally has one 2 x 4 stud holding it up. ONE STUD. That's it. Nothing else. Just one measly 2 x 4 structural stud holding up the entire weight of this end of a 12-foot VERY load-bearing wall. Again, holy crap.
Then there's this 9.5-foot span of windows. I thought, "Well, maybe there's something structural in there."
Nope. Nada. In fact, if I put pressure on the bottom of those windows, all three of them move quite freely. There's nothing connecting them to the wall framing on the bottom or sides. They're literally just kind of dangling in place from some nails nailed through the tops of the window frames and into the wall framing, and they're mostly being held into place by the siding on the outside of the wall. So nothing at all in this 9.5-foot span is carrying any weight.
The right side of the wall was a bit better. Not much, but just a bit. It had four vertical 2 x 4's also.
The first one is pieced together as part of the window framing, so it doesn't really count. The second one is actually structural, reaching from the base plate to the secondary beam. And the third one is also! And then that fourth one is actually structural AND it's touching the main beam! That's the only 2 x 4 on this entire 12-foot wall that's making contact with the main load-bearing beam.
So the right side of the wall is at least better. Not good, but better. But the left side seriously freaks me out.
This is absolutely the most frightening thing I've found in this house…so far. This makes me way more nervous than the wads of wiring with open junctions in the attic. Those may not have been in junction boxes like they were supposed to be, but at least those were covered with wire nuts and electrical tape. But this? Well, this is just frightening to me. The sooner I can get this wall shored up with lots and lots of support, the sooner I'll be able to rest easy.
UPDATE:
After taking off the last board on this wall, I realized that it had even more problems (if that can be believed)!!
First off, the one and only structural stud on the left side of the wall had a notch cut out of it for an electrical cord. That notch is cut about one inch into the stud.
You never, ever, ever cut into the edge of a structural stud. If you need to put an electrical wire through it, drill a hole through the middle, but leave the edges intact.
And then when I pressed up against the wall, I noticed that the entire base plate moved back and forth. In other words, the base plate on this entire wall isn't even attached to the foundation below it!
You know, there was a time not too long ago that I planned to just leave all of the wood on the walls and drywall right over it. Thank goodness I changed my mind, or I never would have found these problems! Now that I know they're there, I can get them fixed right up, and this room will be as solid and secure as the rest of them.
Addicted 2 Decorating is where I share my DIY and decorating journey as I remodel and decorate the 1948 fixer upper that my husband, Matt, and I bought in 2013. Matt has M.S. and is unable to do physical work, so I do the majority of the work on the house by myself. You can learn more about me here.
I hope you'll join me on my DIY and decorating journey! If you want to follow my projects and progress, you can subscribe below and have each new post delivered to your email inbox. That way you'll never miss a thing!