So I painted my living room fireplace gray. Don't even ask me what's going on with me and grays. I've been telling you the last year (or longer) that I hate them, and now evidently I've painted my upper kitchen cabinets a light gray (greige…whatever), and now I've painted my fireplace a darker gray. And now, for some reason, I love grays. They look so pretty with all of the blues, greens and purples I want to use.
But my fireplace painting has turned out to be a fail. I can and will correct it, but this first attempt was definitely a misstep.
Two lessons learned here. (1) Don't ever pick out a paint color "by memory," and (2) any time I say, "I'm just going to take a break from this big project I'm working on and do this small quick project," the quick project will almost always turn into some big, drawn out project.
I wanted to take a break from my kitchen cabinets (and I'm also waiting for more Timbermate to arrive) to work on this quick and easy fireplace painting project that has now taken up two days, and will take at least one more because I tried to pick out a paint color by memory. Ugh. I know better than that. I really do. But I was standing there in the Benjamin Moore store with all of their glorious paint swatches before me, and I thought to myself, "I just need a dark gray. How hard can it be to pick out a dark gray that coordinates with my Revere Pewter kitchen cabinets?" Well, evidently it's much harder than I thought.
I searched through my memory and recalled this picture in my mind…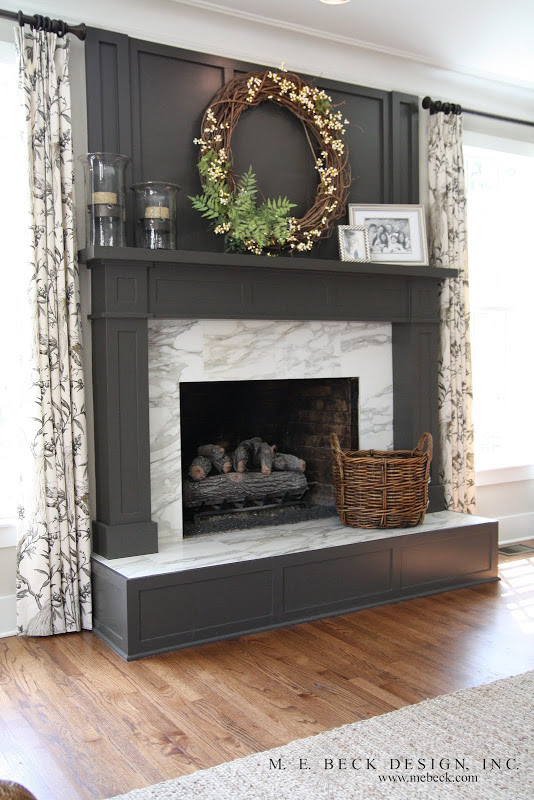 via M. E. Beck Design
Why I didn't actually look at the picture before picking out a color, I have no idea. I had my phone right there in my hand, but it just didn't dawn on me to look it up. Again, I was thinking, "Dark gray…how hard can this be?" After all, I was standing there with my Revere Pewter and Gentleman's Gray samples right there in my hand, so I grabbed a couple of dark grays (greiges) and somehow ended up with this…
That's Galveston Gray. It's a pretty color. Very pretty, in fact. But it's just not as striking as the fireplace in the first picture. The sample looked soooooo much darker than that. And it looks much darker on these walls…
And on these walls…
I mean, neither of those look as deep and rich as the top fireplace picture, but it sure doesn't look as washed out as my fireplace.
Anyway, I'll definitely need a new color. And this time, I'll go to the store with that top picture actually in my hand and not just in my mind. I hate having to relearn lessons I already know, but I guess I needed a good reminder. Evens something so simple as "dark gray" isn't quite so simple when you have hundreds to choose from.
You can see some of the wall colors I've tested in here, including the Revere Pewter that I'm using on my upper kitchen cabinets. It's right there in the middle (the only neutral) and looks way darker on my wall than it does on my cabinets.
And yes, I even tried a very light, muted purple — Benjamin Moore Porcelain. That paint chip looked so muted and pretty, but the color turned quite dark and way more saturated than I expected on my wall. (See? That's what I expected with Galveston Gray, too!)
The color I've decided to go with in here is this really light blue called Iceberg (also Benjamin Moore). I think it'll look so pretty next to a dark gray fireplace.
Excuse my messy painting job against the walls. 🙂 Since I'll be painting the walls also, I wasn't too careful with my gray next to the wall.
So now you know my goal — Iceberg walls and a dark gray fireplace. I guess I'm heading back to the paint store today. I'd love to get this finished today because my new chandelier arrived, and I'm so anxious to see my dark gray fireplace with my new chandelier. The new drapery fabric also arrived yesterday, so this room will start taking shape very soon.
Addicted 2 Decorating is where I share my DIY and decorating journey as I remodel and decorate the 1948 fixer upper that my husband, Matt, and I bought in 2013. Matt has M.S. and is unable to do physical work, so I do the majority of the work on the house by myself. You can learn more about me here.