Well, I didn't get my velvet green desk chair. I just never could find one that I liked for a price I was willing to pay. I wanted a high back chair that would actually show significantly over a 30-inch desk, and the only two green chairs I found that I really liked had very low backs that would only show about four inches above a desktop. That just wouldn't do.
So I let go of the idea of having a green velvet chair (or a green chair at all) and set my sights on finding any chair that I really liked, in any color that would go in my studio, that could be used as a desk chair.
And that's when I came across this high back, wingback dining chair from Overstock.
I loved this chair immediately when I saw it! The tall back, the narrow wings, and the nailhead trim all whispered my name. 😀 And it's comfy! Although I'm short, and I'm always more comfy with a lumbar pillow.
The only problems were that I really needed casters on the legs, and the nailhead trim was silver. So I added some casters, changed the color of the casters, and painted the nailhead trim. They're subtle changes, but the little things make a difference! Here's how it turned out…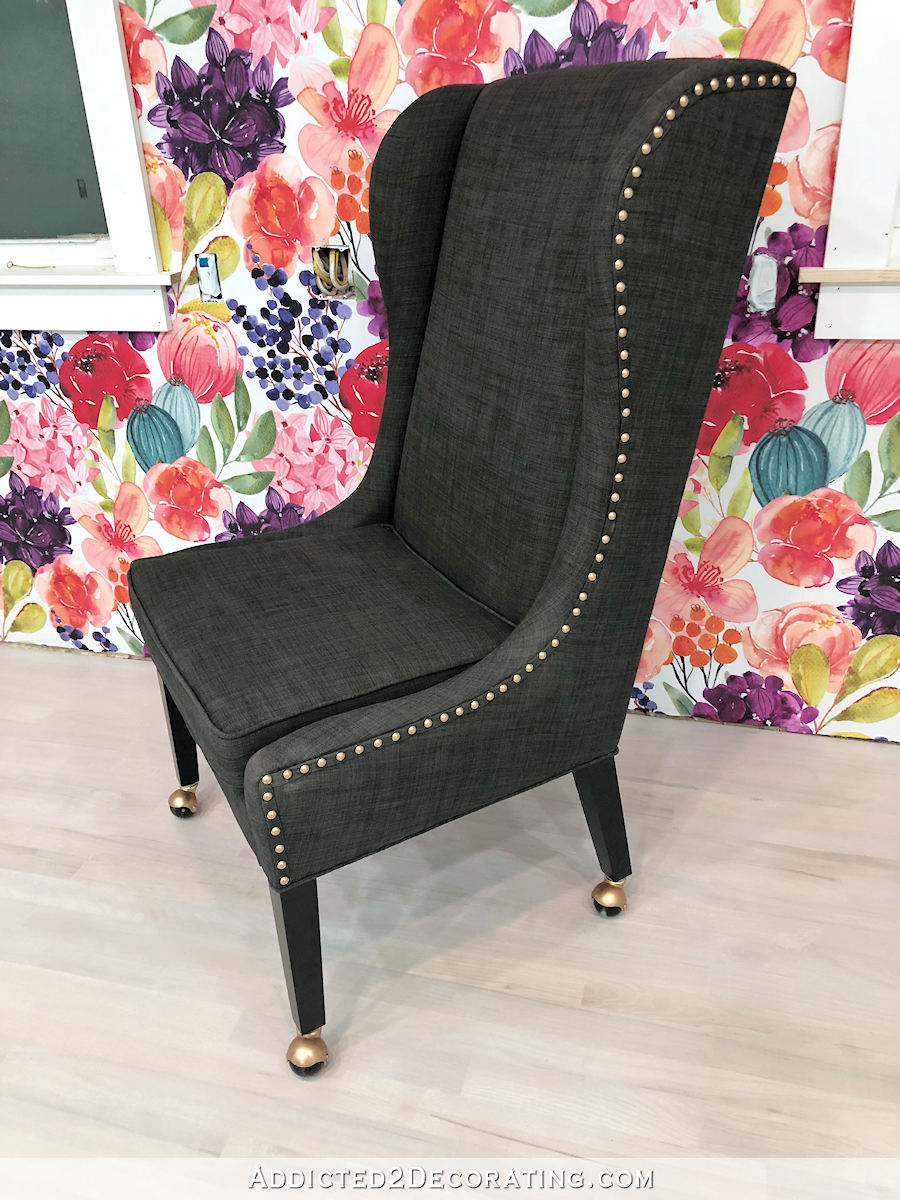 How to add casters to dining chair or desk chair legs:
I've been using the chair just as it is for about two weeks now. It has those gliders that are supposed to glide on hard floors, but they were still leaving marks on my floor, so I decided that casters would be a better option.
I found these round ball casters at Home Depot…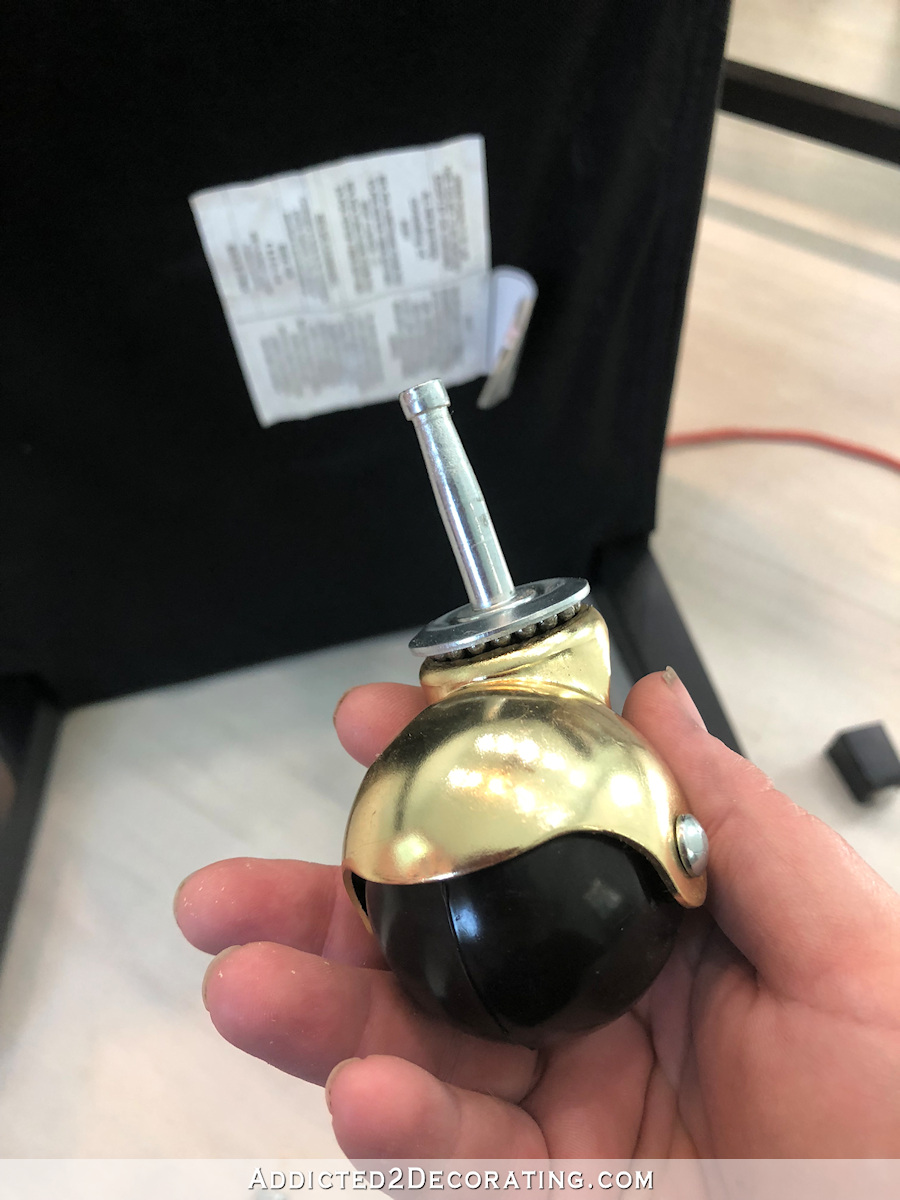 I could have found prettier ones online, but I didn't want to wait for a delivery, so I just used the Home Depot ones.
The casters were two inches high, so I used my table saw to rip a scrap piece of wood to two inches to use as a guide for marking the legs.
I marked each leg on all four sides with a pencil. Once they were marked, I placed the chair on its side. You can see the pencil marks here…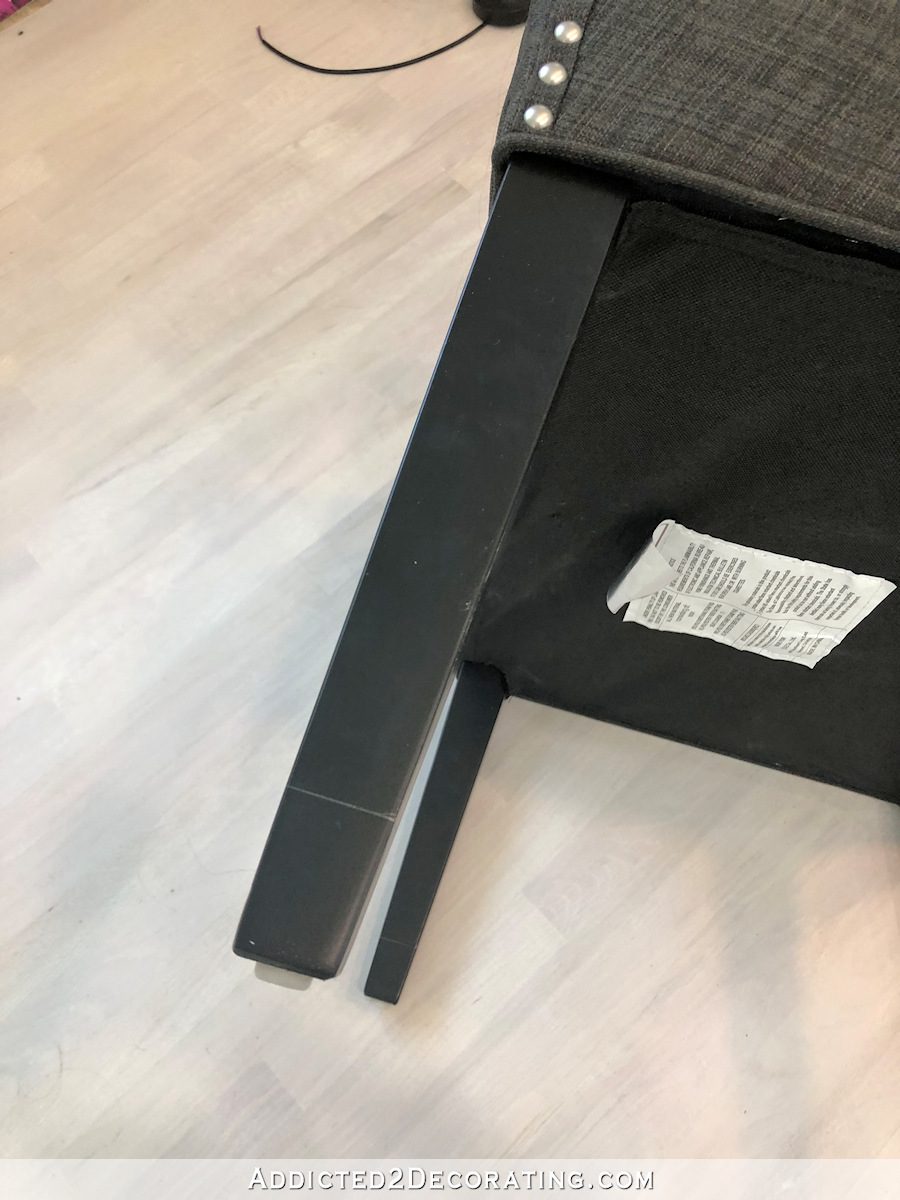 And then I used my jigsaw to cut the legs down.
Next, I used a straight edge to mark the bottom of the leg from corner to corner so that I could find the center.
And then I used a 3/8″ drill bit to drill a hole that was 1 1/2″ deep, as per the instructions on the package. I used a piece of painters tape to mark the 1 1/2″ depth.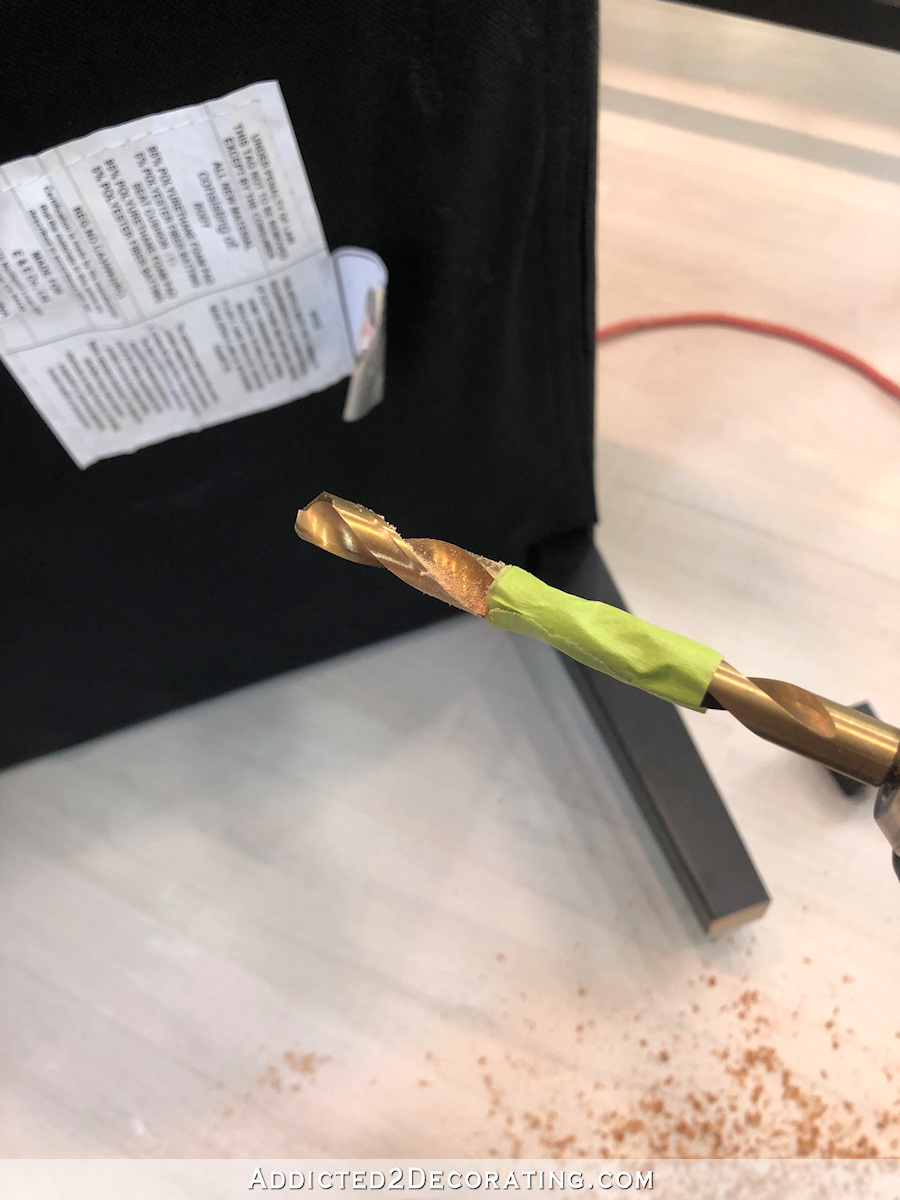 Then I placed these little metal things (I have no idea what they're called) into the holes…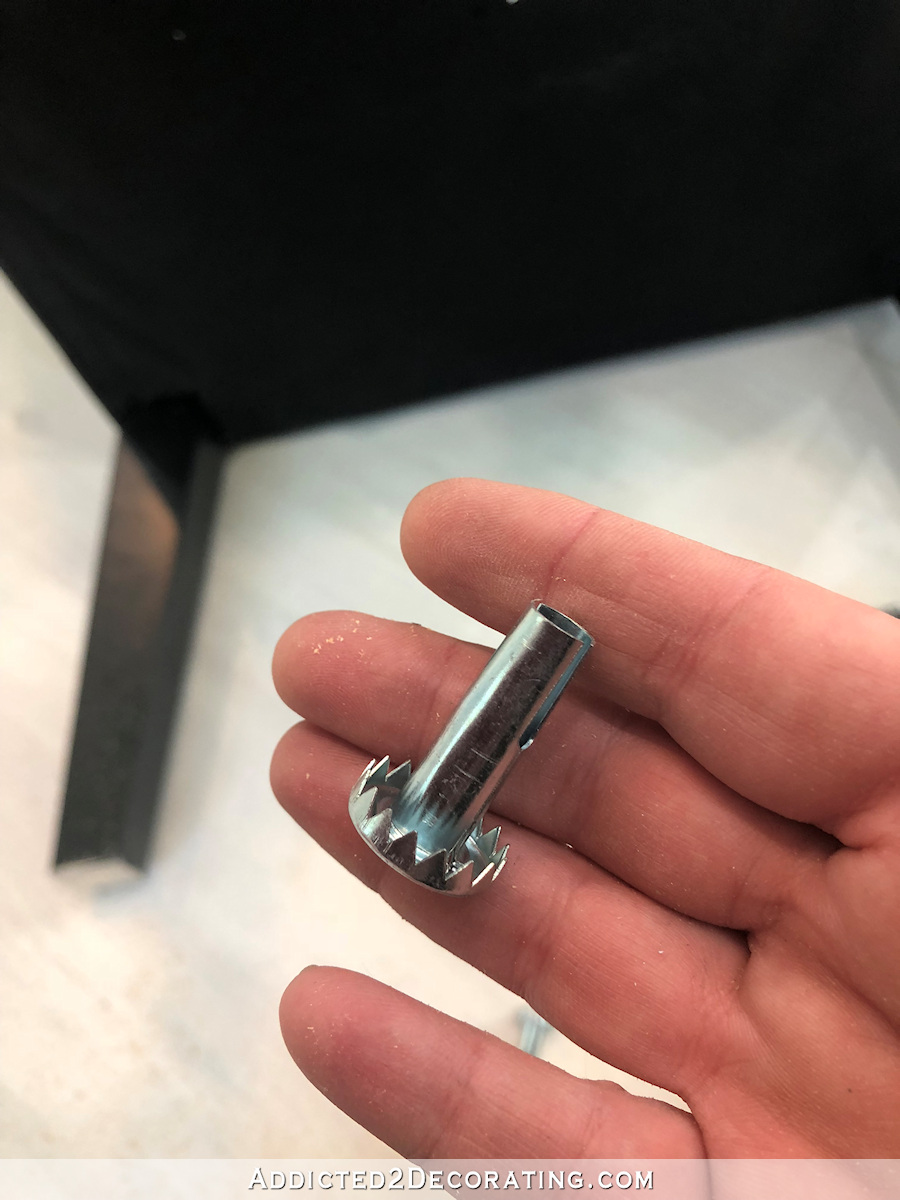 …and used a hammer to hammer them into the wood.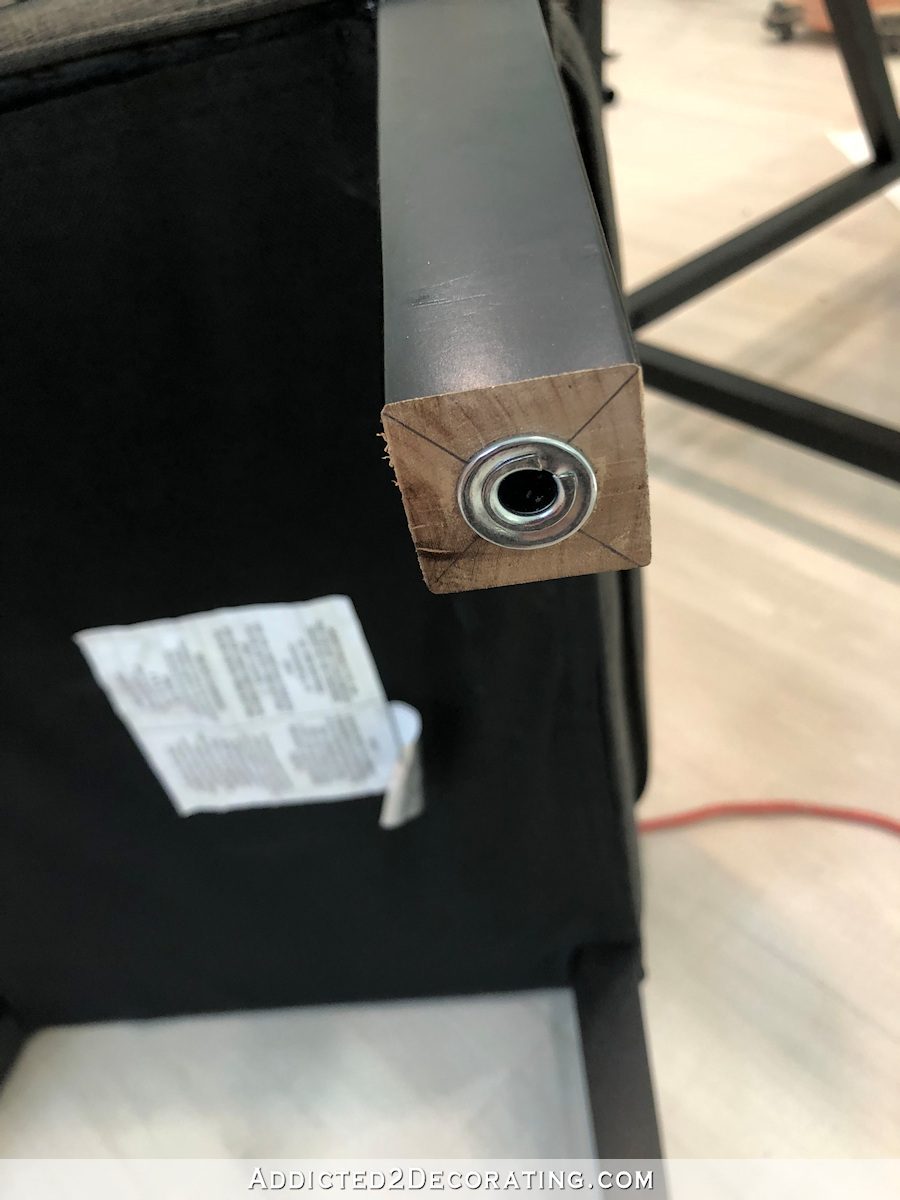 I should mention that those metal things didn't come with the actual casters that I used, and Home Depot didn't sell them individually. So I bought a package of white cheap-looking casters that came with those metal things that had the same size stem as the casters I used. I have no idea why my casters didn't come with them, or why they weren't available separately.
But once those were hammered in, the stem of the caster just pushes into it and snaps in place.
With all of the casters on, the brass looked a little yellow for my taste, so I decided to tone it down a bit.
Toning down the color of brass
This process is so simple with Rub 'N Buff. It's a metallic paste wax, and the instructions are in the name. 😀
You literally rub it on (I just use my finger, which I'm sure isn't the healthiest decision), let it dry just a bit, and then buff it with a cloth.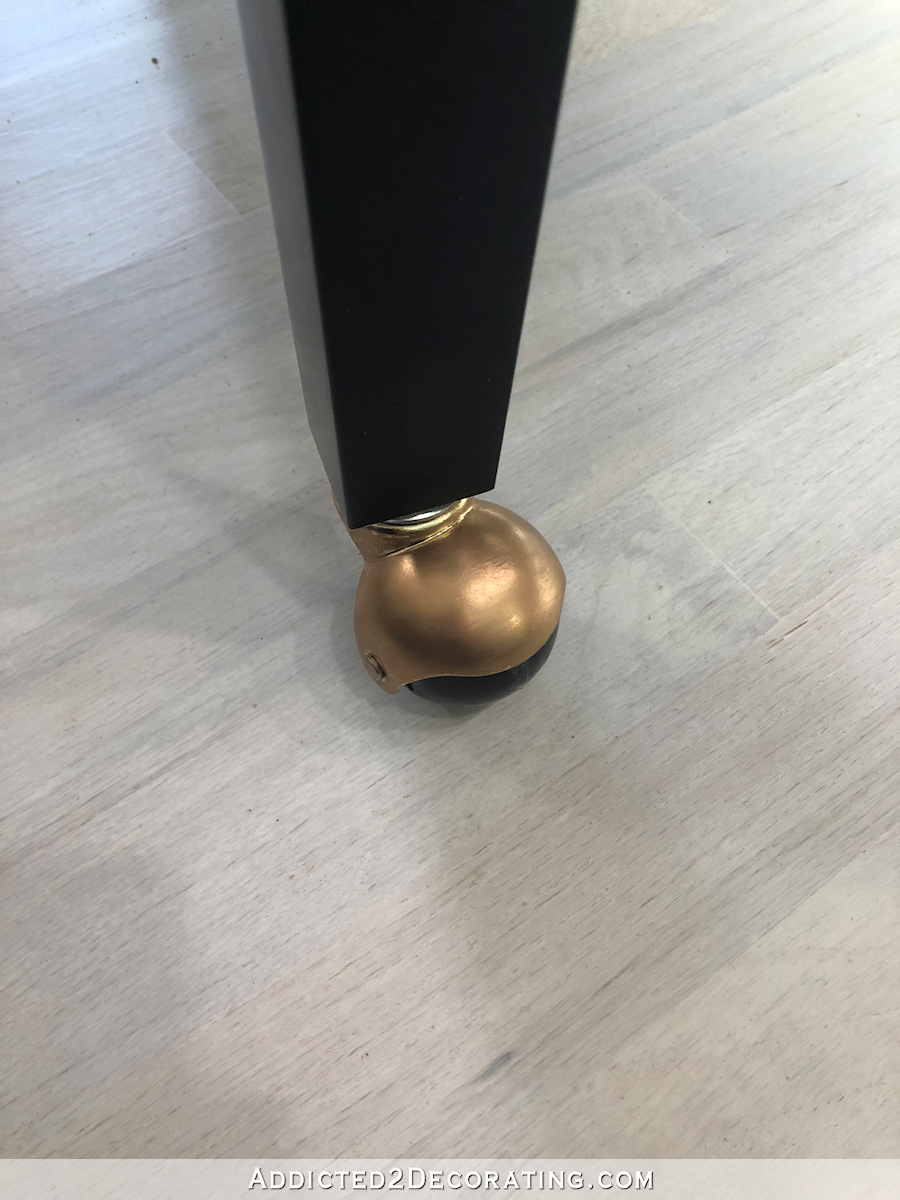 And finally, I needed to change the color of the nailhead trim.
How to paint nailhead trim
This is also super simple, but depending on how big the item is, it can get a bit tedious. Fortunately, this is just a relatively small chair, so I was able to get this done in about 40 minutes.
To change the nailheads from silver to brass, I used liquid gilding and a very small paint brush…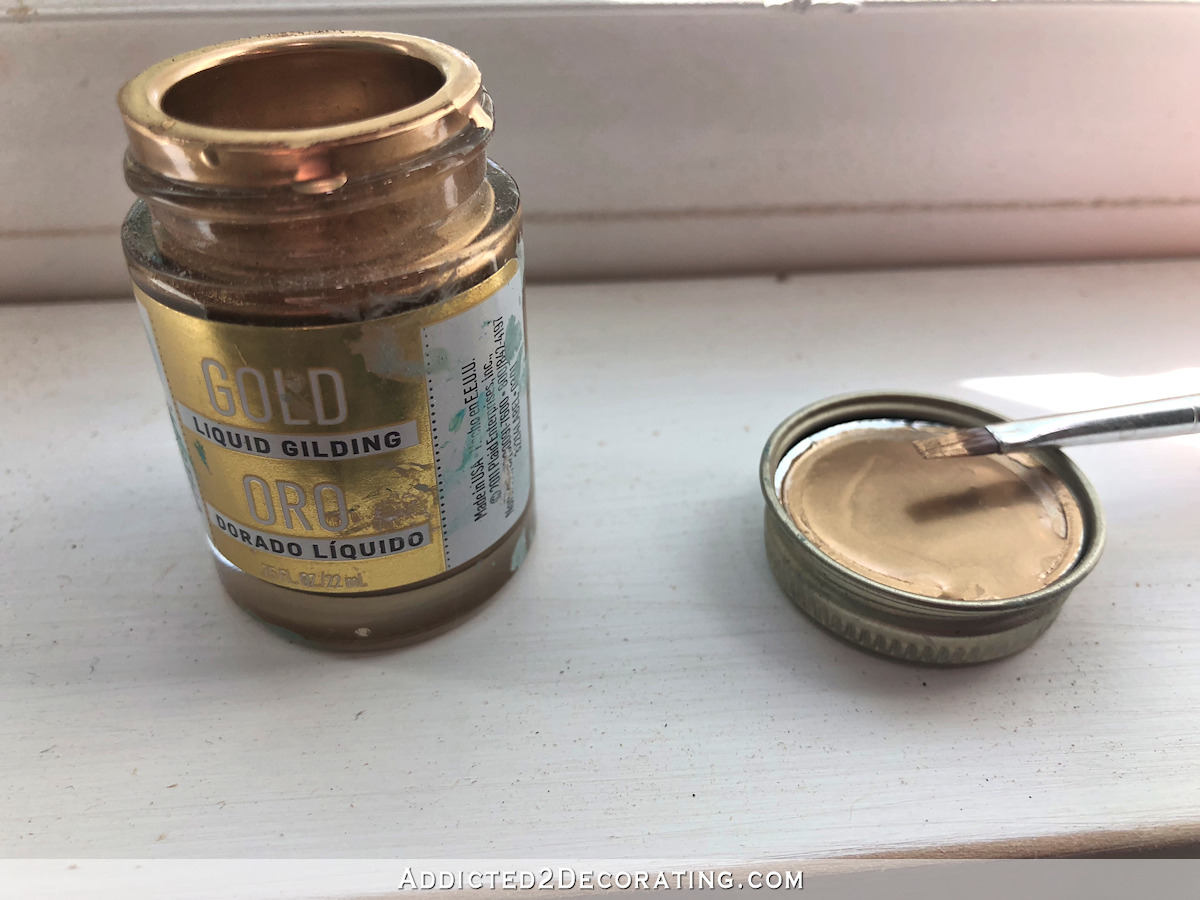 I managed to do all of them without getting even a tiny bit on the fabric. It was actually a much easier project than I had anticipated. You can see here the subtle but noticeable difference between warm brass nailheads on the left and the cold silver nailheads on the right.
Et voilà! My dining chair to desk chair with just a few simple changes.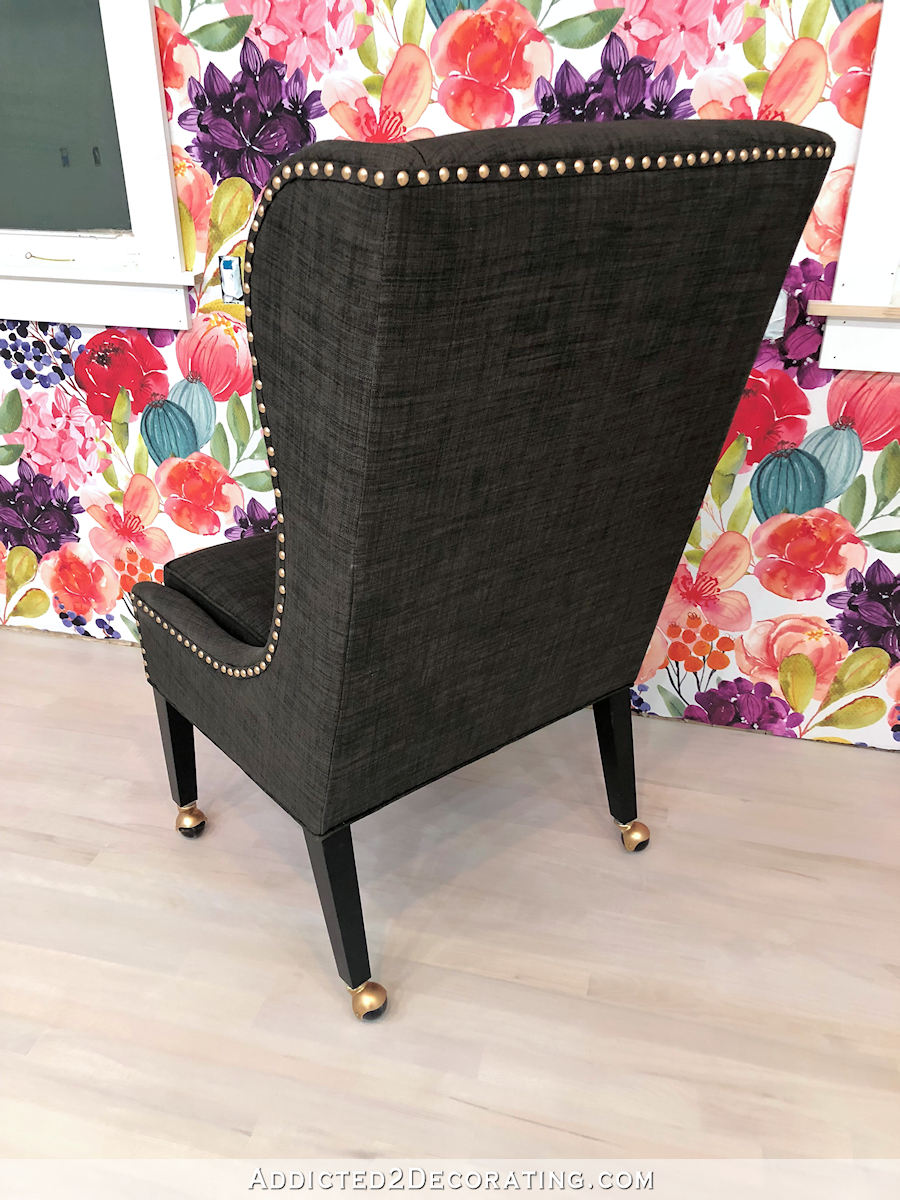 I LOVE sitting at my new desk in my new chair. I may even love it a bit too much. 😀 Now I just need a pretty, colorful lumbar pillow for my desk chair.
Please note: This post contains affiliate links.
Addicted 2 Decorating is where I share my DIY and decorating journey as I remodel and decorate the 1948 fixer upper that my husband, Matt, and I bought in 2013. Matt has M.S. and is unable to do physical work, so I do the majority of the work on the house by myself. You can learn more about me here.
I hope you'll join me on my DIY and decorating journey! If you want to follow my projects and progress, you can subscribe below and have each new post delivered to your email inbox. That way you'll never miss a thing!